And Now To Wait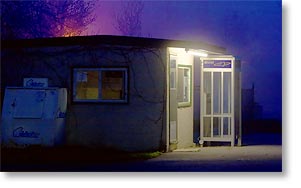 Friday, 25 April 2008 - In regards to having the Canadian medical people looking into my Valley Fever pneumonia, I've now done all I can as far as seeing doctors and having tests done and have nothing left to do but wait for the test results.
I saw the infectious disease specialist two days ago on April 30. To me, this was the most important of my appointments. Fortunately, he seemed quite knowledgeable about Valley Fever and didn't appear too concerned with the state of my health, but he did have more blood tests taken before I left.
Then last night a CT scan was taken of my chest. This was interesting in the fact the appointment had been for 10:20 PM, quite late in the day, but they had said to be there 15 minutes before the appointment. I've seen other places up here say the same thing. I guess to be sure they have time to take care of the paperwork, but why not just say the appointment was for 10:05 PM instead? Or maybe it's because a lot of people can never seem to get to an appointment on time and this allows for people like that. Whatever.
Anyway, since one never knows how long it will take to find a parking spot or to find the right area of the hospital (it's on a fairly large campus), we had allowed plenty of time, but ended up not needing it. We know a side street near the hospital entrance where the onstreet parking is free, but because of this it's often difficult to find a spot there. Such was not the case last night though. The street still had a lot of cars parked along it, but also had plenty of spaces available, obviously one advantage of a late appointment. So we sailed right into a parking spot and breezed right through the hospital to the right area, thanks to things being well mapped and marked, and we actually checked in 50 minutes early. Then we had hardly gotten our chairs warmed up in the waiting room before the CT scan technician called for me and did the scan in a matter of only several minutes and we were out of there and back home by 10:10pm, ten minutes before the actual appointment time. Not often when a medical appointment goes so smoothly, but quite nice when it does.
I'm scheduled to see the specialist near the end of the month on the 28th at which time I assume I'll learn what's going on inside me. Before that though, our annual medical exams with the family doctor are scheduled for May 15th, so I might learn something then as well.
As to how I'm actually feeling, at the moment things still seem to be stable, if not actually improving slowly, very slowly, but I'm not getting my hopes up yet. The fungus could still be spreading.
Other than medical appointments, I've done very little since my last report except try to get as much rest as possible and continue to avoid as many people as possible, although I have been to the chiropractor a time or two, plus we got our income taxes taken care of, and have gone out on brief drives in the area to take some photos.
The photo above was taken yesterday here in the RV park just before dawn. The park, while being a decent enough looking place as RV parks go, has very few photogenic qualities, but every now and then I'll see a shot.

Status Report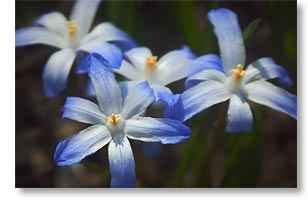 Friday, 25 April 2008 - Nothing much to report for the week since my last entry and because we won't be traveling for at least two months, I expect I'll only be doing weekly reports unless something of interest happens in the meantime.
As to my health, I seem to have reached a stable point where I can't tell if I'm getting worse or better. One day I'll feel like I'm showing improvement and the next day not, so it looks like my recovery will be a slow process. I'm functional and generally feel okay, but tire very easily and some days cough a lot.
The most important event of the past week was seeing my doctor on Monday morning. She had never heard of Valley Fever either, Arizona's best kept secret, but was familiar with the antifungal medication I'm taking, Diflucan, and fortunately it is readily available up here, so that was very good news. I guess it has more common uses than treating Valley Fever.
She prescribed a battery of blood tests, one to make sure the Diflucan isn't destroying my liver, and a chest x-ray, which I had done yesterday morning, and she set me up with an appointment on April 30 with the Infectious Disease center at the hospital where I'll hopefully be able to get some definitive answers as to what's going on in my body. Otherwise, I've tried to get as much rest as I can and continue to avoid sick people whenever possible. I sure don't need to catch a cold or flu on top of this pneumonia.
I've been to the chiropractor twice, met a friend for breakfast Tuesday morning, visited a new camera store to play with a couple cameras I'm considering to replace my current camera, and I've managed to take a photo each day for my Photo-a-Day Gallery on PBase.com, but the biggest thing I've done the entire week was to process a bunch of photos that I took last November to add to my Bosque del Apache Gallery.
The photo above was taken of some of the first spring flowers we saw here in Ottawa. They were at the Ornamental Gardens of the Central Experimental Farm. I have no idea what kind they are though.
Click here for Sandra's account of the week.

WE MAKE IT HOME!!!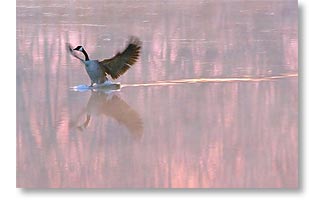 Friday, 18 April 2008 - Actually, I feel kind of like this Canada Goose...we've landed!!! I photographed the goose landing in the pond at the Riverforest Campground in Weedsport, NY this morning at sunrise.
We left the campground at 9:00am and made the 203 mile (327 km) drive to the Rideau Heights Campsite in Ottawa, Ontario (otherwise known as home) in 3 hours 45 minutes, again under sunny skies and perfect temperatures, arriving here at quarter til 1pm. This is my least favorite campground around Ottawa, both of us much rather being at Tranquil Acres in Carleton Place, but since I'm likely to need a lot of medical attention in the near future, this is by far the most convenient, so we've signed up to be here 8 weeks, at which time we can hopefully move to a more tranquil location.
Our travel time today included crossing the border, which you sometimes breeze through and other times feel like you're never going to get across, like the last time we came back from a winter tour and they made us pull over into an open area where they ran a huge scanner, I assume x-ray, over the entire rig then made us pull around and extend the slideouts so they could physically search it. This time, however, we breezed through. So, as I write this at 4pm, we are setup, leveled, both satellites accessed, and I can start to relax.
Click here to see our route today.
For the trek back from Arizona, we were on the road two weeks, having left Tucson on Friday, April 4. Four days of that we weren't on the road, one day for me to rest, one day for truck maintenance, and two days of waiting for crappy weather to move out of our way. What an ordeal. Such a drive is normally tiring, but with my current physical condition, this taxed me to the limit and I'm glad I'll finally be getting some medical attention on Monday morning. Until then, I will be doing as little as possible over the weekend except trying to rest.
The entire route from Tucson to Ottawa was 2,591 miles (4,170 km). Click here to see it.
Click here for Sandra's account of the day.

Overnighting Near Weedsport, New York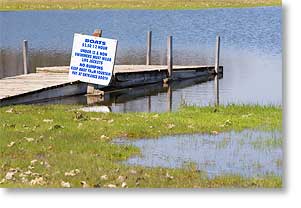 Thursday, 17 April 2008 - We left the Hills Family Campground near Erie, PA this morning at 9:15 and made the 222 mile (357 km) drive to the Riverforest Campground & Marina near Weedsport, New York in 3 hours 40 minutes, arriving here a little before 1pm. I know. Who ever heard of Weedsport, New York? It's a village about 20 miles west of Syracuse and actually more quaint than its name.
Today's drive was again under clear and sunny skies with mild temperatures, basically another perfect day to tow an RV. Traffic was again generally light, even around Buffalo, so it was another fairly leisurely move.
The campground here though is lacking to say the least. It is a campground, not an RV park as we know them, but fairly typical for the north. No cable TV, no wi-fi, no showers, no restrooms, no sewer hookups, no 50 amp service, but it's a Passport America member so it cost only $16, which is a lot better than we were paying at KOA, but you get what you pay for, I guess. It does have a restaurant and bar, so I expect restrooms could be found there if needed.
The park is beside a river, apparently the Seneca River, so I guess a lot people put up a trailer or RV here to be by the river and no doubt keep a boat at the marina, but it's pretty early in the season yet, so no boats in the water and not many people in the park. It does have its points of interest though. The photo above is a little boat dock in their pond.
We're in a pull-through site which is basically a spot in a large open field that has water and 30 amp electric hookups. I had to track down someone to get the electric turned on, but we at least have a clear view of the satellite. Most of the park is heavily wooded. Doubt very much that we'll ever be back, but it's always interesting to see a new place and area.
From here, it's only 120 miles (193 km) to the border and 200 miles (320 km) to Ottawa, so we should finally be home tomorrow and I'm more than ready, although I miss the desert, even though it made me sick.
Click here to see our route today.
Click here for Sandra's account of the day.

Overnighting Near Erie, Pennsylvania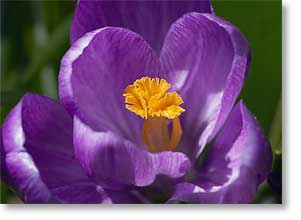 Wednesday, 16 April 2008 - We left the Cross Creek RV Resort in Delaware, Ohio this morning a little before 9:00 and made the 210 mile (338 km) drive to the Hills Family Campground near Erie, Pennsylvania in 4 hours, arriving here at 1pm.
Again, the drive was under clear and sunny skies with mild temperatures, basically a perfect day to tow an RV. Traffic was generally light, even around the Cleveland bypass, and we encountered only one road work zone where traffic was backed up, costing us only 2 minutes, so it was just about as leisurely as towing an RV can get.
The campground here has an open wi-fi network, but it nominally covers only their rec room. However, we are close enough to the building Sandra can receive it from her recliner, as can I by using the high gain amplifier. Since we got here so early, I had considered setting up the satellite dish, but don't need to now.
Sandra also called and booked us in for four weeks starting Friday at the campground in Ottawa, assuming he actually holds the spot for us, which he didn't do the last time so I prefer not to go there anymore, but considering all the medical appointments we're likely to have to be making, this is by far the most convenient location for us, so we're taking a chance he'll come through this time.
The photo above is a closeup of a Purple Crocus bloom here in the campground. Spring is arriving in the north.
Click here to see our route today.
Click here for Sandra's account of the day.


__________________________

For Older News

To read details of our previous stops and camps, visit the News Archives.


Updated Saturday, August 16, 2008

Copyright © 2008 by Gordon L Wolford .
All rights reserved.