Still Alive...And Might Stay That Way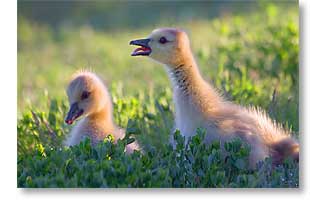 Wednesday, 28 May 2008 - Haven't done much in the last nine days, much of which was cloudy, cold, and rainy, but today was my second appointment with the infectious disease specialist, who told me my immune system was healthy and had no explanation for why I was so susceptible to Valley Fever.
He does want to do an MRI to see why I've had a persistent pain in my back and stiff neck since this all started two months ago and to see me again in a month to check progress, plus we still have a battery of other dental and medical things to see to, like a bone density scan, so with the price of fuel being what it is, it might be best to just stay longer here in Ottawa, although I'd much prefer being out in Carleton Place at Tranquil Acres.
Anyway, all the test results were good and I haven't lost any more weight, so that was all a relief and it's starting to look like I might survive this.
Otherwise, the most exciting thing I've done was to see the dentist who had the replacement tooth added to my denture plate for the tooth that was extracted in Mesa, Arizona this January.
And I or we have been going out at some point each day to find a photo worth taking, although they are a lot harder to find from this location than I'm used to. Yesterday, I went out for sunrise (we actually had one) and ended up at Remic Rapids Park by the Ottawa River where a jogger on the path there told me about some baby geese I might like to photograph that were a bit further down the path. So, I found them and got the photo above, which I'm quite pleased with, plus I took quite a few other photos of them but have so far only gotten one other one processed. Click here to see it.
Click here for Sandra's account of the last nine days.
I also just updated the Didya Know, A Spot O' Humor, and Parting Thot entries in the sidebar, something I hadn't felt motivated to do since getting pneumonia. My apologies to readers who enjoy that aspect of the sidebar. I'll try to be more diligent about keeping it updated.

We Take The Heat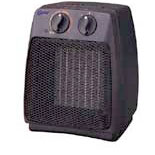 Monday, 19 May 2008 - After 3.5 years, yesterday the electric heater died that we use to supplement the furnace on cold nights and days. Looks like things are starting to wear out.
That's the bad news. The good news is the heater Sandra located online (an Airworks Ceramic Space Heater, model CH2700C) to replace the old dead one is considerably better. It cost less than half, is a third the size, and has the same power ratings but puts out twice the heat on low that the old did on high.
The new one also has a thermostat and it works. The old one was digital and you could set the temperature exactly to the degree you wanted it to maintain, but this feature only worked in the mind of its designer.
We bought the old one at Wal-Mart, cost around $70 as I recall, and on paper it was a much more sophisticated heater, but it was bigger and most of its features weren't really all that useful, especially when you consider it never seemed to put out all that much heat. Kind of like a fancy sports car with a bad engine...having all the bells and whistles, but they don't mean much if the device fails to perform its basic function.
We bought the new heater at Canadian Tire, cost $25 (although Sandra says they sell in the US for $15), and even on low will actually warm you up if you stand in front of it. What a concept. However, it took tracking down a store that had any left and as we were walking out with the heater, a couple was walking back in with the same model, obviously returning it. So I don't know if that's indicative of anything, but we didn't waste any time checking out ours and making sure it worked properly. Now to see how well it holds up.
Today is the Victoria Day holiday in Ontario and it's raining and chilly at 41°F/5°C, so I expect a quiet day. It looks like this weather pattern is going to be with us for the next four days too. Swell.
Click here for Sandra's less heater-oriented account of yesterday.

My Canon 20D Goes Into Retirement


Saturday, 17 May 2008 - After 3.5 years and just shy of 90,000 photos, today with great sadness I put my tried but no longer so true Canon EOS 20D digital single lens reflex (DSLR) camera into retirement after taking delivery on the camera I'm replacing it with, a Canon Digital Rebel XTi DSLR (also know as the Canon EOS 400D).
The reason for this is primarily due to the deterioration of the 20D's sensor surface, a most puzzling development, and considering its age and the shutter being well past its expected lifespan of 50,000 shots I didn't feel it was worth putting the money into getting it fixed, which would have cost more than I paid for the XTi, so the decision was a no-brainer.
I had been looking at new cameras since getting back to Canada this spring and hadn't found one meeting my criteria that didn't have some kind of deal breaking problem right out of the box, so when one of the group of photographers I hang out with on the internet decided to sell his Canon XTi to help defray the cost of a higher-end camera he'd just purchased, I bought his XTi since I was somewhat familiar with its history and trust the seller. Another member of the group, my friend Jim, who fortuitously just happened to be coming to Ottawa this weekend from New York, hand delivered it, which avoided the complications that often arise from trying to ship across the border.
The XTi model was Canon's current entry-level DSLR until recently when the XSi (450D) replaced it, which was one of the new cameras I had looked at but rejected it when it exhibited focusing problems, which the XTi doesn't have, so I'm quite happy to have the more reliable model, even though it has less resolution and fewer features. On the other hand, it has more resolution than the 20D and essentially all of its features (1 stop slower maximum shutter speed and 2 fps less burst rate) and very similar controls so my transition to the 'new' camera went smoothly and my lenses work well with it and hopefully it will get me through until a new camera comes along I just can't live without. Until then, the 20D will get a well deserved rest and will serve as a backup camera if the need ever arises.
After parting ways with Jim and his family, Sandra and I drove to a park in Manotick where I tested the XTi with my lenses and then we had the picnic Sandra had packed for us, just before the predicted rain for the weekend moved in.
Click here to view one of the photos I took with the XTi in Manotick's Long Island Park.
Click here for Sandra's less camera-oriented account of the day.

A Big Fan Of Ours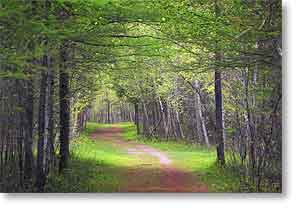 Wednesday, 14 May 2008 - Today I finally got the exhaust fan motor replaced in the ceiling of our little toilet room. The fan died two and a half months ago. We looked at replacing it while we were in Tucson, but erroneously thought they were selling US motors that didn't fit our Canadian hardware, but as it turns out it looks like the older smaller motors have all been replaced everywhere by a larger model, no doubt because the smaller models were all dying. We recently visited our RV dealer here to get the direct replacement fan motor and they had them by the bag, so clearly a lot of the older motors are needing to be replaced.
Anyway, as with the fan motors in Arizona, the new one up here also didn't fit our hardware, so I had to drill new mounting holes in the fan motor's bracket, but happily it works now. Better late than never, Wish I'd known back in Tucson that all replacement motors wouldn't fit directly and we wouldn't have had to live without it for 10 weeks.
And while I was out getting a drill bit I needed for drilling the bracket, I also bought a couple strap wrenches at Canadian Tire, hoping I could get the sewer hose connector disconnected with them. Our sewer hose system fits together very snugly, which is good to keep it from leaking, but bad for trying to get the sections separated, something I haven't been able to do since shortly after we bought it last August. The sections were so cohesed together that even with the strap wrenches I almost couldn't separate them. But the wrenches eventually did the job, so that's another chore taken care of.
After that I figured I had earned a break and decided to do something fun, so we drove back to Stony Swamp and this time took the Lime Kiln Trail, one section of it pictured above. It was interesting, but not nearly as interesting as the Jack Pine Trail. The Lime Kiln Trail had no wildlife other than a few robins and a small group of ducks that took flight before I could get my camera on them. Probably the most interesting things I saw were the old lime kiln ruins and an American Goldfinch, which is a strikingly colorful bird, as seen here.
For Sandra's account of the day and our hike in Stony Swamp, click here.

We Finally Get A Real GPS Navigator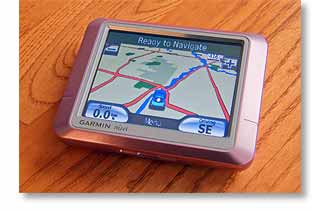 Tuesday, 13 May 2008 - In December, 2004, while we were in Lakeland, Florida on our first winter tour, we bought the Microsoft Streets & Trips with GPS package to help us navigate through all the unknown territory we encounter and while it works (as well as any Microsoft product works, which means it has its quirks that have to be dealt with) and while it has bailed us out a few times, It just hasn't been all that convenient to use, even on Sandra's new Intel Mac, and because of that and her reluctance to use it and my inability to see it while driving, it seldom gets used, even when it would have been a great help to me while towing.
Now Sandra is interested in geocaching and that is done with the aid of a portable GPS unit, so with this new interest of hers and the fact the price on GPS units has dropped over the last few years to the point they are now affordable, we have been looking for a while at buying one and she recently found a good deal on a Garmin Nüvi 250 at our local 'The Source' store (what used to be Radio Shack in Canada), so yesterday we bought one for little more than we paid for Streets & Trips three and a half years ago.
The unit we bought is pictured above. It's metallic pink (!), but that color had a special sale price, CAD$170, so I can live with it and just pretend it's a light shade of burgundy. Once one ignores the girly color, the unit is quite easy to use, is very portable (fits easily in a shirt pocket) so should do the job for Sandra's geocaching, and I'll be able to see it while driving, so we both should come out ahead with it.
So far, the only thing I've found that it doesn't display that Streets & Trips does is your elevation, but it does a lot of other things Streets & Trips doesn't do, so I can live with that limitation as well.

A Tromp In The Swamp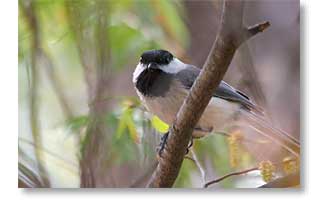 Sunday, 11 May 2008 - First of all, let me wish a happy Mother's Day to all the mothers who might be reading this, especially Michelle and Tracy, the mothers of our grandchildren.
Yesterday, Sandra wanted to hike through someplace different, so we drove west 8 miles (13 km) to the Jack Pine trailhead in the Stony Swamp Conservation Area.
In years past, we've hiked several times in another area of the swamp, but this was the first time we took the Jack Pine Trail and it turned out to be one of the best hikes for seeing wildlife that we've done anywhere, except for Florida.
The trail surface was quite flat and smooth as seen here, so Sandra had an easy time of it with no worries about twisting her bad foot and aggravating that injury, something she's supposed to avoid if it's ever going to return to normal. The trail wound its way through a forest and with the aid of boardwalks, crisscrossed swampy wetlands three times. It would have been a very pleasant and scenic hike even without seeing any wildlife, which is normal for our hikes through this kind of area, but yesterday we saw an abundance of wildlife, probably thanks in large part to quite a number of bird feeders placed along the trail in spots.
We not only saw several species of birds, including the black-capped chickadee in my photo above, which was one of several, plus blue jays, a woodpecker we didn't see well enough to identify, red-wing blackbirds, ducks, and some Canada geese that put on quite a show for us when a territorial dispute erupted with some interloping geese, but we also saw what we think was an garter snake and a very large number of red squirrels and chipmunks, plus a couple other species of squirrels (grey and black), but not nearly in the numbers we saw of red squirrels, which were abundant and not terribly afraid of us, one even coming right up to Sandra's foot before turning around and darting off. They, of course, were getting as much out of the bird feeders as the birds were, as can be seen here.
It was a very worthwhile hike and the first nature hike of any length I've done since my last hike in the desert almost two months ago, so if that is any indication, I must be getting better and hopefully the fungus is losing the battle and not spreading.
For Sandra's account of our hike in Stony Swamp and the rest of the day, click here.

Canadian Tulip Festival 2008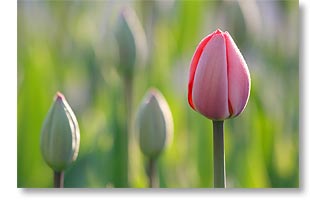 Tuesday, 6 May 2008 - Well, I have actually been doing something worth reporting the last few days. The Canadian Tulip Festival 2008 started on Friday, 2 May, so bright and early Saturday morning I made the short drive up to the main tulip beds in Commissioners Park beside Dows Lake. It's 4.5 miles (7.2 km) from here and takes only 10 to 15 minutes, depending on traffic and how many traffic lights I miss, so I've been up there bright and early every morning so far. Being there early is good for several reasons. For instance, the light for photography is better, about the only people around at that hour are a few other photographers, and most importantly, there's no problem finding a parking spot, which is impossible later in the day.
It's still a bit early for many of the tulips, as can be seen in the photo here, taken on Monday when I thought it was Sunday (duh) and drove downtown, thinking the traffic would be light, but yesterday some of the tulips had opened up, so I expect this weekend will be a prime time to see them.
I had wanted to go downtown to see the Tulip Festival locations in Major's Hill Park and on Parliament Hill, but found a lot of festival tents set up in Major's Hill Park, but not all that many tulips there or on Parliament Hill, at least compared to Commissioners Park, which is where I've gone every day since then.
Anyway, I've been enjoying having something different to photograph, but I'm trying to pace myself and not stay long each time so I don't overdo it and tire myself out.
Click here to view the tulip festival photos I've taken so far. I'll be adding more daily.


__________________________

For Older News

To read details of our previous stops and camps, visit the News Archives.


Updated Saturday, August 16, 2008

Copyright © 2008 by Gordon L Wolford .
All rights reserved.