Down On The Farm Up In The City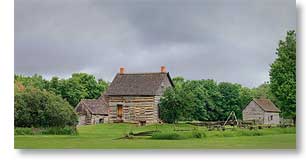 Friday, 20 June 2008 - Yesterday, while surfing the internet in search of something around Ottawa that has heretofore escaped my camera, I found reference to something interesting in the Greenbelt - the Log Farm.
A bit of further study revealed that like the Fletcher Wildlife Garden, the Log Farm is another of those places we've driven by its entrance a thousand times, but not knowing whether it was public or private we never went in to see what was there, mainly because the sign by the road is very unimposing and says nothing about what's there except the name and because it's so heavily forested along there, nothing is visible from the road except a gravel road disappearing into the trees.
Anyway, yesterday after learning that the Log Farm is actually a designated historical site that is a fully functional working farm that has been restored to depict the Bradley family homestead as it was in the 1870s and open to the public, I was keen to see it. However, it being of a historical nature and Sandra having no interest in such things, she decided not to go with me, leaving me, who does have interest in such things, to go by myself and I almost decided to put it off until another day due to the weather still being heavily overcast with scattered showers, a generally gloomy day as can be seen in the photo above, but my curiosity to see the Log Farm won out. The written description of it sounded very good, but that in itself is no guarantee as I've seen some real dumps in my life that sounded good in writing.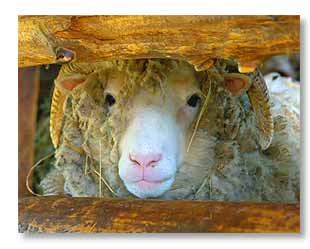 On arrival, I had the place to myself and found all the buildings locked, so I figured it must only be open on weekends, which I've since learned is indeed the case, but there was no one and nothing to keep me from parking and wandering around, so I did, figuring if anyone objected to me being there, they'd tell me, which didn't happen.
Having no idea where anything was, I simply followed the signs and eventually found the trail through the trees that takes you to the farm itself and was pleasantly surprised that it does indeed look like a complete fully-functional farm out of the late 1800s. There is a farmhouse, a barn, and several other buildings, like a chicken coop which had a few chickens in it. In addition to them were three sheep (one shown in the second photo) in their own little building, a very friendly black cat that wanted to come home with me, and quite a number of barn swallows that would never light anywhere so I could get a photo of them, but still interesting to watch. Apparently there's supposed to be a horse, but I didn't see one.
So, despite the weather I had a good time seeing something old but new to me.
On arrival back at the RV, Sandra said she'd like to go to Bate Island and feed some of the critters there, which we did, she quickly finding herself in the center of a throng of gulls, geese, a groundhog, a duck, duckling, and numerous squirrels. The groundhog, which we had been told is called Max, was quite interesting to watch as he was very gentle and careful how he took a carrot from Sandra's hand, who was also careful herself in doing so. You just never know with wild animals, but Max was a perfect little gentleman (assuming he's really a he and not a Maxine).
From there we ran some boring errands and then visited the DeJongs, getting there just as their new living room furniture arrived, so we were soon able to lounge around in some real comfort.
For Sandra's account of yesterday, click here.

Starting To Feel Like Noah


Wednesday, 18 June 2008 - As I write this at dawn, it is cloudy (yet again) with light rain (yet again), which describes our weather for so long now I forget when we last had sustained sunny weather and according to the short-term forecast, there's no end in sight to this unsettled weather.
That's not to say we haven't had periods of sun, which is the only thing keeping this weather pattern from becoming depressing, but they've been shortlived and it's starting to remind me of similar weather patterns we also had for weeks at a time during our stays in Texas.
However, it's far better than drought, so I expect the farmers are happy and I'm not really complaining, but it does explain my recent urge to start collecting animals two by two. As a bonus though, for photographers this kind of unsettled weather often produces some "interesting skies" (as I think of them), like in the photo above of the rainbow we had 3 days ago, one of several very nice rainbows we've had lately, but this one was particularly special because the moon was rising at the same time...a truly beautiful sight
If you didn't know, a rainbow forms when the sun is shining brightly on the opposite side of the sky from where rain is falling. You can therefore tell where a rainbow should occur, if one is going to, by standing with your back to the sun, if it's shining, and looking at the sky in front of you, where it needs to be raining, and your shadow will point towards where the rainbow should be. However, no bright sun and no rain across the sky from it, no rainbow.
The reason you don't see a lot of rainbows is because the conditions that produce them (sunshine while it's raining) don't happen that often. And, of course, one has to be looking in the right direction, plus it helps to be outdoors, which most people aren't when it's raining, but rainbows and the conditions that produce them are certainly some of the most beautiful and dramatic sights nature gives us.

Mardi Gras In June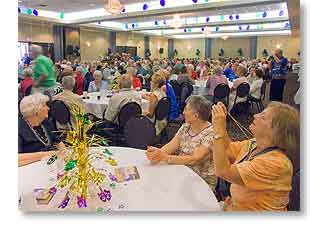 Friday, 13 June 2008 - Yesterday afternoon, we attended the themed client appreciation party our financial planning company, Canada Retirement Information Centre (CRIC), throws each summer, the theme this summer being Mardi Gras.
These parties are quite popular, no doubt because they not only offer free food and entertainment, but free booze as well. In years past, we'd get there around 5 or 6pm and have serious difficulty finding a parking spot and could only find seating in the overflow tent out in the parking lot, as seen in the photo below with some foxy chick standing in its entrance giving me that come-hither look. So this year we decided to arrive early in order to easily find parking and to get a seat in the main hall, as seen in photo above in which you can see that same buxom babe who's now in the lower right shooting a photo (she definitely seemed to have a thing for me as she followed me around almost the entire time and even insisted on coming home with me after the party)! Anyway, joking aside, we did accomplish our goal and not only easily found a parking spot but as that photo shows, we just as easily found a table right at the front of the hall and in the thick of the action. Interestingly though, and to illustrate the popularity of these parties, it started at 3pm and we got there 15 minutes before that and even still the parking lot and hall were already 75% full! CRIC clientele clearly have a lot of time on their hands with nothing much of interest to do with it.

On arrival, one of the first people we saw was Franco, our financial guy, who was all decked out in some Mardi Gras finery, as seen here in this photo of Sandra and him. Quite a few other people were even more decked out, as seen here, but Sandra and I were among the majority who were dressed in normal attire.
Anyway, as it turned out, getting a front row seat proved not to be a good thing because once the band, the Mumbo Jumbo Voodoo Combo (as seen here), started playing, we were in the direct line of fire of the speakers and their volume far exceeded the pain threshold of my ears, so we ended up sitting out in the overflow tent after all, just so I could hear myself think and not going deaf in the process. Personally, now being a crotchety old fart, I'd have much preferred some nice background music you could have had a conversation over and gotten to know the other people sitting at our table, but party planners all seem to think loud music is a requirement for people to have a good time and they might be right, but not for me.
Anyway, the food was excellent and I found plenty of it that looked gluten-free and it must have been because it has agreed with my temperamental digestive system and we did get to meet a couple people at our table in the overflow tent and also had a nice chat with one of Sandra's former co-workers who was also there, but then a band started playing in the tent too (it is a quite a large tent as you can see in the photo above left and in this one) and while the noise level wasn't painful, it was still impossible to talk over, so we left at that point.

A New External Hard Drive

From there, we drove to the west end to buy a 500GB hard drive at PC Cyber because they sell NexStar external hard drive enclosures which not only have USB 2.0 ports but also FireWire (aka IEEE 1394) ports, whereas everywhere else we've looked has them with only USB 2.0 ports and while Macs read and write to USB drives, they apparently will only boot from external hard drives with FireWire ports. Well, technically that's supposed to be the case, but some people claim there are ways to boot both Macs and PCs from USB drives, but I've never been able to get it to work, so I prefer FireWire and also prefer to have as many options as I can whenever possible. The drive with both interfaces cost only $12 more.

Licensing Confusion

From there, we went further west to Open Roads RV in Stittsville to see what they had to say about the new licensing requirement Sandra was told about by another RVer that will either force me to upgrade my driver's license to a commercial level at great effort and possibly great expense or to simply give up the RV lifestyle. Only one person at the license bureau seemed to know anything about the upcoming change in the law and he said I would have to upgrade, while the salesman at Open Roads said with great confidence that the change only applied to trailers used commercially, not personal RVs. He would, of course, say that since if the new law does actually effect personal RVs, that will pretty much kill RV sales. However, he said he was going to talk with someone he knows in the government transport bureau and will let us know what he's told.
This is all very frustrating because it directly impacts our lifestyle and all we get is conflicting information. You would think that something as far reaching as this law might be that all officials in the transport bureau would know about it and that it would have extensive public notification because it would effect thousands of RVers in the province, as well as the RV industry.
This was our first visit to Open Roads, who is now the Glendale RV dealer in the area, Glendale being the RV company that manufactures the Titanium model of fifth wheels. When we bought our Titanium RV, Vos Trailers in Stittsville was the Glendale dealer but Glendale took that away from Vos and gave it to Open Roads when they opened last year. This is really sad because not only do we like Vos, who gave us a fair deal when we bought the RV and have given us exemplary service since then, but Open Roads only had one Titanium on their lot among a large number of RVs by other manufacturers and did everything they could to steer us away from Titanium to the other brands, lying through their teeth in the process.
Glendale, you made a serious error in switching from Vos to Open Roads.
Click here for Sandra's account of yesterday.


__________________________

For Older News

To read details of our previous stops and camps, visit the News Archives.


Updated Saturday, August 16, 2008

Copyright © 2008 by Gordon L Wolford .
All rights reserved.