The photo here is doubly representative because it not only illustrates we had a fair bit of rain this past weekend (photo taken on Sunday), but the chain also symbolizes the fact that for a while on Sunday we were locked out of the RV (our kingdom) as the result of a very small bit of metal breaking (the nail). This was indeed a bad situation, but as it turns out, it could have been much worse.
What happened was, we had the air conditioner running, so when I went outside for a minute to talk with Sandra who was reading under the awning, I closed the door behind myself to keep the cool dry interior air inside, but when I later tried to go back in I found the door was locked and the RV has only the one door! And to make matters worse, neither of us had our keys with us (which, as we learned later, wouldn't have made a difference, but I didn't know that at the time).
My first reaction was that in a senior's moment I had inadvertently flipped the lock lever when I came out, but that's a deadbolt so if I'd done that, the door wouldn't have closed in the first place. Fortunately, or this bad situation could have turned into an ugly one, the large window over the couch was unlocked, so I slid it open and with a lot less agility than I had when I was young and with Sandra's help pushing from behind I managed to pull myself through the window and happily found that I could open the door from the inside.
However, it still wouldn't open from the outside, so I had to dig out the tools, take the door handle and latch assembly apart, and found that a small piece of cheap pot metal inside the mechanism had broken off, fallen down, and was jamming the outside handle movement. I extracted the broken piece but the latch no longer engaged, and, being a Sunday all I could do was tape back the latch tongue so it wouldn't catch in the strike and we used the deadbolt to keep the door closed until the latch could be replaced
So, bright and early Monday morning (yesterday) I called our favorite RV dealer, Vos in Stittsville where we bought the RV, and found they had a number of replacements for this latch in stock, which told me the problem probably isn't rare, so we bought one of them and I installed it. Happily also, it was a direct replacement, unlike the toilet vent fan motor which wasn't.
While we were at Vos, we asked how I could have gotten into the RV if the windows had been locked and they said about the only way is to lower a child down through one of the roof vents, which, of course, if it isn't open as ours weren't, gets destroyed in the process, so a lot often hinges on a little bit.

What's In A Name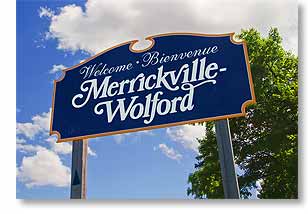 Friday, 11 July 2008 - Yesterday, I got in the mood to go for a long drive in the country and remembered seeing a local TV show recently that featured Merrickville, one of the villages in the region about an hour south of here, and the show made it look much more interesting than I remembered it from my only visit to the place years ago when Betty & Garth were staying there at the Sam Jakes Inn for a few days, so I thought it would be interesting to give Merrickville another look, especially since it was billed as the 'Prettiest village in Canada' by Communities in Bloom in 1998 and is also known as 'The Jewel of the Rideau'.
While we were on our way, Sandra remembered that Merrickville is in Wolford Township! My surname is not all that common, so when I encounter it, it is an occasion and I was hoping they had a sign posted by the road as one enters the township. The photo above shows what we found. It turns out that the village of Merrickville and the township of Wolford amalgamated in 1998 and now go by the official name of Merrickville-Wolford, although everyone still simply calls it Merrickville, as one would expect. A couple other 'Wolford' signs we saw can be viewed by clicking here and here.
In due course, we arrived, parked, and started our shoe-leather tour of the village at the locks of the always scenic Rideau River/Canal which passes through town. From there we walked by the blockhouse that was built for defensive purposes in 1832 and is now a museum.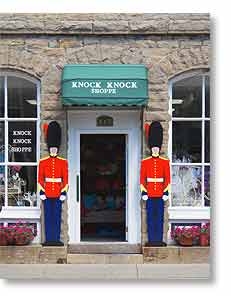 And speaking of defensive purposes, I'm going to digress here a second. Being an American that's lived in Canada for the better part of 20 years now, it's interesting to hear the difference in viewpoint that Canadians have compared to Americans regarding the War of 1812 and the defensive measures Canadians took back in that era to protect themselves against invading Americans, the Merrickville Blockhouse being one of those measures against such an invasion, although never needed for that purpose. Growing up, I was taught the adversary in that war was Britain, not Canada, but up here they take great pride in the fact that they, Canadians, repulsed the invading Americans (as if the British had nothing to do with it) and view it as a victory. Fascinating that the same event can be viewed so differently.
Anyway, from the blockhouse we walked along the downtown street of Merrickville, looking in the windows and doors of the numerous little shops, some almost quaint, quite a few looking moderately interesting, but even Sandra wasn't tempted to go into any of them. The photo on the left shows the entrance to one of them that caught my eye. Most were arts and crafts shops, such as hand-made jewelry, local pottery, art from local artists, hand-blown and stained glass, hand-sewn quilts, and the like.
After we had covered both sides of the main street, Sandra returned to the truck while I walked across the canal to look at the Merrickville Ruins, the little bit that remains of the mills that founded the village, once known at Merrick's Mills.
The ruins didn't hold my interest either, so back in the truck we drove around the village to see the rest of it and, while it is indeed a nice little place, I certainly can't see how it gained the title in 1998 of Prettiest Village in Canada. I've seen much prettier, but apparently there are more heritage buildings remaining per capita in Merrickville than anywhere else, and while I think heritage structures have far more charm and class than modern buildings (I wonder why that is? This is progress?) they don't really come together in Merrickville to form what I'd call a charming classy or particularly pretty village.
This might have a lot to do with the large and quite tall utility poles adorned with transformers that were planted down one side of the main street and had a maze of power lines running between them and across the street. Power lines and utility poles are ugly and any place that has them in plain view where they shouldn't be will never be a place I'll call pretty, let alone prettiest, but I guess the average person is blind to them. I also guess Merrickville never heard that such things are better run out of sight behind the buildings rather than in front of them for all to see. I didn't take any photos of the main street, but Sandra took one. Click here to see it and here to see a zoomed in crop.
Fascinating that what deserves the term prettiest can be viewed so differently.
For Sandra's account of yesterday and with some fine photos, click here.

My Solo Night Out On The Town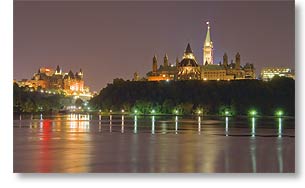 Thursday, 10 July 2008 - I've done very little since my last report except rest and run errands with Sandra, but Sunday afternoon we drove across the Ottawa River to Gatineau, Quebec where we visited the grounds of the Museum of Civilization, which is directly across the river from Parliament Hill in Ottawa and affords the most interesting view that I've found of it and the Ottawa skyline. We had a pleasant time just walking around, but being in midday light, I didn't take many photos.
Then Monday evening, for some inexplicable reason, I got the urge to drive back downtown and take some sunset, twilight, and night shots, something I like to do here in Ottawa, don't do often enough, and hadn't done yet this summer. So, an hour before sundown I headed out to face the city at night, and face it alone since Sandra declined to go with me, her back bothering her from all the walking she's done lately.
There are a couple areas downtown where I can generally find free parking without too much trouble and this time I opted to return to the spot near the Museum of Civilization where we'd parked the day before. I chose this location because I wanted to see the view of Parliament from the Alexandra Bridge (as it's commonly called, short for its full name, the Royal Alexandra Interprovincial Bridge) which is just a short walk away from where I parked.
I walked across the bridge (a bit of a hike just in itself), enjoyed a sunset good enough for a shot or two, although nothing spectacular, and then spent the rest of the evening on Nepean Point, a hill that's at the Ottawa end of the bridge and overlooks Parliament Hill, the Chateau Laurier and the Ottawa Locks, part of the National Gallery, and the Ottawa River. After dark fell and taking some photos around the National Gallery, one of my favorite buildings, and more photos of Parliament Hill, I headed back to the truck, taking still more photos along the way, like the one above of Parliament Hill taken from the Museum of Civilization.
All in all, it was a very pleasant evening, although it's always more enjoyable when Sandra goes with me.

Completely Metagrobolized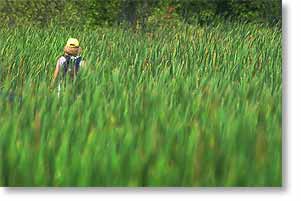 Sunday, 6 July 2008 - Metagrobolized! How's that for a word? Now and then I stumble across one I've never seen before and that's the latest one, so I thought I'd use it.
In case you too aren't familiar with it, it means puzzled, bewildered, confounded, perplexed, and that describes me yesterday when my friend LeRoy, who's also my Apple VAR (C. L. Lees & Associates) and from whom we buy our Mac computers, showed me that often a hard drive that has failed inside a computer will run when placed in an external enclosure connected via FireWire.
He has mentioned this before and I couldn't see how it could possibly make a difference, but yesterday I saw it with my own eyes when Sandra and I took her computer over to his place to install a new replacement hard drive he had in stock. I did the replacing with him watching to make sure I didn't screw anything up and the new drive was up 'n running in a few short minutes.
We then put Sandra's dead drive in a Macally PHR-S250CC FireWire/USB2.0 Storage Enclosure that LeRoy also just happened to have in stock, hooked it to her laptop, and Lo & Behold! - it appeared in the formatting utility and I was able to erase it!
So, I saw it for myself, but am still at a loss to explain it, totally metagrobolized!
Now the question is: keep the hard drive and since it is of questionable reliability use it for a redundant backup of non-essential data or, now that it's once again erased, send it back to Apple for a warranty replacement?
When we got home after running a few errands on the way back, I started the restore process to load Sandra's data from the backup onto the new hard drive, which takes hours. So while that was churning away, we headed out to shoot some photos and decided on hiking around Mer Bleue, a conservation area just east of Ottawa that's boreal peatland normally found in the boreal forest much farther north around Hudson Bay. The peat in some areas is up to 20 feet (6 m) deep. It's an interesting place.
Pictured above is Sandra walking through an area of marsh grass (aka spartina or cordgrass) in Mer Bleue. Fortunately, she's on a boardwalk that's hidden from view by the grass. If it weren't for the boardwalk, one would get very wet feet and legs wading through there.
We've now hiked quite a few of the trails in Ottawa's Greenbelt and the Jack Pine Trail in Stony Swamp is still our favorite.
For Sandra's account of yesterday and with some fine photos, click here.

Happy Fourth of July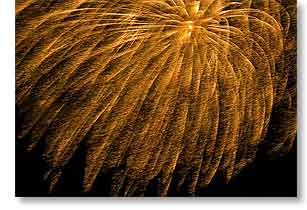 Friday, 4 July 2008 - Happy Fourth of July to all who celebrate it as a holiday. The photo here was actually taken in Laredo, Texas when we were there during their Jalapeño Festival in February three years ago, but hey, you'd never have known this wasn't a Fourth of July firework if I hadn't told you, would you?

Dead Drive

Well, the big news I didn't cover in my report yesterday is the hard drive in Sandra's MacBook laptop computer died. The good news is, it's still under warranty. The bad news is, that warranty is totally worthless because who in their right mind is going to exchange a dead hard drive that's still full of personal data (which is easily accessed by people who know how to do that) for a new replacement hard drive? So we will have to buy the replacement and this drive is not even a year old. Not happy.
And to add salt to this wound, at one point I had actually gotten the drive erased and all the data set to zero (erasing disks doesn't actually remove the data, you have set every bit to zero to be safe), but since the drive's SMART diagnostic report said the drive was sound mechanically, I made the bad assumption the problem had come from scrambled directory data and went ahead and restored the hard drive data from the backup I'd also been able to make, but the hard drive continued its death spiral until it could no longer be accessed even to attempt erasing it again, so I expect it was a component on the driver board that coughed. It had taken 3 hours to zero the data and another 3 hours to restore it, 6 hours wasted and now we have to pay for the new drive because I couldn't leave well enough alone. Not happy.
I'm especially not happy the drive died before it was even a year old. There's absolutely no excuse for that. They make drives today that contain huge amounts of data and are ridiculously cheap compared to the drives we had just a few years ago, but I'm finding you get what you pay for. They may be cheap, but they don't last like they once did, which means keeping an up to date backup is more important now than ever.
Fortunately, the backups are on the new FireWire external hard drive we bought recently (hope it lasts longer than a year) so they are bootable, which means Sandra is still able to limp along running off the backup, but it's very inconvenient. Hopefully, we get the replacement drive tomorrow.

My Quiet Weekend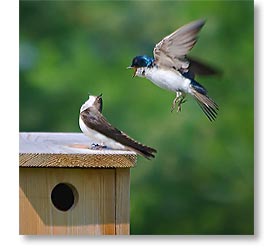 Thursday, 3 July 2008 - At the moment I'm writing this, it is raining (yet again) with cloud cover thick enough to interfere with internet access, which has been going up and down like a yo-yo, and while it was much the same for the holiday weekend (although we did have some sunny breaks), Canada Day itself on July 1st turned out be a gorgeous day.
Sandra went downtown with her sisters for most of it (Betty being in town for the holiday weekend), but I stayed in the RV and rested. I had given serious consideration to going out later to photograph the fireworks, but then decided against it when I tried to figure out where I could park the truck within reasonable walking distance and came up empty. The only practical way of getting to and from the festival firework sites is by taking public transit and I could have taken a bus or the train downtown, but would have been packed in like sardines with a bunch of people and that's a situation I've been avoiding like the plague, since catching a cold from someone in that situation on top of trying to recover from pneumonia seems like a good thing to avoid at all costs. The last time I photographed Canada Day fireworks, we were still living in the house and Sandra simply dropped me off at Andrew Haydon Park and I think I walked home from there. No such option this year.
I did go with Sandra on Sunday to a family gathering at the DeJongs house, a twofold celebration of not only Canada Day but also Nick's 23rd birthday. Plus Sandra and I have gone out during sunny breaks to shoot photos. The one above was taken yesterday at the Fletcher Wildlife Garden of a Tree Swallow family scene. The garden has erected quite a number of these bird boxes which the Tree Swallows use.
The photo was also taken after my last visit with our family doctor, who said I passed all the tests which showed no signs of trouble, although she as well as the infectious disease specialist still have no explanation for the discomfort I have in my upper right rib cage.
Anyway, after the rain moves out later today, the forecast is for beautiful weather to return for tomorrow and to stay with us through the Fourth of July weekend, which is still meaningful to me but not to Canadians in general.
For Sandra's account of the last few days, click here.


__________________________

For Older News

To read details of our previous stops and camps, visit the News Archives.


Updated Saturday, August 16, 2008

Copyright © 2008 by Gordon L Wolford .
All rights reserved.