Return Of Rain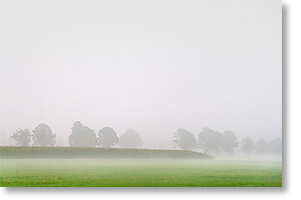 Sunday, 14 September, 2008 - It's still dark outside as I start this. Normally, I'd be getting ready in an hour or so to go for my normal sunrise stroll, but it's raining...yet again. Yesterday's sunrise was a washout too, not from rain, but from clouds and fog, the photo here being the best I could get.
We did have some sunny breaks during the week, but the forecast for the weekend was for mostly clouds and showers. I just can't believe how much rain we've had this summer. It has surely set a record for precipitation and the remnants of Hurricane Ike are due to arrive here any minute, as well, and that's going to dump even more rain on us. So when Ike arrives, we'll have gotten rain from three hurricane remnants recently: Gustav, Hanna, and Ike.
Friday evening we drove into Ottawa and ran a few errands before we went to the Civic Hospital where I had an appointment at 7:20pm for a CT scan of my lungs, the third scan I've had since contracting Valley Fever pneumonia back in March. As with the previous CT scan, done at the General Hospital, we got to the Civic well before the scheduled time so we would have time to find parking and find the right place in the hospital, which is quite large, has a convoluted layout, and not nearly as good signage. However, we found everything quickly and they took me right away for the scan, even though we were more than a half hour early, and were well on our way back home before the appointment time.
It's now evening and we just got back from dinner at the DeJongs, all of them being there, Margie, John, Danica, Nick, and Becky. The dinner was in honor of Sandra's and my birthdays, which are only a week apart in dates, but far apart in years since she's much younger than I am.
Click here for Sandra's account of the weekend.

A Cruise On The Mississippi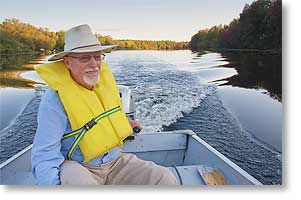 Thursday, 11 September, 2008 - Well, actually it was a boat ride, but cruise sounds much more impressive. Last evening there was a knock on our door and it was Dave, the owner of the campground, wondering if I'd like to take a boat ride on the river, the Canadian Mississippi, something we'd talked about the last time Sandra and I were here but I never got around to it.
This time though, I took him up on his offer and a short time later, just before sunset, we met down on the dock and after donning lifejackets, off we went (photo on the left).
The Canadian Mississippi is not nearly the size of its American counterpart, but is quite scenic along this part of it, with almost no human development to mar and scar its pristine natural beauty. According to Dave, this is because it's a flood plain along here, so nothing is permitted to be built near the water.
During our excursion, we saw a family of loons (the avian kind, not the human variety), two herons, a duck and a flock of geese that flew over, the sun set, and a bunch of geese hunters in a blind who had quite a number of decoys out in the water that weren't fooling the real thing any. I don't think the hunters were happy to have us come along, but they were polite, and I equally wasn't all that pleased to see them, but was equally polite. Personally, I'd rather see wildlife in the wild than humans trying to kill it, but that's a topic for another time.
Anyway, I had a most enjoyable cruise on the Mississippi and hope Dave did as well.
Click here for Sandra's account of yesterday.

Back In Carleton Place, Ontario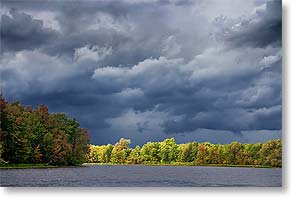 Monday, 8 September, 2008 - This morning, after a very pleasant month's stay at the Double "M" RV Resort & Campground on the banks of the Scugog River at Lindsay, Ontario, we packed up as clouds from yet another storm system were moving in and we were on the road by 9:30am with hopes to stay ahead of the incoming storm and gain enough time on it to get setup when we arrived at Tranquil Acres Camping RV Park near Carleton Place, west of Ottawa, before it caught up with us.
Things were going along just dandy until 74 miles (119 km) into our 168 mile (270 km) drive we encountered an accident on Highway 7 at the Route 62 intersection just outside Madoc, Ontario. The wreck was blocking the intersection and had happened so shortly before we got there that the police hadn't arrived yet, although some armed forces personnel had happened along and were directing things until they did.
Fortunately, we were able to turn off Highway 7, the road that takes us from Lindsay to Carleton Place (as seen on this map of our trip), and get onto Route 62 and took it into Madoc, where we had no idea how we could back onto Highway 7 beyond the accident or if that was even possible. I really dislike getting off main roads when towing, but in this case had little choice except to sit there at the wreck and wait for the intersection to be cleared which might have taken at least an hour and possibly have let the storm catch up with us.
So, in Madoc we found curbside parking that was long enough to pull into easily and out came Miss Pinky, but before she could boot up and access the GPS satellites a very helpful fellow came by in a pickup truck, assumed correctly we didn't really want to stay parked in Madoc, and told us how to get back to the highway beyond the wreck. By that time, Miss Pinky had come to life and agreed with his directions, so all in all, we didn't lose much time, taking advantage of the opportunity to make it a pitstop. I expect before the accident was eventually cleared that traffic must have backed up in all directions for miles, so we were quite fortunate to have come along when we did.
Without further ado, we arrived in due course at Tranquil Acres at 1:20pm where we were greeted like returning family, with Dave and Shonagh offering to help us get setup, and they did get the water connected for us, but I was feeling well enough for Sandra and I to do the rest of the setup routine ourselves which was finished by 3pm.
This is our 154th camp since starting the nomadic lifestyle four years ago right here at Tranquil Acres, this being our sixth time here, so it feels like being home.
After taking a minute to catch our breath, we then took a walk around the park and along the park's shoreline beside the Canadian Mississippi River just about the time the clouds did catch up with us (photo above). Like Double M by the Scugog River, Tranquil Acres is also along a very scenic stretch of river, so photos can usually be found within easy walking distance.
Click here for Sandra's account of the day.

Last Weekend In Lindsay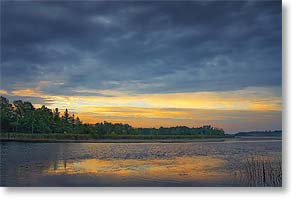 Saturday, 6 September, 2008 - Let me first wish my daughter Michelle a happy birthday. I won't mention her age here, but it's hard to believe she's at the age my parents were when I first thought they were ancient.
The remnants of Hurricane Gustav arrived here early yesterday and thwarted the sunrise as can be seen in the photo here. As usual with hurricanes that make it inland this far north, it was well blown out with winds down to 19mph (30kph), generally making it a very breezy gusty day and also dropping rain on us most of the day and last night and into this morning, but as blown out hurricanes go up here, Gustav was very tame. For the moment, as I write this just before suppertime, the sun is shining again but clouds and rain are due to return tomorrow, which is okay as long as they clear out by Monday, as the current forecast calls for them to do.
This is important because Monday we are scheduled to pack up and return to the Ottawa area where we will be spending the rest of the summer at Tranquil Acres near Carleton Place, 15 to 30 minutes west of Ottawa, depending on which part of the city you're going to. More blood tests, a CT scan, and another visit with the specialist are scheduled and maybe I'll finally learn something I don't already know.
Click here for her account of the week.

We Finally Make It To The Corn Roast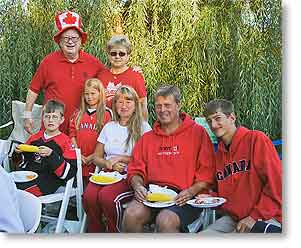 Tuesday, 2 September, 2008 - Every year since we started the nomadic lifestyle in 2004 and spend August at Lindsay, Ontario (because that's the month of the family's annual cottage weekend), Garth and Betty have invited us to attend Pleasant Point's annual corn roast held on Labor Day weekend by one of Garth's neighbors and attended by nearly all of them (as can be seen by clicking here to view a panoramic photo of the event) and every year something has always interfered with us actually attending. One of us was either ill or the weather wasn't good or something, but Saturday evening we made it to this year's event and an interesting time it was.
Also attending and pictured here at the event were Garth's daughter Melinda and her family who were staying in Garth's other cottage for the holiday weekend. In the photo L-R are: Garth's grandson Duncan holding the ear of corn, Grandpa Garth in the cute Canadian flag hat, his one and only granddaughter Tess, Betty, Melinda, her husband Doug, and their oldest son, Gareth.
While there I made arrangements with one of Garth's neighbors, Robert, who I've met several times and who shares many interests with me, including photography, to go out the next day on a photo excursion to see a section of road he thought I'd be interested in photographing.
The corn roast had a band headed up by another of the neighbors and they were quite good, but like most bands don't know how set up an equalizer to get loud music without it being painful at the same time, so we left shortly after they started playing in earnest.
The next day we returned to Garth's and at the appointed time, 11am, I walked down to Robert's cottage and he and I, as well as his wife who went us, headed out on our photoshoot, her interest being in birdwatching. The road he had seen, which is three or four miles west of Bobcaygeon and in an area I had not previously explored, didn't turn out to be quite as impressive as his memory of it was, but it was still worthy of photographing (click here to see it), plus while we were out we toured the adjacent roads in the area and saw some very picturesque farms and marshland that I intend to go back to sometime to photograph in better light.
So, for me, it was quite a busy weekend and the longest I've been up and about and going without adequate rest since contracting Valley Fever and yesterday I was feeling it and spent most of the day resting and sleeping.
Click here for Sandra's account of the long weekend.


__________________________

For Older News

To read details of our previous stops and camps, visit the News Archives.


Updated Friday, September 26, 2008

Copyright © 2008 by Gordon L Wolford .
All rights reserved.