Now At Lebanon, Ohio
Leg 4 of our southwesterly trek to Texas, destination for Winter Tour 2008-9,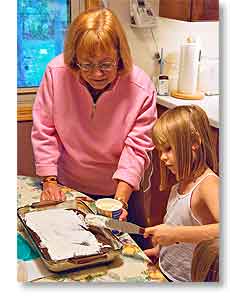 Thursday, 30 October, 2008 - Today, after a four day stay near Columbus and a great visit with Michelle, Eric, and the grandkids, we packed up, hitched up, and moved the 101 miles (162 km) to Cedarbrook Campground in Lebanon, Ohio. Click here to see a map of the drive.
Pictured on the right is Grammy overseeing Grace icing her own birthday cake during our stay in Columbus. As it turned out, we just happened to be there on the big day itself, Grace's eighth birthday, halfway to sweet sixteen.
This time we got to know little Luke much better. Such a nice sweet boy. Definitely takes after his maternal grandfather. Click here to see the family photos I've processed so far from this trip through Ohio. I will be adding to the gallery for a while yet.
Today dawned very cold (25°F/-4°C) and with dense fog, as seen here in a photo I took just down the lane from our RV, so it's a good thing we had a short drive as that allowed us to let things thaw out and clear up before we had to leave.
This was the coldest weather we've experienced for a long time. Fortunately, the forecast is calling for warmer weather for the remainder of our stay in Ohio, so that's a relief.
And true to the forecast, things warmed up nicely after the sun came up and the drive under clear skies was quite pleasant. This time I decided to let Miss Pinky guide us along I-71 through downtown Columbus, rather than taking the longer bypass as we normally do, and she did well.
We left Columbus at 11:30am and arrived in Lebanon at 1.:30pm for our fourth visit to this RV park, the 158th camp of our odyssey, and were onsite and completely setup by 4pm. At our previous stop, I had failed for the first time to find our TV satellite. Don't know why, but just couldn't get any signal where it should have been, even though we had a clear view. Local TV off the antenna worked okay since Columbus has a lot of channels, but wow, those political commercials sure do get tiresome, so I was particularly pleased when this time I readily found the TV satellite with its Canadian TV which gets us away from the seemingly nonstop political barrage currently taking place. The US election system could use some real streamlining, as far as I'm concerned, but I find politics in general boring at the best of times.
Anyway, click here for Sandra's much more detailed account of our stay in Columbus and today's drive and with many more photos.

Back To Delaware (Columbus), Ohio
Leg 3 of our southwesterly trek to Texas, destination for Winter Tour 2008-9,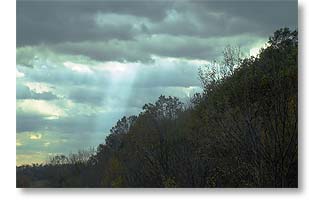 Sunday, 26 October, 2008 - We are now back at the Cross Creek RV Resort, where we stopped overnight in April on our rush to get me to our doctors back to Ottawa.
This is actually our third time at Cross Creek, which is a very nice RV park and is in Delaware, Ohio, 20 miles north of Columbus where Michelle and her family live and this time we are planning on spending time with them.
We arrived here a little before 4pm, having left Sherkston Shores at 9:20am under sunny skies and mild temperatures, something around 50°F (10°C). The forecast at one time had called for cold and rain, so I was glad it had been wrong.
Except for a strong headwind and one band of rain, the 326 mile (525 km) drive was blissfully uneventful. Click here to see a map of it. We even sailed through the border crossing at Buffalo, NY. The last time we went through there the border guard had to inspect the inside of the RV.
Once in the US, Miss Pinky got us through Buffalo without missing a turn or lane change. Her only mistake for the whole trip was she would have had us exit from I-90 onto the local lanes of the I-271 Cleveland bypass rather than the express lanes.
South of Cleveland on I-71, we stopped for some fuel. Under normal conditions, I figure we can tow for 360 miles (580 km) on one tank and we could have probably made it this time without a fuel stop, but because of the strong headwind we had for nearly all of the drive it looked like it was going to be close, so we fueled up at a truck stop.
One oddity we noticed along the drive was that regular gas here is almost a dollar cheaper than diesel fuel. Normally, the prices aren't that different and it's a mystery to me why gas prices are so much lower here at the moment.
The photo above is one Sandra took during the drive as we were coming out of the rain. We entertained ourselves during this scenically boring drive by listening to an audiobook (Manhunt by Janet Evanovich) which ended with perfect timing just as we were approaching the RV park.
This was the longest drive we've made since I contracted Valley Fever pneumonia in Arizona in March and I was feeling it by the time we arrived, but not much more than I would have in the past I think. Simply because such drives are so tiring we typically try to limit them to 300 miles (500 km) anyway, so I was pleased I could make this one and still have enough energy to set up camp. Just packing up before the drive starts is tiring enough as it is.
We arrived with the weather much like what we had left, mostly sunny and pleasant, but a cold front is due to arrive tonight and drop the temperatures at night down to the freezing point or below with daytime highs only getting into the 40sF. These conditions are supposed to last for 3 days before warming up a bit.
Click here for Sandra's account of the day and more photos.

Our Sherkston Stay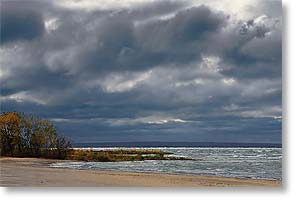 Saturday, 25 October, 2008 - Tomorrow we are to pack up, cross the US border at Buffalo, New York and head south. I'm happy to report my health has held up so far without the antifungal medication. Sure hope that continues.
Our stay here at Sherkston Shores started out well, as can be seen by the sunset photo in my previous report, but the photo on the left in this report is what the cold front looked like that arrived Tuesday morning just as the day was starting and the temperature for the next two days hardly got above freezing, even during the afternoon, and we didn't see much of the sun until Thursday, which was really the only reasonably nice day we had all week, weatherwise. The cold front also brought rain and we heard reports of snow (arrgh!) in Toronto and Lindsay. About all we did for the week was try to stay dry and warm, although we've both gone for our daily walks, despite the weather, but we only had the one good sunset on the first evening and one good sunrise Friday morning, as seen here.
The most interesting thing we saw were some windsurfers and kiteboarders that were out on Lake Erie a couple of times, like this evening when it was extremely windy down by the lake shore, as seen here. Hard to believe that is the same lake as seen in the photo below, when it hardly had a ripple.
The most interesting thing we did all week was a shopping trip to Welland, a small city north of Port Colborne. Both are on the Welland Canal which allows shipping on the Great Lakes to bypass Niagara Falls. We had wanted to get up to see the Falls, which is only a half hour drive north of us, but when we were in the mood, the weather wasn't, and vice versa, so it will have to wait for another time.
One thing I did do that was of interest to me was to start creating photo galleries in my internet domain to either work in place of or along with my photo galleries on PBase.com. This is something I've wanted to do for a long time, because PBase seems to get more and more unreliable with each passing year and for a variety of reasons none of the other photo hosting websites appeal to me, so at least the galleries in my own domain will be completely under my control, even though they will take more effort. I've gotten a good start and have gotten the look determined, but so far nothing good enough for anyone to look at.
All in all, it was a very quite week. Click here for Sandra's account of it and more photos.

We Return To Sherkston Shores
Leg 2 of our southwesterly trek to Texas, destination for Winter Tour 2008-9,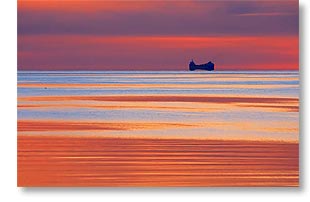 Monday, 19 October, 2008 - After a pleasant and photographically productive five day stay at the Double "M" RV Resort & Campground outside Lindsay, today we pulled up stakes and moved to Sherkston Shores Resort, 5 miles (8 km) east of Port Colborne, Ontario on the shores of Lake Erie, 16 miles (26 km) south of Niagara Falls and 13 miles (21 km) west of Buffalo, New York, our planned point of entry into the US for the second year in a row.
Today's 174 mile (280 km) drive (click here to see a map of it) was uneventful (the kind I love) even though it passed through one highway work zone after another for the entire 75 mile (120 km) length of the Toronto megalopolis, which can be a horrific drive, which is why we chose to make it on a Sunday, the day I figure traffic is lightest, although I think traffic along there can never actually be called light. At least we made it without being stopped once by stalled traffic, or even slowed down, and only one of the work zones had any work being done in it, most of them sitting idle because of it being Sunday, as well as most of them appear to only have work done at night.
Anyway, we left Lindsay around 10:45am under chilly but sunny skies and arrived here 3 hours and 15 minutes later at 2pm for an average speed of 54 mph (86 kph) getting around 13 mpg (21 kpg).
Sherkston Shores is primarily a large vacation resort community of park model homes, but does have an RV park area, which is better than the vast majority of dedicated Canadian RV parks in that it has level paved sites with 50 amp electrical service (instead of the normal 30 amp), sewer hookup, and quite a few of the RV sites are pull-thru, like the one we're in. At the moment, the RV park also now has area-wide free wi-fi access, but I have little doubt that next year they will charge for it.
We were onsite and mostly setup by 3pm. I say 'mostly' because due to brain failure on my part, it took more than an hour to get working access to our internet satellite. I spent about half that time on the phone with one of our satellite ISP's technical support staff, who couldn't figure out why I was getting good signal strength and polarity readings, but no access, a situation I've never seen before. It came down to the last resort effort of him telling me to start over from scratch with the setup routine, at which point I discovered I had entered the wrong latitude. This is also something I've never done before, because I always double and triple check this when I'm entering the data and how it slipped by this time is a mystery to me, as is the fact I got all good readings back from the satellite but no access.
After finally realizing the error and correcting it, we got access immediately, so after catching my breath from the stress and strains of the day, I celebrated by walking down to the beach about an hour before sunset and strolled along the shoreline, just enjoying the view and ambience of Lake Erie and taking photos until the sun went down, getting shots like the one above of a Great Lakes freighter sailing along the horizon at just the right time to get some good sky color.
So, we are signed up to be here for a week, planning to cross into the US on Sunday, 26 October. The actual day we leave will depend of the weather, which the long range forecast is currently calling for showers that day, but at least no mention of snow or freezing rain.
Click here for Sandra's account of the day and more photos.

We Return To Lindsay
Leg 1 of our southwesterly trek to Texas, destination for Winter Tour 2008-9,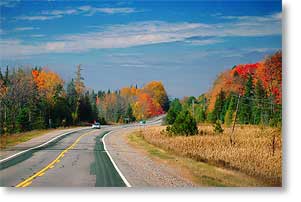 Tuesday, 14 October, 2008 - Today we made the first stop, hopefully, on the long (2,000 mile/3,200 km) southwesterly trek to Texas (this winter's destination) and moved from Tranquil Acres Camping RV Park near Carleton Place back to the Double "M" RV Resort & Campground outside Lindsay.
Thanks to the graciousness of the park owners, who allowed us in even though the park closed to non-seasonal visitors today, we not only have a site, but are in one of our preferred ones.
However, that's because we can normally enter it as a pull-thru, but this time the site behind it is occupied, so I had to back in and even with the site number post removed, which with this site would have made it nearly impossible to back into, it was still very difficult because I had to back in from the right, which is the blind side when doing that, plus there's a hedgerow along the left side of the lane and that severely limits one's turning radius. I made it, but it wasn't pretty. I swear that people who design campgrounds have never had to maneuver a large RV in them.
Anyway, we are here and mainly just to pick up our travel insurance for the winter, but are scheduled to stay until Sunday and expect to have lunch with Betty and Garth at the cottage on Thursday. We decided to stay the extra time in Lindsay because Sunday morning is the best time to drive through the megalopolis of Toronto, something I hate doing but that's the only practical way to get from here to Sherkston Shores on the banks of Lake Erie, our next stop.
Today's drive though (click here to see our route) was uneventful as we drove from overcast skies, through a few bands of light showers, to mostly clear skies that unfortunately brought noticeably cooler temperatures with them.
At any time, the 167 mile (269 km) drive along Highway 7, which we take the whole way, is beautiful from west of Perth to east of Peterborough as it passes through several areas of very scenic small lakes, marshes, farms, and hills, but today this drive was particularly beautiful because the fall foliage was out. I saw countless photo opportunities we could have taken advantage of, had we not been towing the RV, but I never stop for photos when towing because we don't want to be delayed getting to where we're going and there's seldom anywhere to pull over because I don't like risking the tires getting punctured by debris that's all too often on the shoulders of roads.
However, as we travel Sandra often takes what photos she can through the truck windows and the shot above is one of hers taken somewhere along the drive. Some year I'm going to drive along here in the autumn when we're not towing and have time to shoot some serious photography.
Anyway, as I said, from Lindsay the next stop on the itinerary is Sherkston Shores, near Fort Erie, which is across the border from Buffalo, New York, where we'll cross into the US a week or so later, depending on the weather forecast. Freezing rain and snow are always possibilities up here at this time of year and we want to avoid those at all costs.
Once in the US, the next stops are to be in Ohio to see my family, the duration of those stays also being determined by how wintry the weather becomes, then south where my first serious photo stop should be Lake Martin, Louisiana, which apparently has some beautiful swamp, and from there to our favorite area of Texas, Aransas Bay. Sandra is also talking about us spending some time along the Rio Grande Valley near Mission, Texas, apparently for a flea market that's in the area and for birding opportunities. The one time we drove through there we weren't terribly impressed, but it's about 150 miles farther south than Aransas Bay, so its weather is generally a bit warmer, which is always a good thing in winter.
Click here for Sandra's account of today's drive and more of her photos.

Happy Canadian Thanksgiving Weekend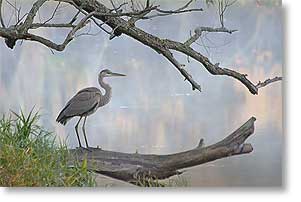 Sunday, 12 October, 2008 - This is the long Thanksgiving weekend in Canada, Monday being the actual holiday, so happy Thanksgiving to all who celebrate it.
In honor of the holiday, Margie and John had us over for a turkey dinner Friday evening and as always, it was sumptuous and the company was good. Sandra had prepared gluten-free stuffing just for me, otherwise the DeJongs did the cooking. Read about our visit by clicking here and click here to view a photo of two especially fine-looking people in attendance - yours truly and my favorite (as in only) niece Danica.
Otherwise, the high point of the past week, or the low point depending on how you look at it, was Sandra getting her long sought after pedicure. Read her accounting of it by clicking here. There's no way I could ever be talked into getting my toe nails painted, but someone wouldn't have to pull my leg too hard to get me to allow someone named Heidi to give my feet a massage.
Otherwise, we haven't done much of note since my last report. The weather turned chilly for a few days with temperatures at night dropping to near freezing and days only becoming cool or mild at best, but it's now turned warm again for a few days, so that's welcome, but the weather is forecast to soon return to its chilly ways.
I've been mostly seeing if my body will get along without the antifungal medication. Just because the infectious disease doctor thought it was safe to take me off of it almost two weeks ago is no guarantee that it actually was. Only time will tell. So far, so good though. I saw our family doctor late yesterday afternoon to get the results of my latest blood tests that were taken Monday and since they were all good she too saw no reason why we couldn't head south for the winter. So we have been making plans for that and for our return in the spring. To that end, Saturday a week ago we had already gone on a search to find RV parks around Ottawa that open earlier in the spring than our preferred park, Tranquil Acres, and found a couple that look promising.
While out on that quest, we ended up east of Ottawa in an area I had never been before and Sandra only rarely in her past. We traveled east along the Ottawa River as far as Rockland, which proved to be an interesting area and it will give us something different to see on our return in April.
So, except for the events above, unless it was raining at the time, I've done little else but take my daily strolls at dawn for photos around the neighboring area which is farmland and along the RV park's shoreline of the river, where yesterday morning the heron in the photo above flew in just as I was nearing the dock and posed so cooperatively for me.
Click here for the rest of Sandra's account and her photos of the past week and a half.

So Happy!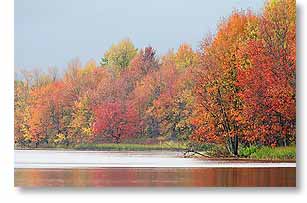 Wednesday, 1 October, 2008 - This afternoon was my latest appointment with the infectious disease specialist, the appointment that would determine our immediate future by giving us the results of my recent CT scan, which was done to check the condition of my lungs, specifically to see if the spot from the Valley Fever fungus in my right lung had either grown, remained the same, shrunk, or disappeared.
If it had grown we would be spending the winter in Ottawa with all kinds of further medical procedures being done to me, not the least of which would have been a lung biopsy just for starters. If the spot had not changed, I'm not sure how that would have effected us, but I suspect we wouldn't have taken the chance to leave the safety of our medical care here in Ottawa. To stay, we would have had to winterize and store the RV and then find a place to stay for the winter. However, if the spot had shrunk, or best of all, disappeared, then that would mean we could get on with our lives, at least to the point of escaping the Canadian winter.
Unfortunately, the spot had not disappeared. Fortunately though, it has shrunk significantly. This is very good. Tonight I'm a very happy camper.
Based on the fact the spot has shrunk and the fact I have been slowly, although very slowly, improving over the summer, the doctor took me off the antifungal medication and gave his blessing on us going south for the winter. This gives me three weeks before we leave Canada to make sure my body can deal with being off the medicine. Typically, it takes six months to get over this nasty disease, and it has now been that long, but some people's systems are just incapable of fighting it off and must remain on the medication indefinitely. Hopefully, I'm not one of those. My immune system has built up antibodies against it and hopefully that will be enough to take care of it.
So, there are still some areas of uncertainty, but as of now we are looking at heading for the Texas Coastal Bend toward the end of the month by way of seeing my family in Ohio and then a stop at Lake Martin in Louisiana along the way.
The photo above is one I took down by the river yesterday. You can see it's cloudy. Has been for days, as it's supposed to remain for days into the future, so today's good news was a much needed bright spot in the overcast.
Click here for Sandra's account of the day and more photos.


__________________________

For Older News

To read details of our previous stops and camps, visit the News Archives.


Updated Friday, October 31, 2008

Copyright © 2008 by Gordon L Wolford .
All rights reserved.