Now Near Breaux Bridge, Louisiana
Leg 9 of our southwesterly trek to Texas, destination for Winter Tour 2008-9,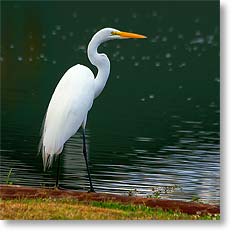 Thursday, 13 November, 2008 - After 3 days of cloud and rain, although pleasant temperatures, we left Canton, Mississippi at 10:30am this morning and bade farewell to the Natchez Trace Parkway, opting instead to get to the next stop as quickly as we could since the weather was still overcast and not conducive for photography.
So we took I-55 south out of Canton, MS, staying on it to I-12 in Louisiana, taking that to I-10 at Baton Rouge, which then brought us to Breaux Bridge, arriving at 3pm, for a drive of 250 miles (400 km). Click here for a map of today's drive, which was blessedly uneventful, although traffic was fairly heavy through Baton Rouge.
We are now ensconced at Poche's Fish-N-Camp and being in Cajun country, Poche is pronounced in the French - Poe-shay. They have large fishing ponds all around the place, but I'm not here to fish but for bird photos and we didn't have long to wait as we've already seen herons, egrets, a cormorant, a coot, and a diving tern, all within a stone's throw of the RV, like the Great Egret in photo above.
However, the places I most want to photograph in the area are Lake Martin and Henderson Swamp. Gayle and Breland, a couple of fellow photographers I know from PBase and who we've met once here in Louisiana and a year ago in New Mexico, are from around here and recommended this campground and the area as being good not only for birds but for the swamp scenery too, so we've signed up to be here for a week.
I had originally figured Breaux Bridge would be the first major photo stop of this winter's tour, but I think the Natchez Trace Parkway actually qualifies for being first. Click here to see the photos I've processed so far of the ones I took along and near it.
Click here for Sandra's account of the day and for many more photos.

Now At Canton, Mississippi
Leg 8 of our southwesterly trek to Texas, destination for Winter Tour 2008-9,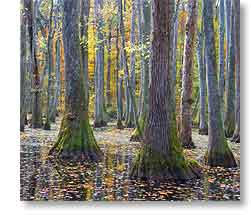 Monday, 10 November, 2008 - And if you've never before heard of Canton, Mississippi (I hadn't), it's 25 miles (40 km) north of Jackson, the state capital.
We left the Tupelo area this morning at 10am and except for a couple of road work zones that required traffic control by flagpersons, we had a very leisurely 150 mile (240 km) drive along the Natchez Trace Parkway and arrived here at the Movietown RV Park at 1:30pm. Click here to see a map of today's route.
We made a few stops along the parkway, as usual, but the photo on the right was taken at the stop I most wanted to make, Cypress Swamp, which happily is only a few miles from here, so I expect to be going back for more photos before we leave the area.
We've signed up two nights, but the weather forecast is calling for chances of rain the rest of the week, so that might effect our length of stay here.
Click here for Sandra's account of the day and for many more photos.

We Two Tour Tupelo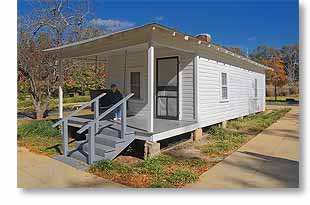 Sunday, 9 November, 2008 - Today we saw some of Tupelo and as often happens to the best laid plans, rather than seeing a herd of bison, we instead saw the birthplace of Elvis Presley, as seen on the right. If you look closely you can see Sandra sitting on the front porch swing. Click on the photo for a larger view and click here for a closer look at Sandra.
Before stopping here though, we took The Trace up to the parkway's visitor center where we looked at their displays and watched a 12 minute movie that gave the history of The Trace. Why they located the visitor center in Tupelo is a mystery to me. Would be more useful, as far as I'm concerned, if there were one at each end of the parkway.
Anyway, from there we drove north to where Miss Pinky had had us exit prematurely on our arrival, so now we can say we've covered the entire parkway so far, except for a section of it in Alabama that's closed and you have to take a back road detour to get around it.
Coming back, we drove through Tupelo, which surprised us both by being noticeably cleaner than most cities we see in the eastern US and that was that. I passed on the buffalo park when I discovered it was also a zoo and it would have been more involved than I had first imagined. Maybe another time, if we stop here again.
Otherwise, the most interesting thing about our stay near Tupelo has been the bluebirds around the RV park here. Lots of them and they seem to love the truck mirrors for some reason, as seen here.
Tomorrow we plan to continue the trek southward and expect to stop near Jackson, Mississippi's capital.
Click here for Sandra's account of the day and for many more photos.

Tennessee Thru Alabama To Mississippi
Leg 7 of our southwesterly trek to Texas, destination for Winter Tour 2008-9,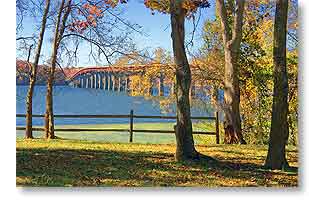 Saturday, 8 November, 2008 - After spending a couple extra days near Lawrenceburg, Tennessee to rest and wait out some rainy weather, we packed up this morning and once again were on the road by 9:30am, this time planning to take the Natchez Trace Parkway to Tupelo, Mississippi.
Normally, this would be a simple 143 mile (230 km) drive, but thanks to Miss Pinky leading us astray and failing to get us to the Natchez Trace RV Park in Shannon, Mississippi, just south of Tupelo, it ended up being a far more complex 155 miles (250 km) and requiring a couple of phone calls before we finally arrived at where we wanted to be.
Anyway, we're here and that's what really matters, but the next time I'll pay closer attention to the route we want to take, rather than taking the easy way out and relying solely on Miss Pinky.
The Natchez Trace RV Park proved to be better than we expected, so we signed up for an extra day to allow us to see a few things around Tupelo. We're in a pull-thru site and have a view out our back window of a pond and a little cabin behind us. The sun sets over the pond, which is nice.
The drive today passed through roughly equal parts of Tennessee, Alabama, and Mississippi, with probably the most notable thing we saw being the bridge over the Tennessee River in Alabama, as seen in the photo above. Click on it for a larger view and here for a closer view.
Tupelo is probably best known in the modern era as the birthplace of Elvis Presley, but what interests me most is its buffalo park has one of the largest buffalo herds east of the Mississippi River and I'd like to see some those rascals up close.
So far, I've really enjoyed the parkway. We're not making very good time on it due to its low speed limit (50 mph/80 kph) and stopping often to take photos, but it's wonderful to not have to contend with commercial traffic and to not have one's view cluttered with power lines and utility poles. We aren't even at the halfway point yet, but so far the most scenic part of it was in Tennessee.
Click here for a map of today's route.
Click here for Sandra's account of the day and for many more photos.

We Take 'The Trace'
Leg 6 of our southwesterly trek to Texas, destination for Winter Tour 2008-9,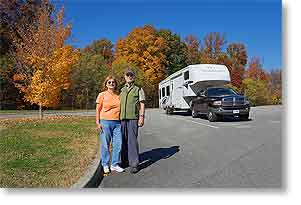 Wednesday, 5 November, 2008 - Today, we packed up and left the RV park at 9:30am, destination unknown, but planning to get there via the Natchez Trace Parkway, aka 'The Trace'.
We made it through Nashville without incident, other than me taking a wrong exit, but Miss Pinky got us back on track with hardly more than 2 or 3 minutes lost.
In due course, we reached the northern terminus of The Trace and we were on our way.
The weather was perfect, as can be seen in the photo here, a shot we took to commemorate our 18th wedding anniversary, which was today. Eighteen years ago we were also in Tennessee, but that time we were on the other side of the state in Gatlinburg where we were married.
The photo above was taken in the first of many RV-friendly pullouts we encountered along The Trace, stopping at most of them early on. The parkway was smooth, had very little traffic compared to an interstate, and had ample pullouts at strategic points that accommodated something even the size of our rig and were all drive through.
The scenery we saw, which was full of autumn color, was as gorgeous as the weather and, at least at this time of year, proved to be a photographer's paradise. I ended up filling nearly all four of my memory cards, taking around 300 photos. The photo below is of the Natchez Trace Parkway Bridge, rather an icon of the parkway.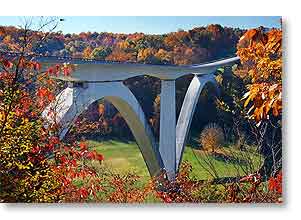 However, making as many photo stops as we did (something previously unheard of for me when we're towing) took time, so we didn't get very far along the parkway, 72 miles (116 km) out of its 444 mile (715 km) length.
Next thing we knew 5 hours had flown by and by midafternoon we started to search for an RV park because it was going to be dark in a couple hours and we were tiring. There are three campgrounds along the parkway, but they have no hookups, so we would have used one of those only as a last resort. Other than the scenery, what makes the parkway so pretty is also the fact there are no power lines or utility poles along it, as well as no billboards. Because of the lack of any signage showing what was available locally at any given exit, we had no idea what was in the surrounding area. A few days ago, I downloaded a two page file showing the campgrounds that are near parkway exits, but when we actually looked at it in earnest, it quickly proved to be woefully inadequate and showed nothing nearby to where we were except a members-only RV park to which we had no membership.
So, we had no choice but to get off the parkway and strike out crosscountry in search of an RV park that met our requirements. Miss Pinky said there was a KOA seventeen miles ahead, a few miles beyond Lawrenceburg, Tennessee, but when we got there, a KOA was nowhere to be found. Not even a hint of one. Happily, the Powderhorn Campground was almost directly across the road from the convenience store where we stopped to ask directions and the campground had everything we need, so here we are.
Tonight we're both exhausted, so we're not sure what we're doing next. At the moment, Sandra is tired of the parkway and wants to get back onto a freeway and I view the parkway with mixed feeling, so we'll have to see how things look in the morning.
Click here for a map of today's route.
Click here for Sandra's account of the day and for many more photos.

A Day In Nashville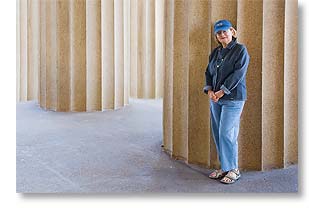 Tuesday, 4 November, 2008 - Today, we drove into the city. I have no interest in country music, but a search last evening of Nashville's other attractions showed me an aspect of the city I'd never heard of before - although the city is better known today as 'Music City USA', it was once known, and still is but to a lesser degree, as "The Athens of the South" and because of this association, for the city's centennial celebration in 1897 a full-size but temporary replica of the real Parthenon, an ancient temple in Athens, Greece and built to the Greek goddess Athena, was constructed here and then later replaced with a permanent structure in the 1920s, seen in my photo of it below.
It was a very interesting experience to see it, because I've always wondered what it would have been like to walk among the columns of the original Parthenon before it was ruined in 1687 by an explosion and now I have a good idea what it was like, although the home of Nashville's Parthenon, Centennial Park, can certainly not be compared to the home of Athens' Parthenon, the Acropolis.
Anyway, as I was wandering around Nashville's Parthenon, I kept seeing a goddess and finally got a photo of her, seen above. Unfortunately, but rather interesting nonetheless, a commercial for GM was being shot with the Parthenon as a backdrop and they were in the way of many photos I would have taken had they not been there, as were a horde of school kids there on a field day. The GM commercial is to air during the CMA awards telecast by ABC on November 12. Even though I'm not a fan of country music, I might watch the awards show just to see the commercial. It looked to feature a silver new Camaro.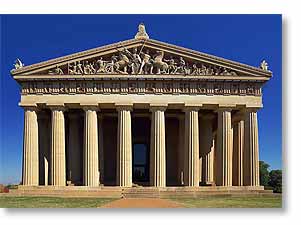 We then strolled around the park, which was quite lovely and had quite a number of Canada geese swimming around in its pond, Lake Watauga, looking for food handouts.
From the park, we drove downtown to get a look at the state Capitol, but couldn't find parking close enough to walk back to it from, and the light wasn't all that good anyway, so we then drove across the Cumberland River to a riverside park I'd found that's beside LP Field (home to the NFL Tennessee Titans) and looked like the park might afford a good skyline view of the city. It did, sort of, although the first thing I noticed were enormous power lines running along the opposite bank of the river and right through the middle of the skyline, and this ruined it for me, as well as the light wasn't good for this shot either, as well as I didn't find the skyline from that angle all that appealing, and there was a lot of bushy overgrowth along our side of the river that obstructed most of the view, so I took a few photos just as a record of being there, but nothing worth putting on the internet.
We then had some errands to run, had lunch at Taco Bell, and I figured night photos would probably work well, since the Parthenon had a lot of lights around it (assuming they light it up every night) and the power lines wouldn't show up much in a nighttime skyline shot, but when evening rolled around, I was still too tired from the day to bother going back out again and I figure it will all still be there the next time we're here, and I expect we'll return eventually.
But probably not to this RV park. It's not bad, don't get me wrong, especially for being half price, but it's one of those RV parks where they pack you in like sardines. With most of the sites, there's hardly room to walk between big rigs when their slides are out and the view you have out your window is your neighbor's window. Also, as happens all too often with RV park wi-fi, it lost the internet shortly after we got here and I ended up having to setup our internet dish after all. On our arrival here I had requested a site with a clear view of the southern sky, just for this eventuality, and it's turned out to be a good thing I did. At least the cable TV has worked like it should.
Tomorrow we are heading for the Natchez Trace Parkway, where I hope to find some photos waiting for us.
Click here for Sandra's account of the day and for many more photos.

Lebanon, Ohio to Nashville, Tennessee
Leg 5 of our southwesterly trek to Texas, destination for Winter Tour 2008-9,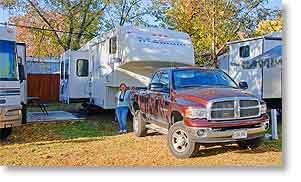 Monday, 3 November, 2008 - Let me first say that we are now on Central Standard Time (CST) and expect to be until spring 2009.
Okay, that said, after getting as much rest as possible yesterday, we made the 301 mile (484 km) move from Lebanon, Ohio to Nashville, Tennessee today. Well, actually it's Goodlettsville, seventeen miles north of Nashville, but who's ever heard of Goodlettsville? Click here to see a map of today's drive.
Under mostly sunny skies and very pleasant temperatures, we left Lebanon around 9:30am EST. This is probably about the same time we would have gotten away normally, but we had to be at our bank when they opened at 9am so Sandra could get her credit card back that the ATM there ate on Saturday, due to not liking the password she tried to use but failed one too many times. It turned out well though. In the bank this morning, we talked with a very knowledgeable and friendly teller and got everything straightened out. This was important because that's the account my US Social Security payments are going into and we want to be able to draw on them while we're in the US this winter, so we don't want anything happening that might cause problems with that.
Anyway, the drive was uneventful. We arrived at the Nashville Country RV Park at 1:45pm CST and signed up for a two day stay. Neither of us have ever seen more of Nashville than can be seen from the highway as one drives through, so we'll probably play tourist tomorrow.
Unfortunately, the girl at the counter in the office said they had no pull-thru sites available, so we asked for an easy back-in site and you can see what we got in the photo above. It was a real shoe horn job getting the RV backed in between the awning on a neigboring RV visible on the right side of the photo and wooden site pad on the left, the corner of which would probably have punctured the sidewall of an RV tire if I had hit it.. The girl had said it was a straight back-in, which it would have been without the RV on the right side, but such was not meant to be. But as you can see, I did manage to get us backed in and didn't damage anything in the process, but I doubt we'll ever be back if we can't get a pull-thru. It's a Passport America RV park though, so it was half price, which is always good.
They have free cable TV, so no need to setup the satellite TV dish and they also claim to have free campgroundwide wi-fi. It is free, but they put us in the far back corner of the park and even Sandra's new computer had trouble receiving it, so out came the high gain wi-fi bridge and that did the trick. As long as it works I won't need to setup the internet dish either.

Family Visits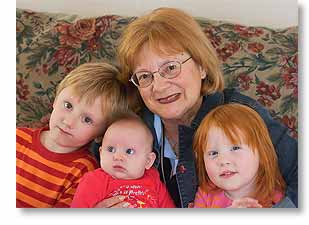 Sunday, 2 November, 2008 - Yesterday, we drove up to Dayton and visited with Ian and his family, now five in total with the arrival of little Iris two and a half months ago and seen here. That's Grammy with all of Ian and Tracy's children (l-r) - Caden, Iris, and Lily.
It was good to see all of them, but sadly we had to cut the visit short as keeping up with the grandchildren, six of them now, has taken a toll on my still weakened system.
Because of this, we also had to regrettably cut the visit short with Carol and Rick Friday evening, so we're taking today off to do nothing but rest and try to regain my strength before we continue our southwesterly trek tomorrow.
The plan is to take the 444 mile (715 km) Natchez Trace Parkway from its northern terminus just south of Nashville, Tennessee all the way to its southern terminus at Natchez, Mississippi. We saw a bit of the Trace three years ago when we stopped for a few days at Vicksburg, Mississippi, so it should be quite interesting to see its full length. It is supposed to be a very nice drive, not only for the scenery, but because it is a limited access two lane road that allows no commercial traffic on it and has no traffic lights or stop signs for its entire length. Should be refreshing to travel that distance without having to contend with trucks.
Click here for Sandra's much more detailed account of our stay in Lebanon so far and for many more photos.


__________________________

For Older News

To read details of our previous stops and camps, visit the News Archives.


Updated Friday, December 5, 2008

Copyright © 2008 by Gordon L Wolford .
All rights reserved.