From Site 15 to Site 17 to Site 18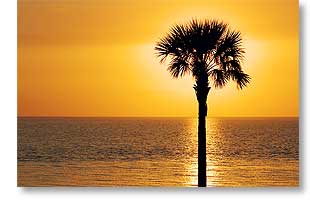 Friday, 28 November, 2008 - Today we packed up and moved from Site 15 here in the Powderhorn RV Park & Marina to Site 17.
Well, I should say we tried, because we couldn't do it. I did manage to back the RV into the site, and getting it between the deck and the utility post was like threading a needle, only having inches of clearance on either side until the rig could be straightened (had to enter at an angle to get around a palm tree that was planted right in a spot you want to back in over - really gotta wonder about how some of these parks are laid out).
Anyway, after all that, and I was quite proud of the job I did backing in, the way the deck was constructed just didn't work with the way the RV was designed.
As good fortune then had it, the owner of the park happened along and we were able to make arrangements to move into Site 18 instead, since it had just been vacated and no one had reserved it. Site 18 is one you back straight into and there was no interference with its deck, so getting the rig positioned was a cakewalk compared to Site 17, so all is now wonderful.
Before all this excitement, rather than walk down to the pier for sunrise, as I had done every morning previously, today I was in the mood to drive over to the Gulf (actually Matagorda Bay which is separated from the Gulf itself by barrier islands) and see what I could find to photograph for sunrise along there, and one of the shots I took is the one above, with a palm tree blocking the rising sun. It was a great time.
Click here for Sandra's account of the day and more photos.

Happy Thanksgiving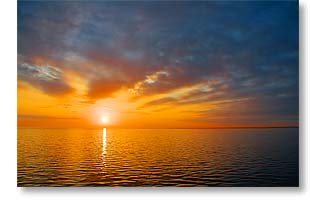 Thursday, 27 November, 2008 - Happy Thanksgiving to all who observe that holiday today, just the US, I think.
Sandra and I just returned (1:45pm) to the RV from participating in the Thanksgiving dinner hosted by the RV park and as usual for pot luck dinners there was no shortage of good food to enjoy, which for me included the traditional turkey, mashed potatoes, and cranberries, plus Sandra's mouthwatering Calico bean dish and for dessert, someone else's strawberry fluff. Good stuff.
And as usual for these events, we met some new people and got to know better a few others we'd already met, so it was an interesting time.
After posting my report yesterday, we set off in the truck to do some 'sploring, as we call driving around a new area, exploring it to see what's there, and this time we ended up in Port O'Connor, a coastal fishing, shrimping, and vacation village we'd never seen before. Along the way, at the western end of Powderhorn Lake (click here for a map of the drive) we saw a flock of roseate spoonbills take flight (click here to see just a few of them), along with a few other species of birds with them, like egrets and ibises. It was quite a sight.
In Port O'Connor itself, we had this winter tour's first sighting of moochers, what we call pelicans that hang out around fishermen's fish cleaning stations, waiting for the fishermen to throw their fish discards into the water, at which point there's a frenzy of pelicans going after them. That's quite a sight too.
The photo above was taken at sunrise from the RV park's pier, where I've been for each sunrise and sunset since we've been here. That's Powderhorn Lake in the foreground. I thought the sky was interesting because fingers of incoming clouds seem to all be pointing at the sun.
Click here for Sandra's account of the day and more photos.

Twas The Day Before Thanksgiving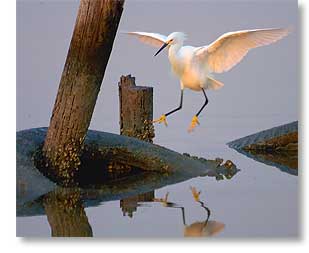 Wednesday, 26 November, 2008 - We've now been at the Powderhorn RV Park & Marina (originally named Powderhorn Lake RV Park & Marina) for five days and have had a wonderful time. So wonderful in fact, we signed up yesterday to stay here for a month, although we have to relocate to another site that's a little less scenic. The move is necessary because this site was reserved for someone arriving after Thanksgiving and who get this site every year.
On the plus side of this, we'll be on a larger site and more quiet, since it's away from the noise of the rec hall and the boat ramp, that we're near, the ramp getting quite a bit of traffic from fishermen who start their fishing well before sunrise.
That said, this is still the quietest RV park we've ever stayed in. No trains anywhere nearby, no freeways or even highways within earshot, no jets taking off right over our heads...it's absolutely wonderful. Most of the day, the only noise we hear is from birds chirping and singing. Of course, the price we have to pay for this is we have to drive 15 miles (24 km) to get to town for shopping and fuel, but that's a price I'm happy to pay.
Tomorrow is the American Thanksgiving holiday and we've kindly been invited to join in the RV park's Thanksgiving dinner, pot luck actually, for which Sandra is going to prepare her famous and scrumptious Calico Bean dish, one of my favorites. I just hope there's some left over after the dinner, so I can have some to myself later. Last time, all we had left to bring back was the empty pot.
Photo above was shot from the end of the park's pier this morning at sunrise, a snowy egret landing on an old tire breakwater. Click here to see a larger version of it and click here to see a photo of the campground cat who's adopted us while we stay here. It's absolutely the most friendly cat I've ever met and if I was interested in ever having another pet, I'd want this cat.
Click here for Sandra's account of our stay here so far and for her photos. And since we're staying here for a while, I've started a gallery for the photos I'm taking at this stop of the Odyssey and will be adding to it daily. Click here to see it.

We Arrive At Port Lavaca, Texas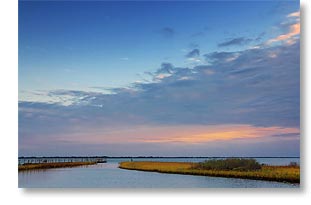 Friday, 21 November, 2008 - Wow! What a day! This morning we left Beaumont, Texas at 9:30am for what I expected to be a fairly dull 225 mile (360 km) drive down to Port Lavaca on the Gulf coast, even though an hour later we would have to go around Houston, the fourth largest city in the US, but unfortunately, dull it didn't prove to be.
Everything was going along just fine until we were nearing the city, some distance east of the bridge over the San Jacinto River, and then traffic on I-10 came to a screeching halt. From then on it was stop and go, with go meaning creeping along a few feet at a time. There is currently heavy road work being done along there and I first assumed that was the cause, then I saw that another freeway, State Highway (SH) 330, was merging in, adding two lanes of traffic to our three, so I assumed that was making a bad situation worse, then we eventually got to the real cause of the backup, a traffic accident on the bridge. Under normal circumstances, the bridge narrows those five lanes of traffic down to two lanes, which has to get ugly during rush hour even at the best of times, but the accident narrowed it all down to one lane, so it was really ugly along there. Set us back 45 minutes, but at least everyone was courteous.
After we finally got in the clear, we sailed right along again, having learned on past trips to take the Sam Houston Tollway, the outer bypass, and from there take the SH 288 freeway down to SH 35 which runs parallel to the Gulf coast and takes you to Corpus Christi, passing through Rockport and Port Lavaca along the way, with Port Lavaca being today's destination.
Well, we got there without further ado, found our way to the rather remote Ocean Side RV Park twelve miles southeast of town on the shores of Matagorda Bay (not the ocean, or even the Gulf, although close) as this RV park was where we had intended to stay for the two nights it allowed for the Passport America discount. But on arrival and seeing that the park was small, dumpy, and the sites crammed in close together and too short to fit both the RV and truck into (despite the owner's optimistic claim to the contrary), we decided to go look at an alternate RV park Sandra had found in the area, the Powderhorn Lake RV Park.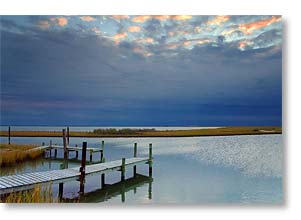 Well, if possible, that RV park proved to be even more remote and made more difficult to find due to misleading signage, but we persevered and eventually found it, pulled in, and found no one in the office, its door locked, despite a sign on it saying they were open (more misleading signage).
So, I got out of the truck and began walking around, making sure I could get the rig out of there without having to back out (this place looking even more crammed than the other one) and eventually someone came out of one of the other buildings and talked with us.
Turned out she was the office person and their big rig sites (all back-in) were full but they did have one pull-thru site available, which upon inspection proved to be just long enough to get the rig into, so me being exhausted at this point, we took it for the night, expecting to go on to Goose Island State Park tomorrow.
However, this RV park doesn't have wi-fi, so I thought I'd use my last ounce of energy and setup the internet dish before I collapsed from utter exhaustion (my stamina continuing to ever so slowly improve but still feeling the effects of the Valley Fever pneumonia). So out came the satellite hardware, got it setup, had a good signal strength, and then for what has become all too often a problem of late, couldn't get a passing reading for the cross-polarity adjustment. So, called the ISP's customer service line, got a tech who, like the last one, tried hard but was of no real help, figured out for myself the problem might be from a section of an adjustment bracket that's prone to bending and was indeed bent, dug out the tool chest, straightened the bracket out as best I could, yet again, and then finally got a passing polarity reading. How that bracket can effect polarity readings is a mystery to me, but it does.
So, at this point thinking I was on a roll, as well as having gotten something of a second wind by then, I thought I'd give the TV satellite a quick go, but couldn't find it and gave up trying anything further, being almost dead on my feet.
The photos above are two views of Powderhorn Lake from the RV park and of the clouds that followed us down here. This was as close to a sunset as we got, but the view is nice. This little RV park grows on you, even offering us dinner (which was very kind but we had to decline as it was not gluten-free) and they gave us a good price if we wanted to stay a week, so we might just do that as I need to recover my strength from today's efforts and I'd also still like to tour this area, even though the weather forecast is for a lot of overcast and rain. At least it is supposed to be fairly warm.
For a map of today's drive, click here.
Click here for Sandra's account of the day and more photos.

WE'RE BACK IN TEXAS!!!
Leg 10, and the final one, of our southwesterly trek to Texas, destination for Winter Tour 2008-9,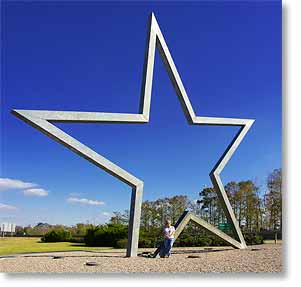 Thursday, 20 November, 2008 - After 4 weeks from the time we left Lindsay, Ontario and 1,675 miles (2,700 km) on the road, this morning we at long last crossed the Texas state line. The first thing you see is the huge lone star that's at the welcome center on I-10 and pictured here with Sandra at its base. Click on the photo for a larger view of her.
Before we left though and before the sun was up, yours truly was up and on my way for a last visit to Lake Martin, driving through rather heavy fog that I hoped would also be on the lake, which it was, so I took even more photos there. During our week near Breaux Bridge there were no stunning sunrises or sets, but were certainly some great mist and fog conditions on the lake to make up for it.
Then it was back to the RV for breakfast, packing up, and hitching up. We were on the road by 11am, made the relatively short 149 mile (240 km) move to Beaumont, Texas, which is only thirty miles west of the state line, and arrived here at the Hidden Lake RV Resort at 2pm. Click here for a map of today's relatively uneventful move. I say relatively because we passed through miles of road work that was lined with the dreaded concrete barriers, although actually they hardly faze me anymore, so no longer are really dreaded.
We are here only for the night and will probably stop next at Port Lavaca, Texas, which is on the shores of Matagorda Bay. Port Lavaca is only an hour north of Rockport/Fulton, the area we expect to spent quite a bit of time, but we've also wanted to see more of Port Lavaca, so that looks next on the itinerary.
Click here for Sandra's account of the day and photos from the drive.

Cajun Country So Far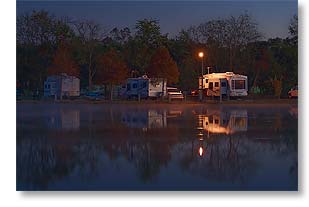 Monday, 17 November, 2008 - So far during our stay in the heart of Cajun Country, or Acadiana as it's also called, I've made the 12.5 mile (20 km) drive down to Lake Martin in the Cypress Island Preserve every morning for sunrise. Since I leave at first light, the photo here is what I see every morning across the manmade fishing lake that's behind the RV, which is on a strip of land separating two of these lakes, of which I think there are six or seven in total. Click here for a satellite view.
However, what my photo doesn't show is the temperature had dropped to the freezing point the last two nights, so when I left to take sunrise photos, I had to scrape frost off the truck windshield before I could go anywhere! Fortunately, the days warm up fairly well, but anyone who thinks we've escaped the winter cold completely can think again. I would have never guessed it can get so cold so far south at this time of year.
The good news about this is that the cold raised a mist at one end of Lake Martin yesterday and fog this morning, as can be seen in a few of the photos in my Cajun Country Gallery that I started to display what I shoot here.
Otherwise, we've just been puttering around the RV and the campground, except Friday we drove into the nearby city of Lafayette (Breaux Bridge considered as being part of Lafayette's greater metropolitan area) to get our Verizon phones updated and yesterday afternoon Sandra felt it was time for her to see Lake Martin, so I took her there and showed her where I've been taking photos from and then we tried a trail across the lake I hadn't been on before and from there we drove back to Lafayette to tour its downtown, which proved to have little that was noteworthy, although one section of Rue Jefferson Street that was quite nice. With all the bilingual French/English signs they had around, I felt like we'd been magically transported back to Canada.
And that's about it so far. I've already accomplished my goal of shooting some decent swamp photography, so if we had to leave today (which we don't) I'd be happy, but I'm still waiting for a dramatic sunrise or sunset. So far, they've either been overcast or clear and one needs partly cloudy conditions for them to be really dramatic.
For Sandra's account of our stay so far and for a lot more photos, click here.


__________________________

For Older News

To read details of our previous stops and camps, visit the News Archives.


Updated Friday, December 5, 2008

Copyright © 2008 by Gordon L Wolford .
All rights reserved.