Adrift Again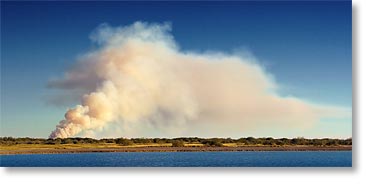 Saturday, 13 December, 2008 - In my report last Friday where I said "we didn't see much in Seadrift that's likely to draw us back", those proved to be famous last words because we found ourselves there again two days ago, albeit unintentionally this time and not to see something there, but something that could be seen from there.
All day I had watched the plume of smoke shown in the photo on the left and toward evening my curiosity got the better of me, so off we went in the truck to track down its source. I had assumed (wrongly) that it was a cane field being burned off at the far end of Powderhorn Lake and hoped there would be a photo waiting there for me. But instead of an easy and relatively short 10 mile (16 km) drive, it ended up being 25 miles (40 km) with us being east of Seadrift before I gave up and settled for the shot I got, although not as clear or as close a view as I had hoped for. But it's a good thing we got there when we did, because only a few minutes later, the smoke started to dissipate.
As best as I can tell, rather than a local cane field, this looked to be a prescribed burn in the Aransas National Wildlife Refuge, which is across San Antonio Bay from Seadrift, 12 miles (20 km) as the pelican flies from where I took the photo, compared to 25 miles (40 km) from where I had seen it from the RV park.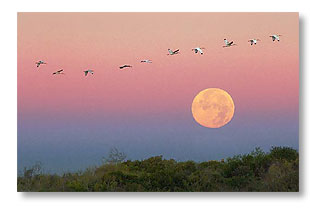 We have some experience with prescribed burns in the Aransas NWR because that's what was taking place during our last visit there, back in February of last year, as can be seen here and here. The US Fish & Wildlife Service, caretakers of the refuge, says this about prescribed burning, "The refuge protects the grassland meadows from invading scrub species through controlled or prescribed burning. Fire, while often considered destructive, can be used as a management tool to rid areas of invasive species and rejuvenate grasslands."
The only other thing of note to report was that yesterday was the full moon, which probably doesn't mean much to most people (expect perhaps to be more alert for people behaving bizarrely), but to a photographer it means some unique photo ops. This is because on the day of the full moon, it is setting as the sun is rising and is rising as the sun is setting. This allows for the atmosphere to dim the moon so you get more detail in it, while twilight in the sky acts as fill light for the scene, so you see detail in it as well (as in the photo above right), when at other times during the moon's cycle there's very little ambient light for moon rises and sets and all you get is a bright white moon against a black foreground or it's daylight and you can't see them occur at all.
That is a flock of white ibises flying over the moon.
For Sandra's account of the last few days and for a lot more photos, click here.

A Day On The Town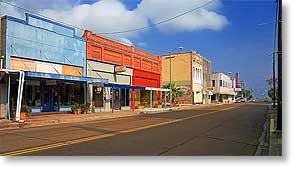 Tuesday, 9 December, 2008 - According to the weather forecast, it's supposed to turn cold and rainy for a day or two, with the low tonight dropping down close to freezing (30°F colder than last night), so when the clouds cleared after a morning rain we decided to drive into Port Lavaca (la vaca being Spanish for 'the cow') and give its downtown (photo left) a closer look while we still had warm and wonderful weather.
The first thing that strikes you about Port Lavaca's downtown is its look of destitution and abandonment, which I find very puzzling considering the large amount of industry that's just across Lavaca Bay in Point Comfort, not the least of which is a very large, if not huge, Alcoa aluminum plant. The majority of buildings along Port Lavaca's Main Street look empty and starting to fall into ruin. I didn't really keep count of this, but that's the general impression one gets. The harbors along the waterfront have the same shabby rundown look. During our walk around the area, we were almost the only pedestrians, so it isn't surprising that downtown businesses aren't looking too prosperous.
It does appear that some effort is being made to revitalize the downtown area, but whether it has enough sustainable support from the community to carry it off remains to be seen. There was one block that showed an effort being made to make it trendy and that block was interesting. One of the people here in the RV park had told me how interesting the Spoonbill Gallery was (one of the businesses in that block) and the gallery was indeed interesting, if one finds old photos and memorabilia of an area of interest, but the gallery's owner was out so I wasn't able to see everything in the store I had been told about. The same person told me that the sorry state of business downtown was also due to most of them moving to the Highway 35 bypass, which does indeed look more prosperous, but since downtown districts still remain the heart of a city, it's sad when a city loses heart.
Of course, rundown old building make for some interesting photographs, so I plan to go back when the light is more conducive for that, and don't get me wrong, there are some nice spots around the city, but Port Lavaca is the county seat of Calhoun County and many such places center around their courthouse which is usually of a classic and interesting style and built in a prominent location, but so far if there is such a structure in Port Lavaca, I've missed it.
Click here for Sandra's account of the day and more photos.

A Very Uplifting Day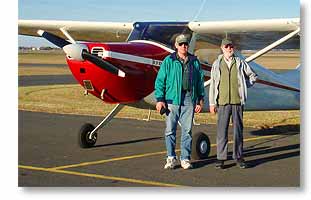 Sunday, 7 December, 2008 - Yesterday, I actually did something worth reporting, something that's unique for me – being taken aloft to shoot photos from the air.
A few days ago, John Cross, a fellow photographer and member of PBase.com, asked if he could meet with me to talk about the RV lifestyle and then decided at the last minute to fly his Cessna down from Houston rather than drive and then kindly offered to take me up in the plane to get some aerial photos. It's been decades since I've been up in a small plane and the few times I did that in my past life, I didn't take a camera with me. Not sure why I didn't, but there you go.
Anyway, punctually at the appointed time (1pm) John landed at the local airport (Calhoun County Airport), we met, and after he showed me how to open the window on my side so I wouldn't have to be shooting through glass and after we decided on a flight plan, up we went.
My main interest was in flying over the areas I've been frequenting along the Gulf coast this time, but areas you can't see well from the roads because it's a lot of area and there aren't that many roads though all the marshes and wetlands around here. And while we were at it, I thought it would be interesting, of course, to fly over the RV park. How could I not?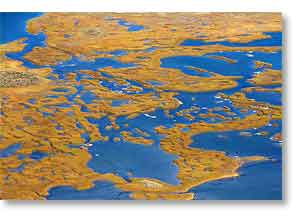 So we did all of that and the view from up there was stunning. The wetland terrain that's right along the coast has a lot of fascinating patterns to it and I found no shortage of photos to take (one of them on the left here), nearly filling all of my memory cards.
It's also a tribute to modern technology that all of the shots I've inspected so far have been sharp, which is pretty amazing considering I was shooting telephoto, shooting from a moving object that at its slowest was still traveling at 60 mph (96 kph), shooting through an open window with air flying past at the speed of the airplane, all of which made it impossible for the lens not to be constantly buffeted about, sometimes to the point I could hardly see what was in the viewfinder, not to mention the airplane itself having some inherent vibration. I was shooting at a fairly fast shutter speed, but even with that, if it wasn't for the image stabilization in that lens I can't image the shots would have all turned out so well.
After getting our feet back on the ground, John was interested in seeing the RV, so I drove us to it where Sandra and I discussed the lifestyle with him and then it was time for him to head back to the plane, Sandra going with us this time, having declined to go up with us for the flight, not trusting to fly in a small plane. No guts, no glory, and it was a glorious time, so all in all, it was a very uplifting day.
Rather ironically, Delmar, the owner of the RV park, had stopped by that morning and had wanted to take me on a tour of Powderhorn Lake in his boat, which I had to decline due to the prior arrangements with John, and when I explained to Delmar why I'd have to take a rain check on his offer, he expressed an interest in buying any of the aerial photos I took of the RV park, which I'll probably just give him in exchange for a boat tour and all the food they've been feeding us.
Photo above right of John and myself was taken by Sandra. As always, click on any of the photos for a larger view.
Click here for Sandra's account of the day and more photos.

A Couple Of Drifters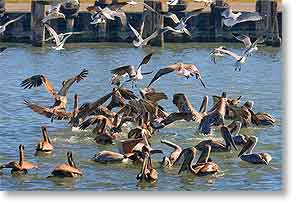 Friday, 5 December, 2008 - After getting flu shots Tuesday, drifters is what we became for a while, since (if you get my drift) we made a bit of a detour on the way back to the RV by drifting down to see the coastal town of Seadrift, Texas – just because it's there.
Turned out that while most of the town is not remarkable, it does have an interesting harbor and park on San Antonio Bay, which is nowhere close to the well-known city also named for Saint Anthony, but is located between Matagorda Bay, where we currently are, and Aransas Bay, where we've stayed in the past when visiting this region.
On the southwest side of San Antonio Bay is the Aransas National Wildlife Refuge, the most noted location around that bay and the only remaining natural habitat of the endangered Whooping Crane, although efforts in recent years have been made to introduce 'Whoopers' into Florida as a precaution against a hurricane wiping out the Texas flock.
Seadrift claims to be the only city on San Antonio Bay, but to call it a city is quite a stretch. The whole region is not heavily populated, which is one of its appeals to me. The most interesting thing we saw while in Seadrift was a feeding frenzy (photo above) in the harbor between pelicans and gulls going after the viscera being thrown over the side of a fishing boat where the morning's catch was being cleaned. Otherwise, we didn't see much in Seadrift that's likely to draw us back.
Wednesday was take-the-truck-in-for-an-oil-change day. Boring, but the day ended in a much more interesting manner when we were invited to a fish & shrimp supper in the RV park's rec hall. Normally, unless it's a pot luck with a lot of variety, we can't attend such suppers due to both of our dietary limitations, however the very kind people here specially prepared several gluten-free dishes for me that included gluten-free breading on the fish and shrimp, so how could I refuse? The specialty of the dinner was redfish caught locally by one of our fellow RVers and it was absolutely fabulous. I'm normally not a big fan of fish, but I can't wait until the next time I have redfish.

Then yesterday we made the 47 mile (76 km) drive into Victoria's shopping strip, Victoria being the nearest city large enough to have complete shopping available and is where many people from Port Lavaca do their shopping. As I understand it, Victoria is the only sizable city in the region between Houston, Corpus Christi, San Antonio, and Austin.
Sandra not only had quite a shopping list to attend to, not unusual, but even I was shopping for something, which is very unusual. At the recommendation of an expert birder who I'm often in contact with, I was looking for a Sibley Guide to Birds, which is supposed to be the definitive bird guide and I must say, it's impressive, so hopefully it will be a bigger help in identifying birds than our previous bird field guides were.
And while in Victoria, we toured a bit around the city, of course. It has a nice square in the heart of downtown, DeLeon Plaza, where we parked by the courthouse (also beside the plaza) and walked around from there. Parking had a two hour limit, but was free and spots were available. Gotta love Texas for its free and available parking.
The centerpiece of the plaza is a quaint bandstand (not to be confused with a gazebo, if anyone were so inclined) and we saw quite a few other interesting structures, but it was very windy and cool, and those two combined to make it very unpleasant to be outside for long, so we headed home without seeing a lot more than that, but will no doubt return to see more of what we missed when this crappy cool weather goes back north where it belongs.
The photo above right is of the Seatrans Trans Iberia, an ocean-going tanker that was asail on Matagorda Bay as we were on our way to Victoria. Click on the photo for a larger view.
For Sandra's account of the last few days and for a lot more photos, click here.

Two Month Anniversary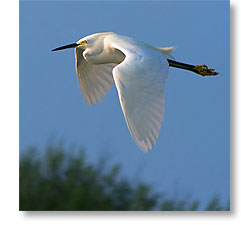 Tuesday, 2 December, 2008 - Nothing much notable to report except yesterday marked two months that I've been off the antifungal medication and I continue to slowly improve. Very good news. One or two Benadryl caplets each day keeps the cough away and the pain in my chest only returns now when I get too fatigued, so I'm beginning to allow myself to hope that I've actually defeated the fungus and dealing now only with its aftereffects.
I don't talk much about the weather, preferring instead to let Sandra cover that in her blog, but just for the record, we've enjoyed some very nice weather overall for the week and a half we've been in Texas so far. One day was actually what I'd call hot (almost had to wear shorts instead of slacks) and several nights we were able to sleep with the windows open. Due to the fact we're still about 167 miles (267 km) farther north than most snowbirds roost in Texas for the winter, I expect the weather will cool quite a bit here over the next month or two, but so far no complaints. I'm just eternally grateful we're able to be here and not back north having to deal with a Canadian winter.
The photo above is of a little Snowy Egret I caught in flight three or four days ago. It hangs out along the shore of the lake quite often and I believe is the same bird in the photo I posted last Wednesday.


__________________________

For Older News

To read details of our previous stops and camps, visit the News Archives.


Updated Saturday, December 20, 2008

Copyright © 2008 by Gordon L Wolford .
All rights reserved.