Farewell 2008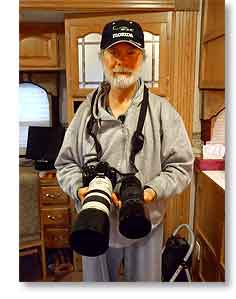 Wednesday, 31 December, 2008 - Although it is still in the wee hours as I start this report and it feels more like Tuesday than Wednesday, it is still the last day of the year, so farewell 2008.
The year is ending much better than at one point I had thought it might, when it looked like Valley Fever-induced pneumonia might put an end to the odyssey, but here we are back in Texas escaping what already looks to be a fairly hard winter up north and we're quite happy we can be missing it.
I'm also quite happy about an acquisition that arrived yesterday afternoon - a new telephoto lens. For the record, it is a Canon EF 100-400mm f/4.5-5.6 L IS USM lens and it's a big mutha, the longest focal length zoom lens Canon makes and it is of professional quality, whereas my lens it replaces, a Canon EF 70-300mm f/4-5.6 IS USM lens, is of midrange quality, designed more for hobbyists. I've liked it because of its lower price, smaller size, and lower weight, but with all the birds around here, the time came for a more capable lens because I've been missing far too many shots lately due to the limitations of the 70-300mm.
The photo on the right, taken by Sandra with her new camera (a Panasonic Lumix TZ5) that I bought for her along with my new lens, shows the difference in size between the new 100-400 and the old 70-300. The photo, of course, doesn't show the difference in weight, although if you notice, my right shoulder looks quite a bit lower from the load on it.
I got Sandra the TZ5 primarily because her Sony W100 has started to accumulate debris on its sensor like a washing machine filter collects lint, which is unforgivable in a sealed compact camera like that and it would have cost almost as much as the TZ5 to have the Sony cleaned and with no guarantee the problem wouldn't return. This doesn't say much about the current state of Sony quality except that it's pretty sorry.
Other benefits of her new camera, in addition to it having a clean sensor, are that it has a 10x zoom range compared to the Sony's 3x, has true wide angle at 28mm compared to the Sony's not so wide 38mm, has image stabilization which the Sony doesn't, and has higher ISO capability (6400 compared to 1250, neither of which are all that usable in cameras of this size, but the numbers do indicate the TZ5 has greater sensitivity). Otherwise, it is physically very similar to the Sony, with which she was often missing shots from not having true wide angle, not having enough telephoto reach, and low light shots were always too blurred to be usable. The TZ5 should fix all that or at least be a significant improvement. Panasonic actually makes some very good cameras, even though they aren't the first name that comes to mind when you think cameras.

It's now afternoon and this morning dawned cloudy and foggy. Despite that, I took the new lens out to give it a go. Actually, I was glad to see that rather dreary and dismal start to the day because those less than ideal conditions were exactly the ones causing me to miss the most shots with the old lens. White egrets in fog, as in the photo below, don't have a lot of contrast for a camera's focusing system to track, but I'm happy to report the new lens did an admirable job, as that photo is proof of. It's actually been enhanced quite a bit in Photoshop. When I was taking the shot, I could barely discern the egret, which was also at some distance, but the camera with the new lens had no problem.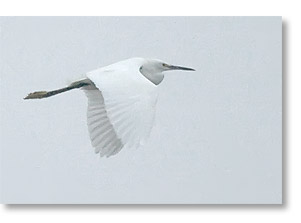 Actually, getting the lens and Sandra's new camera was the biggest problem. Due to the fraud and identity theft that's become rampant in recent years, retailers have become quite strict in how they will accept payment and the addresses they will ship to and since our temporary address in Texas doesn't match any of our methods of payment and the fact that it is temporary make it almost impossible to buy something via the internet and then get it shipped here. Fortunately, one of the people in the group of photographers I hang out with on the internet, the same person I bought my Canon XTi camera from back in the spring, offered to act as intermediary, since he knows now after several years of talking with me online that I'm an upstanding trustworthy guy. So he placed the order, I sent him the money via our PayPal accounts, and when he received the order, he shipped it to us here in Texas. Pity we have to jump through such hoops in the world of today, but all's well that ends well and this ended well.
As to this being New Year's Eve, the RV park is hosting a party in the rec hall to see in 2009. We, or at least I, might drop by for a while this evening just to be sociable, but I have no plans to lose sleep by staying up to see in the new year. I rarely have done so in the past and see no real reason at this point to change. Tomorrow is just another day, 2009 is just another year, but may it be a happy one for you.
Click here for Sandra's account and photos of the last few days.

The Day After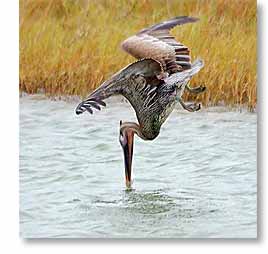 Friday, 26 December, 2008 - Today is the Boxing Day holiday, observed on the day after Christmas in Canada, the UK, and much of the rest of the British Commonwealth, as well as other countries around the world, but I don't believe it's observed as an actual holiday in the US.
The purpose of the day has changed over the years from its original intent. In Canada, and even the US, it is now mainly a day for people to return or exchange unwanted or wrong size Christmas presents and a day many retailers offer discounted prices in order to clear out remaining inventory bought for Christmas, so it's not a day to go out to the stores if you're in a hurry.
Anyway, yesterday we observed Christmas by attending the potluck dinner held at 1pm in the RV park's rec hall and quite a feast it was. This is our fifth Christmas on the road and since it isn't practical for us to be with family, attending these Christmas potlucks is Sandra's preferred way to spend the day. As we've noted before, we've never seen such accommodating people as the residents here at Powderhorn, who have gone out of their way to make sure their cooking complies with our dietary foibles. I will certainly miss this place when it's time to move on and that isn't planned to happen for another month.
The photo above, taken four days ago, is one that represents the meeting of a challenge. Ever since I first observed a brown pelican catching fish by plunging from flight into the water, I've wanted to get a photograph of the moment its bill hits the water and until Monday I had always been either a split second too quick on the shutter or too slow and at the speed they dive, a split second is all it takes to go from either not showing what they're doing or getting nothing but an unrecognizable mass of wet feathers amidst a big splash of water. But Monday, I finally succeeded, although more from luck and persistence than from skill of any kind. If you shoot often enough, you will eventually get the shot no matter how difficult it is.
Click here for Sandra's account of the last few days.

Happy Holidays, Seasons Greetings, and...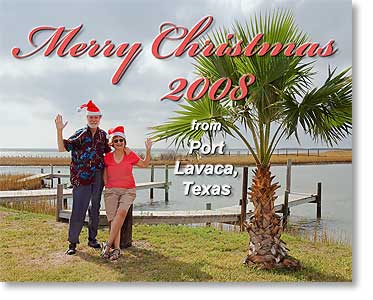 Monday, 22 December, 2008 - Best wishes to all for the season. As in recent years, the photo here is to serve as my Christmas card to anyone who would like one from me. If you're old fashioned and want a hard copy to hang with your other cards, click here and print the image that loads.
Yesterday was particularly joyous because it was the winter solstice, so although it was the official start of winter, days will now start to get longer instead of shorter.
However, in keeping with the event, a cold front blew in with dropping temperatures and increasing wind. Happily, the forecast calls for it to last only for a day or so.
All we've done of interest in the last couple of days was to attend a shrimp dinner we were invited to that was held in the RV park's rec hall. I'm not a big fan of seafood and never before had shrimp that I liked, but these were definitely edible. Folks here sure like to eat well. The shrimp were local, caught nearby in Matagorda Bay. Apparently, catching them here in the lake is not permitted, although other things are.
Click here for Sandra's account of the last two days.

In A Fog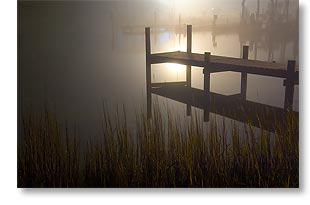 Saturday, 20 December, 2008 - It was a quiet week since my last entry here, so nothing of note to report.
As a photographer, probably the most interesting thing that happened was we've had fog at daybreak for the last three mornings and it looks like this morning will be the fourth. Dense fog like we've had ruins sunrises, but creates photo ops of its own, such as the photo on the right of one of the docks in the little marina here in the RV park, taken well before dawn two days ago. I can't remember the last time I've seen so much fog. I have to admit I don't have a clear understanding of what causes fog (something to do with high humidity, the temperature, and dewpoint), but I've never read or heard an explanation of it that was in plain enough English for it to penetrate the fog in my brain.
The only thing we've done outside of our normal routine was Thursday we made the 35 mile (56 km) drive north to the Formosa-Tejano Wetlands wildlife refuge and as normally is the case with our visits to such places, we saw little wildlife. I'm sure it was there somewhere, we just didn't see it. We see a whole lot more wildlife (birds mostly) in the wetlands near the RV park here than we've ever seen in a wildlife refuge, with the notable exceptions being the Bosque del Apache National Wildlife Refuge in New Mexico, which was absolutely amazing, and the George C. Reifel Migratory Bird Sanctuary near Vancouver, British Columbia, and this area's very own but little known Magic Ridge Bird Sanctuary, where we consistently can find birds to photograph and it's only 2.5 miles (4 km) from here. Its entrance is on our way into Port Lavaca, so we've been by it quite a few times, but the sanctuary also runs for quite a distance along the west side of Ocean Drive, which has Matagorda Bay running along its east side, and Ocean Drive is a road I have traveled along almost every day in the month we've been here.
And during that month, between the birds and maritime scenery in this area I've taken over 5,000 photos, of which I've only processed a little over 200. I'd normally have processed a higher percentage, but I've been too busy shooting to be processing. Just love this place!
Click here to view those photos.
Click here for Sandra's account of the last week and her photos taken during it.


__________________________

For Older News

To read details of our previous stops and camps, visit the News Archives.


Updated Thursday, January 1, 2009

Copyright © 2008 by Gordon L Wolford .
All rights reserved.