Now At Goliad, Texas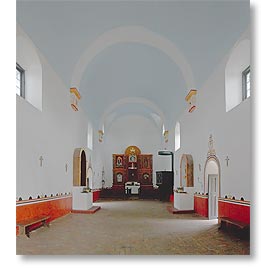 Wednesday, 25 February, 2009 - Today as planned, we packed up, hitched up, and left Mustang Island (as well as the Gulf coast) and moved inland for the first time since arriving in Texas in November.
Having only a 102 mile (164 km) drive ahead of us (click here to see its map), we didn't rush getting away, leaving around 11am and arriving here at the Goliad State Park & Historic Site around 1pm, no thanks to Miss Pinky, who was once again confused by Corpus Christi and proved to be totally worthless in getting us through there. Time to get the maps updated.
We managed to find a campsite here in the park that we could access the satellites from in the better of the two campgrounds that can take big rig RVs, the one with all pull-thru sites and closest to the main attraction of the park - the Mission Espiritu Santo. But of the campgrounds here, this one has quite a few trees, so seeing the satellites was more difficult than usual, the internet dish cable being stretched to it full 50 foot (15 m) length and the TV dish being partially blocked by tree branches which are attenuating its signal somewhat, but we're still able to get a picture.
For a place I'd never heard of before the kind folks at Powderhorn told me about it, Goliad has a lot of history, having played an important role in the early history of Texas, so there's quite a bit around here that's of interest to me. Pictured above is the interior of the mission's chapel.
For Sandra's account of the day and her photos, click here.
For my photos taken in this area, click here.

Saying Goodbye To The Gulf Coast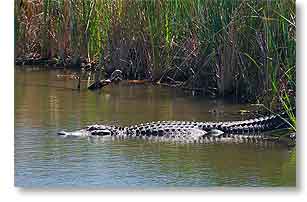 Tuesday, 24 February, 2009 - Tomorrow we are scheduled to leave Mustang Island and move 100 miles (160 km) north to Goliad, Texas, relocating away from the Gulf coast for the first time since we arrived on it back in November.
So, after lunch we headed out for a nostalgia tour of our favorite spots in the region, stopping first in Port Aransas at the Leonabelle Turnbull Birding Center. We've visited there quite a few times whenever we've stayed in the area and although there are signs posted warning about alligators, we had never seen any. That was until today when one of the two resident gators, Boots and Bags, was out sunning itself (photo above). I don't know if this was Boots or Bags, but it was a big sucker and it was worth the drive just to see the birding center actually does have alligators. There was also a turtle sunning itself on a log, so spring must be in the air when the reptiles start appearing. We've never visited here without seeing something of interest.
From there we took the ferry over to the mainland, stopping along the causeway at the Lighthouse Lakes Paddling Trail overlook where we saw a Loon out in the water. Loons are fairly common in Canada and I've heard them down here, but this was the first one I've seen to photograph and it was in its winter plumage as well. Click here to see it. The loon was the 57th species of birds that I've photographed along the coast and posted to the internet.
From there we continued on through Aransas Pass and took Beach Road through Rockport and Fulton, crossed the Copano Bridge and looked around Goose Island State Park, where we found at least a hundred red-winged blackbirds monopolizing the feeder area ('sanctuary'), but we saw few birds anywhere else there, nor along the shore drive beside St. Charles Bay.
Despite the lack of birds today, it was a beautiful day for a drive (blue skies and perfect temperature) and it's always good to see things around here. We've had a fantastic time along the Gulf coast this winter, but we're both ready for some new sights before we start working our way back home in a month or so.
For Sandra's account of the day and her photos, click here.
For my photos taken during this stop of the Odyssey, click here.

An Encore Visit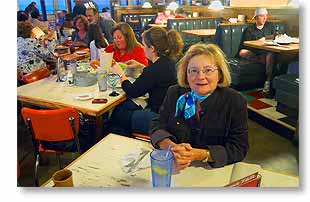 Saturday, 21 February, 2009 - Last evening Sandra and I drove into downtown Corpus Christi, primarily for me to revisit some of the locations I shot photos from two years ago when we were last there, and secondarily we planned to make it a night out on the town, something we rarely do, especially since the economy crashed.
We started out with me taking the wrong freeway exit downtown (thought I knew the way but didn't) and I turned that sow's ear into a silk purse by stopping at a park across Corpus Christi Bay to see what kind of skyline view of the city it offered and it turned out to be so perfect we drove back to it after Sandra also took advantage of my wrong turn to visit a Wal-Mart in that area and after we returned to the city for dinner at Joe's Crab Shack in the marina (photo above showing Sandra at our table).
Joe's is where we had dinner two years ago and we had such a good time back then we felt it warranted an encore visit and this time proved to be as good as the first. They completely changed the menu, but I forgive them since we both found something to our liking and to the liking of our temperamental digestive systems, Sandra's choice being a plate of crawfish selections and mine being a sirloin, which proved to be one of the best pieces of steak I've ever eaten.
After the meal, we walked around that part of the marina, taking night photos of the skyline, a first for Sandra since her new camera is the first one she's owned that's capable of taking decent night photos, and we then returned to the park across the bay where the nighttime skyline as seen from there was everything I'd hoped it would be.
For Sandra's account of the day and her photos, click here.
For my photos taken during this stop of the Odyssey, click here.

Seashore Galore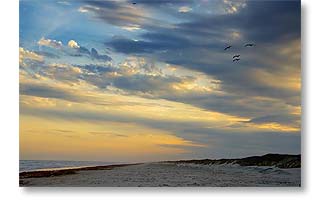 Friday, 20 February, 2009 - Yesterday, Sandra packed a lunch and late in the morning we headed south to make use of my new seniors' national parks pass by visiting the Padre Island National Seashore, which starts just 15 miles (24 km) south of us on Padre Island and continues southward for another 60 miles (96 km). That island is the longest undeveloped barrier island in the world.
We had been there a couple years ago, but on that occasion we stopped at the entrance gate because I figured that for their $10 fee the park had little to offer that we hadn't already seen for free but to a smaller scale outside the park. However, now having free admittance with the pass, I figured this time it was worth the fuel and time to give it a look and it was okay, but not great. I was right the first time in that unless one just wants to drive along miles of a soft virgin white sand beach that requires a four-wheel drive vehicle, there's little of interest (to me) to be seen there. Especially since just before the entrance fee booth there's a short road over to the beach, that to the north is for all practical purposes just like the beach to the south that's within the fee area. Actually, it looks just like the photo above that I took at sunset last night of a section of our own beach here at Mustang Island State Park.
Anyway, I'm sure the national seashore is a fine thing and appeals to a great many people and I like preserving as much of nature from developers as possible, but my main interest in visiting the national seashore was in taking photographs (of course) and there were precious few to be found there that I can't find here in the state park, the biggest difference being the national seashore doesn't have power lines and utility poles running down the middle of it like Mustang Island does (what an eyesore) and I had particularly been hoping to see some large grass-free and wind-rippled dunes, but the few of those we did see were off in the distance and inaccessible, so it wasn't a particularly rewarding visit for me. That might have been different if we weren't staying in the state park and were longing for some beach time, but we're getting plenty of that here.
All that said, apparently on the Laguna Madre side of Padre Island is some fine environment for windsurfing and being along the bird migratory Central Flyway, the birding there is supposed to be very good and they offer a daily (except Monday) birding tour, which I might attend one day before we leave. We also saw two campgrounds in the national seashore, but neither had hookups of any kind, not even electricity, so they would only be useful to people who like to dry camp, Sandra and I not being among those stalwart souls, we being wusses who like our creature comforts.
For Sandra's account of the day and her photos, click here.
For my photos taken during this stop of the Odyssey, click here.

Got It Covered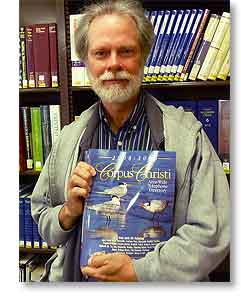 Wednesday, 18 February, 2009 - Well...something finally worth reporting...two things actually, but we'll take each in the order they happened.
Firstly, we went into Port Aransas today on an errand run and while there we stopped at the post office and picked up a package sent general delivery to Sandra and me by Michelle. This was a first since I've never before used general delivery, but it worked like a charm. Now that we know it works so well, we won't hesitate to use it again. This solves a lot of problems with us receiving mail while we're away from Canada.
Anyway, the package contained "a lot of heart" (to quote Michelle, as that cryptic description was all she would tell me about the contents of the package before it arrived), the 'heart' turning out to be a bag of heart-shaped gluten-free cookies decorated for Valentine's Day, the baking of which all three of Michelle's children took part in, so the cookies are especially sweet. Thanks, guys. Really yummy. Click here to see one of the cookies about to disappear.
Secondly, a year ago I was contacted by the Corpus Christi Area Wide Directory (phone book) with a request to buy 5 of my photos, one for each of the next 5 years of phone book covers. I, of course, was only too happy to sell them the photos they wanted and then went on with my life, figuring I would track down a phone book the next time I happened to be around Corpus Christi, which just happens to be near our current location.
So, today after stopping at the post office, we visited the library where Sandra found the phone books in the reference section and there it was, the first of the 5 Corpus Christi phone books to feature one of my photos (the one seen here and as used on the final product in the photo above taken by Sandra). They did an excellent job getting my horizontal format image to fit a vertical format page.
I must say that over the long years of my involvement with the graphic arts (58 years as I write this), my work has been involved with all kinds of things that were published (ads, annual reports, brochures, catalogs, etc.) many of which included some of my photography and have been seen by people around the world, albeit to fairly narrow and specialized industrial and high-tech markets, and since retiring, my photos (taken solely for my own amusement) have also been sold for use in calendars, postcards, textbooks, national park brochures, boardroom wall hangings, websites, a TV commercial in England, an upcoming San Antonio Yellow Pages cover, and too many more things to remember offhand, so I normally don't get too worked up over having some of my work published, but I've never before been on the cover of a phone book for a major metropolitan area (or a minor one for that matter) and I have to confess that for some reason it gives me a bit of a thrill.
Maybe because I just learned the exact size of the area they were talking about when they said "area wide". It's huge! As it turns out, the phone book doesn't just cover greater Corpus Christi but the entire 361 area code, which includes 29 counties, 98 municipalities, and almost 750,000 people (as of the 2000 census), all of whom (if things go as planned) will be looking at one of my photos for the next 5 years. Pretty cool! I expect my father, who taught me photography and the graphic arts, would be proud if he was still with us.
For Sandra's account of the day and her photos, click here.
For my photos taken during this stop of the Odyssey, click here.


__________________________

For Older News

To read details of our previous stops and camps, visit the News Archives.


Updated Friday, April 10, 2009

Copyright © 2009 by Gordon L Wolford .
All rights reserved.