Back To The Past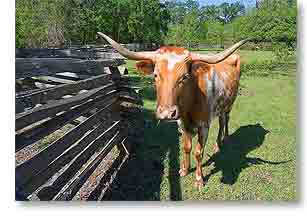 Tuesday, 31 March, 2009 - Sunday, I finally traveled back to the past. No time machine, just a visit to the Longfellow-Evangeline State Park (LESP) in nearby St Martinville...and it was free since Louisiana state parks honor national parks passes!
I say finally because I've been wanting to spend some quality time at LESP since I discovered that it's a historic site on the grounds of what was once an Acadian plantation and is maintained to look like it. In fact, the plantation house itself is mostly original and is designated a National Historic Landmark. A couple of my shots of its interior can be viewed here and here.
Also on the grounds a short walk down a trail is an Acadian farmstead that shows how a typical single family Acadian farm would have appeared in the early 1800s. Photo above is of a very cooperative Texas Longhorn cow that was out in the farm's pasture and is representative of the kind of cattle they would have had.
Both the plantation and farmstead had guided tours that were quite interesting. It was all very well done and even without a parks pass I think the regular entrance fee was only $2 and would have been a bargain even if I'd had to pay it. I actually didn't even need the pass since seniors get in free and they consider seniors to be anyone 62 years or older. Sandra, not being interested in history or in getting up before the sun, opted to stay home.
Before visiting LESP, I'd photographed the sunrise at Lake Martin, sunrises being something I've seen precious few of recently, actually since leaving the Gulf coast, and then yesterday morning was an even better one, so back to Lake Martin I went and had a great time photographing it in early light.
We had been planning to leave Louisiana today to hit the road for Ohio, but the forecast isn't good, so we've delayed our departure until tomorrow.
For Sandra's account of the last few days and her photos, click here.
For all the photos I've posted so far from our long trek back to Ontario, click here.

We Get The Point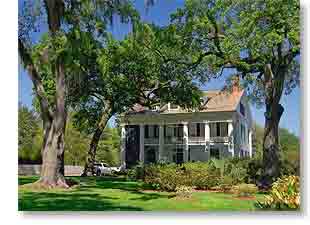 Sunday, 29 March, 2009 - As in Cypremort Point State Park south of here on the Gulf coast at Vermilion Bay.
Yesterday, being the first day since Tuesday that wasn't overcast and rainy, we took advantage of the beautiful weather, although much cooler and drier, by going for another tour of the area, this time driving south on US 90 to see the Gulf coast at Cypremort Point. Click here for the map.
Unfortunately, it didn't prove to be worth the effort to get there, an effort that was complicated by a bridge being out that necessitated a 10 mile (16 km) detour, adding 20 miles (32 km) overall to an already long drive.
But we eventually arrived at the state park and found it to be basically little more than a beach with picnic pavilions and a fishing pier. If you're looking for a place to picnic, fish, swim, or windsurf, it's great. If you're looking for scenery, it isn't.
Anyway, it's always interesting to see an area for the first time and it was a great day to be outdoors, so we enjoyed the drive, despite not seeing anything noteworthy on the coast. We did, however, take advantage of being in that area by coming back via the slower but much prettier Highway 182, which along the stretch of it that we took is part of the Bayou Teche Scenic Byway and passes through the towns of Jeanerette and New Iberia.
Regular readers of this page might recall a week ago I said that as we drove through New Iberia for the first time going from Breaux Bridge to Avery Island we didn't see anything exceptional about the town, which bills itself as the Queen City of the Bayou Teche. Yesterday was the second time we've been there since then and the previous visit we discovered the regal nature of the town resides along Highway 182 just south of downtown where stately mansions (photo above) back onto The Teche (pronounced Tesh, as in John Tesh, or rhyming with mesh). We also drove around a bit and discovered a very nice city park that is on the opposite side of the bayou from the mansions, so I have to now admit that of all the cities we've seen along Bayou Teche, New Iberia is indeed the most queenly, although St Martinville still gets my vote for being the most interesting.
By the way, as an update to the router episode highlighted in my last report, I'm happy to say the new router has been performing flawlessly, which has got to be good for my blood pressure if nothing else.
Click here for Sandra's account and photos of our Cypremort Point tour.
For all the photos I've posted so far from our long trek back to Ontario, click here.

Trying To Get Rerouted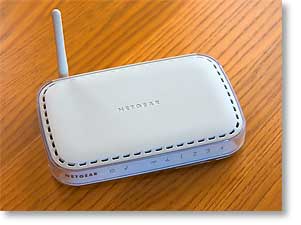 Thursday, 26 March, 2009 - For several years, actually for the whole time we've been living the RV lifestyle, Sandra and I have been putting up with problems stemming from our antiquated (2003) Linksys BEFW11S4v4 Wireless Router. For instance, at least half the time she would awaken her computer each morning it would kill our internet access from the router and I would have to restart it and other times it would simply drop the internet for no reason at all. Most annoying.
So, a couple weeks ago I finally got fed up with it, did some research on the internet and found ours was a common complaint for that router, downloaded the latest firmware update, installed it, and nothing changed!
Well, that was the last straw, so a couple days ago, we drove the 5 miles (8 km) over to the Breaux Bridge Wal-Mart Supercenter to see what wireless routers they had available and found the latest Linksys model and a NETGEAR WGR614v9 Wireless Router. Needless to say, I passed on the Linksys and bought the Netgear unit.
For the technically-challenged, a wireless router takes one's internet access point (modem) and can feed it to several computers (four in this case) through ethernet directly or through a wireless network it creates, which can feed any number of computers, and that wireless network is usually what we operate from.
The specifications on the Netgear router box listed the system requirements as only Windows, so I knew I could at least set the thing up on the PC if it came down to that, but I was happy to see when I opened the box and read the more detailed specifications that although the setup wizard only ran on Windows, there was a provision for setting it up with a Mac via a web browser, so this is what I tried.
And that appeared to work until Sandra awoke her computer and we lost internet access!
"Yeesh! Shades of the Linksys," I thought. "Here we go again."
One of the reasons I like to buy from Wal-Mart is their no-questions-asked return policy and at that point I was ready to take the thing right back to them, but I decided before I did that I'd first run the setup wizard on the PC and see if that made a difference.
So, that is what I did early this morning and so far everything seems to be working properly. Why it didn't with my manual settings via the Mac but does having been configured with the setup wizard via the PC is beyond me, but at least for now it's working. How long that lasts remains to be seen, but so far so good.
Another thing about the setup wizard though that puzzles me is that it turned out to be a Flash application and those will run on a Mac just as well as a PC, so with very little additional effort they could have provided the same setup wizard with Mac compatibility but chose not to. A bonehead decision from my point of view.

A Long Southeasterly Tour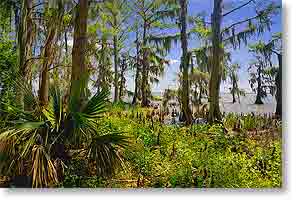 Monday, 23 March, 2009 - Yesterday morning, after having gone out for supper the evening before, 23 miles (36 km) away at Possum's Restaurant in St. Martinville so Sandra could satisfy her craving for crawfish étouffée, we hit the road again, this time heading southeast just to see what's there and ended up driving a round trip of 279 mi (449 km). Click here for a map of the tour, as best as I can remember the rather convoluted route we ended up taking.
We were tentatively going to look at RV parks, but didn't see anything about the region that really struck a chord with us, except for one thing I did have in the back of my mind to try and find and that was a cypress and swamp scene that had caught my eye a while back in a photo on PBase. However, all I could remember about it was its general look and the fact it had been taken in or near Morgan City, which just happened to be in the direction we were heading.
And as pure luck would have it, we actually stumbled across it...Brownell Memorial Park & Carillon Tower beside Lake Palourde (photo above). I can't imagine the odds of doing that (finding in totally unfamiliar territory a scene that I only had vague memories of), but I'll take such luck when it happens. Better to be lucky than good, as the saying goes, and the park was worth the drive, being only the second spot I've found in Louisiana with classic cypress swamp scenery that's easily accessible (Lake Martin being the other). The Brownell park is privately owned and funded but open to the public and it's quite beautiful and strolling around the grounds to music periodically coming from the bells of the park's carillon made it even more special. Click here to view the carillon.
On the other hand, the lady in the parks visitor center had told us to be careful about snakes and that warning was emphasized by a sign as we started on the trail into the park and further emphasized when we met a woman who was leaving because she'd just seen two snakes on the trail she had been hiking on, so needless to say Sandra and I spent as much time looking down as we did looking up.
From there we did a lot of driving but didn't see anything else worth talking about. As we've found before in this area, to really see the swamp scenery that is iconic of Louisiana you have to do it from a boat. Almost none of it has roads through it, which is understandable considering the nature of the terrain. I expect there have to be other places one can get up close and personal by land with scenic swamp, we just haven't found them.
For Sandra's account of the last few days and her photos, click here.
For all the photos I've posted so far from our long trek back to Ontario, click here.

A Short Southerly Tour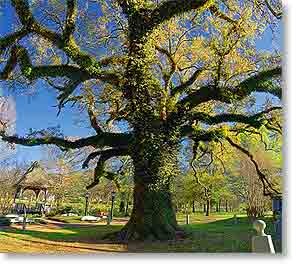 Thursday, 19 March, 2009 - Yesterday afternoon we toured the area south of here, passing through Breaux Bridge (which bills itself as the Crawfish Capital of the World) and along Lake Martin, where we found the rookery area. We then took a look at the RV park we had wanted to stay at, then drove through St. Martinville and New Iberia before ending up at Avery Island. Click here for a map of the 80 mile (128 km) tour.
At Avery Island we encountered a toll booth! Apparently it costs $1 to enter, so considering it was getting late in the afternoon by then and I wasn't sure what was actually there that might be worth paying to see, we turned around at that point and returned home.
Avery Island (like High Island, Texas) isn't an island as such, but a large salt dome in a sea of otherwise exceptionally flat land and is home to Tabasco sauce and the oldest salt mine in North America and a wildlife sanctuary, that being my main interest in seeing the place, but there is so much wildlife available to see for free around here in other areas, I'm not inclined to pay to see it somewhere that charges a toll. Yes, it's only a buck, but if it were to cost a buck everywhere you went, you'd soon be broke.
Anyway, New Iberia (which bills itself as the Queen City of the Bayou Teche) was a nice place but we didn't see anything exceptional with a simple drive through, but St. Martinville is a different matter.
It too is on Bayou Teche (as is Breaux Bridge) and during the Acadian migration The Teche was the primary means of transportation, so it has a lot of significance in Cajun history, as does St. Martinville, one of the oldest cities in Louisiana.
St. Martinville is also one of the locations in Longfellow's poem Evangeline and the town capitalizes on that. Much in the town and around it incorporate the name Evangeline, not the least of which is the Evangeline Oak (pictured above) which apparently meets the description in the poem. However, while the poem documents the Acadian expulsion, exile, and migration, it is still a work of fiction based on legend, so how many of the fine details in it are actually factual has long been debated. Whatever the case, St. Martinville must be admired for preserving so much of its history and heritage. It's quite an interesting place.
For Sandra's account of yesterday and her photos, click here.
For all the photos I've posted so far from our long trek back to Ontario, click here.

Back To Breaux Bridge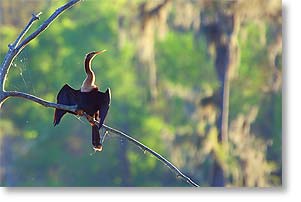 Wednesday, 18 March, 2009 - Well, as things happen sometimes, our plans to move to an RV park near St. Martinville, Louisiana fell through yesterday when someone who knows the place advised I should call first to make reservations, which I tried to do and found they were booked solid, hosting two caravans!
So, I then called Poche's Fish 'n Camp, near Breaux Bridge where we stayed last November on our way to Texas, and found they too were going to be nearly full over the upcoming weekend, but they did have a couple sites still available, so we booked one. I had really been looking forward to being close to Lake Martin and St. Martinville, which would have avoided having to drive through Breaux Bridge to get to Lake Martin and been a shorter distance to areas further south that I want to check out this time, but Lake Martin is still only a 20 minute drive from here, instead of the 5 minutes it would have been.
Anyway, the three hour 148 mile (238 km) drive from Beaumont to Breaux Bridge was thankfully uneventful. Click here to see the map. Unfortunately, getting onto the site at Poche's wasn't. The sites here are nearly all back-in and there is little room for maneuvering a large RV and this was made worse by the fact the ground here has turned to mush from the recent rains and I had to resort to using 4-wheel drive before we were actually in position. 4-wheel drive isn't something we've had to use often, but it has saved enormous grief the few times we have needed it.
So, it wasn't pretty, but I did eventually get the RV where we wanted it and everything went smoothly getting setup, until I tried finding the TV satellite, which for the second time in a row I failed to do and was too exhausted to deal with setting up the TV dish's tripod, which I'll do later today.
After catching my breath, I had to go see what was happening at Lake Martin, since it's a bird rookery and I'd heard it was starting to show activity. Wherever that is on the lake, it wasn't in the area I usually visit since little was happening there and I was lucky to get the photo above of an anhinga drying its wings.
For Sandra's account of the day and her photos, click here.
For all the photos I've posted so far from our long trek back to Ontario, click here.

Final Sights In Texas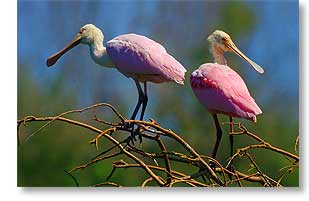 Tuesday, 17 March, 2009 - Yesterday we took the opportunity to tour around this easternmost part of Texas before we leave Beaumont later today, heading for St. Martinville, Louisiana to take another look at Cajun Country. Click here for an approximate map of the tour yesterday.
The main thing I wanted to see was the Smith Oaks Bird Sanctuary in High Island down on the Gulf coast. It's overseen by the Houston Audubon Society and had come highly recommended and we weren't disappointed.
Hurricane Ike had done a number on the area and damage from it was evident around every corner, but there were still a lot of birds in the sanctuary, especially in its rookery where we saw more roseate spoonbills in that one place than we've seen everywhere else combined. There had to have been hundreds of them (two shown above) and apparently more come in late in the day for night roosting.
From there, we drove over to look at Sabine Pass, Port Arthur, and downtown Beaumont, none of which we found interesting, although as we were nearing the RV park here we saw a Cracker Barrel Restaurant and figured that would be a good place to have breakfast for supper, which is what we did.
For Sandra's account of the day and her photos, click here.
For all the photos I've posted so far from our long trek back to Ontario, click here.


__________________________

For Older News

To read details of our previous stops and camps, visit the News Archives.


Updated Friday, April 10, 2009

Copyright © 2009 by Gordon L Wolford .
All rights reserved.