Now Near Columbus, Ohio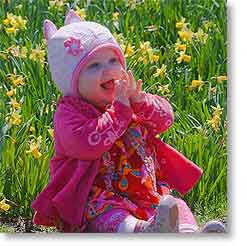 Sunday, 12 April, 2009 - Actually, we're back at the Cross Creek Camping Resort in Delaware, Ohio just north of Columbus, but Delaware is part of the Columbus Metropolitan Area.
We left Lebanon around mid-morning and arrived here just after noon. The move was 101 uneventful miles (162 km) under clear skies again although hardly warm temperatures, but still a beautiful day for traveling. Click here for the usual map of the drive.
Cross Creek is one of the nicest RV parks we've found in Ohio. It's clean, well laid out, everything works, and it has good free wi-fi. However, the pull thru sites are barely long enough to fit RV and truck into.
Tomorrow afternoon we're to head over to Michelle's for a visit. We expect to be here until Thursday to wait out more rainy weather that's moving in tomorrow.
Pictured here is Iris yesterday in her cute little bunny bonnet, sitting in a bed of daffodils and playing patty-cake with someone while we were with Ian and his family at the Cox Arboretum in Dayton.
For Sandra's account of yesterday and her photos, click here.
For the photos I've posted so far from our family visits in Ohio, click here.

Happy Easter To All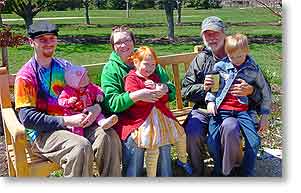 Sunday, 12 April, 2009 - It is the wee hours of Easter Sunday as I write this, so Happy Easter to all who read this.
Yesterday, we met with Ian and his family at the Cox Arboretum & Gardens Metropark in Dayton and although it was quite chilly in the wind, it was still a beautiful day and we had a great time. I can't resist getting involved with the kids' play and then my old bones and joints end up paying the price for it later, but it's worth it.
I'm again borrowing one of Sandra's photographs, which shows (L-R): Ian holding Iris, Tracy holding Lily, and Grandpa holding Caden, all on a park bench in the arboretum, which is one of the class places in Dayton.
Before we drove up to Dayton though, we had to drive to the Ace Hardware store here in Lebanon. They had the only electric heater we could find and they had only one, so our choice was what you might call limited. I did find during the night that our old heater worked with our little fan placed behind it and blowing air through it, but that arrangement wouldn't have been something I'd want to rely on.
The campground here also sells propane, so we got the empty tank filled as well, which makes us now ready for the cold nights we have to endure for a while longer. At the moment (4am), it 32°F (0°C) and I expect that will drop even further before the sun comes up.
Later this morning we are to be relocating to Columbus for a few days to visit with Michelle and her family before we make the last leg of the long trek back to Ottawa.
For Sandra's account of yesterday and her photos, click here.
For the photos I've posted so far from our family visits in Ohio, click here.

A Good Friday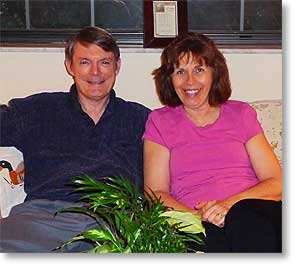 Friday, 10 April, 2009 - Today is Good Friday and it rained nearly all day, but it was still a good Friday, beyond the Christian meaning of the day, because Sandra and I visited with my kid sister Carol and her husband Rick.
I've borrowed one of Sandra's photos to post here that she took of them. That's obviously Carol on the right. They look pretty good for being almost my age.
We got to their house fairly early in the afternoon and got caught up on everything and then enjoyed a fabulous dinner that Carol prepared - roast pork, mashed potatoes, corn, a fruit cup, and a special treat for dessert - gluten-free carrot cake that was melt-in-the-mouth goodness.
We left just as dark was falling and it was raining and I hate driving at night in the rain, but we made it back to the RV without incident only to discover the fan bearings in our little electric heater had lost their bearing (so to speak) and the fan no longer turned properly and made a really tired noise in the attempt to come to life. It certainly wasn't safe to run.
So out we went into the rainy darkness again in search of a replacement electric heater, first going to Wal-Mart only to discover they considered electric heaters to be 'seasonal items' and had just returned all of theirs to the warehouse. Personally, I'm not as enamored with Wal-Mart as my wife is, but that's another story.
We then found the local Home Depot, which involved driving to the other side of town in the dark and rain (joy). They had closed a half hour earlier but the door was still open and they still waited on us, but found the same 'seasonal item' story there we had at Wal-Mart.
By then I was seriously not happy, seriously tired, and it was 10pm and nowhere even remotely likely to have an electric heater was open so we returned to the RV, resigned to let the furnace run, which really goes through propane, which is expensive, which is why we like running an electric heater when it's cold (forecast low for tonight was to be in the mid-30sF, low single digit-C), and one of our propane tanks is already empty and we don't know how much is left in the second one, hence the need for the heater and having absolutely no hint it was about to die.
So it won't take a psychic to figure out what we'll be doing first thing in the morning.
Despite all of that, it was still a Good Friday.
For Sandra's account of the day and her photos, click here.
For all the photos I've posted so far from our long trek back to Ontario, click here.

Back In The East Again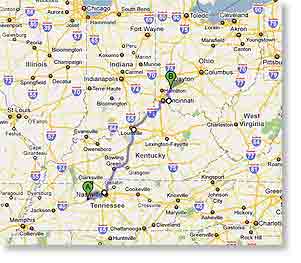 Thursday, 9 April, 2009 - East as in the Eastern Time Zone. This morning we left Dickson around 9am CDT and arrived in Lebanon, Ohio at 4:15pm EDT for a 6 hour and 15 minute drive of 362 miles (583 km). Click on the map for a detailed view.
At some point midway between the Tennessee-Kentucky border and Louisville we crossed the time zone line. We would have made the drive in exactly 6 hours except for time lost in a backup due to an accident on the Cincinnati bypass.
So, we are once again at the Cedarbrook Campground, for our fifth visit to this RV park and the 176th camp of the odyssey. That's a lot of hitching and unhitching in nearly five years.
We were fortunate to have made today's move in excellent weather, sunny and warm, but we were actually staying just a few hours ahead of a storm system. As I write this, it is very late and the predicted rain has now arrived.
For Sandra's account of the day and her photos, click here.
For all the photos I've posted so far from our long trek back to Ontario, click here.

Back On The Road Again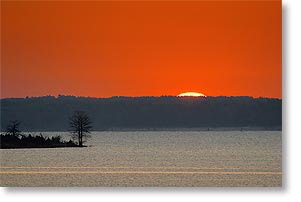 Wednesday, 8 April, 2009 - As planned, we said farewell this morning to Grenada Lake after a most pleasant 5 day stay there and made the 260 mile (418 km) move to near Dickson, Tennessee, where we are overnighting at the Tanbark Campground. Click here to see a map of the drive.
We left Grenada at 9:40am and got here at 2:20pm for an uneventful drive of a little under 5 hours, which included two pitstops. We enjoyed clear blue skies the whole way with the temperature reaching 72°F (22°C).
The address here might be Dickson, but the town is 9 miles (14 km) away as the crow flies, 13 miles (21 km) by road. 14 miles (22 km) back down the freeway is the community of Bucksnort (seriously), a name that somehow fits the area. There's actually nothing much near the campground except the exit off I-40, a couple of gas stations there, only one selling diesel, and an out-of-business truck stop.
I'll call this a rustic setting, but memories of the movie Deliverance keep flashing through my head. The campground is as rustic as its surroundings, but the fellow running it was very nice and most accommodating, however we just barely fit onto the site and that with the truck backed in under the hitch. Tight fit and narrow as well. The site pad is paved, but not level and the lanes are not paved nor is the road to the campground. Like I said, rustic.
On the positive side, it has free wi-fi that we can easily reach from the RV and it's a Passport America member so the site costs half the campground's regular price of $27.50. It's an adequate place to overnight, but decor and interior design are not spoken here.
I took the photo above this morning at daybreak as the sun was just starting to peek over the far shore of Grenada Lake. We are planning to reach our usual campground in Lebanon, Ohio by tomorrow afternoon.
For Sandra's account of the day and her photos, click here.
For all the photos I've posted so far from our long trek back to Ontario, click here.

We Hit The Trails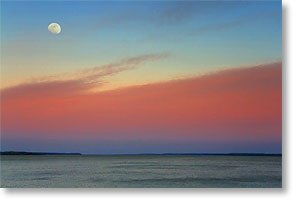 Tuesday, 7 April, 2009 - Tomorrow we are planning to continue our northward trek, so today we saw a bit more of what's here at the US Army Corps of Engineers (USACE) Grenada Lake Project, taking the Lost Bluff Trail for a short way, hiking the entire Old River Run Nature Trail, and showing Sandra another cypress swamp I had discovered, this one inhabited by quite a few egrets, making it three cypress or tupelo swamps I've found in an area where I hadn't expected to find any. It wouldn't surprise me if there's more.
The Old River Trail and the adjacent swamp are in a day use fee area below the dam near the visitor center, but I had seen no provision for paying the fee and since we're camped here, didn't know if the fee even applied to us.
So, we stopped at the Visitor Center to ask about it, but the very kind lady there had no answers for us and told me to ask at the ranger station, where the very kind young receptionist there told me that the day use fees were indeed covered by the camping fees and to just display on our vehicle's dash the pass that had been in the camping fee envelope. I told her there had been no pass in either of the two camping fee envelopes we had used, so she had a ranger brings some over.
Now being suitably legal, we parked near the swamp and trail and were near the trailhead, which is also right next to a boat ramp, when one of the park rangers walked up to us and asked if we were from Canada. We said we were, to which he said we needed to get a photo of a string of turtles that were basking on a log in the sun, which he showed us, and then he introduced us to a couple of local fishermen who had to show us two of the crappie (a.k.a. white perch) fish they'd just caught. Nice folks.
We've also learned of a couple more USACE lakes north of here (Enid Lake and Sardis Lake), so I expect the next time we pass through this area that we'll give them a look. This has turned out to have been a very pleasant stop on the trek.
The photo above was taken the other evening from behind the RV and is about as close as we got to a photogenic sunset, skies either having been overcast or clear, neither of which make for memorable sunsets.
For Sandra's account of the last two days and her photos, click here.
For all the photos I've posted so far from our long trek back to Ontario, click here.

Weird Winter...uh...Spring Weather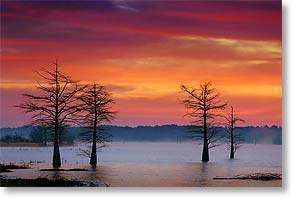 Sunday, 5 April, 2009 - I started to say 'winter' weather because it's not looking much like spring up north yet, and it isn't going to feel like it even here in northern Mississippi the next two nights in which the forecast is calling for the temperature to drop down to 27°F (-2°C) tomorrow night and almost that cold the following night!
Apparently, the northern plains are getting hit with their fourth blizzard in two weeks and that is what will be affecting us in a day or two even this far south and while I had been hoping to get back north early this year (for a variety of reasons) as long as that cold weather continues to rear its ugly head, we will continue to sit down here in the south hoping it will soon pass.
That said, even the long range forecast isn't looking all that promising and we might just have to resign ourselves to enduring some northern cold. As it is, we just renewed this site until Wednesday morning, when hopefully we will be able to continue our northward trek. Wow, do I wish we were back on the Gulf coast of Texas!
Well, enough gloom. On a cheerier note, how long has it been since I featured a sunrise shot here in the Northern News? To answer my own question...not since late November last year...four months ago when we were enjoying regular photogenic sunrises and sunsets at Powderhorn Lake. I've photographed a few since then, but except for one beauty we had a week ago at Lake Martin, we've had shockingly few sunrises worth dragging myself and the camera out for since leaving the Gulf coast.
Anyway, the weather did cooperate for a spectacular sunrise when yesterday morning we had another beauty and fortunately we are in a prime position for me to have taken advantage of it, photo above being one of the views we have from the RV here. Not too hard to take.
For Sandra's account of the last two days and her photos, click here.
For all the photos I've posted so far from our long trek back to Ontario, click here.

Back In Beside Some Water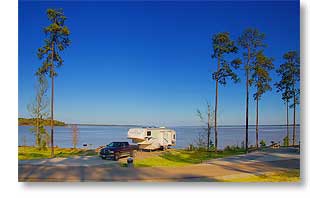 Friday, 3 April, 2009 - This morning we again packed up, hitched up, and this time said goodbye to Frog Hollow Campground/RV Park but moved only 8 miles (13 km) to the US Army Corps of Engineers (USACE) North Abutment campground at their Grenada Lake Project. Click here for a map of today's move.
We learned about USACE campgrounds recently through one of Sandra's online RV chat buddies who regularly stays at them and we then discovered this campground yesterday during a tour of the area and liked it so much we decided to spend a couple of days there, so here we are.
One of the things about USACE campgrounds that particularly appeals to us is my national parks senior's pass gets us a 50% discount on their camping fees. However, one of my main concerns about such places (like national park and state park campgrounds) is the large number of trees they are likely to have, making it either very difficult or impossible to access the internet and TV satellites and that situation was definitely the case here. But as you can see above in the photo of our large and spacious campsite here, this part of the campground, being along the lake shore, has fewer trees to deal with, although even at that they still almost blocked satellite access. The lake is to our east, which means those trees on the right side of the photo are south of us, as are the satellites, so the trees can interfere. However, our satellite cables are 50 feet (15 m) long so I did manage to find a spot with adequate access.
This, of course was after we got onto the site, which turned out be more difficult than I expected. When we checked out the place initially, we decided on a pull-through site (#20), which at that time was available, but by the time we got back here with the RV this morning, site 20 was occupied!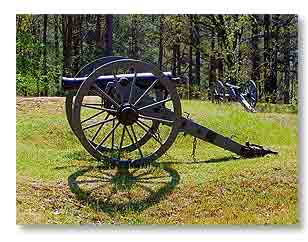 So we then opted for the next site north (#21), which was also available but is a back-in site. Fortunately, these sites are fairly easy to back into, so with Sandra's expert guidance I had the rig in place without undue stress...that was until we discovered the electric box was too far back to reach with our power cable!
I've said before (and I'll say it again), it is just beyond belief the totally stupid things some campground designers can come up with. In this case, the hook-ups for site 21 were so far behind the site our power cable didn't even come close to reaching the outlet box. A really bonehead placement. Hookups need to be right at the site.
Fortunately, the next site north of that one (#22) was also available and the hook-ups were where they should be, so we moved to that one, which means I had to back into two sites in one morning and I really hate having to back-in even once.
But all's well that ends well and after camp was all setup and we caught our breath and had lunch, we decided to take advantage of the beautiful weather and drive around the lake. Click here for an approximate map of that drive. One of the more interesting things we saw was a restored Confederate fort (second photo above), but we found that our immediate area is the most scenic and should be ideal for sunrise photography. Hopefully the weather will cooperate.
For Sandra's account of today and her photos, click here.
For all the photos I've posted so far from our long trek back to Ontario, click here.

We Turn Away From The Gulf Coast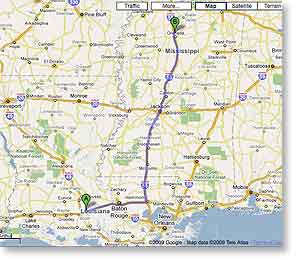 Wednesday, 1 April, 2009 - This morning we packed up, hitched up, and at 9:11am said goodbye to Poche's Fish-n-Camp near Breaux Bridge, Louisiana after a very pleasant two week stay there.
We took I-10 east to I-55 north where we sadly turned our backs on the Gulf coast and headed for Frog Hollow Campground/RV Park near Grenada in northern Mississippi, 90 miles (145 km) south of Memphis, Tennessee.
Today's move (map on the left) was 340 uneventful miles (547 km) under beautiful skies and warm temperatures and took 6 hours with us arriving here at Frog Hollow at 3:15pm and shortly after were ushered to a nice and long but grass pull-thru site.
They have what appears to be excellent campground-wide wi-fi (only time will tell how reliable it is) so I haven't set up the internet dish, but there's no cable TV and local broadcast TV reception is almost non-existent, so not wanting Sandra to miss tonight's episode of Lost we succeeded in getting the TV dish setup fairly painlessly. Always a joy.
Due to more severe weather moving through tomorrow, we signed up to stay here the extra day and wait it out.
For Sandra's account of today and her photos, click here.
For all the photos I've posted so far from our long trek back to Ontario, click here.


__________________________

For Older News

To read details of our previous stops and camps, visit the News Archives.


Updated Monday, April 20, 2009

Copyright © 2009 by Gordon L Wolford .
All rights reserved.