Tiptoeing Through The Tulips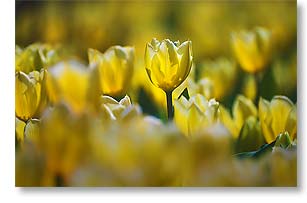 Thursday, 30 April, 2009 - Well, at least tiptoeing around them, if not actually through them.
We hadn't done much of note since my last report until yesterday when I had an afternoon appointment in Ottawa with the infectious disease specialist to schedule a CT scan to check on my lungs.
We took advantage of having to be in the city by going in a few hours early to see if any tulips had bloomed yet, tomorrow being the start of this year's edition of the Canadian Tulip Festival, which is held each year in Ottawa, Canada's capital.
The 'Tulip Meter' on the festival's website was indicating 50%, but we aren't sure what or where that was referring to since nowhere near half the tulip beds in Commissioners Park were in bloom. However, as can be seen in the photo above, there were enough early season tulips showing to have made it worth the effort to get there and even without tulips, walking through that park, which is adjacent to Dows Lake, is always a pleasure.
While in that area we also stopped by the Ornamental Gardens in the Central Experimental Farm, another excellent place for a casual stroll, but found even fewer flowers in bloom there. Spring is arriving in Ottawa, although slowly.
Then it was time for the infectious disease specialist and after that we dined out at a Swiss Chalet, thanks to a gift card Nick & Becky gave to us a while back. Then it was off on a fruitless search for 1% lactose-free milk for Sandra (2% and skim being available, but no 1%), followed by our return to the RV through end of rush hour traffic.
Other than nip over to Petrie Island a couple of times for sunsets over the Ottawa River, the only other fun thing we've done was on Saturday when we took a drive along the Ottawa River east of here as far as Lefaivre and then returning via Alfred. Click here for a map of the drive.
I had wanted to follow as closely to the river as possible, in the hope of seeing something scenic, like Petrie Island, but alas we saw little but a river lined with private properties and pathetically few public access points – no parks that we saw, only a couple ferry crossings to Quebec and about as many public boat ramps. I doubt we ever visit that region again, but I'm glad we saw it the one time...such as it was.
For Sandra's account of the last few days and her photos, click here.
For the photos I've posted so far from our return to Ontario, click here.

Early Return Goals Reached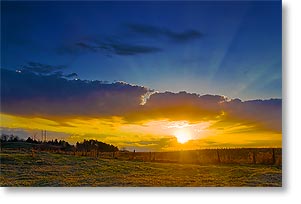 Friday, 24 April, 2009 - We started the long trek back north earlier than usual this year because I was anxious to get back to Ottawa for a couple of reasons.
First, the phone number I had for Canada Immigration didn't work from the US, nor could I find any other way of contacting them, so I had no way of finding out when they would destroy my renewed PR card. They only hold them for six months before sending them to the PR card happy hunting grounds. I was assuming that would be April 28, about the time we would normally be getting back to Ottawa, but based on their track record of misinformation, I didn't want to take any chances on having to go through the agony of filling out all that paperwork again. It turned out that it was indeed the 28th, but I had no way of knowing that until we got back. Anyway, all's well that ends well.
The second and maybe more important reason for an early return was because I'd been having chest pains on my left side and never having had a heart attack before, I didn't know if those might have been the first signs of one or if the pains were simply related to the chest pains I've had in my right side off and on since contracting Valley Fever pneumonia over a year ago, so I considered it of paramount importance to get to my doctor with as little delay as possible, but not so early we'd have to deal with ice and snow and freezing temperatures. We had travel medical insurance which would likely have covered any hospital costs, eventually, if I'd actually had a heart attack while in the US, but as we've learned with past travel medical claims, the insurance company makes the payment process so annoying and drawn out that we would only use it if there were absolutely no other choice. Being treated in Canada is just so much simpler in all ways.
So the closer we got to home the better I liked it and yesterday I at last saw my doctor, who after quizzing me for quite some time, didn't seemed concerned but did give me a requisition for a stress test and told me to call and make the appointment myself. The fact she didn't have her office call it in also meant she didn't feel the situation was heart related. The hospital set me up with an appointment for June 29. I told the girl that I hoped I lived that long, but in reality this was just another indication that the situation isn't considered urgent. I hope they're right.
Unfortunately, there are people who take such a long delay in having a test done that they feel the Canadian medical system is overloaded and doesn't work well, but in my experience with it, things are done on a priority basis and if the doctor had felt I was in imminent danger, she'd have had me on a stress test treadmill within the hour.
Anyway, I've now reached both of my goals for the early return, so I'm happy about that.
Photo above is of this evening's sunset, the second we've had in a row. I'd almost forgotten what one of these things looked like.
For Sandra's account of the last few days and her photos, click here.
For the photos I've posted so far from our return to Ontario, click here.

Carded Again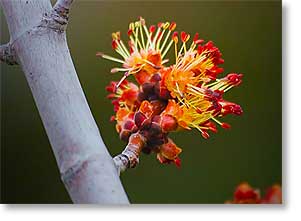 Wednesday, 22 April, 2009 - When I became a permanent resident of Canada in 1991, what they gave you to show as proof of your status was a fancy piece of legal-size paper that got folded up and stapled to the inside of one's passport, US in my case. This piece of paper did not expire, so permanent residents never had to do anything further to maintain their right to stay and to reenter the country.
Then along came 9-11 and it wasn't long after that, with the US demanding that Canada tighten its border security, that Canada started to require its permanent non-citizen residents (such as myself) who wanted to reenter the country via a commercial carrier (plane, train, boat, bus, etc) to get a Permanent Resident (PR) Card, a new device they came up with as one more thing to further complicate the already complicated lives of modern living. I don't know for a fact that 9-11 was the motivating factor behind creating this card requirement, but the timing was certainly coincidental with other changes brought about by 9-11.
The PR card looks much like a complex photo ID driver's license, is good for only 5 years (not permanent, no doubt because people's photos quickly become outdated), and while it's required for a permanent resident to reenter the country via a commercial carrier, it isn't required if one is reentering driving their own vehicle! I don't know why that distinction was made, but I'm glad it was because otherwise we couldn't have left Canada last autumn until my renewed PR card arrived.
To make a long story short, I didn't realize until a few months before our departure that my PR card would expire in March 2009 while we were planning to be in Texas, so I had to get it renewed before we left. I called Immigration and was told 'no problem', just mark 'Urgent' on the application envelope along with a letter explaining my situation and my PR card would be expedited and I'd have the new one before we left.
So, I did this after taking 2 full days to fill out all the application forms involved and meeting all their other requirements and then waited...and waited...and waited...and finally called them again and the person I talked with this time said that since we was driving and there was no commercial ticket and tight schedule involved that my application wasn't considered urgent (contrary to what the first person had told me), but I'd have the new card before our departure date, which was October 26th but I had told them October 15th so we'd have a few days safety factor in there.
Well, the 15th arrived and still no PR card, so back on the phone to Immigration and this time talked with yet another person who said there was no record that my application had been processed yet and it would arrive when it arrived, but it would likely be weeks. Arrrrrgggggggghhhhhhh!!!!!!
With that latest information in mind, we left on the 26th as we had planned, making sure I had my Permanent Resident document (which is still the actual proof of my status) as well as the PR card that would be expired by the time we returned in April, knowing the paper would get me back into the country as long as we drove back, but hoping a serious medical emergency didn't arise with either Sandra or myself after the card expired, an emergency that would require going back by commercial carrier without the required PR card. God only knows if I could have actually gotten back into the country. So this whole situation and its uncertainty added quite a bit of stress to our lives until I went downtown yesterday and actually had the new card in hand. Eureka!
The crowning moment of this whole episode was the card arrived in Ottawa on the 28th of October, two days after we crossed the border! If we had known, we could have waited. I had talked with 3 different immigration employees and they all gave me incorrect information. I will be kind here and not write what I'm thinking, but I sure hope I remember far enough in advance the next time I have to renew the card that we don't have to go through this again.
The photo above is one I took today, showing that while it still looks more wintry around here than springlike, signs of spring arriving are starting to appear.

Home At Last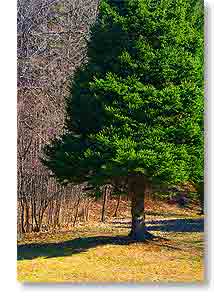 Sunday, 19 April, 2009 - Today, we made it home to Ottawa, Ontario, the capital of Canada, although during the night I lost the fight against the cold Sandra has and at a few points felt so bad I was unsure if I'd be able to make the drive, which was to be fairly long (270 miles / 435 km) and with a border crossing and those can be less than a joy. However, as the day dawned I think my desire to be home gave my body a surge and I began to feel at least well enough to give it a try.
We had done a minimal setup, so it took little effort to get hitched up, but getting out of the site was a squeeze. That KOA is not the most big rig friendly place we've ever been in. I watched someone yesterday who had a similar sized rig as ours who could barely make the turn into the lane. He cleared by only a few inches, if that much. Fortunately, the site across the lane from us was empty this morning, so I had more turning room and even then it was a close thing.
Anyway, we made it out, although tomorrow I have to check for possible roof damage from low branches, which is another thing there is absolutely no excuse for having in a campground, especially one you're paying through the nose for.
When we did make it out to the road a little before 8am and started the long drive, it blessedly went quite well – beautiful skies and tailwinds – so the only hurdles we had to get past were the narrow toll booths on the New York Thruway, which we clear with what also seems like only inches on a side, but semis get through them so it's probably not as bad as it looks in the mirrors.
We sailed through the border crossing, even with having to stop there to pay taxes on the purchases we made over the winter in Texas that exceeded our duty-free limits. It's always such a relief to get across the border.
The only real glitch we encountered on the drive was hearing on the radio that road work on the east-west freeway through Ottawa (The Queensway, our intended route) had things narrowed down to one lane and traffic was backed up, so as much as I hate towing through cities, we abandoned the 416 freeway south of the city at Manotick and took surface streets to avoid the bottleneck. At least Ottawa is a city I'm intimately familiar with, so I knew the best way to get through it.
We arrived at Recreationland Camping east of Ottawa (the 180th camp of the Photo Odyssey) at 1:15pm and were on our pull-thru site soon afterward and so started our 6th Ontario tour of the odyssey. We prefer staying west of Ottawa, but this is the only campground we've found around Ottawa that's open at this time of year, plus it has free wi-fi and few restrictions, so we'll see how it goes. We've signed on to be here a month and I'm more than ready to kick back, catch my road-weary breath, and stay in one place for a while.
Today's drive (click here to see its map) was the last leg of what ended up being approximately a 2,200 mile (3,540 km) trek back home that started at Kerrville, Texas in mid-March and involved extended stops in Breaux Bridge, Louisiana and Grenada, Mississippi, and Ohio. Click here to see a map of the entire trek, which took 35 days, 9 days of which was actually on the road with an average travel day of 245 miles (393 km), ranging from a minimum of 101 miles (162 km) to a maximum of 362 miles (583 km).
Photo above was taken in the campground near our latest site.
For Sandra's account of the day and her photos, click here.

Last Stop Before Ottawa


Saturday, 18 April, 2009 - We left Erie this morning at 10am, again under sunny skies, and made the relatively short 182 mile (293 km) drive to the Canandaigua / Rochester KOA in 3 hours. Click here for the map, where you will see that Canandaigua is southeast of Rochester and at the top of Canandaigua Lake, one of New York's Finger Lakes. We could have driven farther, but we know of no other acceptable campgrounds between here and Ontario, so this was as far as we could go without having to go too far.
I'm not a big fan of KOA campgrounds. I think they're overpriced because they have a lot of features geared toward family activities (i.e. kid stuff) that mean nothing to Sandra and me, but those things have to be paid for and maintained by the campground and that cost has to be passed along to the campers who stay there, obviously.
That said, KOAs are about the only campgrounds open in New York and Ontario at this time of year, so I'm glad they're available even if we pay for a lot of things we won't ever be using. At least they all seem to have free campgroundwide wi-fi now, which is important to us when we're on the road since it keeps me from having to setup the internet dish every evening and then take it right back down the next morning and that gets tiresome quickly.
Anyway, once we got settled in and caught our breath, we drove into Canandaigua because the ladies in the office said it was a nice place with well maintained old homes and buildings and they were right. It is a very charming town and you won't hear me say that too often. Photo above is Canandaigua Lake with the sun blocked by a small cloud.
Tomorrow, we are hoping to make the final leg of the long trek back to Ottawa. It will be nice to get setup somewhere and stay for a while, something we haven't done since we left Powderhorn Lake in late January. I'm ready for a rest.
For Sandra's account of the day and her photos, click here.
For all the photos I've posted so far from our long trek back to Ontario, click here.

Another Step Closer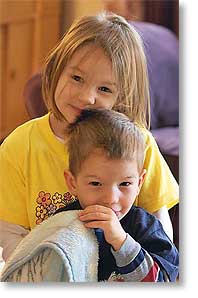 Friday, 17 April, 2009 - Today, we made it another step closer to Ottawa. After spending 8 mostly chilly, cloudy, damp, dismal, dreary, and rainy days in Ohio to visit with my family – although we did get a few nice breaks in the miserable weather and it could have been much worse, like snow and ice, which thankfully never developed – this morning we left the Columbus area at 10:30am under clear skies and temperatures that had quickly warmed up with the sun. So it was a perfect driving day and the 209 mile (336 km) drive was pleasantly uneventful and saw us arriving four hours later at the Hills Family Campground near Erie, Pennsylvania, one of our regular stops along this route. Click here for the map of the drive.
Actually, yesterday was an equally beautiful day and we had planned to leave then, but we were forced to sit it out because Sandra had come down with a cold and fever and was too sick to travel. Today she's still suffering but was doing enough better to make the drive. The same cold is trying to get me, but I aggressively attacked it with Contac and Airborne at the first hint it was there and while I can feel it lurking below the surface I've so far managed to keep it there, more or less.
Wednesday, we again visited with Michelle and her kids, two of them (Faith and Luke) posing for me in the photo on the left.
Tomorrow, we are looking at leaving Erie and due to Sandra's health make it another short drive and hopefully make the longer but final push to Ottawa on Sunday.
For Sandra's account of the last few days and her photos, click here.
For the photos I've posted so far from our family visits in Ohio, click here.

A Visit With Michelle & Family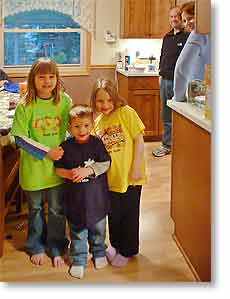 Tuesday, 14 April, 2009 - Yesterday afternoon, after everyone's nap time, Sandra and I drove over to Michelle's house, where we were greeted by Michelle and Faith and the awesome aroma of cookies baking and beef crocking. Grace hadn't gotten home from school yet, Luke was still asleep, and Eric still at work.
So, while Michelle brought Sandra and I up to date on family happenings, I sat there and sampled the three different chocolate chip cookie recipes Michelle was baking, which brought back fond memories of my mother baking them when I was a child.
It wasn't long though before Grace arrived and Luke woke up and somewhere in there, the girls discovered the joy of taking grandpa's cap and running off with it and hiding it, despite my best efforts to defend my property.
So, not being able to find where they hid it, I had little recourse but to go out to the truck and don one of my backup caps, which didn't take long in sharing the fate of its predecessor. I did eventually get my caps back, but not before the girls had one last bit of fun with them, as can be seen here (photo by Sandra).
Then Eric got home and in a while went outside to do some work on a downspout, so Luke and I went out to see how that was going. Luke then wanted to show grandpa how he could ride his bike (trike), which he did until the chill weather got to both of us.
Supper was a delight. Michelle once again outdid herself by serving us a feast - melt-in-the-mouth beef, whipped potatoes, peas, and for dessert, the pièce de résistance, her gluten-free version of my mother's butterscotch pie recipe, my favorite.
Pictured above in another of Sandra's photos are (L-R): Grace, Luke, Faith, Eric, and Michelle, the kids wearing the T-shirts we bought them on Padre Island, Texas during our stay last winter on neighboring Mustang Island.
For Sandra's account of yesterday and her photos, click here.
For the photos I've posted so far from our family visits in Ohio, click here.


__________________________

For Older News

To read details of our previous stops and camps, visit the News Archives.


Updated Sunday, June 7, 2009

Copyright © 2009 by Gordon L Wolford .
All rights reserved.