Sadness and Gladness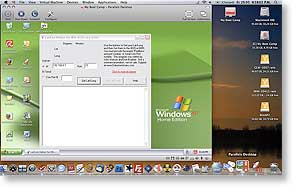 Sunday, 31 May, 2009 - Friday was a very sad day for us. We drove down to Brockville, Ontario along the shore of the Saint Lawrence River to see Sandra's maternal Aunt Ruth, whose health had been slowly failing the last few years and then rapidly declined since we last saw her on her 86th birthday this past July, declined to the point she had to be moved from her apartment to a long term care facility.
She'd clearly had a massive stroke at some point because she was hardly lucid and while she tried to put on a good front, I don't think she knew exactly who we were. It's always such a tragedy to see this happen to someone, especially someone you care about and who was a kindred spirit, but while her body continues to live, the Aunt Ruth we knew and loved is mostly gone and it fills me with great sadness...but life goes on.
Yesterday morning it was raining again. I think that was the fourth day in a row that was cloudy with rain, but it cleared later in the day. It's hard to believe that just a few months ago we were in an area (southern Texas) that was in the grip of an extended drought and still is. I wish we could send some of this precipitation down their way.
So, having to stay inside a lot I've been continuing my program of computer maintenance, which is nearly done, which makes me glad.
(Technotalk Warning) As mentioned in my last report, I finally got around to configuring my new Apple MacBook laptop to also run Microsoft Windows. Macs have long been able to run Windows, but only through emulation software such as Virtual PC, which while it worked well, it was considerably slower than a real PC and had limitations, like it wouldn't configure our internet satellite modem. Then, four years ago Apple Computers began a transition in their Macintosh computers from using PowerPC processors (first made by Motorola and then later by IBM) to PC processors made by Intel. This involved a complete change in computing architecture and when I first heard about this I thought Apple had gone crazy, but the more I thought about it the more it sounded like a brilliant move.
Macs have always cost more than PCs, but you generally get what you pay for in this life. I've been involved with computers since 1966 when I was in electronics school and had courses on how computers worked and how to program them (this being twenty years before the Mac and Windows operating systems came along and started to make computers a household item), so to one degree or another I've had long experience with all kinds of computers and after spending a weekend with my first Macintosh in 1985 it became my favorite computer system just that quickly and has remained so ever since, through all the highs and lows of its history. However, favorites aside, out of necessity it is useful to have something around that can run Windows as well, especially since we can't program our internet satellite modem with anything other than a real PC. To have a computer like the Intel Macs that can now natively run almost any operating system is having the best of all computer worlds.
To program our internet satellite modem (since I couldn't do that using Virtual PC), we first used Sandra's HP laptop until it died and then used the desktop PC, which was less convenient but still did the job. Now we have these new generation Mac laptops which can run Windows as well as they can Mac OS X, so it seemed only natural to get the convenience back in setting up the satellite modem.
Without any additional software, Mac OS X 10.5 can set up an Intel Mac to start up into either Mac OS X or Windows (XP or Vista, although while Intel Macs come with Mac OS X, you have to buy Windows extra), but without help Mac OS X can't run them both at the same time.
That help comes in the form of a virtual machine which is software implementation of a computer that runs programs like a real machine, similar to how Virtual PC worked but now with the right processor for the job, so it works almost as well as running Windows natively.
For the Mac, the two most popular and complete virtual machine programs are Parallels Desktop and VMware Fusion, with Parallels being the one I use. I don't know that much about VMware but with Parallels you run it like any other Mac application and it can be viewed in several ways...full screen (so you see only the Windows environment), or running in its own Mac window, or with the Windows desktop hidden so the Windows environment looks integrated into the Mac environment. There's a fourth viewing mode, which I don't understand well enough to explain. So far, I normally run Parallels in its own Mac window as seen in the photo above, which shows my internet satellite modem setup program running in Windows which is running within Mac OS X.
This is all very cool, but nothing comes without a price and in this case the price is the toll all this takes on system resources. Since you are basically running two operating systems at the same time, they have to share such things as RAM, so while both systems run very well, they don't run quite as well as either does when running by itself, but you can't beat it for convenience. (End Technotalk)
Last evening we attended a hot dog social sponsored by the RV park and we got to meet some of our neighbors and had a very enjoyable time.
For Sandra's account of the last few days and her photos, click here.
For the photos I've posted so far from our return to Ontario, click here.

A Quiet Week In Eastern Ontario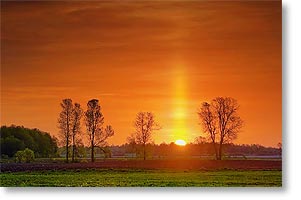 Tuesday, 26 May, 2009 - It's been a fairly quiet week since my last report. We drove into Ottawa and into Carleton Place a couple of times for medical appointments and errands and that's about as exciting as it got.
Sandra did do some gluten-free baking and cooking to spoil her husband - banana bread, butterscotch mug cake, black-eyed peas, and potato salad - all of it very yummy.
As for me, I had a couple of interesting sunrises to photograph that featured light pillars, a yellow one shown in the photo on the left and a red one this morning shown here.
Light pillars are an interesting atmospheric phenomenon that results from light being reflected off of ice crystals in the upper atmosphere and ice crystals weren't surprising since it was so cold this morning (36°F/2°C) they could have almost formed in the lower atmosphere as well. I've never seen such a chilly spring up here and trees take so long for their leaves to come out. As you can see in the photo above, some of the trees still aren't fully leaved.
The one good thing about such a frosty morning though is it keeps the hordes of mosquitoes somewhat at bay until the sun warms things up for the day. With all the rain we've had this spring, the mosquitoes have reproduced in record numbers. Unfortunately, there's a gap between their arrival and the arrival of their chief predator, dragonflies, which will be having a feast on the mosquitoes this year once the dragonflies get here. Until then, the insect repellent is never far away.
(Technotalk Warning) The big thing for me this week was continuing to work on long neglected computer maintenance. Without boring everyone to tears (hopefully) with the technical details, Sandra's Windows partition on her Mac laptop had quit working and mine had never been partitioned for one, and being able to run Windows on a Mac computer is useful enough at times to make it worth the effort to set it up, but it's a real chore because in order to repartition the hard drive to do that you have to first back up the hard drive and due to my sad track record with hard drive failures, I had to make two back ups before I felt safe and we're talking some serious time to back up that much data (a total of 280 GB two times).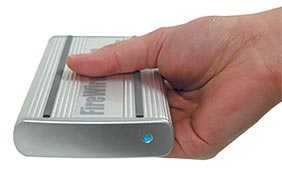 Well, we didn't have that much free space on the external hard drives and especially not on bootable hard drives (you really want back ups you can boot from in case of emergencies). Hard drives used with Intel Macs must be formatted with a GUID Partition Table in order to be bootable, unlike earlier Macs which used an Apple Partition Map. Of course, all the external drives had to therefore be reformated in order to make them bootable with our new Macs, which required copying massive amounts of data between hard drives (1.5 terabytes total) and we simply didn't have the available hard drive space to do that, so I had to buy yet another hard drive to get enough free space.
And to simplify things, this time rather than buy a big bulky drive that requires a separate power supply (of which there is no standardization) I bought a small (2.5") portable drive that goes into an equally small portable housing (photo above right) that requires no external power source. Going this route is feasible because those small hard drives now have some large capacities. I could have gotten one with 500GB capacity, but settled for a 250GB drive which was large enough to do the required file swapping between our existing hard drives and also once that was done, to serve as a bootable external backup drive for both our laptops. Since it is pocket-size and very portable and connects so easily (just one cable), we will now be able to backup in a far more timely manner than we have been. (End Technotalk)
Anyway, bottom line is that we now both have working Windows partitions on our Mac laptops and redundant (as in two) bootable backups, but it took days of effort to get there and my poor little old brain is about fried.
For Sandra's account of the last few days and her photos, click here.
For the photos I've posted so far from our return to Ontario, click here.

Back Again To Where It All Started


Tuesday, 19 May, 2009 - This morning we packed up, hitched up, and moved from the far east end of Ottawa near Rockland to the far west end near Carleton Place, returning for the seventh time in the last five years to Tranquil Acres Camping RV Park where our nomadic lifestyle began 181 camps ago.
It always feels like we're returning home when we come back here, not only because this was the first RV park of our odyssey, but because the owners, Dave and Shonagh, always greet us like returning family.
Today's move was a short and uneventful 49 miles (79 km). Click here for the map. We left Rockland a little after 10:30am and arrived here an hour later and were completely setup on one of our usual pull-thru sites a couple of hours after that, both TV and internet satellites easily accessed.
There is a seasonal site available at the moment and we are considering whether to take it or not. Most of their seasonal sites have too many trees around them to be able to access the satellites, but this particular site looks to have enough openings between the trees to give us access, so it's just a matter of if we want to spend most of the summer around Ottawa or not. Stay tuned.
Three of the attractions to me of this RV park are that it's located on the banks of the Canadian Mississippi River and some very nice flower beds are maintained here and a couple of places along the road to the park have some nice photogenic qualities, so photo ops (such as the photo above taken in one of those flower beds) can usually be found within easy walking distance.
For Sandra's account of the day and her photos, click here.
For the photos I've posted so far from our return to Ontario, click here.

Victoria Day Long Weekend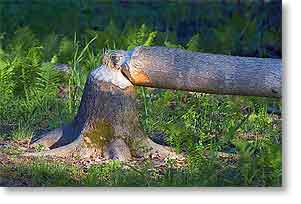 Monday, 18 May, 2009 - Today is a holiday in Canada, Victoria Day, so it's a long holiday weekend here.
This holiday marks the informal start of the Canadian summer season, but as I write this just before dawn it's anything but summerlike – temperature of 36°F/2°C, a frost warning in effect, and the furnace running.
So far, it has been a quiet uneventful weekend, except since it was clear at sunrise yesterday I did go out as soon as the sun was up and headed for the Tulip Festival (which ends today) to take some final tulip photos before they are gone.
On the way, I stopped at Petrie Island to see if I could spot some owls a fellow photographer on PBase.com had told me about, but while the trail he said to take was quite scenic and one neither Sandra nor I had ever noticed before, let alone hiked along, alas no owls were to be seen. I did, however, see a number of other birds and quite a bit of evidence of beavers in the area, as can be seen in the photo above. I will definitely have to show this trail to Sandra.
Giving up on owls, I continued on into the city to the tulip beds in Commissioners Park and found a few tulip photos waiting for me there, but after a half hour of enduring cold and wind (41°F/5°C, wind chill 32°F/0°C) I gave up and returned to the RV. Shooting flower photos in 20 mph (32 kph) wind is an exercise in frustration even when it's warm.
As to the holiday today, we have no plans except to prepare for tomorrow's move to Tranquil Acres.
For Sandra's account of the last few days and her photos, click here.
For the photos I've posted so far from our return to Ontario, click here.


__________________________

For Older News

To read details of our previous stops and camps, visit the News Archives.


Updated Thursday, June 4, 2009

Copyright © 2009 by Gordon L Wolford .
All rights reserved.