Relocated To Wawa


Monday, 29 June, 2009 - This morning in light rain, we packed up, hitched up, and backed the RV out of the pull-in site we've occupied at Batchawana Bay for a week. Packing up while it's raining and then towing during rain, especially through almost mountainous terrain with its steep grades, was the last thing we wanted to do, in fact I was dreading it, but our site at Sunset Shores had been reserved by someone else from today forward, so we couldn't stay, that being the only site there from which we could access our satellites.
To get out of that site required backing up the RV about 70 yards/meters or so, including through a quite large puddle all the rain we had the last two days had formed in the lane behind us and not knowing if we would get mired in it or not. Happily the ground below the puddle was still solid and not turned to mud so we didn't even need to engage the four-wheel drive to get through it.
Then we had to deal with the dump station, which is on the wrong side of the lane for dumping as one is leaving the campground (note that I don't think of Sunset Resort as an RV park), unless one wants to thread one's large rig between close trees, through narrow lanes (with even more large puddles, a lot more), negotiate very tight turns, and then feed the sewer hose under the rig to the sewer opening. In light of that, we opted to pull up the dump station from the front and then back out of that area also, which was by far the lesser of evils, even though I dislike backing up the rig. All went well and with the able assistance of Sandra acting as a spotter at the rear of the rig, I managed to avoid backing into anything, but I've got to say that Sunset Shores is not designed for easy big rig access. We saw a couple of them on interior sites of the campground, but getting them in there had to have been a real squeeze.
Anyway, about the time we were done with all this the rain had slowed to a drizzle, we put on dry clothes, and were out of there around 10:30am, heading north on the 101 miles (163 km) move north to Wawa (from the Ojibwe word for "wild goose"). It's a beautiful drive, but today it was a mostly cloudy one with a real mixed bag of weather, including sporadic rain, quite a bit of high fog with low fog on the road in one place, some blue sky out over Lake Superior, and even had some weak watery sun over us a couple of times.
Otherwise, the drive (click here for the map) was uneventful except for the grades, one of which is 7% and slowed us down to 40mph (70kph) with the pedal to the floor and the transmission dropped down to second gear, but we arrived at the Wawa RV Resort & Campground in good time a little after noon and were set up in a little less than two hours.
We caught our breath and then went out for a short drive around the immediate area to see the Magpie High Falls and to admire the interesting sky, which by then was a veritable kaleidoscope of clouds of all shapes and sizes, intermixed with blue sunny spots and scattered rain showers, as seen in the photo above of the Magpie River taken from the back of the RV park, a pretty nice view.
We've signed up to be here a week, but I expect our stay will be longer.
For Sandra's account of yesterday and her photos, click here.
For the photos I've posted so far from our visit to Lake Superior, click here.

Day Trip To Wawa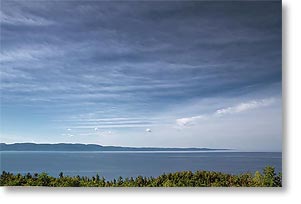 Sunday, 28 June, 2009 - Yesterday we drove the 101 miles (163 km) north to the town of Wawa, which is to be our next stop (click here for the map). The purpose of the trip was twofold.
First, since we almost never stop to take photos when towing the RV, we wanted to see what was between here and Wawa without the encumbrance of the RV.
Second, we had been unable to contact the RV park in Wawa that we wanted to stay at, the Wawa RV Resort & Campground. Messages sent via their website went unanswered and all we could get on the phone was voice mail. I detest it when a real live human being doesn't answer an RV park's telephone. Past experience with RV park voice mail is they either don't return your call or they don't return it in a timely manner, so we normally find it useless and locate another RV park where we are able to actually talk with someone and get answers to our questions.
However, in the case of Wawa, there isn't much choice. It is very remote and sits between the large (600 sq mi/1550 sq km) Lake Superior Provincial Park and the larger (725 sq mi/1,878 sq km) Pukaskwa National Park. The national park has only one road and it starts 117 miles (188 km) away from Wawa near the town of Marathon, our stop after Wawa, and the provincial park has a couple of campgrounds, neither of which meet our requirements, so we had to talk with someone at the RV park in Wawa or not stay in the area.
I could have relented and used their voice mail, but in addition to our normal problems with that, our cell phone service here at Batchawana Bay has been spotty, which proved to be the problem (I think). When we arrived at the Wawa RV park yesterday and at last found a person to talk with, we learned they can't respond to inquiries sent via their website (which begs the question, then why have it there?) and she claimed to have tried calling me and left a message when I didn't answer, but I never had any indication of her calling. O, the joys of being in a remote area.
Anyway, we arranged for a pull-thru site where we should be able to access our satellites, so we look good to move there tomorrow.
The photo above is of Agawa Bay on Lake Superior, taken from an overlook.
For Sandra's account of yesterday and her photos, click here.
For the photos I've posted so far from our visit to Lake Superior, click here.

My Standard Zoom Is Dead...


Saturday, 27 June, 2009 - ...Long live my standard zoom.
Wednesday afternoon, while at one of the nearby scenic locales photographing fog coming in off Lake Superior (as seen here), my 17-85mm standard zoom lens (as Canon calls that class of lens) began to fail. This is my workhorse lens, the one that gets the most usage, so having it start to cause problems while we're out in the boonies on a dedicated photography expedition was nothing short of a crisis for me. If I couldn't get it replaced quickly it would mean the end of our stay on Lake Superior's north shore, because as pretty as it is here, at this time of year there are simply too many mosquitoes and black flies to make it an enjoyable stay.
Fortunately, the lens failed while we're still only an hour away from Sault Ste Marie, but it isn't that large a city, so it was much to my surprise when Sandra found it had a camera store, Camera Craft, and the first thing we did on Thursday was to give it a visit.
My 17-85mm lens is five years old, having had to be sent to Canon repair three years ago because its image stabilizer failed and it took six weeks or so to get it back, so even if I was inclined to get it repaired again, which I wasn't, Canon's turnaround time on repairs made it impractical for our current situation.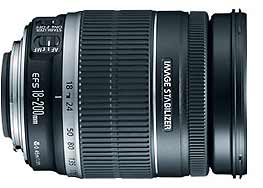 During the time I've owned the lens, an improved model was released, the Canon 18-200mm. It's focal length range is much more useful, plus it has an improved image stabilizer, so that was the one I wanted and hoped the camera store would have it in stock.
Unfortunately they didn't, but the helpful lady there referred me to Black's Photography in the mall, who also didn't have the lens and since the manager there was curt and didn't seem to care if he sold me anything or not, I returned to the friendly helpful folks at Camera Craft, who in the interim had learned their supplier had the lens in stock and could be delivered fairly quickly, so I ordered it and by the time we got through running errands and got back to the RV, I had an email waiting for me from Camera Craft saying the lens would be in the next day. Eureka!
So, around noon yesterday they notified me by email that the lens had come in, we returned to the city as fast as the speed limit would allow, took delivery of the lens, and I've since been testing it out and happy with what it's giving me. Crisis over!
Photo above right is of the first live moose I've ever seen in the wild (the only other one being roadkill). I saw this one off the side of the highway as I was returning to the RV last evening after photographing the sunset. Dusk is the prime time for moose to be out, so one wants to keep a sharp eye out for them because they can do amazing damage to your vehicle if you run into them at highway speeds.
Unfortunately, Sandra who has been dying to see a moose had opted to stay behind at the RV.
For Sandra's account of the last few days and her photos, click here.
For the photos I've posted so far from our visit to Lake Superior, click here.

Was Right But Wrong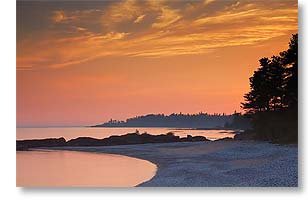 Wednesday, 24 June, 2009 - In yesterday's report, I was right when I said the awesome scenery of Lake Superior's north shore was north of here (Batchawana Bay), but wrong when I said it was as far north as Wawa (100 miles/166 km) and Marathon (220 miles/350 km).
Yesterday afternoon we went for a drive north, not expecting much and so were very pleasantly surprised when after about 12 miles (20 km) we saw a very scenic rocky point of land jutting into Lake Superior and then another one about every mile or so after that until we were 20 miles (33 km) north.
It's times such as this I like being wrong.
At 20 miles north, the road went inland, leaving the shore for a few miles and returning again at a scenic overlook around 30 miles (48 km) north and that was as far as we went. We turned around and returned to the RV just in time for supper, but planning to go out again for sunset, mostly to get an idea of light direction, since I had no idea exactly where the sun would go down relative to the shore.
As earlier, I wasn't expecting much since there were few clouds and it really takes some clouds for dramatic sunsets, so I was again pleasantly surprised when I got the photo above at our last stop before calling it a night.
For a day I had thought would be one of rest, it ended up being quite a tiring one, but very rewarding, not only because we found so much photogenic scenery, but also because it was accessible. Every place I wanted to stop had plenty of shoulder room to pull the truck onto and safely out of traffic and believe me, the times this has not been the case have been countless. However, at one spot, the shoulder was so soft that even though the truck has positraction (limited slip differentials), it took 4-wheel drive to get us back onto the pavement. We haven't had to use 4-wheel drive often in our travels, but it has saved all kinds of grief the few times we have needed it.
For Sandra's account of yesterday and her photos, click here.
For the photos I've posted so far from our visit to Lake Superior, click here.

Now On Lake Superior's North Shore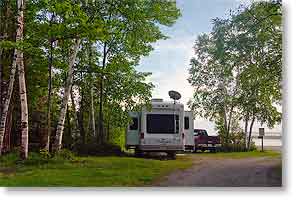 Tuesday, 23 June, 2009 - Although at the very eastern end of it.
Yesterday, we made the hour's move from The Soo (as many people call Sault Ste. Marie) north to Sunset Shores Resort on the banks of the Batchawana River where it empties into Batchawana Bay on Lake Superior. Click here for a map of the 34 mile (55 km) drive. Sunset Shores doesn't fit my definition of a resort, it's a campground, but what's in a name.
When I called before leaving Sault Ste. Marie to make sure we could get a campsite to our liking here, once again I was told getting a pull-thru site with a clear view of the southern sky to access our satellites wouldn't be a problem, only to find on our arrival and being shown around that they had only one site we could see our satellites from and it isn't a pull-thru! I don't know why I'm always surprised by campground people saying what they think you want to hear rather than telling the truth. I think it's either a case of not caring or they're just ignorant. I don't think they intentionally lie. The truth here is the campground has been carved out of a forest with as few trees removed as possible and the remaining trees are not particularly small ones.
Anyway, it only takes one site so we took it and rather than being a pull-thru, it's a pull-in! Out of our previous 182 camps in almost 5 years, this is the first pull-in we've encountered (photo above) which means when we leave here in a week, I'm going to have to back out for quite a distance. Fortunately, it's a fairly straight line out to where I can turn, which should be a lot easier than it would have been to back into here.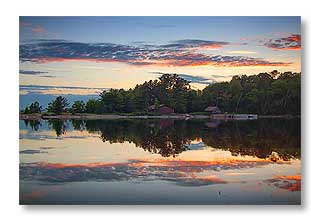 On the bright side of this, just in front of us is the beach (partially visible on the right side of the photo above), so we have a nice view and the site is wide so the view out our windows is scenic, rather than looking directly into our neighbors' windows. Also, while they don't have campground-wide wi-fi, free wi-fi is available in and around the office which is also a fairly rustic little restaurant with an equally rustic veranda, so sitting there to surf the web is a rather enjoyable environment.
At this point you might be wondering why campground wi-fi matters since we were able to access our own internet satellite. It's mainly for having backup access and for having access without a bandwidth cap. I've sold a number of photos during the trek up here and, of course, the latest deadline coincided with our arrival here, so in the event I couldn't get satellite access there was the campground wi-fi to fall back on. Plus, it's better to avoid using satellite bandwidth to upload photos, as well as the satellite's upload speed is pretty slow, so campground wi-fi is better when it's available (and working, which all too often isn't the case sadly).
It's pretty around here (photo above right, showing last night's sunset as seen from the front of our site), but we won't be seeing the awesome scenery until we get farther north to Wawa and Marathon. The week here will mostly be for recovering from the drive gettiing here.
For Sandra's account of yesterday's move and her photos, click here.

The Joys Of Travel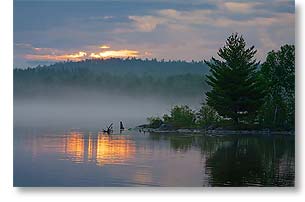 Sunday, 21 June, 2009 - Today dawned cloudy, but despite that it had an interesting sunrise with just a glimpse of sun over a misty Ottawa River (photo on the right).
We left Deux Rivieres at 8:15am with plans to stop either at the campground in Whitefish we stayed at in 2005 on our way west or at what was supposed to have been a KOA in Spragge.
As things happened, I didn't recognize the turn off for Whitefish until it was too late to turn and decided it was too soon to stop anyway, having gone only 180 miles (300 km), and kept going for Spragge, 68 miles (110 km) farther.
However, when we got to Spragge, no KOA was to be found anywhere, so Sandra called and got an answering machine with such poor audio quality its message was unintelligible. We really detest calling a campground and getting answering machines. More often than not, we aren't called back.
So out came the computer and we found an RV Park at Iron Bridge, another 30 miles (50 km) down the road and headed for that. This time we found the RV park, but their power was out and they had no grasp of what a clear view of the southern sky meant, so at this point I gave up and resigned myself to driving another 77 miles (124 km) and going all the way into Sault Ste Marie where we knew there was a KOA because they actually answered their phone! They also said they had cable TV and excellent wi-fi, so I wouldn't have to set up any of our satellite dishes.
Of course, it didn't end up being that simple. We arrived only to find their wi-fi had just gone down, but were told it should be back in a couple of hours. Having a very low opinion of the average campground wi-fi (with a few notable exceptions such as Tranquil Acres), I girded my loins, steeled myself, took a deep breath, and found a bit of reserve strength from somewhere, and managed to access our internet satellite, although it was a close thing with all the trees around here.
Anyway, despite an unusual number of obstacles to overcome (O, the joys of travel), we did arrive and arrived safely, and at the end of the day that's all that really matters. Tomorrow we should move on to our first destination on the shores of Lake Superior, Batchawana Bay.
As I finish this, it is 4:15am, thirteen hours after our arrival here, and the campground wi-fi is still down. Our satellite internet has been erratic itself lately, so I had been wanting a good high speed campground wi-fi to make it easier to deliver a batch of photos someone is buying from me, but it looks like I'll have to deliver them the hard way via the satellite. At the best of times it's upoad speed is pretty slow.
Anyway, click here for a map of today's 362 mile (582 km) move.
For Sandra's account of the day and her photos, click here.

On The Road Again



Friday, 19 June, 2009 - This morning bright 'n early, we packed up, hitched up, and left Carleton Place, heading northwest, final destination the east shore of Lake Superior, a long two day tow away, but not certain where we would end up spending the night.
I had remembered a place that had caught my eye in 2005, the year we went west and had taken the same route. The place was Deux Rivieres on the banks of the Ottawa River and even though it's only a 150 mile (240 km) three hour drive from Carleton Place, it had impressed me enough four years ago by the beauty of the area that I hadn't forgotten it and decided that we had no need to rush, so why not take our time and see some things along the way, unlike last time. We have all summer.
So, on the internet I located an RV park at Deux Rivieres that looked good, Antler's Kingfisher Lodge & Campgrounds, and here we are. We left Carleton Place just before 9am and arrived here just before noon. That's our rig on the right side of the photo above, Site 1, and that's the upper Ottawa River on the left. Not a hard view to take.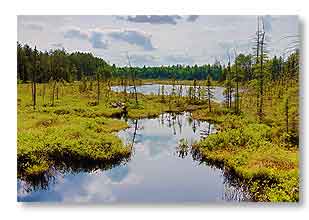 Actually, at one point we weren't sure if we were even going to leave today, despite the fact we had been planning this for quite a while, but the weather had turned ugly again with rain and more rain in the forecast. Looking at three different internet weather sites to analyze the weather along our route, the Trans-Canada Highway, did little to help since they were all giving different forecasts, although all were saying overcast with a high chance of rain, but differed on how much rain and when it would arrive.
Disgusted with the whole situation, I decided we should leave anyway because the rain had decreased to little more than a fine drizzle and I figured if we could get away without getting soaked, that would be good enough and we'd just deal with whatever we might encounter when we encountered it.
As it turned out and as you can see in the first photo above, the skies cleared and the day turned out to be a beauty, unlike any of the forecasts had predicted. I don't know why I even bother looking at them.
Anyway, we were quickly setup, found out from the campground owner where one might spot some moose, since I've never seen one in the wild and would love to photograph one, and headed out in search of one. Deux Rivieres is 16 miles (26 km) north of the northern boundary of Algonquin Provincial Park and that's where he said we'd most likely find them and in the marshes along the road to the park. That road is unpaved, but decent, and we drove all the way to the park boundary but at that point we'd had enough of the dirt road and turned around. Some of the scenery was beautiful though (second photo above), which made the effort worthwhile.
We'll probably look around more of the area Saturday and then continue toward Lake Superior on Sunday.
Click here for a map of today's move.
For Sandra's account of the day and her photos, click here.


__________________________

For Older News

To read details of our previous stops and camps, visit the News Archives.


Updated Tuesday, June 30, 2009

Copyright © 2009 by Gordon L Wolford .
All rights reserved.