From A Falls To An Island And Back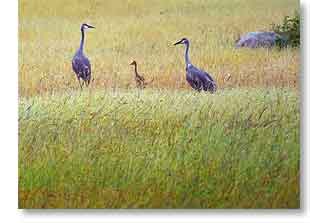 Thursday, 16 July, 2009 - Yesterday, what started out as a fairly short 36 mile (58 km) drive to see Onaping High Falls (click here for the map) turned out to be an all-day excursion to Manitoulin Island in Lake Huron and an additional 148 miles (238 km) on the road. Click here to see that map.
The day started out with a beautiful sunrise (click here to see my photo of it), but by the time we got things together and got to the falls, the sky had clouded over and rain started, which cut short our visit there.
So, since we were out and about and despite the crappy weather (will it ever end!), I figured we might as well drive to Manitoulin and check out the island and the campgrounds there, hoping to find the island scenic and its campgrounds accommodating.
Sandra and I had briefly been on the island four years ago when we were staying at Tobermory and took the Chi-Cheemaun ferry to its South Baymouth terminal on Manitoulin Island just for the boat ride and saw only as much of the island as we could see from the ferry and on foot in the 15 minutes we had in port before the ferry sailed back to Tobermory, which is to say we didn't see much and considering the island is about 2/3 the size of the US state of Rhode Island and the largest island in a freshwater lake in the world, I figured there must be a lot to see there and also considering it's a 125 miles (201 km) from the RV park here at Sudbury I also figured it would be best to find a suitable campground there and move to it if we were to give the island a thorough look.
Well, the island is indeed scenic, especially the views along its coast, but unfortunately none of the campgrounds we looked at were suitable, lacking either satellite access or being able to accommodate a rig the size of ours. I expect there must be a campground there that would work, but at this point I doubt we'll go to the bother to find it. The most interesting thing we saw there is in the photo above, a sandhill crane family spotted by my eagle-eyed wife.
Actually, what most impressed us on our entire drive, that ended up being a total of 309 miles (497 km), was the scenery along Highway 144 on the way to Onaping High Falls and we plan to return for a better look at that once we recover from yesterday's excursion and if we ever again get suitable weather for photography that lasts longer than an hour or two.
For Sandra's account of yesterday's drive and her photos, click here.
For the photos I've posted so far from our recent visit to Lake Superior, click here.

We Bid Farewell To The North Shore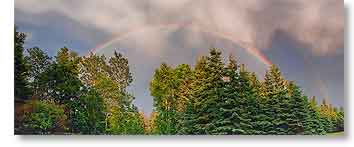 Monday, 13 July, 2009 - This morning, after a mostly pleasant (inbetween rain showers and overcast skies) scenery-filled three weeks, we left the remoteness of Lake Superior's North Shore and returned to civilization.
With RV hitched and tanks dumped, we left the Wawa RV Resort & Campground at 9:20am, passed through Sault Ste Marie around noon, and arrived at Carol's Campsite & RV Park near Sudbury, Ontario at 3:30pm after an uneventful drive of 330 miles (530 km). Click here to see the map.
The drive today basically backtracked to this point our drive to the North Shore, but when we leave Sudbury in a week we'll head south and travel along the east side of Georgian Bay, an area neither of us has seen before and hopefully we'll find some photos waiting for us there. Before that however, we'll be checking out Sudbury itself, Manitoulin Island, and whatever else of interest we can find in the area. Neither of us has seen any of this area before either.
The photo above shows a fabulous rainbow we had last evening at the tail end of some rain that moved through. I had been having a nap during the rain but awoke to the sun shining and had just gotten up to take a look outside when Sandra rushed in and told me about the rainbow. So I grabbed the camera and an umbrella (the sun was out but the rain wasn't quite done at that point) and dashed out to get a photo, then ran down to the RV park's overlook of the Magpie River, hoping to get the rainbow over the river, which would have been an awesome sight, but unfortunately by then the rainbow had mostly faded, so I have to console myself with this shot. Sandra actually got a photo of the rainbow at its peak when it was a double rainbow, which can be seen here.
For Sandra's account of today's drive and the rest of her photos, click here.
For the photos I've posted so far from our visit to Lake Superior, click here.

Terrace Bay Road Trip Recap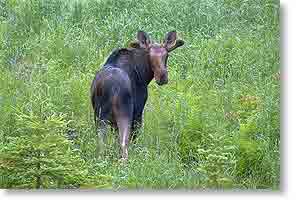 Saturday, 11 July, 2009 - Thursday, we returned to the RV after a pleasant two day mini-vacation of going farther up the North Shore of Lake Superior, but without the RV.
One would think that our whole life was a vacation, but it doesn't feel that way most of the time, only when we're moving to an area we haven't seen before. Vacations are when you get away from your normal routine and spending a night in a motel, as we did in Terrace Bay, is definitely not our normal, so even for us who travel full-time the trip felt like a vacation.
As mentioned in my last report, the Pukaskwa National Park near Marathon, Ontario was a major disappointment. Rather than being able to drive along or near the park's apparently very scenic shoreline, the only way to see it is by either hiking its very lengthy (37 mile/60 km) Coastal Hiking Trail, which runs along the shore, or to see it by boat or aircraft. The park is a wilderness area and according to the very kind staff members at the park's entrance gate, it takes 5 days to hike the entire trail, but the bridges on it are currently closed for repairs, so a person can only hike to the first bridge and that takes only 5 hours, which means even avid hikers planning to see the entire shoreline from the trail would be disappointed. This leaves only being able to see it from a boat or from the air, neither of which being something we could either do or afford, so I had to console myself with seeing what I could from the short trails around the Visitor's Centre, which were quite scenic themselves, but a far cry from what I had hoped for.
Because of the limitations of the national park for those of us who aren't physically able to backpack and hike for days on end through rugged terrain and wilderness, we decided to simply continue on along the Trans-Canada Highway (TCH) and see what we could see of the shoreline from it, rather than spend the night in Marathon near the national park as we had planned.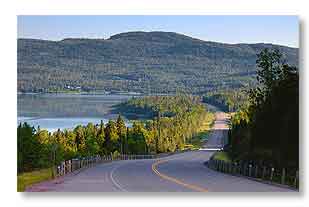 The TCH more or less runs parallel to the North Shore from Batchawana Bay to Thunder Bay, but leaves the shoreline for long stretches and even when it's near the shoreline, trees obstruct much of the view, so the number of places you can get good photos of the North Shore are limited, so that was frustrating.
However, we did get some photos despite that and the towns of Marathon, Terrace Bay, and Schreiber (the northernmost point on Lake Superior) had good beach access as did Neys Provincial Park and beaches on the North Shore are between those picturesque and rugged outcrops Lake Superior's shore is known for and which I find so appealing.
And when the North Shore wasn't within view, the TCH still runs through some very scenic country of forest covered hills (although they look like mountains to us) with a beautiful alpine lake every few miles (photo above right). This area is part of the Canadian Shield, which is some of the oldest exposed rock on Earth.
One thing I forgot to mention in my previous report was that after supper in Terrace Bay Wednesday evening and we were heading for sunset in Schreiber, just west of Terrace Bay is the Aguasabon Falls & Gorge, so we made a brief stop there to see it. The overlook had an excellent view of the gorge, but the falls were mostly hidden by trees. Still, it's worth a look if one is in the area.
A bonus on the 158 mile (255 km) drive back though (click here for the map) was not only sighting three moose near the highway, but also being able to get photographs of them, one of those being the photo above left. We call him Curious George because all other moose I've seen trotted away after spotting us, as George did at first, but when he reached a distance where he apparently felt safe he got curious about us and turned and looked back at us and then roamed in that area for a while, looking at us most of the time before wandering into the woods. With all the spectacular scenery we drove through, George was the high point of the return drive.
So, all in all, for our three weeks on the North Shore, we've traveled 63% of it and the best views and most easy access to it we've had were here at Wawa and just north of Batchawana Bay. I expect the scenery farther west is spectacular, but that will have to wait for a future visit.
As a parting whine, unfortunately for long stretches of the TCH, the view was marred by power lines and utility poles, which is nothing new but a shame, especially where they were running along both sides of the road! I understand having them right by the road gives the utility companies easy access to their lines, especially in such rugged and remote country as we passed through where roads are few and far between and extremely difficult to build, but I don't understand the need to run the lines along both sides of the road.
Anyway, despite a few such annoyances we encountered along the way, we still had a wonderful time.
For Sandra's account of the last few days and her photos, click here.
For the photos I've posted so far from our visit to Lake Superior, click here.

Overnighting At Terrace Bay, Ontario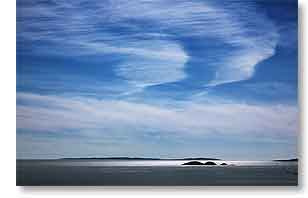 Thursday, 9 July, 2009 - Yesterday, in just the truck, we headed out of Wawa at 10:15am, destination Marathon, Ontario, two hours northwest of Wawa. Pukaskwa National Park is located just south of Marathon and that was my main goal for the drive since it is reputed to have some of the best scenery along Lake Superior's North Shore and I had somehow gotten the idea there was a road that went along the shore for quite a distance.
Not!
You can imagine my disappointment when we got there and learned the road only goes to the Visitor's Centre and the campground and the shoreline is only visible at the Visitor's Centre and then only after a half hour hike along a point of land beside Hattie Cove. What you can see from there is indeed beautiful, but long hikes is not what I had been wanting, so we got back in the truck and toured the town of Marathon, it's view of the shore, its one and only campground, and decided to continue going northwest. It's such a beautiful drive along there, but sightings of the shoreline were few (photo above being one).
We got as far as Terrace Bay and decided that was far enough as it was getting close to suppertime by then, but learned the best place for sunsets in the area was 10 miles (16km) farther along the road at Schreiber (the most northerly point on Lake Superior), so after dinner that's where we headed but were too tired by then to wait for the sunset and returned to our room in Terrace Bay for a good night's sleep. Later this morning we'll head back to the RV in Wawa.
Click here for a map of yesterday's 207 mile (333 km) tour.
Click here for Sandra's account of it and her photos.
For the photos I've posted so far from our visit to Lake Superior, click here.

Finding Another Local Sight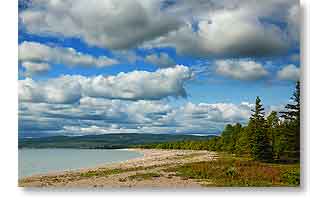 Wednesday, 8 July, 2009 - Yesterday started out cloudy and then began clearing in the afternoon, so we again hopped into the truck and this time headed out to see Driftwood Beach, which is located in the Michipicoten Post Provincial Park.
We had been told about this beach (photo on the right) by a very kind local we met one evening at the overlook. She described the beach as the most beautiful one in the area and she's probably right, but beauty is in the eye of the beholder. As you can see in the photo, it is indeed quite pretty, but I find Government Dock and Sandy Beaches more interesting photographically.
There is also the consideration that while Driftwood Beach is in a small provincial park, the road into the park and to the beach is a narrow unmarked dirt road with no shortage of potholes and narrows down to one lane the closer you get to the beach. It was a lovely outing, but I doubt we go back, considering the other two beaches are more accessible and offer more photo ops.
For Sandra's account of the last few days and her photos, click here.
For the photos I've posted so far from our visit to Lake Superior, click here.

Still Trying To Wait Out The Weather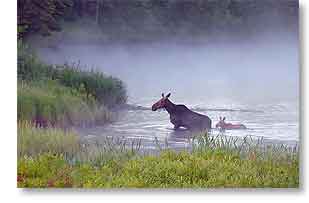 Tuesday, 7 July, 2009 - And we seem to still be losing that battle, so we're giving it one more week here at Wawa. We've been at Wawa for one week and most of that time has been cloudy, chilly, rainy, damp, and dreary, but what else is new. That weather story continues much as it has since April, but at least the chill in the air has kept the mosquitoes at bay for the last few days.
The photo on the right represents the high point of my week, sighting my second (and third) wild moose, these in the Magpie River a short distance upstream from the RV park.
Otherwise, about all we've done of note since my last report was to head out in the truck each time we had a break in the overcast and the sun came through. Sometimes the breaks were small and shortlived, other times larger and lasting for several hours. Not exactly the conditions for photography that I had hoped for, but happening often enough we've at least gotten some decent photographs. You need a few clouds for interesting skies, but like with anything in life, you can get too much or too little of any good thing.
For Sandra's account of the last few days and her photos, click here.
For the photos I've posted so far from our visit to Lake Superior, click here.

Happy 4th of July



Saturday, July 4, 2007 - Happy Independence Day to all who observe that holiday. I hope it's warmer in the US than it is up here at the moment.
As I write this I just returned from photographing the first sunrise I've shot during our stay so far in Wawa (photo below). It's the first because it's the first one we've had, which was great but now I need to thaw out from the experience. The weather here in general has continued to be cloudy, chilly, and rainy, as it has been for much of our return to Ontario this year. This morning while I was recording the sunrise, the temperature according to the truck's thermometer, which is pretty accurate, was 41°F (5°C)! That seemed really cold for the fourth of July, July typically being the hottest month of the year up here. Granted we're farther north than normal this year, but at 48.0°N that's less than 3° latitude more than Ottawa at 45.3°N. That said, the record low for this date in Wawa is 42°F (5°C), so this morning was indeed cold even for here.
Anyway, yesterday afternoon the clouds finally broke completely and for the first time since our arrival in Wawa on Monday, we actually saw large expanses of clear blue sky again. It was comforting to see it was still there.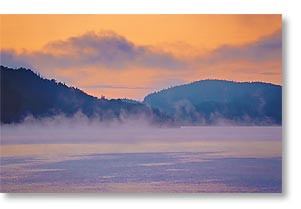 To celebrate the occasion, we hopped in the truck and started driving around the area, hoping to find a good spot for a sunset, thinking the overlook at the Visitor Information Center with its panoramic view of the Magpie River Valley might be a good place, and it would have been, but while there we were looking at map of the area and we noticed a nearby area that I had thought was a First Nation reservation was actually public access to a couple of beaches on Lake Superior and a scenic overlook, all of which afforded great views of Lake Superior's North Shore. Although the overlook, as seems typical of so many overlooks we've been to in our travels, has a great view of the trees and bushes that has been allowed to grow up in front of it, blocking to a large degree the view of the scene it had been built to afford. Why go to the expense of building these things if no one bothers to keep the view clear of obstructions?
The beaches though provided great views, with Government Dock Beach being my favorite and from where we watched a beautiful sunset develop and then fade to twilight (photo here). I had thought the comparatively long drive down to Old Woman Bay at 16 miles (26km) in Lake Superior Provincial Park was the nearest access we had to a scenic spot on the North Shore, but Government Dock Beach is only 6.6 miles (10.7km), so just around the corner basically. The next really good view of the very scenic North Shore is Katherine Cove at 42 miles (67km) and also in Lake Superior Provincial Park. Between here and there is a series of very picturesque little alpine lakes, however they aren't the North Shore, which is what I really wanted to see, but the provincial park is a bit of a drive so I'm glad to have found some North Shore views that are closer. As a bonus, the very picturesque Silver Falls are just off the road to the beaches.
For Sandra's account of the last two days and her photos, click here.
For the photos I've posted so far from our visit to Lake Superior, click here.

Belated Happy Canada Day



Thursday, 2 July, 2009 - A belated Happy Canada Day to all who observe that holiday. Here near Wawa yesterday, it passed by us with hardly a whimper. I suppose if we'd gone into town last night we might have found some celebrating and fireworks, but here in the RV park the day ended like any other and I didn't hear so much as one firecracker.
The only thing noteworthy about yesterday, it being yet another cloudy rainy day, was we got tired of sitting around the RV waiting for some good sightseeing weather and went for a drive east of Wawa anyway, just to see what's there in case we ever see the sun again and something is to the east of here we might want to return to later to photograph.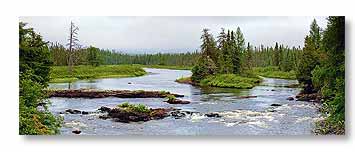 This area has only two primary highways - Highway 17 (aka the Trans-Canada Highway) which runs north and south past Wawa, and Highway 101 which goes east out of Wawa. And that's it. It is a very isolated, remote, and rugged area and it's even more remote to the east. We drove 39 miles (63 km) along Highway 101 (click here for the map) where the only signs of human activity we saw after leaving Wawa were an occasional logging road, two houses, Potholes Provincial Park, and two secondary highways, 547 and 651.
We turned back at Highway 651 and returned to Wawa. The provincial park might have been interesting if it hadn't been for the rain. The drive was mostly through forest covered hilly terrain, with a few lakes. The most scenic places we saw though were the 7 mile (11 km) long Wawa Lake (starting on its western end at Wawa itself) and the Jackpine River (photo above) farther to the east.
For Sandra's account of yesterday and her photos, click here.
For the photos I've posted so far from our visit to Lake Superior, click here.


__________________________

For Older News

To read details of our previous stops and camps, visit the News Archives.


Updated Thursday, July 16, 2009

Copyright © 2009 by Gordon L Wolford .
All rights reserved.