A Visit To Georgian Bay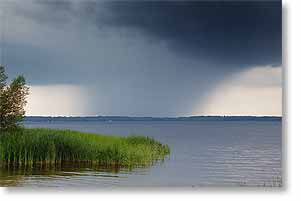 Wednesday, 29 July, 2009 - Monday, I did little but process digital photos (the thing I do when doing nothing else), while Sandra drove herself into Orillia for a shopping run.
Yesterday morning, she baked me some gluten-free blueberry muffins (yum!), the first blueberry muffins I've had in years.
Then in the afternoon, we drove to the Super Walmart in Orillia to see if they had waterproof mocassins (aka 'Duck Shoes', or 'Duck Boots' as Sandra calls them, even though they are shoes) to replace the ones I've worn for a long time that had recently developed leaks.
These are really versatile shoes, easy to simply slip on and they are waterproof, so I've gotten into the habit of wearing them since I'm out so often at daybreak when the grass is wet.
After successfully finding a new pair of duck shoes, we headed for the village of Waubaushene, the nearest point of southern Georgian Bay, since it's only 19 miles (31 km) northwest of Walmart. We took the scenic route and had a look at the village of Coldwater on the way. Missing the turn for Waubaushene, we first saw that part of Georgian Bay from a couple of public access points in the village of Victoria Harbour, a drive of 32 miles (52 km) from the RV (click here for the map). The water we saw there was Hog Bay in Severn Sound, a large inlet of Georgian Bay. The view was nice, but at this point it is south of the Canadian Shield so it has none of the scenic rocky outcrops and pine covered hills of the shield that are so beautiful. A pity the view wasn't more spectacular, but not unexpected.
From Victoria Harbour we found our way back to Waubaushene and located a couple more public access points, better than those we found in Victoria Harbour, but still nothing notably picturesque about it, although the photo above of a distant rain shower was taken there. This is Sturgeon Bay, still in Severn Sound
Of course, if we hadn't just spent several weeks in the awesome scenery farther north, my opinion of this area might be better. Most places east of the Rockies pale compared to Lake Superior's North Shore.
For Sandra's account of the last few days and her photos, click here.
For the photos I've posted so far from our tour of Central Ontario, click here.

More Looking Around The Area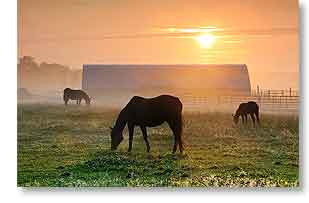 Monday, 27 July, 2009 - This past weekend we drove into Orillia each day, Saturday mainly for their Farmers' Market, Sunday mainly to locate the stores Sandra will be shopping at by herself later today.
The Farmers' Market was interesting, but not nearly as interesting as the downtown sidewalk sale (Leacock Sidewalk Sale & Street Festival) that we discovered just around the corner on the main downtown street, which was closed to automobile traffic for several blocks.
Parking was very hard to find and we ended up having to park a number of blocks away in a residential area and we were lucky to find that spot.
After we had seen and walked all we wanted to downtown (which unlike a great many small city downtowns appears to be thriving despite the usual big shopping area on the bypass), we drove around trying to find the waterfront but couldn't, not realizing until later that missed it by just one block!
Sunday on our return, with the help of Miss Pinky, we successfully located all the stores Sandra wants to visit, foremost being the Super Walmart, and in driving around Orillia it struck us, as it has each time we've been there, just how clean the city is as a whole. I can't remember one house going to seed and many of them had loads of flowers planted in the yard. If it wasn't for the dreadful winters, I wouldn't mind living there.
This time we also found the waterfront, where there are three parks side by side - Centennial Park, Couchiching Beach Park, and Veterans' Memorial Park. The reason we had missed these the day before was because I had assumed the city's main waterfront would be along Lake Simcoe but is instead along the much smaller but neighboring Lake Couchiching. Combined, these three parks feature aqua theatre, ball diamond, barbecue, boardwalk, boat ramp, change rooms, concession, flower gardens, marina, outdoor rink, pergola, picnic shelter, picnic tables, playground, recreational path, skateboard park, swimming beach, washrooms, and water fountain, so there is no shortage of things to see and do there, assuming good weather.
Unfortunately, the weather continues to be mostly overcast with frequent rain, sometimes light showers, sometimes quite heavy. We do have brief periods of sun, like sunrise yesterday when I was able to take the photo above before clouds and showers moved back in. This weather pattern, which has been dominant since our return to Ontario in April, is starting to get tiresome. I do hesitate to complain about it, because it could be worse, but it sure makes it impossible to plan anything more than a few minutes in advance.
For Sandra's account of the last two days and her photos, click here.
For the photos I've posted so far from our tour of Central Ontario, click here.

Looking Around The Area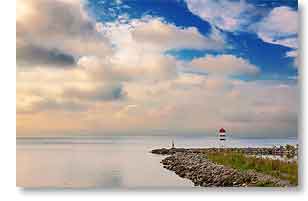 Saturday, 25 July, 2009 - Thursday was a down day for us since it rained almost all day, hard enough it interrupted our internet access most of the day as well, so we simply rested, which we needed anyway. We've been far too busy lately, expending much too much energy and effort in futilely trying to find suitable campsites along the eastern side of Georgian Bay.
Yesterday again dawned to overcast skies, but at least no rain and the clouds did break for a while shortly after sunrise (as seen in the photo on the right), but then rain quickly moved in again. I'm not complaining though because we were at least able to make the move Wednesday from Parry Sound to here with good weather and were able to see a bit of the immediate area after getting camp setup. We found a nice little public dock on Lake Simcoe at Hawkestone, the nearby village that's only a mile or so (2 km) away, and the dock should make a good place for sunrise photography, if we ever have another sunrise. The photo above shows the jetties of the village's yacht club, which is just north of the public dock.
Midafternoon yesterday I returned to the village, this time with Sandra who was thinking a farmer's market was to be held but learned it wasn't until next week, so we drove some more along Lake Simcoe's shoreline and found a nice little municipal park with a beach. Then the rain started again, so we returned to the RV.
The power had gone out earlier while we were in the village general store, the centerpiece (such as it is) of Hawkestone and found the power still out when we got back to the RV. The rain ended after a while, so we decided to drive into Barrie, the nearest fairly large city (pop. 125,000 or so) to give it a look (I'd never been there before) and to do some shopping and have dinner out (if that's what you can call having Taco Bell and Subway in a shopping mall food court). For us, that's dining out.
We then found Barrie's downtown and waterfront, where there is a nice park along the water, walked in the park and took photos, and then called it a day, returning to the RV where we found the power was back on.
The campground here is located 14 miles (23 km) from Barrie and 9 miles (15 km) from Oriilia, so Orillia is a few miles closer and although its population is only 30,000 compared to Barrie's 125,000, Orillia is the one with the Super Wal-Mart. Go figure, but anyone who knows Sandra can probably figure out our next area to explore.
For Sandra's account of the last few days and her photos, click here.

Now Near Orillia, Ontario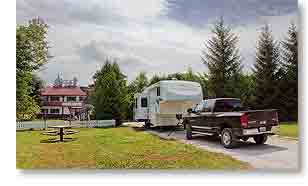 Wednesday, 22 July, 2009 - This morning we left the beautiful pine-covered rocky-hill country of the Canadian Shield and Great Lakes shores that we've been visiting for the last month and returned to farm country. It felt a bit odd to again be seeing barns and fields. What a difference a drive of 68 miles (110 km) can make. Click here for the map.
We left Parry Sound a little before 10am and arrived here near Orillia (actually Hawkestone) a little after 11am. The drive was pleasantly uneventful and with generally good weather, although rain is supposed to move in tomorrow, but that's okay. I'm ready for a good rest.
We are now ensconced at Heidi's Campground and despite its name, it's what I'd classify as a real RV park, not a campground. Pictured above is our nice large site, #1, which is a pull-thru, level, with water, electric, and sewer hookups, and the all-important clear view of the satellites, while still having enough trees around to make it pretty. Unfortunately, this place isn't located up by Georgian Bay where I would really like it to be.
Anyway, we're settled in and signed up to be here until August 10, when we will be moving over to Lindsay.
For Sandra's account of the day and her photos, click here.

We Give Up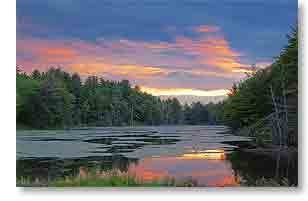 Wednesday, 22 July, 2009 - Since we have to leave this site later this morning and it's the only site in this tree-infested KOA that we can access our satellites from and this KOA's wi-fi chokes up regularly from too much demand on it, which makes it unreliable, we have been trying, fruitlessly, to find another campground along southeastern Georgian Bay that can handle a rig the size of ours while also providing a clear view of the satellites and we have failed (there are no such things as RV parks around here), so we are forced to leave the area without having seen much of it.
And that is a real shame, because while you don't see any of Georgian Bay itself from the highway, scenes such as in the photo above abound along the highway and are quite beautiful in themselves. This was taken at sunrise this morning just down the road and around the corner.
Anyway, not only are suitable campsites not available around here, it has been a real challenge this entire trip to Northern Ontario to find suitable campsites at all, since virtually all of the campgrounds have been heavily treed, the only exception being Carol's Campsite in Sudbury, an area which ironically had little of interest to me photographically. The KOA in Sault Ste Marie had only a few sites that would work. Batchawana Bay had only one site that worked for us and there like here we couldn't stay as long as we wanted.
Many of the campgrounds we looked at, and we've looked at a lot of them, not only didn't have an acceptable site, but were so tightly packed with such narrow lanes and sharp turns we couldn't have even navigated the RV through them. The Wawa RV park was the only other one that had quite a few sites that would have worked, but we saw everything in that area we wanted to and it was too remote to stay longer, but the real disappointment has been the east side of Georgian Bay. It's very beautiful here and to make this shortage of adequate campsites more puzzling, this is a very popular summer vacation destination with no shortage of other kinds of accommodations such as cottages and motels, but the few campgrounds around here are woefully lacking for anyone other than people who tent camp or have small trailers or who have no interest in accessing TV or internet satellites, so we have no choice but to leave.
Eastern Georgian Bay has been the greatest disappointment of my Photo Odyssey.
Fortunately, we have found what might be an acceptable campsite near Lake Simcoe, but that's an hour's drive away from the southern end of Georgian Bay.
For Sandra's account of yesterday and her photos, click here.
For the photos I've posted so far from our tour in Northern Ontario, click here.

Now Near Parry Sound, Ontario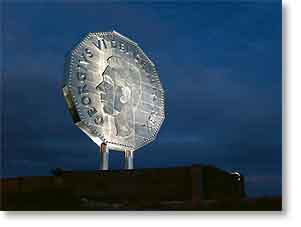 Monday, 20 July, 2009 - This morning we pulled up stakes and headed for Parry Sound after I first paid a visit to the nearest Dodge dealer to get a headlight replaced that burned out yesterday, I suspect caused by the rough streets of Sudbury. If I was going to open a business there it would be for doing wheel alignments.
Anyway, we left at 10:06am for the 102 mile (165 km) drive and arrived at the Parry Sound KOA exactly two hours later. Click here for the map.
We have to leave this site Wednesday morning so most of our time here will no doubt be spent trying to find another suitable campsite which isn't proving to be easy. It seems campground owners around here have never heard of the need for accessing satellites.
For our last evening in Sudbury we drove back to the Big Nickel to get some shots of it in its night lighting, photo above. We then drove around town trying to find some other night shots, but nothing presented itself.
Today, after getting setup here in the KOA, we visited a couple of places in Parry Sound the people in the office told us about.
The first was a 96 ft (29 m) observation tower that looked much like a fire tower. I had tried to climb a similar tower near Algonquin Park a few years ago and couldn't make it to the top due to vertigo, something that never bothered me when I was younger. This time though, I was determined to make it and did! It was quite a view from up there, part of which can be seen here.
The second was the waterfront, which was quite interesting and busy.
For Sandra's account of yesterday's drive and her photos, click here.
For the photos I've posted so far from our tour in Northern Ontario, click here.

We Do The Town & Georgian Bay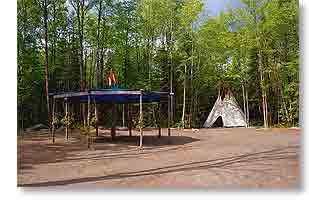 Sunday, 19 July, 2009 - During our week's stay here at Sudbury we've given the city a look and have found photos hard to find here, at least those that you can drive to. There's a large conservation area but that requires a lot of hiking to see anything and the streets to get there are gut-jarringly rough, as are most of Sudbury's streets. In fact, they are the worst we've seen anywhere, so I'm not anxious to see more of the place or to return to the conservation area.
So, yesterday we toured south on Highway 69, the road that runs along the eastern side of Georgian Bay. The reason for this drive was twofold: 1) simply to see the area since neither of us had been there before, and 2) to find our next campground.
Although the drive proved to be scenic, there were no views of Georgian Bay from it, but I expected that. One thing of interest we did see though was the French River Provincial Park. The French River was an important transportation link back in the days of the fur trade and it's scenic as well. The park also didn't charge an entrance fee, which is always nice. The scene pictured above is just off the parking lot, plus there's a foot bridge over the river and a very interesting visitor center.
In addition to the park, there were plenty of picturesque marshes and small lakes that could be seen from the highway.
As to our next campground, finding one that can accommodate a rig the size of ours and also provide a clear view of our satellites proved to be quite difficult. We are also at the peak of the vacation season now, which means many campgrounds are full, so we had to resort to a KOA. They are expensive but predictable and the Parry Sound KOA has a site we can access the satellites from, so that will be our next stop when we leave Sudbury tomorrow.
For Sandra's account of yesterday's drive and her photos, click here.
For the photos I've posted so far from our tour in Northern Ontario, click here.


__________________________

For Older News

To read details of our previous stops and camps, visit the News Archives.


Updated Saturday, August 1, 2009

Copyright © 2009 by Gordon L Wolford .
All rights reserved.