Ahead To The Past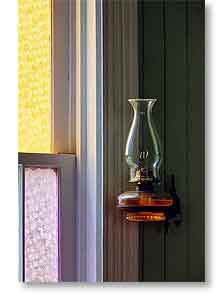 Friday, 28 August, 2009 - Today, Sandra and Betty planned to go into Peterborough for a day in the city together, leaving me abandoned to fend for myself. The plan also called for me to aid and abet this venture by dropping Sandra off at 10:30am in the town of Omemee where Betty would pick her up.
Things went as planned and since Omemee is 11 miles (18 km) along the 38 mile (61 km) drive to the Lang Pioneer Village in the hamlet of Lang near Keene, I decided today would likely be the best opportunity I'd have to spend some quality time in the pioneer village, despite the weather forecast calling for clouds to move in at midday, so ahead I went to go back into the past, the pioneer village featuring over twenty restored and furnished buildings constructed between 1820 and 1899 and with guides dressed in period attire.
By the time I arrived, the forecasted clouds were moving in, so I first did a quick tour around the grounds to take exterior photos while there was still some remaining sunlight and then did the tour again photographing the interiors that time.
The village proved to be quite well done and photogenic to the point I ended up taking 332 photos during my two hours there. It was easy while walking around to imagine I had gone back in time to the 1800s and what life might have been like for my great and great great grandparents. It's tempting to wish to have lived in those simpler times, but I suspect they had their own problems to deal with that were as stressful to them as those we face today are to us, just different.
The photo above was taken in the village's church.
For Sandra's account of the day, click here.
For the photos I've posted so far from our tour of Central Ontario, click here.

We Get The Point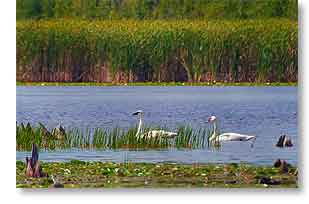 Wednesday, 26 August, 2009 - We got the point, but not the view.
In other words, Monday we drove over to the Ken Reid Conservation Area just north of Lindsay and hiked the Point Trail, which goes out to the tip of a point of land that extends into Sturgeon Lake. This trail is one we've wanted to do for some years, but until Monday stayed with a couple of the shorter trails, like the Boardwalk. However, Monday we were feeling adventurous and hiked the longer Point Trail (1.7 miles / 2.8 km).
As you can see on this map, the western leg of the Point Trail runs along McLaren Marsh, which looks close enough to the trail on the map that one would expect to get some good views of the marsh. Not! Until we reached the actual point itself where there are views of Sturgeon Lake, the only views we had of the marsh were glimpses of it between tree trunks and through brush. In desperation, I even forced my way in a couple of places to the water's edge through the overgrowth and over rotting logs and still didn't get a clear view of the marsh due to overhanging tree limbs. Very frustrating.
In two of the glimpses we had, we saw a great blue heron take flight (but impossible to get a photo of it) and two trumpeter swans out in the distance, which we saw through a small opening in the overgrowth that was just large enough to get a photograph of them (as seen above), and that was it for marsh photos,
Sandra was happy though. To her, hiking along a trail through a forest (such as this view) is enough in itself, but while I like that as well, I also like taking photos of things I'm expecting to see and should be able to.

We Do A Zoo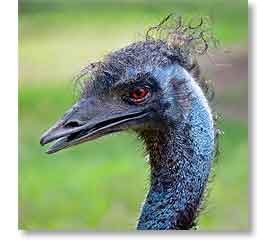 Then yesterday, Tuesday, after we had gone out and bought new wristwatches (both of ours had died, mine quite a while ago and I was tired of pulling out the cell phone to get the time) we stopped at Peterborough's Riverview Park and Zoo.
Featuring around 27 exhibits and 40 species of animals, this zoo will never compete with the likes of New York City's Bronx Zoo with its 4,000+ animals, but Riverview is a nice little zoo for a city the size of Peterborough (pop. approx. 75,000) and best of all, there's no admission or parking fees (music to the ears of retirees), so Sandra and I have been there a few times over the years and always enjoy it.
Yesterday though was the first time we were there with really good weather and the zoo was a zoo in more ways than one since it was literally crawling with little two-legged creatures of the human variety, who were generally well-behaved except for a few who had not been taught common courtesy. Anyway, as could be expected, and I did, on such a beautiful summer day the zoo was quite busy and noisy, being crowded with lots of big people having fun and little people learning about animals, which is a wonderful thing.
The worst part about the zoo for me is it's not photography friendly...at all. With the exception of a few things behind smudged windows, everything else is behind tall chain link fencing and while the links are large enough for Sandra to get the little lens of her camera through, such is not the case with my camera, which makes getting clear shots of the animals in those areas nearly impossible, although I did manage a few, like the emu above (handsome creature, isn't it?). Even through the windows it's very difficult to get a good shot due to reflections off the glass and smudges all over it. Despite that, we still had a wonderful visit seeing the animals, even if I came away with few clear photos of them.
For Sandra's accounts of the previous two days and her photos, click here.
For the photos I've posted so far from our tour of Central Ontario, click here.

Day 3 Of Cottage Weekend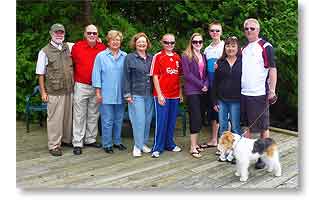 Monday, 24 August, 2009 - Yesterday, Sunday, was the third and final day of this year's Family Cottage Weekend.
We again left the RV timed to arrive at the cottage a little before noon. But before we got there, at the intersection of the cottage road we saw everyone but Garth out for a walk.
I managed to avoid running over them and soon arrived at the cottage where we found Garth and waited for the others to get back.
Due to the chilly cloudy windy weather today (but at least no rain) we had lunch indoors then spent a quiet hour or so before congregating on Garth's dock for the taking of the traditional family photo, as seen above. L-R: C'est moi, Garth, Betty, Sandra, Danica, Becky, Nick, Margie, John, and the four-legged Jasper.
A while later, Margie, John, and Danica bid farewell and headed back for Ottawa, with Danica driving, who fortunately didn't hit the truck as she was backing out onto the road.
And that was it for another year, although Nick and Becky will be staying for one more night.
And speaking of years, yesterday was also the fifth anniversary of Sandra and I being on the road. We've certainly seen a lot and learned a lot during that time.
For Sandra's account of yesterday and her photos, click here.
For the photos I've posted so far from our tour of Central Ontario, click here.

Day 2 Of Cottage Weekend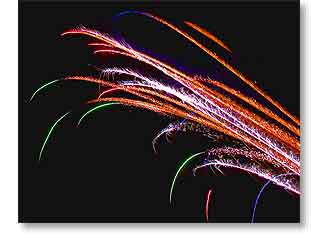 Sunday, 23 August, 2009 - Yesterday, Saturday, was the second day of this year's Family Cottage Weekend.
When we arrived at the cottage a little before noon, we found that everyone else was out on the lake in Garth's boat, so we went down to the dock to look for them and it wasn't long before they came speeding into sight, as seen here.
After everyone was back on land, it was time for a hot dog lunch on Garth's back deck, followed by a leisurely afternoon of loafing around the cottages and napping, while the sky clouded over and light rain started falling late in the afternoon.
Then it was time for the big dinner (steak, baked potatoes, corn on the cob), followed by the annual collective birthday celebration for those with birthdays around this time of year. This time the celebration was highlighted by it being Margie's 50th birthday – a half century! Click here for a photo of the event. Margie is one of those fortunate people who look perpetually young and I expect if she were to go out hitting the bars she'd still be carded at every one.
After the cake and ice cream were polished off and it had turned dark outside, we all retired to the lake shore where John and Nick set off some fireworks to further celebrate Margie's milestone birthday. The photo above is a composite of the sky rockets.
For Sandra's account of yesterday and her photos, click here.
For the photos I've posted so far from our tour of Central Ontario, click here.

Day 1 Of Cottage Weekend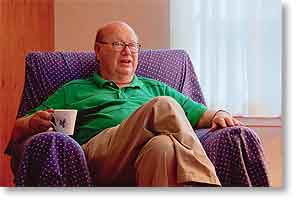 Saturday, 22 August, 2009 - Yesterday, Friday, was the first day of this year's Family Cottage Weekend, an annual event for Sandra's family hosted by Betty & Garth at Garth's cottages on the banks of Sturgeon Lake. That's brother-in-law Garth in the photo.
Friday was the 'Girls' Day Out' in which all the girls (Becky, Betty, Danica, Margie, & Sandra) took off to go shopping somewhere, this time being the circumnavigation of Sturgeon Lake and hitting the shops in all the towns around the lake (Lindsay, Fenelon Falls, and Bobcaygeon).
While the girls were out shopping til they dropped, I stopped by the Lindsay post office where I was expecting a package to arrive that was sent to me general delivery. I had purchased a used close-up lens (CUL) from a private seller through the internet, which was a first for me. Marc, one of my online photographer friends who knew I was looking to buy this lens at some point (a 77mm Canon 500D dual element CUL), had seen it for sale at a very good price in one of the photography forums he frequents and had told me about it, saying it should be a reasonably safe purchase since he had bought and sold quite a few things through this same forum and he was right, all went well.
However, I should say that all went well with the exception that Canada Post failed to keep their tracking information updated and the lens sat here in Lindsay for three days before I got tired of waiting and went to see why the tracking data kept showing the lens sitting in Mississauga (Toronto) for the whole week. Not impressed with Canada Post at the moment.
Anyway, I got the new-to-me close-up lens and that's really all that matters. For five years I've used the same but smaller model of CUL on my old 70-300mm zoom lens and love what it gave me, but the new 100-400mm zoom lens I bought last winter in Texas takes a much larger CUL, but is grossly overpriced here in Canada, so I had been waiting until I could buy it in the US this coming winter at the considerably lower price, but got this one from a Canadian seller for essentially the US price, so it was a good deal.
Then it was off to the cottage to meet up with the girls there and the rest of the family for supper.
For Sandra's account of yesterday and her photos, click here.
For the photos I've posted so far from our tour of Central Ontario, click here.

We Get Hosed & Then Go Loony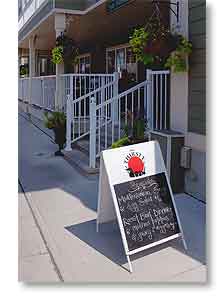 Thursday, 20 August, 2009 - Around midmorning yesterday, we left for Peterborough RV since the new sewer hoses we ordered there on Monday had arrived on Tuesday. This is an excellent RV service place. I just wish they were on this side of Peterborough, west rather than east, since it's a bit of a drive to get there (30 miles/50 km), but it's worth it to deal with competent people, the same reason we always deal with Vos Trailers when we're around Ottawa.
Anyway, Peterborough RV is where we bought our Prest-o-Fit Blueline sewer hose system two years ago (to the day actually) and it is the first one we've had that worked well, but it's recently sprung a few leaks so it was time to replace its hoses, which we did, hence we got hosed yesterday.
From there on Monday, since traffic departing the Havelock Jamboree was jammed up at a road work site on the main highway, we took a southerly route of back roads for our return to the RV, stopping along the way in Keene at the Lang Pioneer Village to give it a quick look to see if it was worth a longer look on another day, which it is, when I can go back by myself since my most wonderful wife has no interest in such places.
So yesterday upon leaving Peterborough RV, although there was no traffic jam at the road work site, we opted to again take back roads on our return to the RV, this time taking a northerly route through Lakefield, which is a fairly interesting town on the banks of Lake Katchewanooka, part of the Trent-Severn Waterway. Lakefield's only real claim to fame is that Prince Andrew, UK's Duke of York, attended the Lakefield College School for six months as an exchange student back in 1977 when he was seventeen years old.
We've been through Lakefield a few times over the years, stopping there once three years ago for lunch at a table on the sidewalk terrace of the Thirsty Loon Pub (photo above), so we decided to give the Loon another go at lunch (hence we went Loony), again finding a table on their sidewalk terrace and again finding lunch to be quite enjoyable.
The only other high point of the drive was discovering the Kawartha Bakery, which Sandra spotted as we drove by, my attention being on the road, as it often is when I'm driving. This bakery specializes in gluten-free products and we ended up buying a few to try.
As to the weather, summer has finally arrived, only taking until mid-August for it to get here. For the first time since our return this year, we've had a week with no rain (an unprecedented event) and temperatures reaching the low 90sF (low 30sC) with high humidity so that we've actually had to be running the air conditioner.
For Sandra's account of the day and her photos, click here.
For the photos I've posted so far from our tour of Central Ontario, click here.


__________________________

For Older News

To read details of our previous stops and camps, visit the News Archives.


Updated Thursday, September 3, 2009

Copyright © 2009 by Gordon L Wolford .
All rights reserved.