Bit The Bullet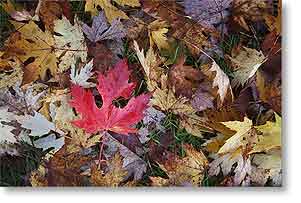 Wednesday, 30 September, 2009 - I haven't done much of interest since my last report, mainly because later that morning I bent over to pick up something off the floor and my lower back went out on me and two trips to the chiropractor haven't fixed it. Getting old is really tiresome.
Anyway, that same day, after having tried out the new operating system (Mac OS X 10.6 Snow Leopard) on an external backup hard drive for a couple of weeks, I bit the bullet and went ahead and installed it on the laptop as my main system and so far it has worked well.
PBase.com came back online a couple days ago, but isn't quite back to its old self yet. While it was offline, I started a trial account at Zenfolio.com and as with all photo hosting sites, there are things I like about it and things I don't. I still prefer PBase, but if they don't get their act together pretty soon, I will start migrating my photo galleries to Zenfolio. Click here to see my trial gallery there.
Otherwise, the last week of September 2009 was spent seeing to routine medical appointments, munching on the fabulously yummy gluten-free ginger cookies Michelle sent me, running errands, and trying to keep warm and dry. The weather has again turned cloudy, rainy, and cool during the day and cold at night, with the temperature dropping to freezing on two nights recently. Looks like summer is over, a summer that had only a couple weeks of actual summerlike weather and that occurred at the beginning of this month. We've hardly run the air conditioner at all.
For Sandra's account of the last few days, click here.
To view the photos I've posted so far from the current leg of this year's tour of Ontario, click here.

Two In The Bush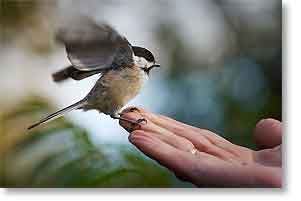 Saturday, 26 September, 2009 - It's been more than a week since my last report and that's simply because I haven't done anything of interest. I leave reporting the daily details of our lives to Sandra since she covers them so well in her blog and they would only be redundant here.
Until yesterday, the most exciting thing I did since a week ago Thursday was have the truck serviced on that day in Smiths Falls and then the next day took it into Carleton Place for its emissions test, which it passed and was then able to get its license plates renewed. Exciting stuff.
From then until yesterday, about all I did was rest and work on my photo galleries. Yesterday though, I was up and out on the road well before first light, heading for my friend Jim's house, which is about an hour east of here. He's been wanting to give me a tour of the locations he's found around Ottawa that have been good for photographing birds. Considering I've been spoiled by our winters in the south where birds of all kinds are plentiful, Ottawa has almost no birds by comparison. Yes, there are crows, geese, and gulls in some areas and you'll see some red-winged blackbirds and robins here and there and ducks once in a while and a heron on rare occasion, but beyond those, you have to go out of your way to find birds of any greater interest and Jim has been doing just that over the summer.
So, off we went on his birding tour and, of course, since I was with him we saw no birds of interest in the areas where he usually finds them. The highlight of the day was the photo above of a Black-capped Chickadee that landed on his fingers when he held his hand out to it, the photo taken in the bush near Mud Lake in Ottawa itself. So we were two in the bush with a bird in the hand. Obviously, although this bird was wild, it was used to being given handouts from people.
For Sandra's account of the days since my last report, click here.

Major Meltdown At PBase

Today is going into the third day that PBase.com, the website that hosts my online photo galleries, has been offline. From the notice they've posted, they had a power failure at their datacenter in the wee hours of September 24 and as of this writing are still not able to get their database back in working order.
While PBase is down, I've been working at updating my own galleries. They are in my domain here and can be seen here.
I started working on these the last time PBase had a major problem (which happens far too often), but the galleries here take much more effort than using PBase, so when it's working properly I lose interest in keeping my galleries here updated. The original intent was to mirror here what I've got on PBase, but of the 10,500 photos I have there, I've currently gotten only 1,500 photos uploaded here. To get a complete mirror will be a huge job.
Once PBase is back online, you can view the photos I've posted so far from the current leg of this year's tour of Ontario by clicking here.

I Get Snowed, Fed, And Bled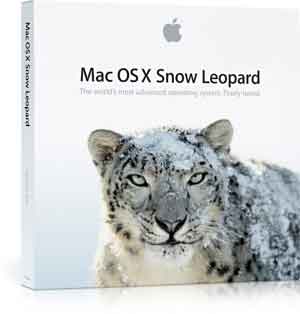 Thursday, 17 September, 2009 - Well, we've been at Carleton Place for a week now and I've started this update several times and just couldn't get it rolling, so maybe this time things will move before I get too far behind to get caught up.

Friday

Late last Friday afternoon (Sept 11) we drove into Kanata (Ottawa) and dropped by LeRoy's, a friend and my Apple computer supplier (VAR) who was happy to sell me a copy of the latest and just recently released Mac operating system, version 10.6 which is called Snow Leopard (so I got snowed).
This system is basically just refinements to the previous version (10.5 called Leopard) and has no immediately obvious new features, but does have a lot of changes and enhancements to core things in the system and its associated applications.
Two of the bigger changes are going from 32 bit addressing to 64 bit and working with Microsoft Exchange, neither of which mean anything to me since my RAM limit is 4GB (32 bit) and I don't encounter any Exchange servers, but things in the new system do run faster and some look more polished and refined. At the moment I'm testing it on a backup drive for incompatibilities (of which there are a couple minor ones) before installing it on the main hard drive, which will probably be soon.

Sunday

Sunday, Margie and John had us over for a midday meal (so I got fed) to celebrate Sandra's and my birthdays, the dates but not the years are only a week apart. As always, Margie and John outdid themselves and we had a great meal and a great time and I came away with a couple of new shirts.

Tuesday

Tuesday was 'D' day...Dermatologist, Dentist, Doctor, and Danica. It was a very busy and long day. The first stop was the dermatologist, with whom I had hoped only to make an appointment to see him before we leave to head south. A couple of weeks ago when I had booked my annual appointment for next year his schedule was full into June, so for this time I had hoped just to be put on the cancellation list, but nothing short of a modern day miracle happened, or at least being in the right place at the right time, when he saw me right away!
It's a short but chilling procedure he does in which he zaps the spot in question with liquid nitrogen and one spot he had zapped in the spring was returning and I didn't want it to be growing over the winter. So he zapped it again and hopefully this zapping zapped it for good.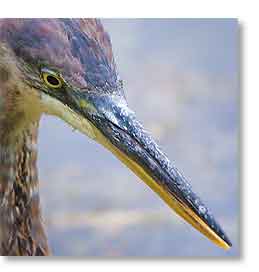 Then after a quick visit with the chiropractor, we had some time to kill, so we stopped by the Ornamental Gardens to smell the roses and take photos of them as well as the plethora of other flowers they have there. Just walking around in those gardens is an olfactory delight as well as visual. It's one of my favorite places.
Then it was on to a less delightful stop, the dentist office, one of my least favorite places. I have hated going to the dentist my entire life and the sorry state of my teeth show that. I had been using a different dentist than Sandra, but after some questionable things that dentist has done I thought it was time to try Sandra's and was quite pleased with the visit and that's something I don't say often about dentist visits. Using her dentist is also going to be much more convenient.
At some point recently I received a letter from the infectious disease specialist giving me the results of the CT scan that was done of my lungs on the first of September. He said the nodules from the Valley Fever fungal infection were continuing to shrink and he saw no need to see me again, so we stopped by the hospital and cancelled the appointment I had previously made to see him on the 23rd. I've found it's much simpler and far less annoying to do this in person than try to get through on their infuriating phone system. Anyway, the CT scan results were very good news indeed.
With some time to kill before a 6pm doctor's appointment, we ran some errands and then strolled around Andrew Haydon Park where we saw quite a bit of wildlife, including two very cooperative Great Blue Herons, a bird which is seen once in a while around Ottawa but cooperative ones that not only don't fly away at the first sight of you but will even let you get fairly close (photo above left) are very rare.
Then it was off to our appointment with the family doctor, Sandra's visit being for a travel insurance matter before we head south for the winter and mine concerning whether a flareup of chronic residual after effects of surgery nearly 30 years ago were nothing more than that and whether they might impact our trip south. It seems I get one health concern out of the way and another rears its ugly head. The joys of getting old. I see nothing golden about it, but I won't digress with that.
Anyway, later that evening after we had returned home, we learned that Danica, our one and only niece, had passed her MCAT exam (Medical College Admissions Test) which allows her to enter medical school after she completes her four year BSc education next spring. So, way to go, girl!

Wednesday

Yesterday, it was booking an ultrasound appointment at the hospital here in Carleton Place and then attempting to get the truck's licence plates renewed only to learn it now has to first pass an emissions test, which we then booked at a nearby garage, then it was back to Ottawa for an encore visit with the chiropractor before one last stop on our way home at a medical lab for bloodwork (so I got bled).

Today & Tomorrow

This afternoon it's take the truck in for some long overdue service work and tomorrow it's take the truck in for its emissions test and hopefully it will pass and we can get its tags renewed.

Then hopefully I can get a break from spending hours a day on the bone-jarring roads of Ontario, which were the best roads I'd traveled on when I came to Canada 22 years ago, but due to neglect they are now the roughest, most gut-wrenching ones we've encountered this side of Louisiana. On the bright side, we are continually confronted with road work so they are at least finally working on them.
For Sandra's account of the last week, click here.
To view the photos I've posted so far from the current leg of this year's tour of Ontario, click here.

Back To Tranquility Base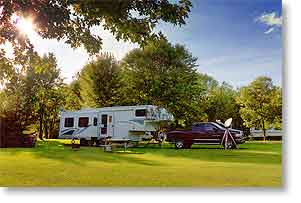 Friday, 11 September, 2009 - Yesterday we packed up, hitched up, left Lindsay at 10am, and 4 hours and 167 miles (269 km) later arrived at Tranquil Acres near Carleton Place, Ontario, our home base (or what you might call our Tranquility Base, for those who might remember the Apollo 11 moon mission).
The move, which according to the weather forecast a few days earlier, was to have been under rainy conditions actually ended up being a perfect day for traveling. Click here for a map of the drive.
We are on a site we've never been on before. With all the trees at the southern end of the park it was a bit of a stretch to access the internet satellite, but it works. I rather like this location. It's quite open as campsites go (photo on the left). We can see the river (Canadian Mississippi River) out the back window and out the door is the large playing field.
Anyway, we are here to see to dental and medical appointments before we hopefully head south for the winter.
For Sandra's account of yesterday, click here.
To view the photos I've posted so far from the current leg of this year's tour of Ontario, click here.

A Holiday, A Wash, A Party, A Fair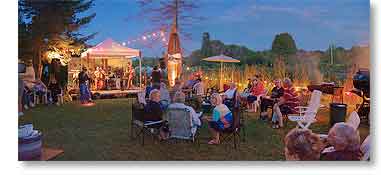 Monday, 7 September, 2009 - Today is the Labor Day holiday, so let me wish a happy one to all who observe it.
The last few days have certainly been busy. Friday, we finished the job of washing the RV that we started a week before when I washed the RV's roof. Getting this rascal clean is a huge job and it put my back out, but at least it's done for another year.
Then Saturday we attended the annual Pleasant Point Corn Roast Party (photo above) put on by Garth and Betty's neighbors at the cottage. It's quite an event, even featuring a live band. This year's edition was particularly enjoyable because the band (a different one from last year) didn't have the volume cranked up to earshattering levels as the band did last year. It was interesting to meet some of the neighbors, a few of whom we've met before and a few for the first time.
Yesterday, Garth and Betty took us to the Kinmount Fair in the village of Kinmount about 30 miles (50 km) from here, stopping first along the way for a late breakfast at the Full Cup cafe in Bobcaygeon. The breakfast was excellent and with perfect weather, the fair was interesting and quite crowded.
Also since my last report, we had a full moon, which always presents some unique photo opportunities (click here to view one). I often miss this event, either due to overcast skies or I simply fail to notice it, but this time I was ready and the weather cooperated. As a bonus, having gone out in search of a better location to observe the rising of the full moon, I found some high ground a few miles away that has a 360° unobstructed view of the horizon, so it's ideal for sunrises and sets as well as moonrises and sets.
Later this morning, one of Garth's cottage neighbors is going to show me a couple of the birding hotspots in the area and after that I'm planning to get some much needed rest before we move back to Ottawa on Thursday.
For Sandra's account of the last few days, click here.
To view the photos I've posted so far from our tour of Central Ontario, click here.

So Now We Wait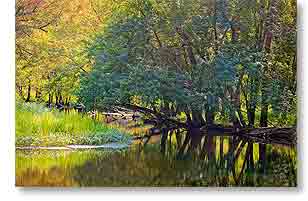 Thursday, 3 September, 2009 - Back at the end of April, the infectious disease specialist, who oversees the after effects of the Valley Fever induced pneumonia I contracted while in Arizona a year and a half ago, sent in a requisition to have a CT scan done of my lungs to check the status of the infection.
When I hadn't heard anything from the hospital's radiology department after a week, I called the specialist's office to see if they knew anything and was told it was too early to have heard anything. With the government sponsored health coverage we have up here, things are seen to on a priority basis so when an appointment isn't expedited quickly, one assumes the condition isn't critical. After no word for a month though, I tried calling the radiology department directly and couldn't get past their voice mail service.
Yes, I could have left a message, but this is the department that in the past has been unable to get through to my cell phone, so I wanted to talk with a real person, a live one preferably. But after trying off and on for a week both with radiology and my specialist's office and again failing to get past the voice mail system, I gave up. Yes, I could have gone to the hospital in person and talked with someone in radiology directly, but I figured if it wasn't important, I had better things to do, like cancel all remaining appointments and go to Lake Superior's North Shore and immerse myself in some of nature's beauty.
Then, late in August a letter arrived from the radiology department telling me they had scheduled an appointment on September 1 for my CT scan. I never did get a phone call from them, but since my lungs don't seem to be improving I was glad to have heard from the hospital, even though we are in Lindsay and it meant a roundtrip drive of 360 miles (600 km). Also the appointment was for 10:45 pm, which meant the trip would have to be done over two days and having to sleep over in Ottawa. The DeJongs kindly offered to feed me dinner (a feast of delectable Mexican chicken) and put me up for the night and who was I to refuse such an offer.
Everything went as planned, so now we wait until I get the results of the CT scan on September 23 when I will be seeing the infectious disease specialist.
Sandra had planned to spend a day and night the previous week in Toronto with Betty, but when this CT scan appointment came up they decided to postpone that to the days I'd be gone for the scan, so I was on my own for the trip, something I'm not used to, but I managed.
The photo above of the Salmon River was taken on my return drive yesterday. It shows the trees are already starting to don their autumn colors up here! I sincerely hope that after such a chilly, cloudy, rainy summer, the trees aren't telling me it's going to be an early winter this year as well.
For Sandra's account of the two previous days, click here.
To view the photos I've posted so far from our tour of Central Ontario, click here.

Ahead To The Past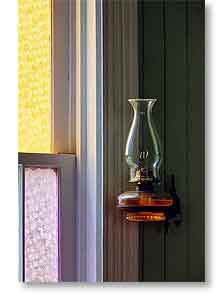 Friday, 28 August, 2009 - Today, Sandra and Betty planned to go into Peterborough for a day in the city together, leaving me abandoned to fend for myself. The plan also called for me to aid and abet this venture by dropping Sandra off at 10:30am in the town of Omemee where Betty would pick her up.
Things went as planned and since Omemee is 11 miles (18 km) along the 38 mile (61 km) drive to the Lang Pioneer Village in the hamlet of Lang near Keene, I decided today would likely be the best opportunity I'd have to spend some quality time in the pioneer village, despite the weather forecast calling for clouds to move in at midday, so ahead I went to go back into the past, the pioneer village featuring over twenty restored and furnished buildings constructed between 1820 and 1899 and with guides dressed in period attire.
By the time I arrived, the forecasted clouds were moving in, so I first did a quick tour around the grounds to take exterior photos while there was still some remaining sunlight and then did the tour again photographing the interiors that time.
The village proved to be quite well done and photogenic to the point I ended up taking 332 photos during my two hours there. It was easy while walking around to imagine I had gone back in time to the 1800s and what life might have been like for my great and great great grandparents. It's tempting to wish to have lived in those simpler times, but I suspect they had their own problems to deal with that were as stressful to them as those we face today are to us, just different.
The photo above was taken in the village's church.
For Sandra's account of the day, click here.
To view the photos I've posted so far from our tour of Central Ontario, click here.


__________________________

For Older News

To read details of our previous stops and camps, visit the News Archives.


Updated Friday, October 9, 2009

Copyright © 2009 by Gordon L Wolford .
All rights reserved.