Heartbreaking Day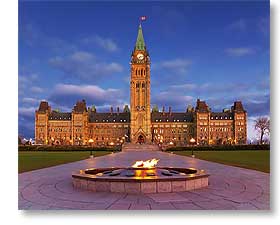 Sunday, 25 October, 2009 - It took four days with one trip per day, but on Saturday we finally got the last of our things out of the RV that we'll either need for the winter or what might have been damaged by the extreme cold that's coming.
It was heartbreaking when for the last time before we return in the Spring, we pulled the slides in, disconnected the power, locked the door, and drove away from what has been our home for the last five years, essentially being forced out of it by the stupidity of US Immigration.
But life goes on and we are now pretty well settled into our winter home, thanks to the incredible generosity of Sandra's friend Nancy, and in Sandra's walks around here she has discovered a scenic area that's a fairly short walk from the house, so I'm not totally without some nature nearby to photograph. Saturday evening when the clouds started to clear, I went over there to check it out myself and we actually had a sunset, which can be seen here.
Then this morning before dawn, I awoke brimming with ambition, so since the sky was mostly clear I drove downtown to see what things looked like there in early light. At dawn on a Sunday morning, one virtually has the place to oneself, parking is free and readily available, so I had a great time just walking around, seeing sights, and taking photos. The one above is the shot I particularly wanted to get. It's the iconic photo of Ottawa that every tourist takes, but I wanted to take it in this light, which isn't so common, and with the new 15 megapixel (MP) camera. This photo is actually two shots 'stitched' together, so after all was said and done, it ended up being an 18 MP image.
For Sandra's account of the last few days, click here. For my latest photos, click here.

Back In Ottawa

Wednesday, 21 October, 2009 - Just a short update. Sandra and I are now back in Ottawa after leaving Fort Erie, Ontario this morning at 4:15am so we could get through Toronto before 6am when their nightmarish daily rush hour starts to build, arrived at Vos Trailers, our RV dealer outside Ottawa at 11am, a 333 mile (535 km) drive (click here for the map), had them winterize the RV (blow out all the water lines and then fill them with -50° antifreeze), and then towed it over to our home RV park, Tranquil Acres, near Carleton Place.
Tranquil Acres is closed for the winter but Dave, the owner, opened it up for us so we could store the RV there until spring. We then had to pack the things we'll need (cameras, computers, clothes, etc) and drove back to Ottawa where a friend of Sandra's is putting us up for the winter. This friend has a fairly large place, so she's giving us the run of the lower half of it. Just hope she doesn't get tired of us.
For Sandra's account of the day, click here.

End Of The Road

Tuesday, 20 October, 2009 - Yesterday, after five years of travel, our odyssey reached the end of its road, at least for a year. When we attempted to cross the border at Buffalo, New York, to check out the route we were to have taken today on our way to Texas, US Immigration pulled us over and refused Sandra entry into the country because it had just come to their attention after nearly 18 years that she had not returned a US green card she had received in 1992. She had gotten it when it looked like we would have to move to the US for me to find employment but she had never needed to use the card since I found work in Ottawa immediately after that and unknown to us the US government had deported her. How they can deport someone who never lived or worked there and is a spouse of a US citizen is just beyond belief.
The USA of today is certainly not the USA I was raised in and for the first time in my life I'm ashamed to be an American. Has the government down there totally lost all common sense? Sad. Really really sad.
So, we are having to make emergency plans on how we can spend the winter in Ottawa and at the moment I'm too upset to say anything beyond that.
Sandra has much more detail about the incident on her blog. Click here to view it.

Fall Is Failing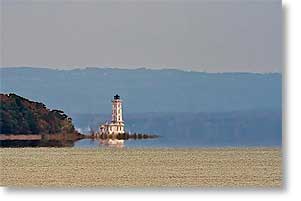 Sunday, 18 October, 2009 - Following a summer in Ontario that almost wasn't, being the coolest one I've seen in my 21 years up here, with the possible exception of the summer after Mount Pinatubo erupted in the early 90s, I had hoped the weather would turn around by autumn but little has changed, so fall is failing to see things return to normal weatherwise.
Especially the last week which saw a continuation of cloud and rain and with temperatures that averaged a daytime high of only 8°C (47°F) while the average high for that period is 14°C (58°F), and nights averaged only 0*C (32°F) while the average low is 4°C (40°F), and saw us tie the record low three times and break the record low once and we're not even a third of the way into fall yet. It's felt more like winter than fall.
So we haven't been doing much but hunker down and try to keep warm, although one day we did drive over to Fort Erie and looked around and updated our cellphone roaming settings, since we can reach a Verizon cell network across the Niagara River from there, and Saturday the sun came out just long enough to fake us out and get us out on a drive along the Lake Erie shoreline west of here before the sun disappeared again behind overcast that had quickly moved back in. But we stayed out anyway and saw a couple of parks I'd found on the map and saw a lake freighter move into the Welland Canal at Port Colborne and pull to a stop near. That was probably the most interesting thing we saw, although from one of the parks we had the view in the photo above of the Point Abino Lighthouse.
After much vacillating due to weather conditions and learning the campground we wanted to stay at next weekend in Ohio was full, we are now planning to cross the border Tuesday, October 20, and head for Columbus, Ohio.
Can't wait to get out of here and get back on the road.
For Sandra's account of the last few days, click here. For my latest photos, click here.

From Sherkston Shores To Sherkston Shores


Monday, 12 October, 2009 - Today is the Canadian Thanksgiving holiday, so Happy Thanksgiving to all who observe it.
We observed it by packing up and moving from Sherkston Shores' Beach View campground to its Quarry Ridge campground that's just around the corner and then getting setup to spend a week here, maybe two, depending on the weather, so we did the full setup including TV dish and BBQ grill.
Beach View is older than Quarry Ridge with unpaved lanes and unpaved sites that are so small we barely fit and more tightly packed (we could barely make the turn onto the site) and with only 30 amp service, whereas Quarry Ridge has wide paved lanes and roomy paved sites with 50 amp service. The only thing that would make it perfect, since the entire complex (and it's huge) has free wi-fi, would also be free cable TV at the sites, but I don't think we've ever seen that anywhere in Canada, even for a fee. The wi-fi, while free, is limited to four hours at a time, then it's ten hours before you can log back in. Kind of a strange arrangement, but it does limit usage hogs. Despite that arrangement, I tried the wi-fi when we first got here and it was quite slow, but the place was packed then with holiday weekend partiers, so it might be faster now that most of them have gone.
As I said, this complex is huge (click here for a map) and still expanding and being improved. Our previous stays here were only in the off-season and it was very quiet. This past weekend was the first time we've been here during it's regular season (although at its end) and on a holiday and the place was booming, literally crawling with people despite the fact it was cold, and I expect we saw how crowded it must be at the peak of the summer and being people who love peace and quiet, I don't think we would want to be staying here then. But it was nice to see the place doing so well and obviously still quite popular, a very different picture of it than one gets during the off-season.
The photo above was as good as it got for sunrise this morning. The day ended with having been overcast and chilly with some rain sprinkles after we had gotten setup.
For Sandra's account of the day, click here. For my latest photos, click here.

Now At Sherkston Shores
Leg 2 of our southwesterly trek to Texas, destination for Winter Tour 2009-10,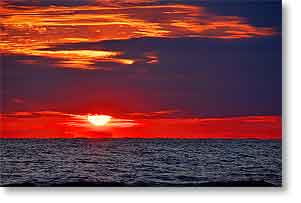 Sunday, 11 October, 2009 - We got a fairly early start today, leaving Brighton around 8:15am under sunny skies, the plan being to get through Toronto before 10am.
Toronto has the worst traffic of anywhere we normally have to travel through and Sunday mornings are about the only time you have a chance of not encountering traffic jams, made worse because the freeway system there seems to be under perpetual construction.
Anyway, we've learned the right lane of the express lanes goes straight through without needing lane changes, so we get into it well in advance and just stay with it and miracle of miracles, we sailed right through. I wouldn't say the traffic was exactly light, but it moved well and the few times I did opt to change lanes for one reason or another, people were courteous and let me in. So, without much fuss we arrived at Sherkston Shores around 11:30am after a drive of 190 mile (305 km). Click here for the map.
This is the Canadian Thanksgiving holiday weekend and we're here a week earlier than we have been in the past, so it's quite crowded, something we aren't used to here, and because of the crowd we couldn't get a site in the area we like and had to take an overnight spot until the one we want becomes available tomorrow.
Today was also quite cold. The highest temperature we saw was 46°F (8°C), but made worse by a brisk wind coming off Lake Erie, which made the wind chill feel like -46, but we had a pretty interesting sunset over the lake (photo above), the first sunset we've had worth photographing in quite a while.
For Sandra's account of the day, click here. For my latest photos, click here.

Overnighting Near Brighton, Ontario
Leg 1 of our southwesterly trek to Texas, destination for Winter Tour 2009-10,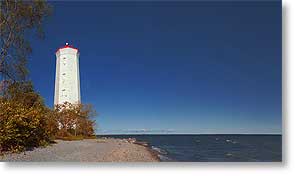 Saturday, 10 October, 2009 - What a day! We started the long trek to Texas this morning, after a lot of rain the last few days, making the campsite soggy and requiring four wheel drive (4WD) to get out of it. As I've said before on this page, we haven't needed the 4WD often, but when we've had to use it, it's saved a world of grief.
The rain continued through the night, but by the time we were up and packing, it had ended and by the time we were ready to roll, the skies had cleared and a little before 11am, we bid farewell to Tranquil Acres and headed west on Highway 7. This is quite a scenic road in places and it was particularly beautiful today as the fall foliage was at its peak around Silver Lake and Sharbot Lake. Sandra even claims to have seen a moose along there and I almost pulled the rig off the road in the hope of getting a photo of it, but by the time I could pull over we had gone too far past it to walk back and no way to do a U-turn, so we continued on.
Despite the NMPI (No Moose Photo Incident), it was quite a wonderful 2-3/4 hour, 133 mile (215 km) drive, click here to see the map, and we arrived at the Brighton KOA a little after 1:30pm and were on our site and setup shortly afterward, not bothering with the satellite dishes since we're here only for the night.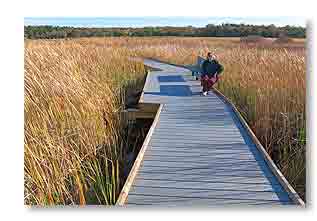 The trip had gone so well, now that we weren't encumbered with towing the RV, I was anxious to get out and see some of the countryside, so we ended up driving through Brighton, a pleasant little village, and ended up at the Presqu'ile Provincial Park, a place I've long wanted to see because it has a lighthouse and thought such a beautiful day as today would be the perfect opportunity to fill that void in my life, so we coughed up the $10 entrance fee and toured the park.
We first looked at one of the beaches, then walked the 1.2km marsh boardwalk (photo on the right showing Sandra posing for me on it, click here for a larger view and here for a closeup of her), and finally ended up at the lighthouse (photo above left). It's the second oldest lighthouse on Lake Ontario's north shore and rather unique in that it has the original structure below the light, but the light itself is not the traditional light but a modern beacon, without the usual cupola housing.
From there it was fill up the truck with diesel while passing back through Brighton on our return to the RV and here we are, tired, but having had a wonderful day.
For Sandra's account of it, click here.

Starting To Get Excited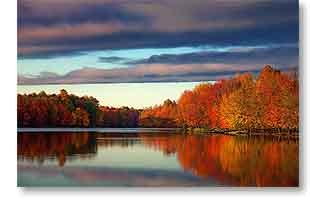 Friday, 9 October, 2009 - About all we've done since my last report has been to drive back and forth to Ottawa, not only for errands but for the chiropractor to work on my back, which is still causing me problems two weeks after my lower back went out on me.
This is a chronic problem for me that started thirty-three years ago when I turned thirty, but flare ups normally don't last this long, which made me concerned it might be something more serious this time. So X-rays were taken and fortunately, they look the same as those taken ten years ago, so I guess the pain will eventually go away. It does seem to slowly be easing.
Anyway, if this had been a new and serious problem that required surgery to correct, it would have meant no escape from the soon to arrive Canadian winter, which would have complicated our lives tremendously. Happily though, it looks like we're good to go and I'm starting to get excited about being on the road again, with the long trek southward scheduled to begin tomorrow.
The first stop is planned to be an overnighter at Brighton, Ontario, a couple hours east of Toronto so we can get through that city on Sunday morning when traffic should be the lightest, with the second stop being a return to Sherkston for two weeks on the north shore of Lake Erie west of Fort Erie, Ontario, across the border from Buffalo, New York, final destination to again be the Gulf coast of Texas, with stops along the way in Ohio to see my family, dates still undetermined.
That's the plan as it stands at the moment. Depending on circumstances, we might move to Florida for a while toward the end of winter.
Photo above was taken at sunrise yesterday morning on the Canadian Mississippi River, a stone's throw from the RV.
For Sandra's account of the last few days, click here.
To view the photos I've posted so far from the current leg of this year's tour of Ontario, click here for those on PBase.com and here for the latest ones that are posted to Zenfolio.com.

Serviced Then Powerless


Tuesday, 6 October, 2009 - The most exciting thing we've done since my last report was to take the RV into Vos Trailers on Thursday last week for some service work, which was mostly a lot of minor things, but they add up, plus they found a few more things we had missed.
While Vos was working on the RV, we ran errands around Ottawa, which is tiring enough in itself, but even moreso on a day when you're up early to get the RV disconnected, buttoned up, hitched up, and then towed to the shop 14 miles (22 km) away, and then do it all in reverse after the work is done (and the wallet emptied), so those days are always grueling.
After that it was thankfully quiet, restful, and uneventful around here until Sunday morning when I awoke just before dawn to the beeping of the computers' battery backup, a sound indicating power was out. I stuck my head out the door and saw the campground lights were out, so it wasn't just our RV with no power. I then went out in the truck to see how large an area was involved and found a bunch of Hydro trucks and personnel down the road working on the power lines where the highway construction is going on and they were the cause of the power outage.
So when Sandra got up and with the RV getting cold, we decided it was a good enough reason to go out for breakfast, which we did in nearby Carleton Place at the Gourmet Restaurant, which happily still had power. The Gourmet is one of those restaurants where the food always agrees with me, but it's been a couple of years since we had last dined there and Sunday morning we found the place nearly packed, so I expect some of the folks there were also refugees from the power outage.
After the usual excellent breakfast and since our power was still down, we drove the 9 miles (15 km) northwest to the neighboring town of Almonte, which is rather picturesque in places as it has some heritage buildings and a series of waterfalls along the Canadian Mississippi River, the same river that flows by the RV park.
After seeing and photographing the sights in Almonte, we returned to the RV, found the power back on, and the furnace soon had it warmed back up.
The photo above shows a flock of wild turkeys that Sandra had been seeing on her morning walks and surprisingly, they were even there the morning I hiked over to the spot myself. Usually, the wildlife Sandra sees and then tells me about later is never to be seen again.
For Sandra's account of the last few days, click here.
To view the photos I've posted so far from the current leg of this year's tour of Ontario, click here for those on PBase.com and here for the latest ones that are posted to Zenfolio.com.

__________________________

For Older News

To read details of our previous stops and camps, visit the News Archives.


Updated Sunday, November 1, 2009

Copyright © 2009 by Gordon L Wolford .
All rights reserved.