Tuesday, February 24, 2004 - Nothing much new to report except once again Sandra and I did not go on a Caribbean cruise this winter, preferring instead to put the money toward our RV's repairs from the incident we had in New York last year.

Harvey Repaired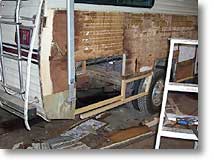 And speaking of those repairs, just after the first of the year our RV mechanic called to tell us he was done repairing the fire damage to Harvey our RV. So we drove out to the garage and gave the RV an inspection.
As you can see from the photo shown here, taken while the repairs were in progress, for such a small fire a large area of the RV had to be rebuilt. At least there are now areas of ole Harvey that are better than they were new. I just hope it was worth the expense, which was fortunately covered in large part by the insurance company.

Weather Brief

The winter has been what I consider to be normal for up here, but much colder than the last couple winters. We had a cold spell for the better part of a month with temperatures at night getting down to -30°C/-22°F and near there for what seemed like weeks on end. However, the weather recently has been more moderate although still cold. That's to change this week as it's predicted to get several degrees above freezing and I can't remember the last time we saw that.
Currently I'd estimate we have about 16-18 inches of snow cover on average, but it's hard to gauge due to drifting.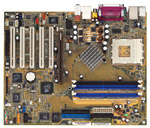 Computer News

Last month I upgraded the PC (my secondary computer), taking it from an 800MHz Pentium 3 to a 2.7GHz Pentium 4 which allowed me to run some digital photography software that required higher computing power to be usable.
While I was at it I also installed a new video card that has a built-in TV tuner which allows me to have TV here in the office without taking up additional desk space I don't have, plus allows me to digitally record TV programs much like one does with a VCR, except this is so much easier and better. The files get saved to the hard drive and I can then cut out the commercials and record to DVD, which was also part of the upgrade.
I'd held off on buying into the DVD technology until now because of the limitations of the earlier recorders, but a few of the recent recorders have become fast enough to be usable and burn to all DVD formats and have become quite reasonably priced, so there was no longer any reason to keep waiting.

Photo Gallery Updates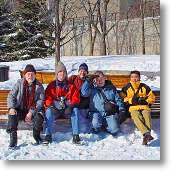 I also just updated my Photos page with a link to galleries I've added to my PBase webspace (PBase is one of many sites available for photographers to store and display their photos online).
Basically, my PBase galleries will be general photography and the galleries on my site here will be of a personal and family nature. Several of the galleries that used to be on this site are now housed on PBase and one I added there recently while not strictly personal in nature might still be of interest to family and friends.
It contains photos from Ottawa's Winterlude 2004 festival that ended last weekend. A few local members of an international digital photography forum I participate in (dpreview.com's Sony Talk Forum) decided to meet and have a group photo shoot of Winterlude. This was interesting because it was the first time I'd ever met any of these people in person (photo above). We had a good time and shot some nice imagery, although keeping up with those younger fellows sure had this older fellow exhausted by the time I got home.



Highlights from 2003

Written by Sandra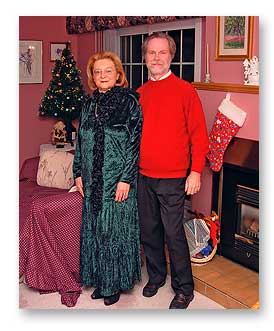 On January 23rd, we became grandparents again, this time, a boy born to Ian and Tracy. His name is Caden. We braved the winter weather and traveled to Dayton to meet Caden when he was a little over a week old. At five weeks, Caden developed meningitis and it was touch and go for a while but he came out of it with no lasting effects. On May 28th, we became grandparents again to another girl, Faith, born to Michelle and Eric, a little sister for Grace. We didn't manage to get back to Ohio until the end of June to meet Faith, this time in Harvey (our RV).

We took two days to travel to Ohio and used this time as our summer holiday. We traveled through Syracuse and then through the mountains of Pennsylvania over to Columbus where we parked Harvey in Michelle & Eric's driveway. Grace got a big kick out of Harvey! We came back through New York State and the Finger Lakes area spending a couple of days touring that area.

In the June/July timeframe I found out that after two years, Nortel was about to sell our group, High Speed Modules to a local company, BreconRidge Manufacturing Solutions. Thanks to some expert negotiating by a senior member of Nortel that I had worked for, I was able to take early retirement from Nortel (my early retirement date being September 12th) and since I had the years of service required, I got the medical benefits which was what I was looking for. On top of that, I also got a job offer to work for BreconRidge. At the end of November, our group moved out of the Nortel building on Corkstown Road and into the new building that Nortel built in the heydays of high tech that BreconRidge has now taken over. It's a longer trip for me but it is a new building and new people to get to know!

In August, we had our yearly cottage weekend with Betty & Garth, Margie & John, Nicholas and Danica. This year we had an addition, Nicholas' girlfriend, Becky joined us. As usual, we took Harvey and used him as our cottage. This way, Bib gets to travel with us and he loves to travel in Harvey. Since Margie, John, Gordon and I all have birthdays within a couple of months our birthdays are celebrated at this time as well.

In September both Gordon and I celebrated our birthdays, my 55th!

On the Thanksgiving weekend, we had planned to take Harvey to Syracuse for the weekend for a shopping trip. Syracuse used to be one of our favourite places to go for the weekend to shop however with grandchildren arriving, we are spending our time in the U.S. in Ohio instead. Here's a synopsis of a shopping trip gone horribly wrong!

• Blown tire on I-90 East of Syracuse Friday night rush hour
• 2 hours for someone to come & replace
• Smoking wires under dash-thinking problem is headlight switch as it fused
• 7 p.m. driving to nearest exit on I-90 with 4 way flashers as only light
• Sleeping in McDonald's parking lot (closest thing off freeway)
• Starting to drive home still smoking in RV – smoke detector goes off
• Finally realize smoke coming from back end of Harvey
• Wheel well on fire-call Fire Department
• Fire Department takes axe to Harvey-puts out fire
• Drive home on spare tire with crack in it and Harvey horribly disfigured
• NO SHOPPING!
• Harvey's damage about $6000 from fire + wiring under dash


November 5th we celebrated our 13th wedding anniversary. We've often talked about going back to Gatlinburg, Tennessee where we were married but still haven't managed to get there. Something always comes up, however we did manage to get out for dinner at one of our favourite Mexican Restaurants, Feleena's in the Glebe.

The last weekend in November, Betty & Garth arrived to celebrate Christmas as well as Betty's 60th birthday. In honour of her 60th, the DeJongs and Wolfords took she and Garth out for dinner and mystery theatre at 'Evolution' in downtown Ottawa. They are leaving on a cruise as a birthday celebration for her this year on December 14th, hence the early coming of Christmas to Ottawa.

Gordon decided not to renew the internet domain when it came due near the end of November. Hence, no web site of our own. He had lost interest in maintaining it as it was but has posted a scaled down version of it on another site. Its URL is http://web.newsguy.com/gordonw/ and our latest news can be seen at http://web.newsguy.com/gordonw/News/News.shtml.

Gordon continues to do well on his 'gluten-free' diet. He has gained some weight and except for the aches and pains that people our age tend to get, he is very healthy! He continues to enjoy working from home and has managed to keep busy all year.

Happy holidays to everyone!