Biggest Change Since Our Marriage

Sunday, August 8, 2004 - Since Sandra has now informed her employer that August 13, 2004 will be her last day of employment there I can now make it public knowledge that we will be hitting the road full-time, traveling in a new fifth-wheel RV (to be known as Big Harv) as soon as we can.
Although she and I had talked about this off and on for several years, it was hard for her to cut loose from the financial security of a good job while the markets were taking a beating which reflected on our investments, but a couple surprising deaths of people where she works who died while on the job from sudden massive heart attacks and who were younger than either she or I brought home the point to her that there are no guarantees for the future (something I probably know better than most as I've faced the possibility of imminent death three times in my life) and if you are in a position to do something you've always wanted to do, there's no time like the present to do it.
So we have been in the process of selling out with plans to travel full-time around North America to see all the things she and I have always wanted to see, with me photographing them while we're at it.
In order to do this, we had to sell the house, sell or trade-in the car and old RV, buy a new much larger RV, and buy a new truck to pull it.

House Sold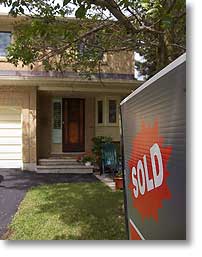 The first and most important thing we had to do was prepare the house for sale, a bigger job than I ever could have imagined, and then actually selling it, which turned out to be much easier than the preparations.
It was on the market for less than three weeks before a contract was signed by prospective buyers, with the deal closing in less than two weeks on August 20, 2004, at which point we will begin living in the new RV and getting adjusted to that major change in lifestyle.
Final photos of the house as it was after being cleaned up and ready to sell can be seen by clicking here. The realtor liked these photos so much he used them instead of the ones he took and also referred prospects to this online gallery.

New RV Purchased

For months Sandra has researched the RV market via the internet and we've attended RV shows and visited all the local RV dealers to see what was currently available. Our first thought had been to simply get a larger motorhome to replace our current older one that was large enough for short trips but too small to live in. However, after looking at all our options we decided a large fifth wheel RV pulled by a heavy duty pickup truck was our best overall option.
The one we settled on is Canadian-made in Strathroy, Ontario and is a 39 foot Glendale Titanium model. For those interested, its floorplan and specifications can be seen by clicking here. A few photos can be seen by looking at the ones with 33E38TS in their description here.
It hasn't arrived yet but is due any day. It is the last of the 2004 models, which we liked better than the 2005s we saw (both at the dealer's and on a private plant tour we were given), but we had them replace the standard axles that were on that particular model with heavy duty axles.
The dealership took our current RV (HaRVey) in trade although we took a beating on the price, which was annoying but we didn't want to go through the aggravation of trying to sell it ourselves with everything else that's going on.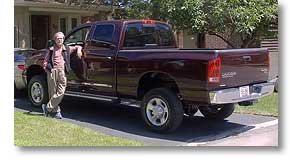 Truck Purchased

But finding the RV was easy compared to finding the truck to pull it. According to specifications and also what we've been told by people in the RV business, the only truck that can tow an RV the size and weight of our new one was a Dodge Ram 3500 High Output Turbo-Diesel. We were also told a few months ago that as the summer progressed these would become harder and harder to find. An unfortunate situation, but I wasn't willing to risk buying one before we knew for certain the house was sold. These are very pricy. So, as it turned out, the people who told us this were right because once we knew the house was indeed sold we started looking for a truck and none were to be found anywhere in Canada from Manitoba eastward that met our preferences.
Then two weeks ago I remembered one local dealership that had some when we were looking in the spring and as good fortunate would have it, they still had one truck that was close enough to what we wanted that we took it on the spot.
That's the good news. The bad news was that it was the top-of-the-line Dodge Ram model (Laramie) which meant it came with all kinds of expensive options that neither of us wanted (like leather seats) but had no choice by this time but to take it. So as pickup trucks go, ours is pretty much a luxury model. However, considering how much time we're going to be spending in it, it's probably just as well we were forced to take this one. It is a pretty cool vehicle and I've never been a big fan of pickup trucks. I can't imagine there's much out on the road with four wheels that's going to intimidate Big Larry (as it's been named in honor of it being a Laramie model).
One of my chief concerns with the truck was the mileage it was going to get, so we just filled up for the first time since buying it and got 15 MPG with mostly city driving interspersed with short drives on the freeway. After filling up we took it for a long enough freeway drive for the mileage readout to stabilize and it leveled out at 20.5 MPG which I'm happy with considering the power and weight of the vehicle. It is also supposed to improve as the engine breaks in. Towing the RV will take its toll on mileage, of course, but I expect it will still end up being nearly twice the mileage we got in the old RV, plus diesel fuel is cheaper than gas.
More photos of Big Larry can be seen by clicking here.

Car Sold

Once we had the truck purchased we had no need to keep the car, so it was listed in the local AutoTrader publication that lists used cars for sale. Plus Sandra posted it on the bulletin board at work and we put a For Sale sign in the back window and I made quite a few of the people I know aware that it was for sale.
We didn't trade it in on the truck because for several months someone had expressed an interest in buying it for his son but due to the timing of events when buying the truck it wasn't feasible to discuss it with him, so we went ahead without trading it in, figuring we'd sell it ourselves if this person ended up not taking it, which is excactly what happened.
As it turned out, we never received one call in response to the AutoTrader ad, nor did anyone we know want it, and the For Sale drew no interest either. Then one day as we were about to despair of getting rid of the car at all Sandra was talking on the phone with our lawyer concerning details of the upcoming house closing and the lawyer (a long-time friend of Sandra's) mentioned to her that she was in need of a car and that was that. She ended up buying ours and that put us over the last major hurdle we had to overcome in order to get out of here footloose and fancy-free.

Loose Ends

So that's where things stand at the moment. All that remains are tying down the loose ends, like selling off the old computer equipment and buying new that's more suitable for the new lifestyle and putting some things in storage. Everything that remains in the house on August 17 (furniture, etc) will be carted off by an auction house to be sold in an estate sale the following week and that should be the end of this traditional life and the beginning of the next as modern-day nomads.

Big Harv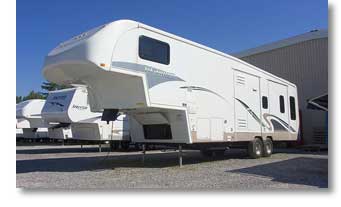 Monday, August 9, 2004 - I learned today when I took the truck down to the RV dealer for the hitch to be installed that our new RV had arrived on Saturday. The saleman took me out to see it immediately even though they hadn't yet had a chance to get it ready for viewing, so I think I was one of the first people in it other than the workers who built it.
Since I had several hours to kill while waiting for the truck I spent a lot of that time in Big Harv and taking pictures of it. I did a quick gallery of photos that can be viewed by clicking here.

Plans for this website

As of yet, we have no clear picture of what our internet connection is going to be like once we're out of the house. I'm tentatively thinking about signing up with Juno which offers dialup connections across both Canada and the US. This will no doubt be a horrible shock to my system since I've had this high speed connection for over six years now and I'll no doubt go into some kind of traumatic withdrawal, but I'll just have to deal with it. Our laptops are also capable of wireless (wi-fi) which will give us high speed connections wherever we can find wi-fi 'hotspots', which will be sporatic I expect. There are also internet cafes, although these and wireless are not the most secure connections. We could also subscribe to a satellite service but they're still expensive and I'm not sure our demands will justify the cost, so we're going to play it by ear for a while.
In any case, once we're out of the house and living in the RV I will be maintaining and updating this page on as regular a basis as I can, giving details of where we are and the events that have taken place.
So if you want to keep up with our travels, this will be the place to do it.
Happy trails until we meet again.


__________________________

To view news from our previous stops and camps, visit the News Archives.


Updated Friday, October 22, 2004

Copyright © 2004 by Gordon L Wolford .
All rights reserved.