Estate Auction

Friday, August 27, 2004 - This evening the contents of our house that had remained after two massive garage sales were put up for auction by Ken Finnerty in Kemptville, Ontario. Two days before the closing on the house sale, Ken and his team had arrived and removed everything and taken it down to his auction house and tonight was when it hit was sold off
The final result was about 3 times more than I had expected, being a cynic, and even a bit higher than Sandra's expectations, she being more optimistic.
So all in all, after the sale of the house and its contents and the car and the purchase of the RV and trucik, having made more money in some areas and less in others, after all was bought and sold and given away, we ended up financially more or less where I had expected we would be.

Our First Camp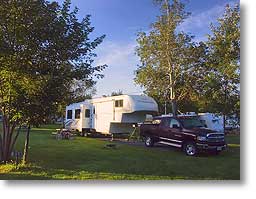 Monday, August 23, 2004 - This was the last day of our cottage weekend. We arose early in order to make the drive back to Ottawa in time for our 1pm appointment with Vos Trailers in Stittsville, Ontario to take possession of Big Harv and drive him to the campsite I'd arranged for us a couple weeks earlier, a campsite that was the all-important kind called a 'pull-through' which doesn't require backing up one's trailer to get it into or out of, an extremely important quality considering I've yet to acquire the knack of backing up a trailer, although this is high on my list of skills to acquire before we move on to other sites.
Anyway, all went as planned. We paid for Big Harv and Vos gave us the detailed tour of Big Harv's many functions and features, followed by a quick driving lesson, and then we were turned loose on our own with Big Larry pulling Big Harv.
Big Larry did fine, although he definitely felt the load of Big Harv, and we arrived in due course at the first campground of our new nomadic life, Tranquil Acres. A few days after I'd booked the site, Sandra had talked with someone who claimed to have stayed there and hated it, calling the owners 'dictators' and who charged for dumping the tanks and didn't even supply picnic tables on the sites, but my most important criteria at this point was having a pull-through campsite, so none of the criticisms had bothered me. Happily once we arrived there we found the owners to be most pleasant, a picnic table on each site, and no charge for dumping, so everything Sandra had been told proved to be completely untrue. Obviously either the campground had new owners or this other person had some sour grapes for the place. At the moment we couldn't be happier.

Weekend at the Cottage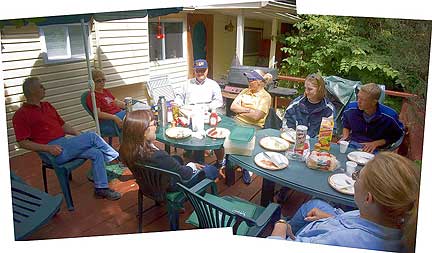 Thursday, August 19, 2004 - First thing in the morning we took a load of junk to the dump and then finished clearing out the contents of the house, which took until noon. We said our final fairwells to the house we'd lived in for 11 years (no tears were shed even though the years we spent in that house were the best years of both our lives), dropped off that last load of possessions at the storage locker, and then headed for Garth's cottage by Sturgeon Lake for the annual family weekend there, both Sandra and I hoping for a very much needed rest after the ordeal and strain of all we'd been through for the last several months getting ready for our change in lifestyle.
Five hours later we arrived at the cottage without incident, ate dinner, and went to bed early.
Friday dawned unseasonably chilly but saw both Sandra and I much more rested after sleeping until nearly ten in the morning, something almost unheard of for me as evidence to how nearly exhausted I was. Later in the day I introduced Garth to the joys of riding in Big Larry, our turbo-diesel pick-up truck, while Sandra and Betty went shopping in nearby Lindsay, Ontario.
This was also the day of the closing on the sale of our house, so near the close of business hours Sandra called our lawyer and learned the deal had closed with no complications and the money would be deposited into our account before end of the day, thus eliminating the last major obstacle to our life on the road.
Saturday, after Garth took all of us out for breakfast Betty, Sandra, and I continued on in her new Mini Cooper, driving to Bobcaygeon, Ontario where we checked out the local campgrounds for possible future use by Big Harv and the girls again went shopping while I went on the hunt for photos and found a few.
That afternoon just before we returned from Bobcaygeon the DeJongs arrived along with Nicholas's girlfriend Becky and things got a lot busier. Dinner that evening was followed by the annual birthday party.
Sunday saw the unusually chilly weather continuing, too nippy for me to go into the lake even once over the weekend, and I continued my regimen of rest and relaxation, except for grilling the hot dogs for lunch.

Ian & Tracy's Wedding Photos Posted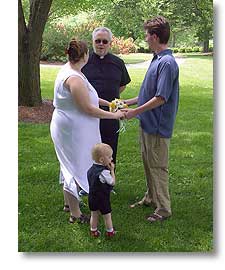 Monday, August 16, 2004 - I finally got around to processing the photos I took on May 22, 2004 at the wedding of my son Ian to Tracy, the mother of Ian's son Caden. The photos can be viewed by clicking here.
The wedding, quite informal and limited to close family only, took place on the grounds of the Cox Arboretum in Dayton, Ohio and was smiled upon by favorable weather and officiated over by Ian's Uncle Phil.
Those who attended met after the ceremony for a celebratory dinner at a nearby restaurant in Centerville, Ohio that I can no longer remember the name of.

First of New Computers


Friday, August 13, 2004 - The computers we've been using here for the last few years are too heavy or slow to take with us in the RV, so we're either selling off the equipment or storing it and replacing it with new or updated.
The first to be obtained is a Mac 12" PowerBook that will replace my desktop G4 Mac and G3 iBook. At 1.33 GHz it is noticeably faster than my old 733 MHz but still nowhere near the speed of the new desktop G5 Macs, which are even bigger and heavier than the G4 I just got rid of.



__________________________

To view news from our previous stops and camps, visit the News Archives.


Updated Thursday, August 24, 2006

Copyright © 2004 by Gordon L Wolford .
All rights reserved.