Now in Laredo, Texas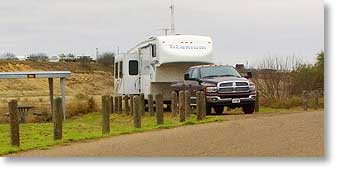 Thursday, February 17, 2005 - This morning, we made the 4 hour drive from San Benito to Laredo, Texas. The weather was cloudy and cool with drizzly rain at times. I was glad it was cooler which is better for towing, but because of the rain and all the road dirt that got sprayed up by traffic, both truck and RV are now quite filthy.
Anyway, it was a safe and otherwise uneventful trip that culminated with us camped on a site in the Lake Casa Blanca International State Park which is located at the northeast city limits. When we registered, we asked the girl at the counter for the easiest spot she had for backing a 38 foot RV into. What she assigned us was probably the hardest one in the entire campground we found out later. Not only is the park road lined on both sides with wooden posts, as can be seen in the photo above, so is the campsite. I can't imagine what idiot came up with that plan, but it sure made backing the RV into it something akin to threading a needle. As can also be seen in the photo, I managed with Sandra's assistance to get backed in successfully, but it was certainly a squeeze and our neighbor thought I had to be a truck driver to have managed this, because they didn't think it was possible when we started.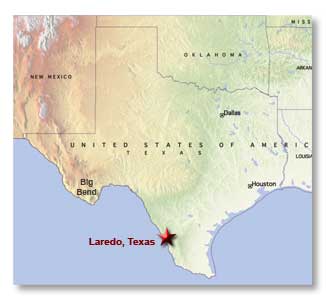 After getting everything setup we headed into Laredo to see what the city looked like and to check out the local wireless network situation. The city is visually something of a cross between Brownsville and Harlingen. Not as rundown and safer-looking than Brownsville, but not as prosperous-looking as Harlingen. Laredo also has a couple 'historic' districts downtown that don't look all that historic, at least not as I'd envisioned them before actually seeing them, but they do have spots that are interesting.
The wireless network situation looks pretty good. Although there's none here in the park, we found a couple open wi-fi networks 3 miles from here as well as quite a few downtown which is 7 miles from here.
We have signed up to be here over the weekend and will probably continue Monday morning on the next leg of our journey to Big Bend National Park.

Third Drive to South Padre Island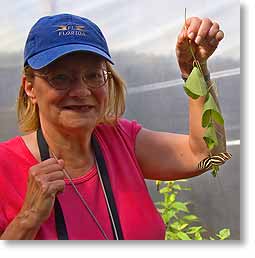 Wednesday, February 16, 2005 - Yesterday afternoon, we decided to take advantage of a sunny and warm day to make the 45 minute drive over to the Gulf coast one more time, probably the last before returning to Ontario in a couple months.
On the way, we dropped in on the Bird & Butterfly Farm near Los Fresnos, Texas, a small town at the halfway point of the drive. I wasn't expecting much and on our arrival it didn't look like much, plus they wanted a $6/head admission fee, but someone who was leaving as we arrived said it was worth it, so we took the tour and were glad we did. The woman who runs the place showed us around and we were able to get into the different areas.
The species of birds and butterflies she had were limited, but since the critters couldn't go very far, I was able to get some worthwhile photos of those she did have.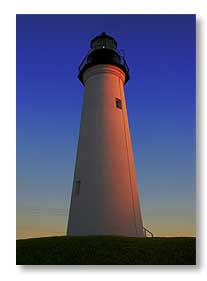 The photo above of Sandra is her holding a piece of vine that Zebra Butterflies love to lay eggs on and sure enough, it wasn't long before the one that can be seen at the bottom of the vine had lit on it and was indeed laying an egg as I took this shot.
Then it was on to the coast at Port Isabel and over the causeway to South Padre Island, where the first thing we did was to visit the McDonald's Restaurant for a pitstop and to take advantage of the open wi-fi network they offer.
After getting caught up on internet activities, we drove up to the sand dunes north of town, walked the beach for a while, then drove back to Port Isabel where I was hoping to get some sunset photos.
Unfortunately, the sunset wasn't spectacular but I did get some interesting dusk and twilight photos in both Port Isabel and South Padre Island. The photo on the right is the Port Isabel Lighthouse at dusk.
It is a very pretty area but drives a photographer nuts due to all the power lines and poles that seem to be everywhere.
Anyway, we are still planning to head further west tomorrow. We're not sure exactly how far since the truck will be due for its next scheduled maintenance at some point during the drive to Big Bend, so this will cause a short stopover at either Laredo or Del Rio.

Definitive Plans

Sunday, February 13, 2005 - Sandra has decided we want to stay in Harlingen a while longer, so we just extended our stay here until Thursday morning. The weather is finally looking up and it does seem a shame to pack up and move on until we take some advantage of it.
As I write this (3pm) we have mostly clear skies for the first time in at least two weeks and it is actually what I'd call hot, rather than warm, being 86°F/30°C in the shade. We had to turn the air on for the first time since last summer.

Santa Ana National Wildlife Refuge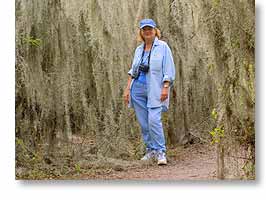 Sunday, February 13, 2005 - Yesterday the cloud cover started to break up so we headed west in the truck to do some shopping and see some sights. One of the sights was the Santa Ana National Wildlife Refuge which we'd read quite a bit about. It is a 45 minute drive from here so we didn't want to drive that far until the weather was good enough for shooting photos.
Things started out well when we found the entrance fee was only $3. First thing we did was go to the Visitor's Center to see what there was to be seen (I'm still hoping for a view of the Rio Grande, a sight that continues to elude me).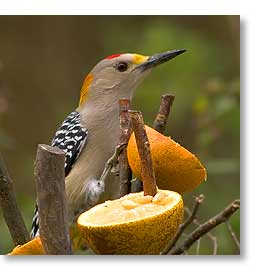 The refuge looked like an interesting place and I'm sure it must be, but we never saw much of it. Turned out they close the road through the refuge during the winter and the only way to see the interior of it is to take their tram tour (which we didn't know until it was too late to catch the last one of the day) or take one of their miles-long hiking trails. Since Sandra's back will no longer allow her to walk for extended periods of time, the longer hiking trails were out of the question, as therefore was my view of the Rio Grande.
So we took their short half mile trail that went along part of the Refuge's Willow Lake, where we saw very little wildlife, certainly none of note except close to the Visitors Center where they put out oranges to attract some birds, like the Gila Woodpecker shown here, which was about as good as I could do there. We were certainly spoiled in this regard during our stay in Rockport, Texas where wildlife was virtually teeming right in the city. In fact, the Raintree RV Park where we spent our last week in Rockport had more wildlife than we saw in the Santa Ana NWR. This is the second NWR we've been to and been disappointed by how little wildlife there was to see.
Anyway, enough whining. Above is a photo I took of Sandra among the Spanish Moss that abounded along that part of the Willow Lake trail. Click on the photo for a closer look at her.

Continuing Wi-Fi Improvements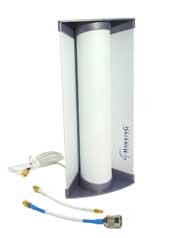 Sunday, February 13, 2005 - One thing I did during the long period of cloudy weather we just had was to do a bit of research online for where to buy a high-gain antenna to use with my new wireless ethernet adapter. Since the campground here doesn't accept deliveries, this ruled out ordering something off the internet and meant I'd have to buy locally.
My research told me CompUSA was the most likely retailer in the area to have something in stock and there's a CompUSA in McAllen which is just a few miles north of the Santa Ana National Wildlife Refuge.
So while we were in that neighborhood to see the refuge, we also visited the CompUSA store, where they did indeed have quite a selection of wireless network products, including a number of higher gain antennas.
The highest gain model they had, and the one I bought, is a Hawking Hi-Gain Wireless Corner Antenna which claims 15dBi gain, compared to the 2dBi gain of my adapter's built-in antennas. I've seen higher gain antennas advertised online but those are specialized antennas and would be a bit cumbersome to use in the truck. The Hawking model though, being only 8 inches tall and intended to be used vertically as shown can be easily placed almost anywhere in the cab of the truck on the supplied 5 foot cable that connects it to one of the adapter box's antenna jacks. However, since this is a directional antenna and focuses the signal from the normal 360° pattern down to a 90° pattern, I'm operating under the assumption that for health reasons we shouldn't be sitting directly in its signal path, even though the only caution noted in the manual was not to touch it while it's in use. Better safe than sorry, although I doubt there's much more radiation from it than from a cell phone within inches of one's head.
Anyway, unlike many of the other antennas CompUSA had, the Hawking antenna has the advantage of coming with the connector that mates directly with my adapter box's antenna jacks, as well as being self-contained requiring no external power source or software to install and doesn't look like what it is. To me it looks more like a small camping fluorescent lamp or a bug zapper than it does a high gain antenna, which will make it easier to use and still be as inconspicuous about it as possible.
As to how effective it is, I've only given it one quick test. There's an RVer here in the campground that puts his satellite internet link onto wi-fi but since he moved further away a few days ago and they also put several RVs between us I can no longer connect to him from the RV even with the wireless ethernet adapter (no matter what I do), but with the high-gain antenna I was able to connect well enough to get email, but the connection was really too slow to be usable for uploading my photos. However, the antenna did prove to be effective.

Tentative Plans

Thursday, February 10, 2005 - As things stand now, Monday we are due to depart this area and move further west, departing coastal areas for the first time since arriving in Chocowinity, North Carolina back in mid-November, planning to be two days on the road and ending up for an extended stay in or near Big Bend National Park, where I hope to take some serious photos of western landscapes and scenery as the terrain there looks to be completely different than in eastern North America.
Our stay in Harlingen/San Benito has been enjoyable and has seen us through what might have been (hopefully) the worst of the winter with moderate to warm weather, even if cloudy for nearly the whole time. The forecast is for the cloud cover to start breaking up tomorrow and to be nice next week.



__________________________

For Older News

To read details of our previous stops and camps, visit the News Archives.


Updated Monday, February 21, 2005

Copyright © 2005 by Gordon L Wolford .
All rights reserved.