Good Clean 'Fun'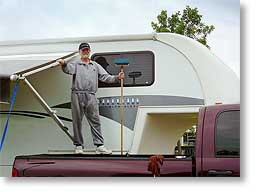 Friday, August 25, 2006 - My normally sane, logical, level-headed wonderful wife now and then gets these wild crazy ideas that end up involving me having to do intense manual labor, like a few days ago when she decided the RV needed to be washed.
Personally, I thought the grey roof was a better match for the striping on the sides of the RV than when the roof had been new and glaring white. I thought the streaks and black spots added some interest where there had been none before.
However, none of my views on this deterred her from this desire she had for the RV to once again be boring old plain white.
So, day before yesterday, at great risk to life and limb I spent half the day up on the RV's roof with mop, sponges, rags, buckets, cleansers, and water hose, scrubbing away all that beautiful grey and eradicating all those marvelous black spots. There is no guard rail around the roof and at almost 60 years of age I'm no longer agile as a cat, so since one misstep on that slippery wet surface could have had dire consequences, half my effort up there was spent avoiding disaster.
Yesterday was then spent recovering.
However, a day of rest was all I was to get before I had to do the same to the upper areas of the sides, front, and rear of the RV where most of the roof's grunge had ended up, taking another half day, again at great risk to life and limb, and this time getting soaked in the process. The photo above shows me in the midst of having all this fun, hanging on for dear life.
Washing the RV makes washing the truck look like a day in the park, but it's done now, and, of course, like washing a car, we were no sooner finished than it started to rain.

Milestone Anniversary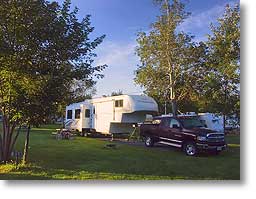 Thursday, August 24, 2006 - Yesterday was a milestone in Sandra's and my nomadic lifestyle as it marked the second anniversary of us starting our odyssey around North America.
Two years ago yesterday we left Lindsay, Ontario after the 2004 Cottage Weekend and drove to Stittsville west of Ottawa, took possession of our new fifth wheel RV, towed it to Tranquil Acres Campground near Carleton Place, Ontario, where we setup our first camp (as seen in the photo on the left).
We've seen, learned, and experienced a lot since then, driving the truck around 60,000 miles (97,000 km), 22,000 miles (35,000 km) of that towing the RV, and taking nearly 50,000 photographs of everything from the coasts of both the Atlantic and Pacific, to mountains and plains, deserts and swamps. Towing the RV is no longer nerve-wracking and although I still prefer the ease of pull-through campsites, backing into a normal campsite is no longer something I dread.
We've solved the difficulties of mobile communications. Starting out, we had no telephone service except a cell phone that incurred exorbitant roaming fees when outside its very limited coverage around Ottawa only, which relegated it to emergency use only, internet access only via sporadic wi-fi connections where we could find them, and TV reception mostly from local broadcasts, which was better than nothing but next to it, except in campgrounds that offered a cable feed which are found only in warmer climates. We now have telephone coverage around most of North America at no extra cost above our monthly fee, internet access 24/7 via satellite from the comfort of our recliners, and now over 200 channels of crisp clear TV and radio also via satellite. So, for all practical purposes the communications we have now is not significantly less capable than what we had at the house, just more expensive.
In a couple months we'll be starting our third winter tour in the US. As of yet, we're still undecided as to exactly where we're going. Down the east coast starting at New York City and ending up in Florida is the most likely route at the moment. After the lengthy and rigorous tour we did in the far west last winter, something less demanding and over mostly flat ground has its appeal. We both would like to spend some time near the ocean.
On the other hand, I'd also like to see new territory to photograph and am looking at going west again as far as the eastern side of the Rocky Mountains and traveling south along that to Texas, but that tour will probably wait until next year.

Cottage Weekend 2006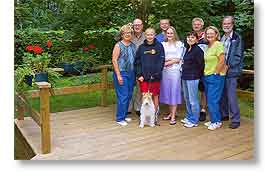 Sunday, August 20, 2006 - Today ended the annual Cottage Weekend of Sandra's family, always most graciously hosted by Betty and Garth at their cottages near Lindsay, Ontario.
It turned out to be fairly typical for these events, lots of good food, lots of fun boating and swimming in Sturgeon Lake (although Sandra and I didn't go in the water ourselves), walks along the road to the boathouses, sitting out on the dock watching the activity on the lake, and the collective birthday dinner and gift exchange for those whose birthdays fall around this time of the year.
The weather was good until today which dawned to cooler temperatures, fog and rain, the rain ending by noon, although the clouds remained throughout the day.
As these events go, this one was fairly quiet – Sandra and I being fairly subdued, still grieving over the loss of our dog Bib, Nicholas and Danica have grown up, only one dog now in the family, and just Sandra's immediate family in attendance, as pictured above.
Shown on Garth and Betty's renovated and expanded deck are l-r: Betty, Garth, Danica holding a most cooperative Jasper on leash, the newlyweds of 3 weeks Nick & Becky, Margie, John, Sandra, and myself.
For Sandra's account of the weekend, click here.

One of the Saddest Days of My Life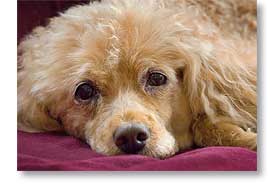 Wednesday, August 16, 2006 - It is with very heavy heart that i report today we put Bib, our dog of 12 years, to sleep.
His health had begun deteriorating rapidly over the last few weeks with bouts of unexplained diarrhea, periods of hacking coughing, not eating or drinking and listlessness, then increased vomiting until last night he was puking throughout the living room of the RV.
On his trip to the vet Saturday, the vet offered to put him down then, but we decided to give Bib a little more time. By today though it was clear he had serious health problems and rather than put him through an extended period in the animal hospital away from Sandra and myself, surrounded by strangers and not understanding what was happening to him, with little likelihood he would return to good health, we decided putting him to sleep was the best course of action for all concerned.
So, today at 4pm we took him back to the vet's where he was given two injections and suffered nothing worse than a pin prick while Sandra and I held him and scratched his ears while he calmly and with a lot of grace and class left to find his beloved Nanny (Sandra's late mother who he loved as much as us, if not more).
For Sandra's account of this event and a bit of Bib's biography, click here.

A Couple Noteworthy Items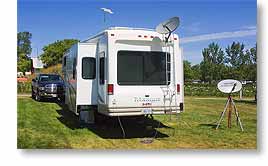 Saturday, August 12, 2006 - By noon it had already been an eventful day, for what we're used to anyway.
First thing we had to do was take the dog to the local animal hospital because he seemed to be gagging on something. Turns out it looks like he had cleared the blockage himself during the night but had hurt his throat in the process. Cost $90 to find this out.
That's the bad news of the day. The good news is we finally bit the bullet and got signed up and set up with satellite TV. Yayyyy!!!
Most campgrounds in the southern USA have cable or satellite TV feeds to the campsites, but campgrounds in the north have a much shorter season and can't really afford to offer this, so when in Canada we've had to rely on what broadcast TV we can receive with the RV's TV antenna, which is not only limited but if you think American TV is bad (as I do), Canadian TV is even worse. And to make worse even worse, reception is often poor so the few channels we can get are snowy and changing channels usually meant repointing the antenna as well. Better than nothing, but next to it.
So yesterday we stopped in at 3i Communications where we bought our satellite internet system to talk with them about the attachment they sell for also receiving TV on the same dish. Getting some satisfactory answers, we went from there to The Source (formerly Radio Shack Canada) and bought a Star Choice satellite receiver and today the installer arrived (early at that) and had us set up with satellite TV in very short order.
We went with Star Choice because they are RV-friendly, whereas our only other real choice was Bell ExpressVu which isn't. We could have signed up with an American company while we were there last winter, but they don't offer Canadian programming whereas Canadian satellite companies offer both and as bad as Canadian TV is, we live here six months of the year and it is useful to receive local programming.
To explain why Canadian TV is so bad (and it isn't really all bad), all the good Canadian performers end up in the US, which sadly doesn't leave much behind.
Anyway, I digress. Even though we plan to use the internet dish for the TV as well as internet, we went ahead and had the installer do a standard installation on the RV which gives us that option if we ever need it.
In the photo above you can see all this (click on it for a larger view). The rig looks like a small antenna farm at the moment, but if everything works out as it should, we'll be back to using just the one dish on the tripod, the RV's TV antenna will hopefully never need to be cranked up again, and instead of just a few channels of bad or worse TV, depending where we are, we now have so many channels of bad and worse it will take weeks just to sort them all out.

Now Near Lindsay, Ontario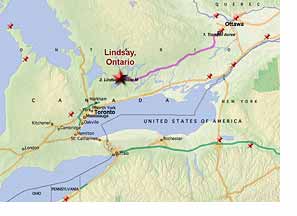 Wednesday, August 9, 2006 - Today dawned downright nippy, but for me it was a wonderful change from all the weeks of heat and humidity we've had.
Then, as planned, we packed up and moved from Carleton Place to Lindsay, Ontario in the Kawartha Lakes region.
The day turned out to be perfect for traveling - sunny clear skies, turning pleasantly warm, and with light traffic.
From Carleton Place, the best road to Lindsay is two-lane Highway 7 rather than dropping down to the 401 freeway, which is a faster road but considerably out of the way.
We left at the stroke of 10am, getting out of our campsite we managed to make a rather tight turn without incident , and then had an almost leisurely 168 mile (270 km) drive to the Double M RV Resort & Campground just south of Lindsay, arriving around 1:30pm, for a 3.5 hour trip.
The campsite they originally had in mind for us, located close to the banks of the Scugog River and therefore scenic, sadly turned out to be too unlevel for us to compensate for (we really do need a taller set of leveling blocks), as was the next site we tried (that required a wasted but still masterful backing in maneuver). Happily though, third time was the charm since the third site we tried was not only within leveling range but a pull-through, so here we are.

Out of sight, but not out of mind

On a different topic, yesterday I drove into Stittsville to visit a former client, Ellen, who I also count as a friend. Happily, the visit was just to catch up on what was new with each other and not (gasp!) for me to go back to work. She's working for a different company now than when we were associated and the new company has grown over the last two or three years and just moved into larger and better facilities which I was also quite interested in seeing. An added bonus of the visit was the pleasant surprise of finding that Ellen has hired a former coworker of ours, Joy, so it was a 'joy'ful reunion in more ways than one.
Along a similar line, I didn't report it then but a week ago I also visited with other friends, meeting for lunch with a group of guys (LeRoy, Neil, & Laurence) I've gotten to know over the years through our mutual interest in Macintosh computers. At one time there were five of us, but one of the group (Ross) retired and moved to Italy and, of course, I'm not around Ottawa most of the year myself, but when I am in town it's always pleasant to continue the 'fishy lunch' tradition with the four of us who can still make it (Ross, for reasons known only to him, does not appear to find our scintillating and sparkling repartee worth flying in from Europe for...his loss).

Back to Normal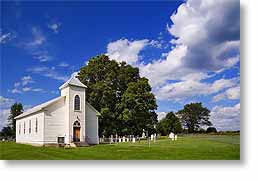 Tuesday, August 8, 2006 - I'm happy to report the last few days have seen the weather return to the normal beautiful Ottawa summer we expect up here. The high humidity and temperatures have dropped to very comfortable levels.
This can be seen by the clear blue sky in the photo here of the no longer used St. Patrick's Catholic Church in the little hamlet of Ferguson Falls, Ontario.
The photo was taken yesterday on a drive Sandra and I took to see the Purdon Conservation Area that people here at the campground told me about. The Purdon CA is 30 miles southwest of here near Lanark, Ontario and famous for its colony of Showy Lady's Slipper Orchids, the largest colony of these flowers in Canada. Unfortunately, we were about a month late to see them, but it's always interesting to walk through these conservation areas and Purdon CA has a nice boardwalk.
It also has a scenic overlook that looks over little but the trees and bushes that have been allowed to grow up around it, obstructing most of the view. We saw this a lot during our trip out west and it just baffles me (as well as really annoys me). Why have a scenic overlook and then not keep the view from it clear?
Anyway, it was a gorgeous day for a drive in the country and to see an area of the province I had never seen before.
Tomorrow, we are to pack up and move to Lindsay, Ontario in the Kawartha Lakes district near Garth's cottages for a month's stay.
For Sandra's account of the day, click here.

Record Heat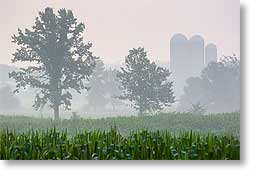 Wednesday, August 2, 2006 - Wow! Yesterday was a scorcher, so rare for the Ottawa area. In fact, it was hotter here than it was in Mesa, Arizona!
The hottest I can remember seeing it in Ottawa was 99°F/37°C a few years ago at the house. I personally had never seen it get over 100F/37.8C here, but that ended yesterday when our digital thermometer registered a reading of 102.7°F/39.3°C in the shade under the RV.
However, according to the weather service the temperature here officially only reached 99.3°F/36.3°C, which is still hot by anyone's standards, especially with the humidity that accompanied the heat. Going out of the RV was like walking into a sauna. Yuck! Reminds me of summers in Ohio. It's not supposed to be quite as hot today, but it's already quite warm still early in the day. A 'cold' front is due tomorrow.
The photo above (click on it for a larger view) was what it looked like down the road from the campground at dawn. Humidity so thick you could have cut it with a knife.
For Sandra's account of the day, click here.


__________________________

For Older News

To read details of our previous stops and camps, visit the News Archives.


Updated Tuesday, September 5, 2006

Copyright © 2006 by Gordon L Wolford .
All rights reserved.