Now in Austin, the Capital of Texas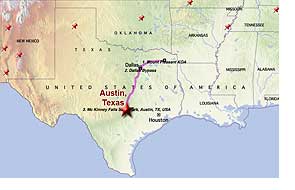 Friday, November 10, 2006 - Yesterday we made the 323 mile (520 km) move from Mount Pleasant, Texas to Austin, Texas. From about an hour east of Dallas, and around the Dallas bypass, and then south through Hillsboro, West, Waco, Temple, and Austin, we hardly had a break in traffic long enough to catch our breath. It was the most arduous grueling tow we've done, at least in sunny hot weather. Hundreds of miles of almost non-stop traffic, the majority of which was 18-wheeler trucks and in long stretches those were all there was. And also in long stretches, road construction complete with the dreaded concrete barriers lining the lanes, and in one spot, a freeway entrance ramp that reduced down to one barrier-lined lane so narrow and which also curved at the same time, I still don't know how we made it through there without scraping the sides. But, the 18-wheelers made it through unscathed, so we probably cleared the concrete walls by more than it felt like.
And it wasn't just heavy traffic. The whole drive we were driving into stiff headwinds and crosswinds, so it felt like we were going uphill the entire time and with the ensuing drop in mileage.
Then, there was the occasional jerk we had to deal with. Like when we were nearing a rest area we needed for a pitstop and just as we were approaching it an 18-wheeler roared past us and then cut us off as it swerved into our lane in front of us with barely room enough for it between us and the car ahead of us. I had to stand on the brakes as the trucker slammed on his brakes to keep from hitting the car ahead of us and when we got to the rest area we found it was nearly full, so I assume the trucker had called ahead on his radio and knew this and was trying to beat everyone he could into the rest area, which was one that didn't use pull-through parking for large vehicles, so we ending up having to parallel park the rig behind the jerk who'd cut us off. I was sorely tempted to tell him what I thought of him, but this is Texas and you're as likely to get shot as anything else, so I consoled myself by imagining he was the urinal as I was relieving myself in the men's room.
Then, we had to slam on the brakes again as we came around a curve in downtown Austin and were faced with traffic at a dead stop on the freeway (Surprise!) and were lucky not to be rearended ourselves. This was only one of three times that traffic jams came to a standstill during this horrible drive.
Then, after going through all that, we get to the state park we were planning to spend a week at, McKinney Falls State Park, only to find we can only spend one night as they are booked solid for the weekend. Hey, having fun in Texas!
Needless to say, I was exhausted by the time we got setup. Not sure what there is to see in Austin, but here we are and I need a break, so later today we'll move to another campground nearby and try to relax. At least it's warm, sunny, and dry here, so we don't have to keep ahead of freezing weather.
For Sandra's account of yesterday, click here.

Overnighting in Mount Pleasant, Texas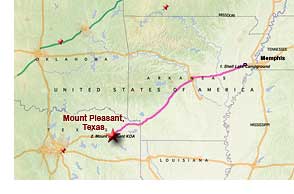 Wednesday, November 8, 2006 - We made it to Mount Pleasant, Texas as planned, leaving Heth, Arkansas at 9:40am and arriving here 5.5 hours later at 3:10pm.
We are in the Mount Pleasant KOA, but the big news of the day is that during the drive it was sunny the whole way and we finally got some truly warm weather. For a good part of the afternoon the temperature reached 86°F/30°C and we had to shed the sweaters and jackets and were down to shirt sleeves and traveling with Sandra's window cranked down in the truck. It was great. Trees still have their leaves and several times when driving by groves of pines the pine aroma was almost overwhelming.
The KOA here has cable TV so I didn't have to setup the satellite TV. They also have free wireless, however as is often the case with wi-fi, the router gets confused and while it appears it is seeing the internet, nothing loads. So fortunately, even though we are surrounded by trees here, I was able to access our internet satellite.
Tomorrow morning we are to drive around Dallas and head due south toward San Antonio, but doubt we make it in one day.
For Sandra's account of the day, click here.

Heading for Mount Pleasant, Texas

Wednesday, November 8, 2006 - It looks like Sandra is feeling well enough today for us to continue on with our trek, so we are looking at making it as far as Mount Pleasant, Texas, a drive of 312 miles (502 km) which will put us about a 100 miles (161 km) from Dallas and another day's drive from there to San Antonio where we're looking at spending a few days. Got to see the Alamo, if nothing else.
As I write this, it is as warm in Ottawa as it is here near Memphis, Tennessee. Hard to believe. There's just no understanding the weather.

Still Near Memphis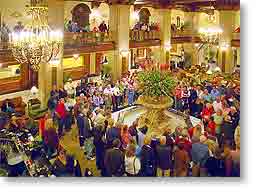 Tuesday, November 7, 2006 - The weather turned rainy after our visit to Memphis on Sunday and rained all day yesterday, which means we didn't travel since I won't tow in the rain if I have a choice. Rain! So what else is new? At least the weather has been mild enough the electric heater can handle keeping us warm enough at night.
We were planning on leaving today, cloudy but no rain, however Sandra was ill during the night and didn't feel like traveling today, so here we are still near Memphis. Hopefully, she'll be well enough we'll be able to leave tomorrow and if so, should be able finally reach Texas.
After we got back Sunday from our excursion into the city, Sandra did a bit of research and learned that Memphis is one of the most dangerous cities in the US! I'd had no idea or I'd have been much more careful about where we had walked in downtown Memphis. I'm particularly glad now that I listened to my instincts and returned to the truck when we did.
According to the Morgan Quitno Press website, in US Cities with population greater than 75,000, Memphis is the 13th most dangerous. In US Cities with population greater than 500,000, Memphis is the 3rd most dangerous. In US greater metropolitan areas, Memphis is the 2nd most dangerous! Yeesh! We're lucky we survived!
Also, according to Traveler's Digest, the US is the world's 9th most dangerous location, not far behind Israel and Iraq, so I think I'll make a more serious effort to avoid big cities as much as possible and keep my focus on nature and landscape photography.
The photo above was taken Sunday in the lobby of The Peabody Memphis hotel, showing the crowd that gathered for that evening's traditional March of the Ducks, where ducks that spend the day swimming around in that fountain call it quits for the day and march out of the fountain and along a red carpet and into an elevator that takes them to their quarters for the night. We got there too late to get a good view, since the crowd was too thick, but it was still interesting.

We Do Memphis For Our 16th Anniversary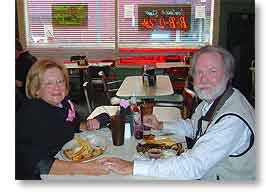 Sunday, November 5, 2006 - On this day sixteen years ago, Sandra and I were married in Gatlinburg, Tennessee. Today we visited and toured Memphis, Tennessee. We hadn't specifically planned to be in Tennessee for our anniversary, but it's interesting it worked out that way.
Memphis, being on the Mississippi River, was a moderately interesting place, but can't say I was terribly impressed. There were some nice parks and residential areas along the banks of the Mississippi, and Beale Street (photo below on the left, the city's equivalent to Bourbon Street in New Orleans but without the charm and on a much smaller scale) was somewhat entertaining, but in walking around much of downtown we encountered too many loitering young males of questionable integrity to feel safe. Nothing happened, but I'm glad it wasn't dark when we did that. Beale Street and the immediate area around it felt safe enough, but overall that's a very small area of the city.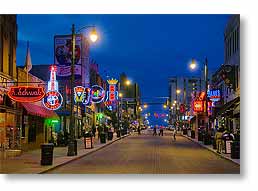 We drove through a lot of the city, trying to find Elvis Presley's Graceland, and as we had found New Orleans when we visited there, we found the vast majority of Memphis to be seedy and dumpy.
So, I'm glad to have seen the place, but once will be enough.
We did eventually find Graceland, but neither of us have enough interest in Elvis to spend $50 between us to see the place, and you couldn't really see much of the mansion from the road due to the trees around it blocking most of the view.
The photo above on the right is of our anniversary dinner at the Blues City Cafe on Beale Street. They claim to have the best meal on Beale and since they were the only eating establishment we saw that was doing any kind of business, we ate there. Sandra had catfish and I had their famous (according to them) BBQ ribs. The ribs were okay, but were barely warm when served to me. I ordered a glass of red wine and it was served in a plastic cup (real class), so the dinner ended up being like the rest of the city and our visit to it, okay but fairly mediocre and forgettable.
For Sandra's account of this day, click here.

Now Near Memphis, Tennessee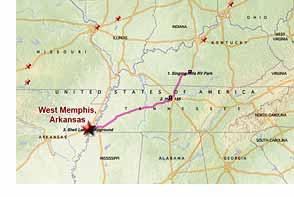 Saturday, November 4, 2006 - We left Cave City around 9:15am this morning in chilly but sunny weather. The temperature last night didn't drop as far as predicted, 30°F instead of 25, but it was still below freezing which means I had to make sure the furnace didn't run out of propane during the night, so sleep was sporadic.
Anyway, today's drive was 331 miles (532 km) and went through Nashville and Memphis, Tennessee, ending 20 miles west of Memphis in West Memphis, Arkansas. Actually, it's Heth, Arkansas but whoever heard of Heth? It's basically an interchange on a freeway.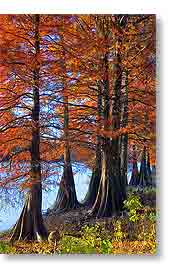 We are in the Shell Lake Campground. It used to be the Lakeside KOA, but is now associated with the Super 8 Motel that's next door. It's not much of a campground, but it's right off the freeway and across the road from a TA truck stop that has a Taco Bell. It also has pull-through campsites and we have a clear view of the internet satellite, but the facilities look like they've had no maintenance done to them in years. Very rundown.
We aren't sure if we're just going to overnight here or maybe stay a day or two. The forecast is for rain moving in late tomorrow, but warmer. Apparently, the temperature at night was even dropping to freezing around here lately, so I can't say we're far enough south yet to be safe from that threat, but the upcoming week is looking good with highs in the 70sF and lows in the 50sF.
Neither of us has ever seen Memphis, so it's tempting to hang around long enough to at least visit Graceland. We're also both very tired and the thought of a couple days rest and leisurely seeing some sights along the Mississippi River is quite appealing.
The photo here is of the cypress trees that line the banks of Shell Lake behind the RV.
For Sandra's account of the day, click here.

Overnighting in Cave City, Kentucky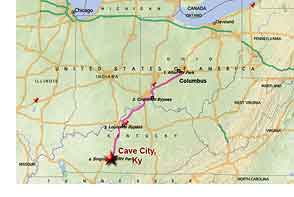 Friday, November 3, 2006 - We left the RV park near Columbus, Ohio at 10:17am EST this morning under clear sunny skies, but barely above freezing, and arrived at the Singing Hills Campground just outside Cave City, Kentucky at 3pm CST for a drive of 311 miles that took 5 hours and 43 minutes.
If Cave City sounds familiar, Sandra and I stopped here on our return to Canada in April, 2005 and spent a few days so I could visit Mammoth Cave. This time we are just spending the night before continuing on tomorrow, hoping to get as far as Memphis, Tennessee.
The truck performed well today. In fact, the cruise control has vastly improved and I don't know how that could relate to having the lift pump replaced, but the improvement was unmistakable.
For Sandra's account of the day, click here.

Hopefully Back On Trek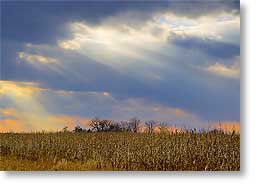 Friday, November 3, 2006 - Midafternoon yesterday we got the truck back, so hopefully we'll be able to get back on our southward trek this morning, once the sun rises and warms things up.
Right now it's two hours before dawn and once again, it's colder here than up north in Ottawa, the temperature here being 20°F/-6°C, way below freezing, and we can't tow until it gets above freezing or risk having the plumbing in the RV freeze up and split. Otherwise, we'd have to winterize the RV and that's something I don't know how to do, don't want to have to do, nor am equipped to do.
Fortunately, according to the forecast, this is the last night for the next few days that's supposed to drop below freezing, here or anywhere along the trek southward, so as long as we encounter no further delays enroute to Texas, we should be okay.
The photo above was taken last evening out in the countryside near here, during our test drive of the truck, which not only runs again, but runs smoother. However, it will have to get us to Texas with no more failures before my confidence is restored in it.
For Sandra's more detailed account of yesterday, click here.

Stranded in Columbus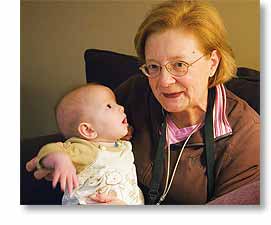 Wednesday, November 1, 2006 - Yesterday, we drove to my daughter's house and saw her family, including Luke, the newest of the grandchildren at 5.5 months old. Here he is admiring his grammy, thinking she's pretty cool, having given her a big radiant smile the first time he set eyes on her. Obviously going to be a ladies man when he gets older. Little charmer.
Unfortunately, Sandra and I were just too exhausted to do the rest of the family visits, my son in Dayton and my sister near Cincinnati.
Then this morning on my way back from fueling up the truck in preparation for continuing the southward trek, the truck died and I was lucky to be able to coast into the RV park, power steering also dead.
While this was very upsetting and destroys my confidence in the truck, it could have happened at a far worse time and place, although it's delaying us enough to let the latest cold front catch up with us. It's currently warmer in Ottawa than it is here in Columbus! Just can't get away from this bloody weather!
Having emergency roadside assistance and having paid for the extended warranty when we bought the truck, it was towed to the nearby Dodge dealer at no expense to us and the Dodge dealer got onto finding the problem fairly quickly, discovering the lift pump (a kind of a fuel pump) had failed. This will be covered by the extended warranty, but unfortunately they didn't have the pump in stock, which means we have to wait at least one day, so until the repair is done they gave us a rental car to drive, the cost of that also covered by the warranty.
So, while this has been very distressing, it could have been much worse.
For Sandra's account of the visit with Michelle and the truck failure, click here and here.


__________________________

For Older News

To read details of our previous stops and camps, visit the News Archives.


Updated Saturday, November 11, 2006

Copyright © 2006 by Gordon L Wolford .
All rights reserved.