Our Christmas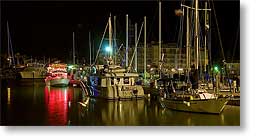 Tuesday, December 26, 2006 - Today is what's called Boxing Day in Canada, the day after Christmas.
Our Christmas turned out to be mostly sunny, but quite chilly due mainly to very high wind. The temperature almost reached 60°F/16°C which would normally have been pleasant, especially in the sun, but the wind made it too uncomfortable to be outside.
Anyway, as planned we attended the RV resort's potluck. It was okay for Sandra, but by the time we got into the food line there wasn't much left that didn't contain gluten, so I got the short end of the meal this time. I didn't starve, but it won't go down as one of our more memorable potlucks.
However, I ended up sitting next to a couple from Amarillo, Texas, so I learned a bit from them about that area and a few other places out west, so the event wasn't a total waste.
After the potluck, we vegged around the RV for a while. I went out near sunset to see if there were any photos to be found and did get a couple. Then after dark Sandra decided she wanted us to drive around and look at Christmas lights, something of a Christmas tradition with us. There were quite a few lights on the businesses, but we found that only a small percentage of the houses were decorated. We finished off the drive by going by the marina and saw only one of the private boats was decorated (photo above).
For Sandra's account of Christmas, click here.

Merry Christmas To All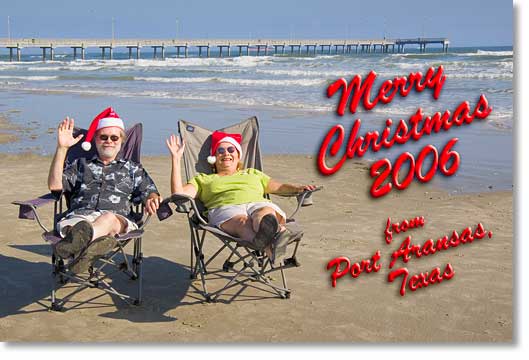 Saturday, December 23, 2006 - Well, here we are, preparing to celebrate our third Christmas on the road. The photo above, as usual for my Christmas photos, is to serve as my Christmas card to you. Click on it for the larger version which, if so inclined, should print out very well up to 5 x 7 inches.
It was taken a few days ago when it was quite sunny and warm (such is currently not the case). The pier in the distance is the Horace Caldwell Pier (a.k.a. the Port Aransas Pier) and I'm usually somewhere near it when there's a sunrise to photograph since I get a clear view of the sun there as it appears to come up out of the water of the Gulf. Most people, however, fish from the pier or surf near it. The beach in the photo is just one very small section of an 18 mile long stretch of public beach, in other words, the entire eastern shore of Mustang Island.
Unfortunately, not all our time here has been as ideal as the day we took the photo. As I write this, it has clouded over, become quite windy, and rained a few times as yet another cold front is moving in to cool things down for a couple days. Thankfully though, not so cold that the only white form of water we're likely to see are those waves in the distance.
Our first odyssey Christmas was celebrated in Lakeland, Florida and the day we took that Christmas photo it was too chilly to be comfortably dressed like we were then in shorts and short sleeves and as soon as the photo was taken we got into something warmer.
Our second odyssey Christmas was celebrated in Desert Hot Springs, California where the weather was nice but very windy on that day.
Our third odyssey Christmas looks like it will be a mild day with the rain having moved on. And, as is becoming our custom, we are planning to attend a potluck dinner, either here in the RV resort or at the town's community center.
This will also be our first Christmas without Bib since he entered our lives nearly 13 years ago. He was so funny at Christmas. He always got a stocking full of treats and whenever Sandra hung up his stocking he understood the concept that there were things in there for him and just like a kid, once he knew the time had come to get at them, he couldn't do it fast enough.
Anyway, while we won't miss the northern winter weather that usually comes with Christmas, we will miss not being with those we would otherwise like to share the holiday with.
So, Merry Christmas to all, and to all, our thoughts will be with you.

This & That From Port Aransas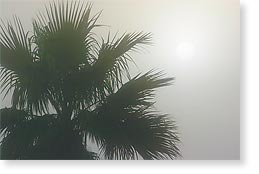 Wednesday, December 20, 2006 - I see it's only 5 more days until Christmas. How time flies.
Still nothing much exciting to report. The weather turned foggy a couple days ago (photo on the left shows as much sun as we got yesterday and even that didn't last long). The fog didn't completely clear out until this morning, although the sky is still overcast.
You can tell without looking outside when it gets foggy because the ferries, just down the street, blow their foghorns at regular intervals, as well as the big ocean-going ships coming into the channel doing the same thing. Sounds kind of neat, but I wouldn't want to be out on the water on one of them at that point. Driving in fog is bad enough, although the ships do have radar, so on second thought, they're probably safer in fog than being on the road.
Anyway, we recently visited a few of the souvenir shops in town. I like to get a souvenir ball cap for the places we've stayed that I particularly like and Mustang Island/Port Aransas has fallen into that category. I'm quite enjoying our stay here. A lot of the souvenir stores here are quite large (it is Texas after all, so one expects things to be big). Boogie boards look like a popular item as the souvenir shops have walls lined with them. Those boards do look like they'd be fun, but doubt I'll get that adventurous.
Other than puttering around town, visiting the wildlife viewing areas and the beach, about the only other things we've done were to attend a potluck supper here in the RV park on Sunday and we went out for breakfast yesterday morning at the Whataburger, a fast food hamburger joint that's directly behind the RV. The breakfast was actually fairly decent and it agreed with my touchy digestive system, but the atmosphere had all the class and ambience one expects from a fast food place.

The First Week In Port Aransas, Texas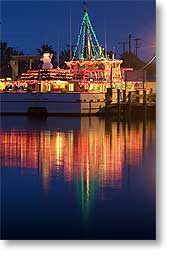 Saturday, December 16, 2006 - Nothing terribly exciting to report about our first week in Port Aransas. The weather has been quite good, mild nights, warm sunny days, and a couple mornings had fog, which made for some different photos. You can see the photos I've posted to the internet by viewing my Mustang Island Gallery on pBase.com. This gallery is currently enjoying some popularity on pBase, yesterday being the sixth most popular gallery there, as it has been for three days now. I expect its popularity to drop soon though as newer galleries get more attention, as is normal.
Hard to believe it's only 9 days until Christmas. Some people say it doesn't feel like Christmas down here without snow, but speaking for myself, it doesn't feel much different. They decorate things much the way they do up north and they play Christmas music in the malls and they have the Salvation Army people ringing their bells at mall entrances, so I get about as much Christmas atmosphere as I want.
Pictured here is one of the tour boats that's berthed in the marina across the road from us and all decked out in Christmas lights. They have Christmas lights on the streetlight poles and on the palm trees in Roberts Point Park on the waterfront, as well as having put up a traditional Christmas tree there. So even without snow, it looks quite festive around here.
Otherwise, I've been out every day with my camera for sunrise. Sometimes there is one, sometimes it's cloudy only to clear up a short while later, but regardless of conditions it's fun. We've also explored most of the town and nearby area, gone to Aransas Pass and Rockport on shopping missions, but mostly we've just been enjoying the wonderful weather we've had...finally.
For greater detail on the past week, visit Sandra's Nightly News.

Now Located In Port Aransas, Texas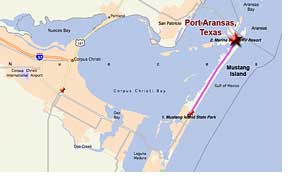 Sunday, December 10, 2006 - As planned, this morning after a very nice two week stay by the beach, we packed up and moved out of the Mustang Island State Park at 11:20am and arrived here at the Marina Beach RV Resort in Port Aransas, Texas around 11:45am.
The tow was uneventful, but we were given some bad news when we got here. In the interim from when we were here last week and reserved site 78 which was an easy back-in, they moved us to site 88 which was a more difficult one.
But with the able assistance of my most wonderful wife giving me directions, I got backed onto site 88 without embarrassing myself too much. Actually, with all due modesty, although I still prefer not to back this rig up if I can avoid it and don't consider myself very good at it, not having an instinctive feel for which way to turn the steering wheel to get the RV to go where I want it to, we've seen our share of RVers who are no better.
Anyway, I accessed the internet satellite with no trouble and even the TV satellite with very little effort and camp was completely setup by 2pm. And as a bit of compensation for the bad news of not getting the site we wanted, on arrival here today we learned the RV park has campground-wide free wi-fi, which is always a bonus even though we have our own internet access.
So, here we are and will be for a month. I look forward to getting to know Port Aransas as well as I did Rockport two years ago.
For Sandra's account of the day, click here.

Very Quiet Week


Sunday, December 10, 2006 - Again, not much went on the last five days worthy of note, except trying to stay warm and dry. The weather has been cloudy, windy, chilly, and sporadically rainy, dropping down as far as 38°F/3°C during one night, with even a brief period of sleet. It's suppose to improve soon, but this tiresome weather system is lingering.
The most exciting thing we've done since my last report was to take the ferry to the mainland on Friday and do some shopping at the Wal-Mart Supercenter in Aransas Pass and the only thing interesting about that trip was that both times at the ferry crossing we were able to drive right onto the ship without having to wait in a line.
The photo above is from a walk on the beach two days ago and pictures a flock of terns I've gotten acquainted with. For some reason, this photo has been quite popular on the pBase internet site and my Mustang Island gallery of photos has made it into pBase's Most Popular galleries list, although not near the top of the list.
Anyway, later this morning we're to make the 12 mile/19 km move north to the Marina Beach RV Resort in Port Aransas.

Errand Day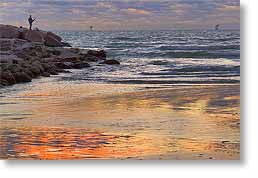 Tuesday, December 5, 2006 - We haven't done much lately to speak of, except for a trip into Corpus Christi on Friday to check out the RV parks there. I like the solitude of the campground here in the state park, but Sandra is ready to be involved in some social activities and she has her heart set on attending a pot luck at some RV park for Christmas, so we've been trying to decide where we want to be for Christmas.
Problem is that many of the places that would qualify are full and neither of us were terribly impressed with the RV parks Corpus Christi had to offer.
However, today while on an errand run into nearby Port Aransas to mail things at the post office, buy groceries, fuel up the truck, and get an empty propane tank filled, we also took a more serious look at the RV parks there and actually found one that should do the trick for Christmas, so we signed up to be there for a month after we leave here on Sunday.
This is a new RV park that's right in the center of Port Aransas, but they have almost no signage out so we only knew it was there because we saw RVs setup behind some buildings on one of the main streets. We then tried to find the entrance into the RV park, which proved to be surprisingly difficult. It turned out they do have a sign but it is less than obvious.
Anyway, we eventually did find our way in and I think the fact it is so hard to find worked to our advantage because they had quite a few sites available. The RV park is the Marina Beach RV Resort and while it has no marina or beach that we could see, it is walking distance to such things, at least a marina. So Sandra is happy to have activities to attend and I'm happy to have some new things to photograph. Port Aransas is a fairly small place, but very nautical and therefore picturesque in some areas.
Photo above is one I took Saturday at dawn on the beach behind the RV.
For Sandra's account of the day, click here.

Staying Another Week On Mustang Island

Sunday, December 3, 2006 - We had planned on moving up to Goose Island State Park today, but it dawned cloudy and quite windy and the upcoming week is supposed to be mostly cloudy, so we decided right here was as good a place as any to wait for sunny weather to return.
The wind is blowing in from the north again, so it's going to get quite chilly again tonight, only a few degrees above freezing, and then moderate again for the rest of the week, although remain mostly cloudy and a possibility of rain on Thursday.

__________________________

For Older News

To read details of our previous stops and camps, visit the News Archives.


Updated Monday, January 1, 2007

Copyright © 2007 by Gordon L Wolford .
All rights reserved.