We Do A Trail & River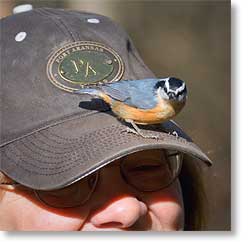 Saturday, 14 November, 2009 - Yesterday, Sandra and I decided to hike another trail in Ottawa's Greenbelt, this one being the Sarsaparilla Trail in the Stony Swamp Conservation Area.
The Sarsaparilla is a trail we've never done before, but in looking at satellite imagery of the area earlier, I had noticed an observation deck extending into a small lake that the trail went by and water usually makes for more interesting photos, so we had to go and give the trail and lake a look.
Being a weekday morning, I was expecting we'd more or less have the trail to ourselves, so I was not pleasantly surprised when on our arrival we found not only the parking lot nearly full of cars, but the trail populated by a swarm of kids, all running around and making as much noise as they possibly could.
Surprisingly, the chickadees and nuthatches didn't seem to mind, no doubt because many of the kids were feeding them, but noisy kids is not what Sandra and I hike on a nature trail for. We did manage to find a few periods of silence along the way to the observation deck, the Red-breasted Nuthatch on the bill of Sandra's cap in the photo above being one of the birds we met who liked her bird seed, but on arrival at the observation deck we found it nearly full of more noisy kids and their mothers. This was definitely not a good time to visit that trail.
Don't get me wrong. I think it's a fine thing for kids to be on nature trails. I don't, however, think it's a fine thing if they are not being taught about nature and are left to run wild as if it was a playground and ruin it for people who are on the trail having hoped to enjoy nature.
Anyway, after we managed to wade our way through kids, mothers, and strollers and got to the deck railing, we did get a few shots of the little lake (click here for one), but we then beat a hasty retreat and rather than finding another trail to hike, we instead drove along as much as we could of the Jock River, following its course toward its source.
The Jock is smaller than the larger rivers in the area, like the Rideau River and Ottawa River, but because of that the Jock River is also less developed and more natural and scenic, which suits me. It winds its way from its source near Franktown in Beckwith Township to the Rideau River near Manotick and roads in the area cross the Jock often and some follow it for short distances, so there are plenty of views to be had of it and the drive was quite pleasant.
Click here for a shot I took about a week ago along the Jock near Richmond, Ontario.
For Sandra's account of yesterday, click here. For my latest photos, click here.

I Get The Shot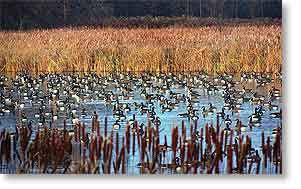 Sunday, 8 November, 2009 - And I'm not talking about getting a photographic shot, but a shot in the arm and in this case, the H1N1 2009 flu vaccine.
At the moment, they are administering them here in Ottawa on a priority basis and considering this flu affects the respiratory system and my lungs are still showing affects of the Valley Fever infection (although still continuing to ever so slowly improve), our doctor considered me a high risk case and eligible to get the vaccine early. To actually get it though is another matter.
They have set up something like four temporary clinics around Ottawa just for vaccinating high risk people, but to avoid the long lines they had in the beginning, they now issue numbered wrist bands to people they confirm to be at high risk and then give you a time to return later in the day.
On your return at the designated time, you go to a waiting room and fill out about 3 pages of forms (unless a person is very organized like Sandra who got the forms off the internet ahead of time and filled them out for me), then wait for your wrist band number to be called, go to another room where your arrival is logged into a computer before sending you to another waiting area until the next health care worker is available to actually give you the shot, an event which is also logged into a computer, before sending you to yet another waiting area where you have to sit for 15 minutes to make sure you don't have a violent reaction to the vaccine, at which point if you are okay, you are given proof of immunization and more paperwork to read and then sent on your way. So, it isn't as simple as just going to the doctor's office and getting the shot, because they make you jump through hoops to get it.
Anyway, thanks to Sandra filling out the forms, something I hate to do and might never have done, I'm now vaccinated against the H1N1 2009 flu and so far I'm showing no ill effects from the shot other than a mildly sore shoulder around the injection site, but not nearly as sore as my last tetanus shot...at least at this point.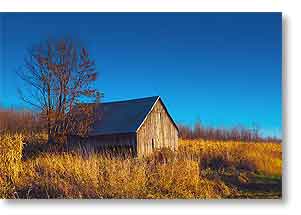 Getting the shot though was only one thing I did in what ended up being a very busy day. It started with me going out at sunrise in search of a photo and found the one above of thousands of Canada Geese in the Richmond Lagoons, a place I had never heard of before but discovered it yesterday when led to it by the ruckus these geese were making, which could be heard at quite a distance.
Then after getting the H1N1 shot, I took Sandra to see the lagoons, but most of the geese were gone by that time.
From there we hiked the Monaghan Forest trail, one we'd never been on before and found it scenically below the standard of the Greenbelt trails to which we've grown accustomed.
Then, it was back to the house for lunch, followed by Sandra putting in a request for a drive to Morrisburg to see the tree she and her sisters had had planted beside a path along the Saint Lawrence River as a memorial to their parents.
However, on our way to the tree, we took a detour to see what, if anything, was new in the area around Williamsburg, Ontario where Sandra had grown up and to look at the house where she was raised to see if its owners were continuing to let it run down or if by some miracle they had done any improvements to it. Sadly, that miracle didn't happen because we found the house in as bad a shape as it had been the last time we saw it. Such a pity because it was a very nice farmhouse before they bought it.
On the drive to Morrisburg I had noticed the barn in the second photo above, but didn't take a photo of it then because I wanted the more golden light that comes later in the day, so I took the shot on our way back to Ottawa.
The day turned out to be a perfect one for travelling (sunny and almost warm) and I'm glad we were able to take advantage of it.
For Sandra's account of the day, click here. For my latest photos, click here.

First Snow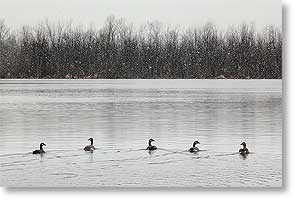 Thursday, 5 November, 2009 - Today we drove over to the RV to get a few last things we hadn't thought to bring with us to the house and on the way it started to snow, a milestone event since it's the first of the winter. The snowfall wasn't heavy enough to accumulate on the ground, but was heavy enough to require using the windshield wipers.
What a difference in weather from yesterday which dawned clear and bright for the photoshoot my friend Jim and I went on, starting at Pinhey's Point for sunrise and winding up at Andrew Haydon Park around late morning. Click here for yesterday's dawn.
The photo here shows some Canada geese (Branta canadensis) in the Canadian Mississippi River at Appleton, a hamlet just a couple miles (3.5 km) northwest of the RV. I'm not sure why these geese haven't flown south yet. If I had wings I certainly would have by now.
Today we not only got our first snow, but it is also Sandra's and my 19th wedding anniversary, so we are planning to go out for dinner tonight, somewhere serving gluten-free pizza most likely.

Update - Sandra and I ended up going to Zola's Restaurant in nearby Bells Corners for our anniversary supper out and I did indeed get some gluten-free pizza. Yum!
However, Zola's had not been our first choice, which had been the Bella Vista Restaurant in south Ottawa, but we decided for the closer restaurant since the snow had returned and the weather had become miserable for driving. The snow this time was accumulating and falling hard enough to even interfere with the satellite TV reception.
For Sandra's account of the day, click here. For my latest photos, click here.

We Survive Trail 26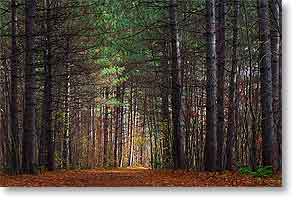 Tuesday, 3 November, 2009 - We had rain overnight and this morning dawned overcast, but then later in the morning the clouds started to break up, so we thought we'd go do another trail and decided on Pinhey Forest Trail 30.
The photo here is one I took along that trail and things were looking good with sporadic sun and clouds until the clouds started to look ominous and began spitting rain, so we did an about-face and beat a hasty retreat to the truck only to find the cloud and rain was very isolated and was being followed by blue sky.
However, we decided not to go back on the trail but to try another one we had seen on the drive to Trail 30 and that proved to be Stony Swamp Trail 26. In doing research on Ottawa's Greenbelt trails last night, it looked like Trail 26 is a loop that goes by a small lake so I was hoping we'd get a view of that, but while we did get glimpses of the lake off to our left through some trees, we didn't see a way to get to it, although apparently there is, according to the link above, so we'll have to give it another try sometime.
Anyway, we should have turned around at that point along the loop and I should have done more research before starting Trail 26 (although adequate data on these trails isn't all that easy to find on the internet), but we continued on and walked...and walked...and walked until we were both about to drop, wondering if we would ever see the parking lot again. It turns out that trail is 3.8 km (2.4 miles) long, which is much longer than we had wanted to hike after already having done another trail, but we eventually did get back to the truck, very tired but happy we survived.
For Sandra's account of the day, click here. For my latest photos, click here.

Another Day, Another Trail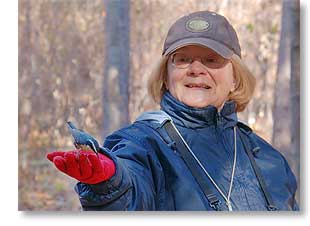 Monday, 2 November, 2009 - This was another beautiful sunny, although chilly, day. Two in a row, so Sandra wanted to hike another trail and who was I to refuse her.
This time we hiked the Old Quarry Trail in the nearby Stony Swamp Conservation Area. This trail, like the Beaver Trail and the Jack Pine Trail, has boardwalks through a marshy area as well as parts of the trail are quite scenic even without water, as seen here.
And, as with the other trails we've been on lately, the chickadees and nuthatches were quite friendly, hoping to get a handout from us, as seen in the photo here of a Red-breasted Nuthatch (Sitta canadensis) perched on Sandra's hand.

Return of the Northern News

Regular visitors to this page might have noticed the different masthead and title I'm using as of today. For the past five years I called it the Nomads News to reflect our nomadic lifestyle, however since we are stuck in Canada until further notice and won't be traveling much, I felt changing the title back to the Northern News, the original title I used before we started traveling full-time, was more appropriate, as is the colder, bleaker, more wintry look of the background graphic, which illustrates my current mood.
For Sandra's account of the day, click here. For my latest photos, click here.

Hitting The Trails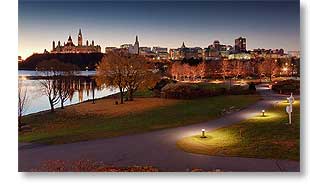 Sunday, 1 November, 2009 - If we're to be stuck in Canada for the winter, we're determined to make the best of it, so the few times the sun came out the last few days we headed out in the truck to see what photos could be found.
Monday, we hiked one of our favorite trails in the area, the Jack Pine Trail in the nearby Stony Swamp Conservation Area. It wasn't all that sunny when we were there, but we saw an abundance of little chickadees that were clearly used to being fed by visitors because they expected us to be feeding them too. Sadly, since we didn't go prepared with bird seed we had to disappoint them, but they are so cute. The highlight of that hike was seeing a young girl that had chickadees eating our of her hand (click here for my photo of it), while her grandmother watched.
The rest of the week was spent canceling things not needed for the winter, like our satellite internet and the reservation at the campground in Texas. Due to cloudy and wet weather, we didn't go out much, but at least it wasn't terribly cold.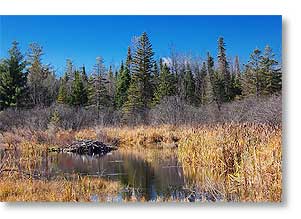 Toward evening on Saturday the sun made an appearance, so we went out to fuel up the truck and then drove around the area some to see what, if anything, had changed since the last time we were here and ended up at Shirley's Bay on the Ottawa River. I was hoping it would be a good spot to watch a sunset, however it wasn't since the sun didn't set over water but behind trees that obscured the view. We got something better though...a rainbow, so it proved to be a worthwhile drive anyway. Click here to see the rainbow.
Today was dawning with clear skies, the second Sunday morning in a row to do that, so I jumped into the truck and sped downtown again, this time taking photos from the Museum of Civilization across the river in Gatineau (Hull), Quebec (photo above right).
After returning to the house and having breakfast, Sandra decided we should take advantage of the sunny day and hike another trail, so this time we visited Stony Swamp's Beaver Trail, which is just a short distance north and across the road from the Jack Pine Trail. We didn't see any beaver on the Beaver Trail, but we did see evidence of them in downed trees and a beaver lodge (photo above left). We also saw even more birds (mostly chickadees and nuthatches) than we had seen on the Jack Pine Trail earlier in the week.
And being a beautiful Sunday, we also saw a lot more people on the trail than we did earlier in the week, including small people, who weren't being taught that the best way to see wildlife is to keep their mouth shut and their eyes open. This lack of education was a result of their parents lacking the same education. I guess they were just out for a nice noisy family outing in the woods. Anyway, we had a good time despite them.
For Sandra's account of the last few days, click here. For my latest photos, click here.


__________________________

For Older News

To read details of our previous stops and camps, visit the News Archives.


Updated Sunday, March 7, 2010

Copyright © 2009 by Gordon L Wolford .
All rights reserved.