A Special Day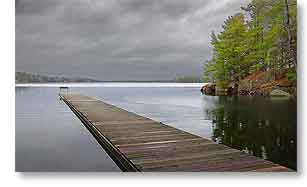 Monday, 30 November, 2009 - The last time we were at the RV to get a few things out of it, Dave, the campground owner, was in the office and as we were leaving he invited us to lunch at his and Shonagh's house near Perth one day and would give us a call.
So last week he called and arranged for us to have lunch with them on Friday, which we did.
Unfortunately, that day turned out to be cloudy, rainy, snowy, and cold enough there was some danger of the roads freezing, but we arrived at their house in due order and without incident.
Sandra and I were both impressed with their house. I was expecting the usual boxy tract bungalow built in an area of boring flat terrain, but what we found was a distinctive house full of angled walls in an area of hilly forest that's walking distance from the north shore of picturesque Otty Lake.
Shonagh had prepared a sumptuous feast for us that accommodated Sandra's and my food sensitivities and since the rain had stopped by the time we had finished eating, we walked it off by hiking down to the lake where they showed us the community's shoreline, which was quite beautiful even on a cloudy day. The photo above is one of the docks there.
We had a great time and it proved to be a special day.
Otherwise, nothing of note to report except my usual going out for photos around the area.
For Sandra's account of the last few days, click here. For my latest photos, click here.

Happy US Thanksgiving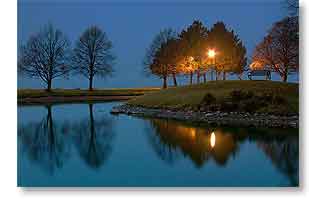 Thursday, 26 November, 2009 - Happy Thanksgiving to all who observe that holiday today, only the US if I'm not mistaken. Up here in Canada, it's just another day, Canadians having celebrated their Thanksgiving more than a month ago.
One thing in particular we have to be thankful for right now is that Margie is back home after successful brain surgery. I try not to dwell on health issues here, but this is an exception. Margie was losing her sight, went to hospital emergency where they discovered a cyst in her brain that was pressing on her optic nerve and a few days later they successfully removed the cyst. They did this via her nasal passage. She then spent the next two weeks in the hospital recovering and came home on Monday with her sight restored, so we are all quite relieved.
Otherwise, it's been pretty boring around here. I did another Sunday morning drive downtown to take advantage of no traffic and free parking, but unfortunately the day dawned cloudy, so no sunrise. Despite that, I still got a few photos I'm happy with, like the one here.
Then two days later, we had fog at daybreak, so I was out early again and ended up at Andrew Haydon Park where I found a couple photos waiting for me, like the one above, but because the weather has been cloudy and rainy since Saturday, those were the only times I went out and I've occupied my time by working on my online photo galleries.
Zenfolio, as well as the program (JAlbum) I use to create the photo galleries in my domain here, both automatically extract and list data from the image files, if such data has been entered, which I wasn't doing until about a year ago, so any photos I shot before that time need to have the data added to make them comparable to the data showing in my PBase galleries and even with batch processing that can be quite tedious. The latest additions are galleries of photos I took in New Mexico, which include two of my favorites - White Sands and the Bosque del Apache.
For Sandra's account of the last few days, click here. For my latest photos, click here.

Legal Response Started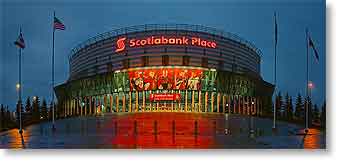 Saturday, 21 November, 2009 - It has been a very quiet week since my last report, the most important event being Sandra contacting an immigration lawyer in Buffalo, New York and yesterday we had a lengthy consultation with him over the phone.
After talking with him, we have some hope he can get this matter resolved, although he could give no guarantee he would be successful and to retain him to handle the matter we had no choice but to pay him thousands of dollars. I won't say how many thousands of dollars, but the amount was enough that if it was any higher I would have been in favor of just forgetting it and foregoing any further winters in the southern US until the action against Sandra expires in 2017. From what the lawyer told us, the legal action should have taken place sometime around 1994, which means the 10 year period of barring Sandra from admittance to the US would have expired in 2004 and would never have been an issue to our winter plans.
The whole situation is so screwed up because of the incompetence of US Immigration not starting action until 2007, thirteen years later than they should have, and the way they handled it, by playing hard ball immediately as if Sandra was a criminal and to resolve it requires court action, it might never get straightened out. We are both too upset for words. I won't put in writing what I think of US Immigration, but we are trying to remain optimistic and hoping for the best.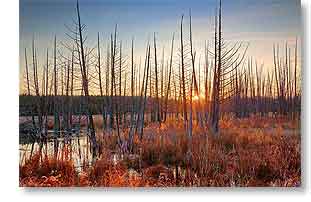 Otherwise, all we did this week of any interest was to drive down to the RV to retrieve a few things and all I did by myself of any interest was to go out at daybreak a couple of times.
One of those times, I hiked along a short stretch (maybe 1 mile, 1.6 km) of the very long (240 mile, 387 km) Rideau Trail, a stretch of it that I had seen on satellite imagery as passing by some wetlands and sure enough it did, as can be seen in the photo on the right. To reach this point involved hiking through some forest, as can be seen here and here.
And yesterday, even though it was cloudy and spitting fine rain at dawn, I went out to take the photo above left of Scotiabank Place (formerly called the Corel Centre), which is home to the NHL Ottawa Senators and is just around the corner from where we're spending the winter, and to take the photo seen here of the main Nortel building where Sandra once worked.
The weather, although a far cry from what we would have had on the Gulf coast of Texas, wasn't all that bad for Ottawa at this time of year, mostly around the freezing point at dawn and getting up into the 40s to 50s°F (5°C to 10°C) during the day.
For Sandra's account of the last few days, click here. For my latest photos, click here.


__________________________

For Older News

To read details of our previous stops and camps, visit the News Archives.


Updated Sunday, March 7, 2010

Copyright © 2009 by Gordon L Wolford .
All rights reserved.