A Rare New Year's Eve


Thursday, 31 December, 2009 - First let me wish a Happy New Year to all who read this. May the year 2010 be a great one for you.
This new year is actually a rare one since it's a once in a blue moon event...literally. The moon tonight is that proverbial blue moon. Current popular usage defines a blue moon as the second full moon in a calendar month and that's what we have tonight. Since blue moons occur roughly once every three years and there are 365 days in a year, you're looking at one taking place on New Year's Eve about once a millennium...pretty rare.
Anyway, with that fascinating bit of trivia out of the way, we are planning a quiet New Year's Eve at home, as we usually do, and I probably won't stay up to see the new year in, as I usually don't find the event exciting enough to lose sleep over. One day is much like the next and one year is much like the last. I have no great expectations for 2010, although I'm hoping Sandra's US immigration situation will get resolved during the year so our life can get back on track.
I've been in the mood lately to visit the covered bridge in Wakefield, Quebec, so despite less than ideal weather (cloudy with light snow) we drove up there today and got a few shots of it, the photo above being one of them. The route we took was 40 miles (64 km) and since we were there at lunchtime we had lunch at the Alpengruss Restaurant where we've dined several times over the years for breakfast and had been happy with it, but their lunch menu left a lot to be desired, which might have had something to do with us being the only patrons there this time, always a bad sign for a restaurant. I doubt we ever go back there for lunch.
While we were eating, the snow started to fall in earnest, so we didn't dawdle around getting back to Ottawa, although I would have loved to take some back roads to photograph the stunning winter scenery we saw from the freeway.
For Sandra's much more detailed account of the day, click here. For my latest photos, click here.

Alight At Night Revisited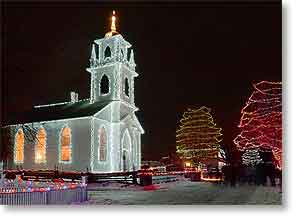 Tuesday, 29 December, 2009 - Only two more days until the year 2010 is upon us. 2009 certainly has had its ups and downs.
One of those ups was our recent return to the Alight at Night festival on the banks of the Saint Lawrence River at historic Upper Canada Village in which they adorn their buildings, trees, and fences with thousands of Christmas lights. It's very festive and impressive and worth the $6 admission fee and hour and a half drive to get there.
The last time we saw it was on 26 December 2002; this time it was two days ago on the 27th. The last time I photographed it with a 5 MP camera; this time I used a 15 MP camera. The last time it was quite cold: 18°F (-8°C) with a stiff wind coming off the river, which produced a memorable wind chill; this time, not wanting to repeat dealing with a cold visit, we waited for a warmer evening, which turned out to be 36°F (2°C) and almost no wind, so we had a much more pleasant visit in that sense.
However, because of the more favorable weather and it also being a Sunday evening that followed a day of freezing rain on Saturday when people generally stayed home, they were at Upper Canada Village in droves on Sunday. The last time we had far fewer people getting in the way of photos, plus this time there also seemed to be countless horse-drawn wagons to deal with. During the day when faster shutter speeds could be used, the wagons hauling people around would have added to the picturesque charm of the place, but not for night photos when exposures are not measured in fractions of a second but in seconds, so the wagons simply end up looking like ugly dark blurs.
Anyway, we still had a great time and managed to get most of our shots despite the crowd.
For Sandra's account of our Alight at Night visit, click here. For my latest photos, click here.

Twas The Day After Christmas...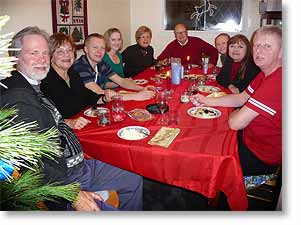 Saturday, 26 December, 2009 - ...And all over the house, freezing rain was falling, creating such a mess.
A lot of Canadians I've met actually like either snow or cold weather or both, but I've never yet met one who likes freezing rain and that's what we've had all day today, so we've spent it relaxing, which is a good thing after the gala Christmas bash we participated in last evening at Margie and John's.
Pictured here is a photo of the dinner, which had all of Sandra's immediate family in attendance. L>R c'est moi, Sandra, Nick, Becky, Betty, Garth, Danica, Margie, and John. So, after five years of us being away from Ottawa at Christmas, Margie finally got her wish to have the whole family there for the holiday. I'd still rather be on the Texas Gulf Coast right now, but I'm glad Margie is happy. The photo above was taken with Sandra's camera on my tripod. Click on the photo for a larger view of it.
Unfortunately, Betty and Garth were to drive back to Toronto today, which with the freezing rain makes it a really bad day to be out traveling, but it looks like it's simple rain not too far south of Ottawa, so hopefully their drive was uneventful.
Otherwise, the most excitement we've had today was me going out twice to scrape the ice off the truck windows so it wouldn't build up so thick it would be hard to get off once the freezing rain ends.
For Sandra's account of last night's Christmas party, click here. For my latest photos, click here.

Merry Christmas To All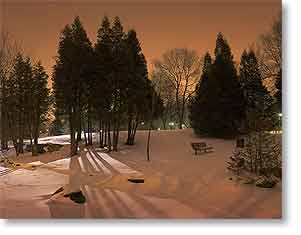 Friday, 25 December, 2009 - When we were traveling around warmer climates in the RV for Christmas, it was typically a pretty low-key holiday for us. We might attend a pot luck dinner if the RV park was holding one, but that's about as festive as we got. This year though things are different, being around family and having a decorated Christmas tree and it being a white Christmas.
This morning we even exchanged some presents with Nancy, our host for the winter, and Max, her dog, who made out like a bandit, getting all kinds of treats and toys, and later we are spending the evening with Sandra's family, the gathering being hosted by Margie and John at their house.
However, my Christmas started with me heading out at 6am in search of photos and ended up once again at Andrew Haydon Park, where as usual I found a few waiting for me, like the one above. The overall peach color is from the glow of city lights reflecting from the overcast sky.

That Time Of Year Again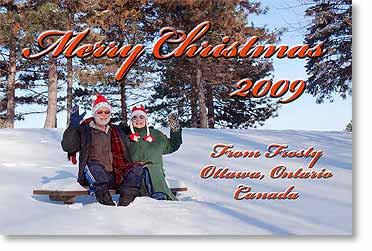 Monday, 21 December, 2009 - Not only is today the official start of 2009's winter in the northern hemisphere (the winter solstice), but it's the shortest day of the year, having 8 hours and 43 minutes from sunrise to sunset here in Ottawa (which at 45.3°N latitude is just a little more than halfway to the north pole from the equator). We will have one minute more daylight tomorrow.
Today is also the day Sandra and I took our annual Christmas photo (as seen on the left). Since our travels are on ice this winter, we at one time were not going to take the sort of Christmas photo that we've done the last five winters, which featured us basking in warmer climes with our Santa hats adorning our heads, but then we changed our minds and decided a parody of those earlier Christmas photos might be fun. I would have liked to carry the parody to the extreme of actually wearing warm climate clothing, but even dressed as we were in our winter attire it was too cold for comfort. If you forget what last year's Christmas photo looked like, it can be viewed here. What a difference 1,600 miles (2,600 km) as the crow flies makes.
Anyway, as always, please use the above photo as Sandra's and my Christmas card to you. Click on it for a larger view and if you just have to have a card from us to hang with your other Christmas cards, click here for one that will print out 4 x 6 inches (10 x 15 cm) at 300 dpi.
For Sandra's account of the last few days, click here. For my latest photos, click here.

And So It Begins


Thursday, 17 December, 2009 - It's still four days before December 21, the day winter officially starts in the northern hemisphere, but as far as I'm concerned it began unofficially last night when the temperature dropped below 0°F (actually -4°F/-20°C) for the first time up here since last winter and to me, 0°F is the point the temperature goes from being simply cold to being really cold and is the first time Sandra and I have seen this kind of cold in over five years and had hoped we'd never have to see it again.
Knowing it was forecast to happen and the fact the truck groaned before starting when I went out an hour before dawn yesterday and the temperature was still above 0°F (5°F/-15°C), last evening I plugged in the truck's block heater for the first time in its life and even though it was noticeably colder this morning, the truck thankfully started without hesitation, as if it was summer. It's important the truck start reliably because there's only room for it here in the driveway, where it blocks Nancy (our host) from getting her car out of the garage in the mornings and I'd hate to be the cause of making her late for work.
Anyway, the truck being the first diesel vehicle I've ever owned, I had no idea how it would perform in the bitter cold winter up here, so it looks like the block heater will take the uncertainty out of starting it in this kind of weather, which is good because the forecast is calling for it to turn even colder tonight (-9F/-23°C). That however is still balmy compared to how cold it can get in a month or two when I've seen the temperature drop to -33°F (-36°C), but that was rare. Typically in the dead of winter, it's not unusual to see lows around -20°F (-29°C) and highs never getting above 0°F (-18°C).
The photo above was me practicing my 'drive by shooting' technique yesterday before dawn, where I shoot photos from the warmth and comfort of the truck using the camera's high sensitivity capability and image stabilization to get fast enough shutter speeds to allow handholding it for night shots, rather than having to face the bitter cold directly by shooting outside the truck from a tripod.
For Sandra's account of the last few days, click here. For my latest photos, click here.

Shooting The Snow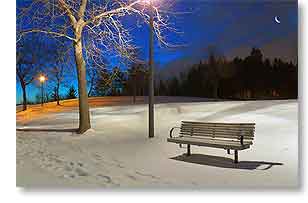 Sunday, 13 December, 2009 - In pursuit of my goal this winter to attempt some serious photography of snow, I wasted no time after the roads were cleared of our first major snowstorm to get out and see what I could shoot.
So, Thursday I visited a couple Greenbelt trails to see if the snow had been heavy enough to cover the ground in the forests and found that it had been, as can be seen here. I also found that while the streets of Ottawa had been cleared, the trailhead parking lots had not been yet, but the truck's four-wheel drive (4WD) with positraction got me in and out of them like a champ. Without the 4WD, I'd have been stuck with snow up to the axles in the first trailhead.
Friday, I didn't go out until near the end of the day when it looked like a photogenic sunset was developing, but by the time I got out in the truck, clouds had moved in and the sunset fizzled. But since I was out, I headed over to Andrew Haydon Park and found its lanes and parking lots had not been plowed either but the 4WD got me through again, only to find a car stuck in the snow in the far parking lot. A couple of Somalis in a little sport coupe had been able to get in but even with their car having front-wheel drive couldn't get up the slight incline out of the lot. I tried helping to push them out, but two people pushing at the back wasn't enough and they decided to call a tow truck. I could no doubt have pushed them out with the truck but didn't want to risk damaging either of the vehicles.
So I left them there and walked into the park to look for a photo but found I wasn't dressed warmly enough to face the cold wind blowing off the Ottawa River and returned to the truck only to find the Somalis had somehow managed to get their car moved just far enough forward to block me backing out the truck. So, I again helped push and this time we did manage to get their car up the incline and with enough momentum built up that they were able to get out of the park.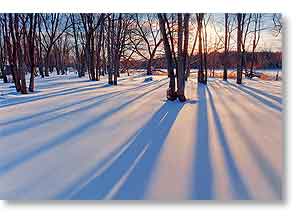 Then yesterday, Saturday, I was out before dawn and this time, rather than face unplowed Andrew Haydon Park in the dark, I headed for the neighboring Dick Bell Park and Nepean Sailing Club, thinking that perhaps the sailing club parking lots would be plowed and Andrew Haydon Park is just a short walk from them.
Happily, I found those lots were indeed plowed so I parked as close to Andrew Haydon Park as I could and walked in and found several photos waiting for me, like the one above right.
Then after the girls (Sandra and her friend Nancy, our host for the winter) got back from a major Christmas shopping spree, including a Christmas tree, Sandra and I went for a drive in the country in search of more snow photos since we had a bit of sun and according to the forecast we won't see it again for three days. The goal of the drive was to visit the RV and see what the poor thing looked like in snow (click here for Sandra's photo of it), but we were also looking for picturesque rural scenes along the way and found a number of them.
In due course, we arrived at the RV and found Tranquil Acres to be extremely tranquil with virgin snow everywhere, like in the photo above left, taken down by the Canadian Mississippi River, which was frozen and snowed over as well. It was quite strange to be there with the ground covered with snow, the first time we've seen the campground like that.
From there, we drove into the nearby town of Almonte to find a suet bird feeder, which we did find, and then drove into downtown Almonte to see the falls there. They weren't frozen yet, but there was a lot of water flowing over them. I expect by late January after the temperature has dropped to -20 or -30 for a while that the falls should look pretty icy. By the time we left Almonte and headed for home the sun was setting.
For Sandra's account of the last few days, click here. For my latest photos, click here.

First Real Snow Of The Season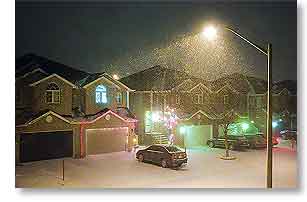 Wednesday, 9 December, 2009 - Pictured here is what we woke up to this morning - our first real snowfall of the season.
I would have said it's the first one of the winter, but technically it's still autumn for 12 more days.
We have had several small snowfalls already, but they hardly covered the grass if at all. This one though is predicted to drop 20 to 24 cm (8 to 9 inches) on us before it ends tomorrow. It's from a blizzard that just passed through the upper US midwest and arrived here just before daybreak today.
I don't normally view snow as a good thing but this winter it's different since I've been planning to get something good out of our bad situation of having to spend the winter in Ottawa and the good thing is shooting snow photography, something I've never done before in a serious manner, but this winter I want to give it the same effort I've been giving our travel photography for the last 5 years, even though I will at times no doubt be freezing my tail feathers off (so to speak). So far, I've gotten one snow photo I'm happy with, as can be seen here.
Otherwise, life has been quiet since my last report. The most exciting things being me once again driving downtown for a Sunday sunrise to take advantage of no traffic and free parking and took the skyline photo seen here, and us hanging the outside Christmas lights on Saturday (which can be seen here), and getting a burned out headlight on the truck replaced on Friday, and going on a drive in the country on Wednesday a week ago that saw us finding the Elk Farm.
For Sandra's account of the last few days, click here. For my latest photos, click here.


__________________________

For Older News

To read details of our previous stops and camps, visit the News Archives.


Updated Sunday, March 7, 2010

Copyright © 2009 by Gordon L Wolford .
All rights reserved.