Back To The Deep Freeze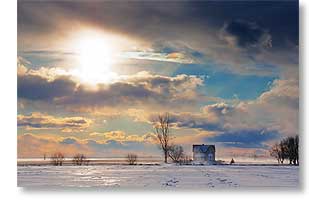 Saturday, 30 January, 2010 - Thursday, we had a couple snow squalls blow through that heralded the end of our January thaw as Arctic air blasted in and temperatures dropped like a rock.
As is the nature of snow squalls, these were shortlived but intense, with howling winds and heavy snow that was blown horizontally by the strong wind and neared whiteout conditions, as can be seen here in the view from the living room window. If I'd shot this with a slower shutter speed, all you'd see would be grey streaks.
Afterward, I went out in the truck to see if any photos were out there waiting for me and did manage to find a few, like the one on the right. But the best opportunities were when I was driving and passed through areas of blowing snow that due to the continuing high wind were again nearly whiteouts themselves with oncoming traffic hardly visible. Needless to say, I didn't risk life, limb, and camera to shoot at those times, but kept both hands on the wheel and both eyes on the road, what little of it I could see.
That night the temperature dropped to -5°F/-21°C and last night was -9°F/-23°C and that's pretty frosty but not as cold as it can get up here in a typical winter, but a lot colder than we were seeing the last two weeks, when the low temperature one night was actually up to the freezing point and daytime reached 46°F/8°C. The two week long range forecast calls for it to warm up some, but not to the point of thawing. The cold but more bearable weather is what we need here for Ottawa's upcoming Winterlude, which I plan to attend several times because of the abundant photo ops it presents, not the least of which are the ice sculptures when they're lit up at night.
For Sandra's account of the last few days, click here. For my latest photos, click here.

Snowy Owls Revisited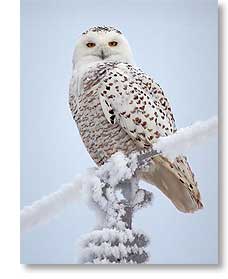 Sunday, 24 January, 2010 - Friday, Sandra wanted me to take her over to where my friend Jim and I had seen the Snowy Owls (Bubo scandiacus) a couple weeks ago. The reasons she wanted to go on that day were because the weather forecast was calling for it to be clear and not terribly cold, as well as we were taking Nancy (our host for the winter) into work that morning and her office is a third of the way to where the owls hang out.
So, after dropping Nancy off at work and then having to deal with downtown rush hour traffic, in due course we arrived at the owl location and before we'd even had a chance to drive around the area I saw one flying in from the right side and it very conveniently landed on a power pole just a short distance ahead of us (photo on the right).
I've seen photographers "bait" these owls by using live mice to draw the owls in for closeup photos of them in flight and landing, so when this owl saw us arriving I suspect it was hoping we'd have a live mouse for it.
We pulled to the side of the road, got out, and walked toward the owl, taking photos along the way in case it flew off we'd at least have something for the effort (it's an hour's drive), but the owl allowed us to walk as close to the power pole as we cared to and flew off only (I again suspect) when it decided we didn't have a mouse for it. There are people violently opposed to the practice of baiting owls and people who see nothing wrong with it. I personally won't sacrifice the life of even a mouse for the sake of a photo, but the owls don't seem to mind the easy lunch.
It turned out to be a good thing we got the photos we did because that proved to be the only opportunity we had for owl photos, this being the only owl we were to see and never again close up.
But all was not lost because there had been an extremely heavy frost that morning, as you can see in the photo above with frost coating everything but the owl. The frost was all over trees, bushes, and fences and turned a boring flat-as-a-pancake rural landscape into a wonderland, especially after the sun came out and turned the frost brilliant white. The day had dawned with clear skies, but we had hardly gotten out of the city when overcast moved in very quickly and it looked like the forecast was going to be wrong yet again. However, shortly after photographing the owl, the clouds moved out as quickly as they had moved in and we got quite a number of frost photos. Click here to view one.
It was also a banner week for photos because we actually had a sunset Wednesday evening that I was able to photograph (click here to see it) and a spectacular sunrise this morning that I was also in a position to photograph (click here to see that).
For Sandra's account of our owl excursion, click here. For my latest photos, click here.

Walked On Water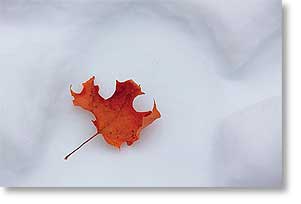 Monday, 18 January, 2010 - The title of this report actually describes what Sandra and I did at one point yesterday.
Being in the mood to get out, we headed back to Quebec despite the fact yesterday was grey and overcast and therefore not the conditions I like for photography, but considering we've rarely seen the sun for what seems like months, a nature photographer either shoots on cloudy days or simply doesn't shoot.
Although our current thaw has melted the snow off the trees so things aren't as scenic as they were a few days ago, I wanted to check out some of the backroads in Quebec to see if they were passable and to see if I could find the other covered bridge that's in the area, the Meech Creek Covered Bridge. I had photographed it a couple of times years ago when going on photoshoots with my late friend Darrell, but had never driven to it myself and wasn't sure if I could remember how to get there.
However, before going in search of the covered bridge we checked to see if the roads into Gatineau Park around Old Chelsea were plowed and they were, so we stopped and watched the skiing at Camp Fortune for a while (click here for my photo of the waiting line caused at the ski lift due to a power outage), then drove on further and checked out the road along the shore of Meech Lake. Fortunately, there is a trailhead parking area at the far end of the lake because otherwise there is no parking anywhere else along the shoreline road.
So we parked, found Meech Lake frozen, and since we saw two people walking on the ice out in the
middle of the lake, we ventured a short ways out on the ice ourselves, hence we walked on water, albeit really hard water. While on the lake, I found the photo above waiting for me, an autumn leaf in a snowshoe track, and as we were leaving the lake I did pull over and blocked a resident's driveway just long enough to grab a quick shot of this scene which I though was pretty amusing.
We then continued on our way and successfully found the covered bridge (click here to see my photo of it), drove along some of the backroads in the area and then returned to Ottawa, where we made a small detour and visited the Rideau Falls. With all the buildings and structures around them, they aren't the prettiest falls you'll ever see, but still fairly impressive as waterfalls go in this area.
For Sandra's account of our drive yesterday, click here. For my latest photos, click here.

January Thaw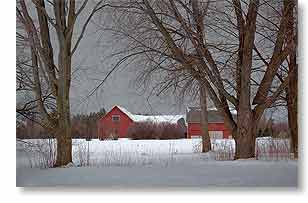 Sunday, 17 January, 2010 - As I write this in the wee hours of the morning, the temperature is right at freezing (32°F/0°C) and for the last few days the daily high temperatures have been getting a few degrees above freezing, so a January Thaw is upon us and for the most part, according to the forecasters, it's to last until the end of the month and then turn bitterly cold again.
Otherwise, not much news since my last report, the most noteworthy thing being we had to drive downtown Wednesday evening to take Nancy (our host for the winter) her spare set of car keys, which means that coming back we had to deal with rush hour traffic, something we've rarely had to do since retiring.
And Thursday, we drove over to the RV in the hope of finding the cable for syncing the PDAs. We did find it, but hadn't looked for it sooner because the RV's door lock had frozen up, but with the thaw we were finally able to get inside.
And that's about it, except for my usual excursions around the area in search of photos, like the shot above taken yesterday at Ottawa's Central Experimental Farm.
For Sandra's account of the last few days, click here. For my latest photos, click here.

In Search Of Snowy Owls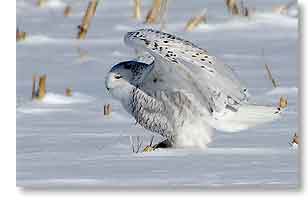 Sunday, 10 January, 2010 - At the instigation of my friend Jim, I got off my lethargic photography butt yesterday and went out with Jim in search of Snowy Owls (Bubo scandiacus) to photograph.
Actually, he knew of a place where they were likely to be found and sure enough, we did find a few there. Three in total, but only one close enough for decent photos, but one is a lot better than none.
It was one of those rare beautiful winter days - clear with the requisite blue sky and shining sun - although the sun wasn't doing much to warm things up since the temperature was pretty chilly at 3°F (-16°C) with a wind chill of -28°F (-33°C). However, we managed without getting frostbite to come away with some worthwhile photos (like the one above of a snowy owl landing in a snowy cornfield), but I missed my best opportunity to get some in flight shots when the camera battery died just as the bird was taking off from the utility pole it had been perched on. Old camera batteries don't like cold weather any better than old me does.
The area where we found the owls must be well known for them because we saw a number of bird watchers and other photographers parked and standing along the roads there as well. They were the ones who spotted the more distant owls, which I'd have never seen otherwise. It always amazes that some people can spot such things. They sure make it easier for those of us who can't. These owls blend into a snowscape so well they are virtually invisible. Nature's camouflage.
Anyway, this is a new species for my list of birds that I've photographed.
For my latest photos, click here.

Winter In Ottawa, Ontario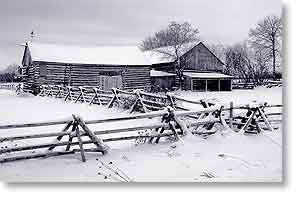 Friday, 8 January, 2010 - In an apparent attempt to show the light at the end of this winter tunnel, a couple readers of Sandra's blog have commented in recent weeks that winter was half over. The reality for winter in Ottawa is that it's typically half over around the last week of January, so we're nowhere near halfway yet.
Before we started the RV lifestyle, as a short winter escape we usually took a Caribbean cruise around the end of January and picked that time each year simply because of it being the halfway point and knowing that by the time we got back in early February things would slowly be improving from that point.
Four months of the year in Ottawa have daily average temperatures below freezing - December through March. Those same four months have had record low temperatures of -30°C (-22°F) or colder, the coldest being -36.1°C (-33°F) which was set in a February and so far this winter we've come nowhere near those records, so by Ottawa standards, this hasn't been a tough winter.
The fact Winterlude (Ottawa's annual winter celebration) runs from February 5 to 21 this year should indicate something.
Winter aside, nothing much has happened since my last report nearly a week ago. After posting it, we went for a drive, mainly to drop off something at the RV and to buy some bird seed at a store in Almonte that had been recommended to us. The photo above was taken not far from the RV on the road to Appleton.
The next day, Sunday, the power went out for an hour and a half in the evening. Fortunately, the house here has a gas fireplace in the lower level and it starts without needing power so we were able to stay warm.
Monday, we went for another drive in the country and this time ended up in Constance Bay (a village a half hour drive northwest of here on the shores of the Ottawa River) where we had breakfast for lunch at the Lighthouse Restaurant & Grocery. We've dined there a number of times over the years and find the food decent and the atmosphere rather rustic.
Wednesday, we attended the funeral service for a friend of Sandra's family, someone she had grown up knowing all of her life and was like a member of the family.
And that's about as exciting as it got around here. I haven't even shot a photo in four days. Just haven't felt like bothering.
For Sandra's account of the last few days, click here. For my latest photos, click here.

Happy New Year!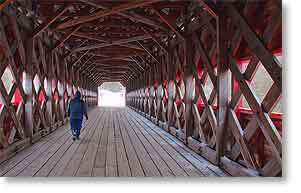 Saturday, 2 January, 2010 - Well, here we are now in the year 2010, finishing the first decade of the first century of this millennium.
Back when I was young and decades away from the change of millennium, I used to wonder what the world would be like when we got to this point and I would be retired, wondering about it back in the days when the enemy was the Soviet Union and communism and never imagining they would be replaced by radical Muslim terrorists, and wondering back in the days long before personal computers and the internet what the next major technological advancement to affect society at large would be to follow television. It's certainly a different world we live in now than when I was young, some of it is better, some of it is worse. One thing I would never have imagined is the 'Land of the Free' granting itself the powers of a police state in the name of national security, essentially treating the symptom rather than curing the disease. However, I won't digress into that can of worms.
For me, the most significant technological advances have been the internet and photography going digital. I can't imagine what I did with my time before they came along.
As for the year 2009, for Sandra and I nothing exceptional happened until our lifestyle was ruined on October 19th by US Immigration and that, regrettably, is what I'll always remember that year for. Hopefully, I'll remember 2010 as the year that situation gets resolved and we can get back to escaping the brutal Canadian winters.
I would normally recap the past year at this point, but Sandra has written and posted an excellent review of our year 2009, so I'll simply direct you to that instead. Click here to read it.
The photo above is another I took two days ago at the Wakefield Covered Bridge, showing Sandra walking along in it. For more of my latest photos, click here.


__________________________

For Older News

To read details of our previous stops and camps, visit the News Archives.


Updated Tuesday, March 9, 2010

Copyright © 2010 by Gordon L Wolford .
All rights reserved.