We Get Belted (Updated)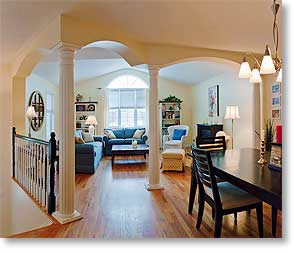 Wednesday, 24 February, 2010 - Well, here I sit at the moment in the local Dodge dealer's waiting room...yet again. I've been here so much lately they know me on sight.
Sunday the truck had to be towed here when Saturday one of the engine belts started to shred (sigh). So Monday I was here when the service department opened at 7am and they were just moving the truck into the bay. I then spent three hours waiting.
They said the belt shredded because it was an offbrand belt, not Mopar, but I doubt that since I don't recall the belt ever having been replaced. Anyway, whatever the problem really was, I hope it's fixed.
Then no sooner had I gotten the truck back to the house than I noticed the rear end had been spotting the driveway recently. So I crawled under the truck and saw rear end fluid seeping from around the rear end plug, which is what I'm here this morning to have fixed. Hopefully, it will be a small matter to fix. I'm getting seriously tired of sitting in this waiting room.
On a brighter note, Friday evening Sandra and I drove downtown to Jacques Cartier Park in Gatineau, Quebec where the Winterlude snow sculptures were on display. They looked pretty cool with the colored night lights on them. Photos I took there can be viewed in my Winterlude photo gallery by clicking here.
Then I spent most of yesterday taking photos here of the house interior. I did this because Nancy (our host for the winter) is putting the house on the market so she can buy a different house she's put a conditional bid on and her realtor likes my photography. Photo above is of the upper level, looking into the living room from the dining room. All the house photos I've taken can be seen here.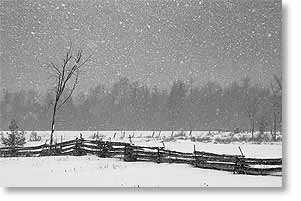 The truck and I are now back at the house. I ended up spending two and a half hours at the Dodge dealer and the problem did turn out to be simple – the washer behind the rear end plug being split. However, although the washer cost mere pennies, the repair cost hundreds of dollars because the rear end takes very expensive synthetic fluid and this had to be replaced and since the truck is 4-wheel drive, it has a differential in front as well so both had to have their fluid replaced. On the bright side, this was due to be done anyway and I had been putting it off since we aren't towing the RV so the truck has had no load on it.
On my return to the house with an even lighter wallet, Sandra and I went for a drive in order to leave the place in the hands of the weekly housecleaner. We took backroads to Almonte to photograph snowscapes since it was snowing (second photo above). At Almonte we treated ourselves to breakfast-for-lunch at the Superior Restaurant, a place we had never tried before but liked it and the meal did indeed prove to be superior with the food agreeing with both our fussy digestive systems, so we've added that restaurant on our list of acceptable places to dine out at.
For Sandra's account of the last few days, click here. For my latest photos, click here.

Almost Balmy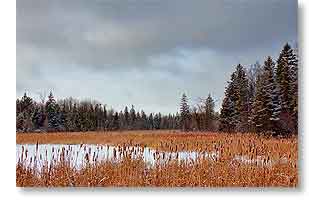 Friday, 19 February, 2010 - What a crazy winter it has become. We had a spell of seasonably cold weather back in December, but since then it's been a fairly mild winter by Ottawa standards and the two week forecast predicts it will continue to be mild.
That's not to say it's been warm - we did have a short cold spell at the end of January - but it didn't last and except for windchill on windy days, we've had none of the -25 to -30 weather that is common here at this point in a winter (which could have had windchills from -40 to -60). In fact, we've actually had quite a few days recently that got up to the freezing point (as it is as I write this) and even a little above and very little additional snow. Most of what's on the ground fell in December. I can't recall a February like this up here.
And adding to the craziness is the horrible weather the US has had. All of the blizzards have gone south and east of Ottawa this winter and I read recently that at one point 70% of North America was snow-covered and the snow for the winter so far in Dallas, Texas was only an inch less than what had fallen in Toronto, Ontario! That's beyond crazy.
Anyway, enough about the weather. Things have been fairly quiet since my last report. Sunday, Margie and John picked us up and we drove through the countryside and ended up 30 miles (50 km) away in Pakenham before turning back. On returning to the city we stopped for dinner with them at our local Swiss Chalet. It was a very pleasant time.
Wednesday, Sandra and I returned to the Jack Pine Trail in the hope of seeing the deer Margie and John have now seen twice, but no deer again for us. Photo above is of the frozen marsh there as seen from one of the boardwalks. Sunday, we are planning to meet Margie and John at the trail and hope the deer make a showing then.
Otherwise, we've just been hibernating, reading, and running errands.
For Sandra's account of the last few days, click here. For my latest photos, click here.

Pump Out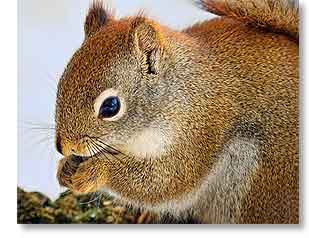 Saturday, 13 February, 2010 - Yesterday, I spent the day sitting around the nearest Dodge dealer. For quite a while I had been noticing a noise coming from the front of the truck when it was idling. The noise was rather like a fan belt starting to slip, but I have also heard a similar sound coming from a water pump when its bearings were about shot, so when the truck was in for an oil change last week I had the Dodge dealer in Smiths Falls look into the noise. Of course, it wasn't making the noise while the truck was there, but they checked the belts and they were good, so all you can do in that situation is wait for the problem to become consistent.
It did that Thursday when I noticed a puddle on the driveway under the front of the engine and figured it was the water pump, which indeed turned out to be the problem. I had replaced water pumps in my younger days when I had the tools for the job and cars were much simpler, but I wouldn't have a clue how to even start that job on this truck and have nowhere I could do it even if so inclined (way too cold out on the driveway), so we had no choice but to pay to have it done at a Dodge dealer yesterday, to the tune of almost $1,000. We can't complain too much though since the truck is 6 years old and has over 130,000 miles (210,000 km) on it and this is the first major problem we've had with it since the lift pump died 3 years ago.
On a more enjoyable note, we spent much of Wednesday morning hiking the Jack Pine Trail and then in the evening going downtown to view the Winterlude ice sculptures.
Margie and John had recently been on the Jack Pine Trail and encountered a couple of almost tame deer, so we were hoping the deer might still be around, but sadly they weren't and we had to settle for the usual red squirrels (photo above) and chickadees (click here for Sandra's hood ornament).
The ice sculptures are more interesting at night because they are lit up with colored lights. The last time we saw this display was 6 years ago and I think the lighting was better. This time they didn't have the same impact, as well as the better ones were displayed in long tents with one side open rather than being out in the open park, so it was hard to get clear shots of those. Anyway, it was an interesting evening and probably worth the $6 parking we had to pay.
For Sandra's account of the last few days, click here. For my latest photos, click here.

Did Another Downtown Dawn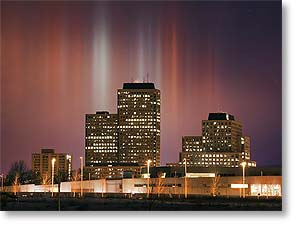 Tuesday, 9 February, 2010 - Dark and early Sunday morning, I once again drove downtown before the crack of dawn to take advantage of there being almost no traffic at that hour on that day of the week. My goal this time was a skyline shot that I discovered by accident a couple of months ago on another Sunday morning while walking around an area I'd never seen up close before.
At that time I took this shot, but wanted to take another one sometime while it was still dark and since it had been something of a hike to get there, before leaving this time I located the place on the map and found a much more convenient access point.
So in due course I arrived. The location is a now undeveloped area just west of downtown Ottawa called Lebreton Flats and what I like about the skyline view from there is that most skyline photos feature the Parliament buildings along the Ottawa River, but this view features the actual downtown buildings south of Parliament and I've never seen a photo of this view before.
No streets are in the immediate vicinity, just the bus transitway, and as it was still well before first light, it was dark enough that I could hardly see where I was going. However, I arrived at the transitway without incident, set up the tripod right in the middle of the road (being extremely alert for any buses that might be coming) and took this shot, which thanks to multiple long exposures with the camera and combining them in the computer, the result is way brighter than the scene was to the naked eye.
You might notice though that while I got the photo I went there to take, it isn't the one featured above. While walking back to the truck after finishing at the transitway and being ever vigilant for other photo opportunities while I'm out with the camera, I noticed the shot above with the surreal sky lights. I thought at first they might be an aurora, but after watching them for a while and taking numerous photos, it became obvious they were originating on the ground and reflecting off clouds. I still have no idea what their source might be but they were quite eye-catching.

Something Exciting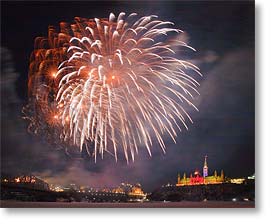 Saturday, 6 February, 2010 - Last night I finally did something exciting – I drove downtown and photographed the fireworks display opening this year's Winterlude festival and had a blast doing it.
Margie had suggested I do this, but I told her I wasn't interested in dealing with crowds, which is why I've never photographed the Canada Day fireworks.
However, as the day progressed, I started having second thoughts (it had been five years since I last photographed any fireworks and hopefully this will be the last winter we have to spend in Ottawa which meant this might be the last Winterlude I'll see) so despite the fact I hate driving at night, when the time came to leave...I did.
I figured it would be a short night and a wasted drive since I probably wouldn't be able to find parking...but I did.
And then I figured I probably wouldn't be able to find a good spot to shoot from...but I did.
And since I was an hour and a half early, I figured I wouldn't be able to stand in the cold that long...but I did and actually got photos of the event from start to finish.
Since the fireworks were to be set off from the Alexandra Bridge, I had decided the best view would be from the Museum of Civilization in Gatineau, Quebec, and I have a spot where I normally park that's right across the street from the museum, but when I neared the area last night I found traffic was blocked and being rerouted for several blocks around the museum, so I was quite fortunate to find an easy parking spot only eight blocks away, a walk of 0.8 km (0.5 mile).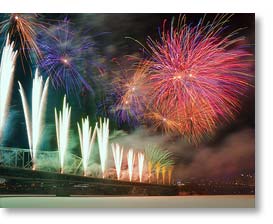 When I got to the museum, I found it was indeed crowded since it's one of the main festival venues, but because I was so early I had no trouble finding a great vantage point of the bridge, Ottawa River, and Parliament Hill, because nobody in their right mind stands around for more than an hour in 18°F (-8°C) weather. Well...I've never claimed to be in my right mind and since there was no wind chill to speak of, it actually wasn't that bad.
Then as the time drew near for the fireworks to start, the crowd also started to draw near and although I had set up the tripod at the edge of a walkway that runs along the top of a rise and all that was in front of me was a snow-covered slippery slope it still didn't come as a great surprise when a woman and her kid started to move in front of my camera and I knew the little urchin, who was dancing around within inches of the nearest tripod leg was going to eventually kick it and send my camera tumbling.
So, being wise to the ways of crowds (i.e. rude, thoughtless, and inconsiderate assemblages) I had spent some of my long wait planning alternative locations for just such a contingency and ended up at a corner of a fence that was right on the river bank and there was no way anyone was going to get in front of me there.
The fireworks started in due course and it was a spectacular show that lasted for 20 minutes and proved to be worth all the effort it took to get there.
I plan to return to the festival several times during its three week run and I expect Sandra will go with me at least once. An ice sculpture contest is one of the main features of Winterlude and the sculptures are a gorgeous sight when they are lit up at night, as can be seen here in photos taken 7 years ago.
Now to recover from all the excitement.

Nothing Exciting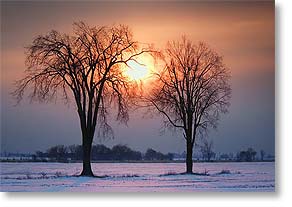 Friday, 5 February, 2010 - Nothing too exciting since my last report, just surviving the winter, hibernating as much as possible.
Sunday, shortly before daybreak I paid another visit to downtown and photographed some different areas. I've added those photos to my Ottawa's City Centre gallery. One of my main interests in going there this time was to see if anything had been done yet in preparation for Winterlude (which starts today). Nothing much had been at that point and what was there was roped off and no entry allowed.
Tuesday, I drove Sandra to the appointment with her cataract eye doctor and then waited in a nearby coffee shop until she was done. It was rather nice to just sit there leisurely sipping coffee. I don't get out much like that, so it was a treat.
Wednesday, we had sort of a sunrise. The photo above shows what we had. Not spectacular, but at least you could see the sun, sort of. The sky then cleared for the day but clouds moved back in just before sunset, which was almost a repeat of the sunrise sky conditions, as can be seen here. We've actually had quite a bit of sun lately, so hopefully that weather system has moved out that was bringing us week after week of overcast.
Then yesterday, Thursday, we took the truck to the Dodge dealer in Smiths Falls, a 45 minute drive from here. The truck needed an oil change and a couple of other minor things done and I trust the dealer there even though it's a bit of a drive. When we're in Smiths Falls, we always try to take advantage of it by having breakfast at one of our favorite little restaurants, the Roosteraunt, and to look around town. It's somewhere we wouldn't mind living if we have to give up the RV lifestyle.
For Sandra's account of the last few days, click here. For my latest photos, click here.


__________________________

For Older News

To read details of our previous stops and camps, visit the News Archives.


Updated Tuesday, March 9, 2010

Copyright © 2010 by Gordon L Wolford .
All rights reserved.