Busy Busy Again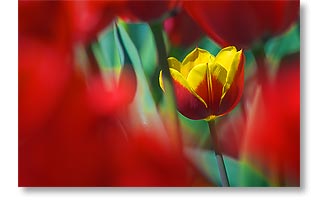 Saturday, 24 April, 2010 - We dropped in on a few garage sales this morning, it being a beautiful day for such things, but while we were looking for picture frames and table lamps, all we saw was junk so we got nothing out of the effort but a nice drive.
Then we decided to see if any spring flowers were in bloom, so we drove by the Ornamental Gardens, but from the road saw nothing blooming and continued on to the tulip beds at Commissioners Park on the shores of Dow's Lake and found a surprisingly large numbers of tulips in bloom, so we parked and walked through the park photographing tulips (photo on the right). This is actually a good news/bad news situation. Spring has arrived early this year so the tulips are blooming early, which is bad in light of the Canadian Tulip Festival 2010 being scheduled to run from May 7 to 24, so at this rate the tulips may have come and gone by then.
Anyway, on arriving back at the house, Sandra found an electric lawnmower for sale on one of the online classified ad sites, so we hopped back in the truck, found the mower, liked it, and bought it. Then with that in the truck we decided to make a run to the storage locker near Smiths Falls to drop off the mower along with the rest of the things we've acquired since the last visit.
For Sandra's accounts of the last few days, click here. For my latest photos, click here.

Busy Busy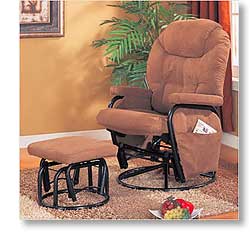 Wednesday, 21 April, 2010 - We've been fairly busy since my last report, mostly with seeing to things for the house. Boring but necessary.
For fun though, on Thursday before dawn I drove over to Dick Bell Park to photograph the sunrise from the park's lighthouse point. This is one of the few accessible spots around here that's not too much of a drive and has a reasonably scenic view facing east over water.
Somewhere along in there, maybe Friday, I finally got around to assembling for Nancy (our host for the winter) the BBQ grill she'd bought last autumn. I'd been putting off this chore waiting for good weather, which we've been having, so I had no more excuses. It turned out to be easier than I'd thought it would be, only taking a couple of hours rather than a couple of days.
Then Sunday morning, before dawn as usual, I drove to Andrew Haydon Park, which is adjacent to Dick Bell Park, but only got a couple of photos.
Later that day we drove over to Gatineau, Quebec to buy a very unique chest of CD drawers Sandra had seen advertised on one of the online classified ad sites. This should greatly help in getting my vast and ever growing DVD collection organized.
Monday turned out to be the big day though. We took a load of our acquisitions down to the storage unit in Smiths Falls and afterward stopped the Wal-Mart there and ended up buying a futon and two gliding recliners (photo above). The recliner and its matching ottoman not only glide back and forth but the chair swivels as well. I had one of these in our previous house and loved it and was quite pleasantly surprised to find they are still available.
Yesterday I finally made it over to my friend LeRoy's house for a visit. He's also our Apple VAR, so while there not only did I get to play with the new Apple iPad, but replaced the 120GB hard drive in my MacBook with a 500GB model, so it should be a while before I run out of hard drive space. After all that, LeRoy took me out for a fishy lunch. I had a great time.
Last evening then, it was back out in the truck to drive across town to pick up a couple cabinets Sandra had again found on an online classified ad site. The downside to all these purchases is most of them are big and heavy and a real chore to move around. Fortunately, and nothing short of miraculous, our backs have been up to the task.
For her accounts of the last few days, click here. For my latest photos, click here.

Killdeer, But Still No Deer!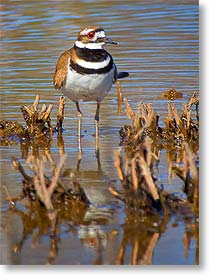 Wednesday, 14 April, 2010 - Today was the housecleaner's day, so as we've been doing lately, Sandra and I left the house to the cleaner and went out.
This time, after running a quick errand, we ended up once again at the Jack Pine Trail, hoping we might see a deer, but as usual they were all missing in action, but we did see three killdeers in one of the marshes, two males chasing a female. She's pictured here taking a short break from the action. I had hoped to get a photograph of the culmination of the chase, but the guys seemed in no big hurry to catch her, so we eventually gave up on them and continued our stroll along the trail.
In all, we saw the usual array of black-capped chickadees and red squirrels looking for handouts, which Sandra was happy to provide from her stash of sunflower seeds. Plus we saw some of the ever-so-rare mallards, red-winged blackbirds, and robins, but we also saw what I first thought was a fairly common downy woodpecker, but it turned out to be a yellow-bellied sapsucker (as seen here), which I can add to my list of bird species that I've photographed, since I'd never seen that species before. The list now numbers 164 species.
Otherwise, I've done nothing much of interest the last few days except learn how to use the iPod Touch Sandra gave me on Saturday. It's a pretty amazing device.
For her accounts of the last few days, click here. For my latest photos, click here.

I'm Touched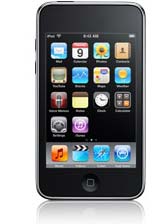 Saturday, 10 April, 2010 - There are several ways that headline might be interpreted. For instance, I'm touched as in touched in the head, a condition many people who know me probably wouldn't argue with too strenuously.
Or touched as in something coming into contact with me.
Or touched as in something has moved me emotionally and that is one interpretation that's accurate as a result of also being touched in another more metaphorical way because Sandra gave me an Apple iPod Touch yesterday, a very touching gesture indeed.
For those who might have lost...ahem...touch with technology, an iPod Touch is the latest and greatest portable media player, personal digital assistant (PDA), and Wi-Fi enabled pocket computer from Apple, or in essence, an iPhone without the phone.
Sandra has been acquiring things for the kitchen with the points we've earned on our Visa card and another of the things she got with them was the aforementioned iPod Touch, which we picked up yesterday at Margie and John's where all this stuff had been delivered. Sandra had thoroughly convinced me she was getting the iPod for herself and would get me one when we had again accumulated enough points, so it was quite a shock when she presented this one to me, thinking herself pretty cute and clever for having fooled me so completely.
I consider this new iPod a real luxury because the PDA I've been using for 5 years (an HP iPAQ h1940 Pocket PC) still works fine and does most everything I'm interested in doing with an iPod, just not as slickly nor does that iPAQ have wi-fi capability. With the iPod I can surf the internet wherever an open wi-fi network is available.
The Touch is also a luxury because I've had an iPod Classic for even longer than the iPAQ, but just never found that particular iPod all that easy to use...a case, in my opinion, of an interface being too simplified, but the Touch by comparison is quite easy to use, employing tapping and dragging on its touchscreen to do things. Very slick and very pretty, but I could never have justified spending the money on one myself, so I'm touched Sandra did this for me. The device might have cost her Visa points, but it made her points with me.
For her accounts of the last few days, click here. For my latest photos, click here.

Easter Sunday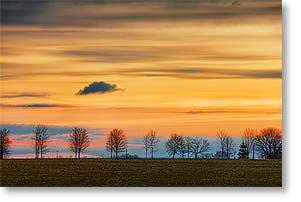 Sunday, 4 April, 2010 - Happy Easter to all. Some of my favorite childhood memories are of Easter mornings. My mother was one to make a big deal of holidays and Easter was one that got her full attention, so the first thing my sisters and I did after rolling out of bed on Easter mornings was to find the Easter basket she had hidden somewhere around the house for each of us, this back in the days when I could still eat chocolate without getting violently ill as I would now.
This morning there was no hidden Easter basket awaiting me, but since the weather forecast is claiming this to be the last sunny day before clouds and April showers descend on us for the next two weeks, I went out to see if there were any sunrise Easter photos awaiting me and did find a couple, one of them above.
We are planning a quiet day around the house and then an Easter supper Nancy our host is fixing, although I might nip over to Richmond this afternoon to take a look at a trail I discovered there this morning, but didn't take the time to hike on it.
For my latest photos, click here.

Easter Thursday (Edited)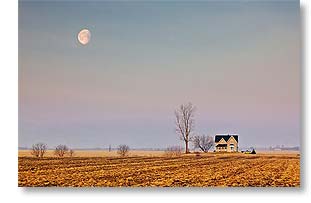 Good Friday, 2 April, 2010 - Yesterday evening Margie and her family had us over for an Easter dinner, so it was an Easter Thursday, even though technically it's actually called Maundy Thursday. This choice of days for the dinner was to accommodate everyone's schedules. As always, Margie and John outdid themselves and served up a sumptuous feast of turkey with the works.
Earlier in the week while we were out running errands, I bought a one terabyte hard drive (1TB = 1,000 gigabytes) with the hopes of copying some of my photo DVDs onto it. I had tried this a couple years ago with a 500 GB drive only to have it fail even before I got it filled, but it would be so much more convenient to work with those photo files from a hard drive that I decided to try it again when I saw this 1 TB drive on sale for only $120. My photo archive now numbers 460 DVDs and I seem to be adding to it at an exponential rate due to the size of 15 megapixel RAW files being so large and the fact many of the processing techniques I use now involve multiple shots of a scene, so things are beginning to become unwieldy. Unfortunately, even a 1 TB drive will only hold half that number of DVDs, so I'll still need another 1 TB drive if this one doesn't fail. If it does, it's a sad testament to the reliability of hard drives.
This morning I was out for sunrise and took the photo above, as well as photographed the mouth of the Jock River, which can be seen here,
Then in the afternoon, Sandra and I did another run to Smiths Falls to add some things to the storage unit and to see if the Wal-Mart there had the recliners we've been wanting, that being the only Wal-Mart we saw that was open for Good Friday, but sadly they had none of the recliners in stock, although they were expected to arrive any day.
And, while we were in the area, we also did another exploratory drive down to the lakes region south of Westport and were again impressed with the scenery, one view of which can be seen here. I've learned that area of the Frontenac Axis (aka Frontenac Arch) of the Canadian Shield is also called Canada's Land o' Lakes.
On the way back to Ottawa, we stopped at the RV to get some warm weather clothing, the day's high being 82°F (28°C) which shattered the old record set last year of 59°F (15°C), and on arrival at the campground we found the owners Dave and Shonagh there, so we were able to tell them first hand about our change in plans and made arrangements for keeping the RV there until it sells. Busy day.
For Sandra's account of the last few days, click here. For my latest photos, click here.


__________________________

For Older News

To read details of our previous stops and camps, visit the News Archives.


Updated Tuesday, May 4, 2010

Copyright © 2010 by Gordon L Wolford .
All rights reserved.