May Scorchers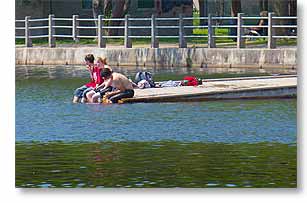 Thursday, 25 May, 2010 - For two days in a row (Tuesday and Wednesday), daytime temperatures reached into the 90s F (30s C).
Officially, the high temperatures for those two days were 91°F (32°C) and 96°F (35°C) respectively, but locally by our thermometers they were even a bit higher, like late afternoon yesterday our outdoor sensor was showing 100°F (38°C) and yes, that was in the shade. Whichever numbers you take, they were hot and set records. In fact, it was hotter here yesterday than in Tucson, Arizona where it only reached 93°F (34°C).
This is quite a turnaround from last summer which was cool and wet. The prediction for this summer is hot and dry. Fortunately for those of us who don't like hot sweltering weather, things are now to become more seasonal. Phew! At least this short heat wave showed us the house's central air works well.
I went out with my camera yesterday afternoon to look for a representative shot of the heat and saw these three young people sitting on the end of a dock cooling their feet in the canal. It wasn't all that long ago this water was ice.
For Sandra's account of our heat wave, click here. For my latest photos, click here.

Victoria Day Long Weekend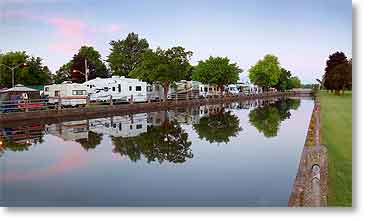 Tuesday, 25 May, 2010 - This past weekend was the Victoria Day long weekend, Monday being the holiday itself. It was originally started to celebrate Queen Victoria's birthday, but now celebrates the birthday of the reigning British monarch and marks the start of summer activities in Canada and that was appropriate yesterday since we had summerlike weather of 83°F/28°C and sunny. That's 10°F/6°C warmer than normal for here, but not record setting.
Sunday morning I went downtown before dawn to see what photos were waiting for me and took the one above of the RV park that backs onto the Rideau Canal Waterway. It's the Victoria Park Campground and is a very short walk from downtown. Any RVers who would like to visit, this is very convenient to us. The park has very little information online that I've found, but you can see in the photo that it can take big rigs. When Sandra and I were on the road we talked about staying here for a week or two but never got around to it. Click here for another view.
Sunday I got Sandra's yard swing assembled, the last of my assembly jobs, for now. While in the midst of it, Margie and John dropped by. They had found a timer switch for our bathroom and John wanted to install it. While here they stayed for dinner, which made then our first dinner guests and gave me opportunity to put the new grill to work for the first time.
All in all, it was a very busy weekend. Sandra has covered all the details in her blog. Click here to read them. Click here for a photo of Sandra in her new swing.

We Enter the 21st Century


Friday, 21 May, 2010 - And by that, I mean we finally got our first large screen HDTV, a 42" Samsung plasma model. I think we must be the last people on the planet to get one because there was no room in the RV for such a thing, so we made do for 5 years with a little 19" LCD model, although all winter we had Nancy's 42" HDTV to watch, so now we have our own.
It was delivered yesterday along with the rest of our order from Leon's Furniture in Ottawa that included a fireplace credenza to hold the TV, a coffee table, and bed.
But not just any bed, it's a Sebring Bedwall Set and an impressive piece of furniture it is. We were under the impression it would require assembly and I was resigned to doing that, so we were very pleasantly surprised when the two delivery guys did the assembling, then all we had to do was figure out how to modify it to raise the head of the bed a few inches to accommodate Sandra's reflux condition.
The headboard also has a couple of lights and power outlets and a power switch, but none of it was connected and the delivery guys had no idea how to do that and there were no instructions, but I managed to figure it out and get things working. The difficulty arose from all the wiring being in a virtually closed compartment and the wiring had to be traced by touch and a voltmeter I have.
Today the couch is scheduled to be delivered and once that arrives it will complete our basic furniture needs except for a computer desk which we'll probably buy used.
The photo above was taken at sunrise yesterday just outside of town on a stretch of road that runs along the south shore of the Rideau River for a short distance.
For Sandra's account of the last two days, click here. For my latest photos, click here.

First Step To Settling In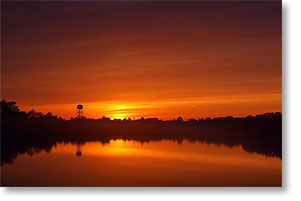 Wednesday, 19 May, 2010 - As stated in my last report, on Monday the Cogeco installer arrived (Cogeco being the local cable provider) and got us setup with cable TV, internet, and telephone.
The Verizon cell phones we've used for five years will remain active until November when that contract expires, at which point we'll replace them with local pay-as-you-go cell phones. I won't, of course, post our new contact information here, but anyone wanting it can send a request via the 'Email me' link in the sidebar on the left.
Yesterday, John and his friend Peter got the second coat of paint on the bedroom walls while Sandra and I had to run errands in Ottawa and I finally got our Netgear WGR614v9 wireless router working with the new internet connection. I had expected that to be as simple as just plugging it in. Not! Silly me. It took me the better part of my spare time Monday and yesterday before I could get it working properly. I won't bore everyone with the technical details, but basically since I couldn't find the manual and installation CD (they are no doubt in one of our moving boxes), I had to find the installation data online, change power cubes (the one I had being erratic), reset the router, and then figure out what data to fill in its installation wizard with. By default, it sets up an open network (one not requiring a password). Why these routers all seem to do that mystifies me. I got it working once with a simple WEP password, but then lost the connection when trying to upgrade it to the more difficult to crack WPA password and then couldn't get the connection back no matter what I did, until I finally hit on some combination of data entry that worked. Yeesh! I hope it doesn't ever lose it again, because I have no idea what I did to get it working. My email even works again as it should, something I couldn't get it to do all winter with internet connection at Nancy's house.
Anyway, all's well that ends well and getting our communications package all setup was a big first step in getting settled in. I felt totally lost without the internet. Tomorrow the furniture is scheduled for delivery and that will be the next big step.
The photo above was taken Monday evening across the river from the house, the river being the Rideau Canal Waterway.

Be It Ever So Humble...

Monday, 17 May, 2010 - ...there's no place like home. A clichéd saying, but so true.
With the invaluable help of John and Margie, we are now living in the house at Smiths Falls, although still a long way from being settled in.

Saturday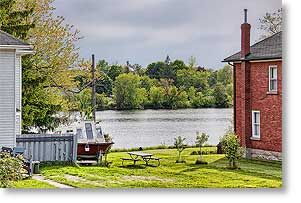 On arriving here bright and early Saturday morning, Sandra learned the washer and dryer left behind by the previous owners work quite well, so we were hoping we could cancel the order for the new ones we had already paid for at Leon's Furniture.
On leaving Nancy's house to drive down here, we had the truck loaded, so once we arrived here and I unloaded all of that at the new place (Sandra not being able to lift much due to a very painful shoulder problem) I drove out to the storage locker before John and Margie arrived and I loaded all the things I could lift by myself, dropped that load off at the house at about the time John and Margie arrived with a surprise. Sandra has been wanting a covered yard swing, so they had stopped on their way and bought one for her (Betty and Garth also having contributed to the purchase of this very large housewarming gift) and somehow managed to get the box into the trunk of the car, although several feet of it had to hang out the rear.
With that unloaded into our shed, John and I drove back to the storage locker in the truck and loaded the big, bulky, heavy items that take two people to lift (futon and recliners), dropped those at the house, returned to the storage locker and got the rest of its contents (such as the patio set, dining room set, basement cupboards, grill, etc.). It was sure a great feeling to see the storage locker empty due to the plan working out.
We then spent the rest of the day with Sandra and Margie unpacking boxes, putting the legs back on the dining table and running errands to the hardware store while John and I assembled the recliners and futon so Sandra and I would have something to sit and sleep on until the rest of the furniture (bed, couch, coffee table, 42" HD TV, fireplace credenza) arrives on Thursday. Somewhere in there, the ugly wallpaper in the master bedroom was pulled down and the walls prepped for painting the next day.
Then, after taking Margie and John out to dinner, it was back to Nancy's in Ottawa for the night.
The photo above is a view of the Rideau Waterway across the street as seen from our front window. Margie claims this view as hers and I guess she can have it when she's here, otherwise it's mine!

Sunday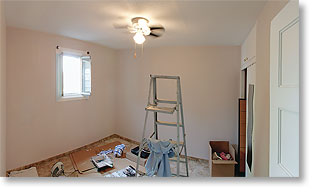 With us up bright and early again on Sunday morning, we loaded more of our things into the truck (amazing that all of that had fit in the RV) and took that load to the house, unloaded, and then headed back to Ottawa where we were indeed able to cancel the order for the new washer and dryer at Leon's (Joy!), returned to Nancy's to load the last of our things, thanked her profusely for putting us up (and putting up with us) for seven months (a truly amazing friend), and got back to the house to find John and Margie had arrived and were painting the bedroom for us (truly amazing family). Photo directly above is the room waiting for its second coat of paint.
They had also brought their trailer loaded with ladders and a long handle branch trimmer, so once I had the final truck load carried into the house, John went up on the roof to clean out the gutters and I started trimming back shrubs and tree limbs that were rubbing on the roof and house, which took me to the limit of my endurance, something that still has not fully recovered from the Valley Fever episode two years ago.
Then John replaced the dead bathroom fan (no window in that room, so a working fan is rather vital) with the replacement requiring him to also climb into the attic looking like a hazmat technician in his protective gear against the insulation up there. It was a nasty, difficult, and dirty job that he did and one I'd have never attempted myself, so he has our utmost thanks.
With their assistance we got done in a weekend what would have taken us a month to do on our own, but by yesterday evening I was on the edge of total exhaustion, literally. Never been so tired, to the point I actually slept through the night, a very rare event for me.

Monday

So, as I write this on Monday morning, first thing I did even before breakfast was to replace an ancient non-grounded two-prong power outlet in the living room where the TV is to go with a modern grounded three-prong outlet in preparation for the cable guy who arrived a short while ago and is currently getting the house connected for cable TV, internet, and telephone.

Update: the cable guy was here two hours and got everything hooked up and working, so we now do indeed have TV, internet, and telephone all through the cable. No more loss of internet and TV through satellites everytime a heavy storm moves through and no more 200 MB daily bandwidth cap on the internet that we lived with for several years with the satellite internet. The satellite communications in the RV did their job, most of the time, but they won't be missed.

Start Of The Next Chapter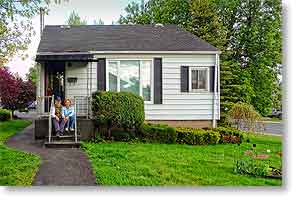 Friday, 14 May, 2010 - Today Sandra and I started the next chapter in our married life together by taking possession of the house we've been in the process of buying in Smiths Falls, the deal closing today.
We had to be at the lawyer's office this morning for 9:15 to sign off on a zillion pieces of paper and to hand over the down payment. With that all done, taking about an hour and a half, it was time for the long wait for the keys to arrive from the seller's lawyer in Ottawa, ETA 4pm, so we decided to first celebrate by having a late breakfast at the Roosteraunt, where we got a phone call from one of the lawyer's staff saying they had neglected to get copies of our identification, which meant a return visit to the lawyer's office but it was at least a short one, which still left us with four hours before the keys were due, so we drove over to the RV and waited there.
At the appointed time of 4pm, we returned to the lawyer's, but still no keys although they were due to arrive any minute, so we just sat there and waited, getting more anxious as each minute passed, with visions of the courier being stuck in rush hour traffic, or worse. Why the sellers opted to use a lawyer at least an hour away is a bit mystifying, but the keys did arrive (around 4:50pm) and were handed over to us, so we wasted no time in driving to the house and giving it an inspection.
It's always at this point that you notice all the shortcomings of a purchase, but the only surprise we encountered might be a good one. The sellers left behind their washer and dryer. These weren't part of the deal, so we had bought new ones that are due to be delivered on Thursday. This means we have to find out if the washer and dryer left behind work or not. If they don't, it will be a nuisance getting rid of them. If they do, it's a bonus because it's not too late to cancel the order for the new ones.
Photo above is us on the front steps.
For Sandra's account of the day, click here. For my latest photos, click here.

Starting To Get Excited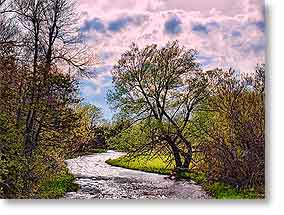 Tuesday, 4 May, 2010 - We are closing on the house in 10 days, which is now close enough that I'm starting to get excited about it.
Otherwise, probably the biggest thing from my point of view that's happened since my last report is my health. I try not to talk about health because it seems everyone has health issues of some kind and don't care to hear about those of other people, but be that as it may, my belly had been bothering me more and more of late until the discomfort was getting so bad I feared I'd have to go to the emergency room this past weekend. I thought the problem was coming from the rough ride of our heavy-duty truck over bumpy Ontario back roads inflaming the scar tissue from surgery 30 years ago, but it's now looking like the problem was coming from the Bob's Red Mill Corn Grits I was eating for breakfast. These are labeled as gluten-free, but I quit eating them on Thursday and by that evening I was already feeling better and have slowly continued to improve since then. So, needless to say, at least that batch wasn't gluten-free and I'll be trying something different for breakfast from now on.
On a cheerier note, Adobe Systems released Photoshop CS5 a few days ago, so I downloaded the trial version and have been trying out its new features when we haven't been running back and forth to the RV getting it ready to sell, an activity that has consumed all of our spare time the last week.
The only other thing we've done worth mentioning was us hiking in the Mud Lake/Britannia Conservation Area last Wednesday while the housecleaner was here doing her thing. Considering this is conservation area within the city of Ottawa itself, we saw a fair bit of wildlife, including a Northern Flicker and Pileated Woodpecker, two species of woodpecker that are sometimes seen in this area, although this was only the second flicker I've ever seen around here. We saw a lot of them in Arizona however.
The photo above of the Jock River was taken Sunday on our way back to the city via back roads from the RV.
For Sandra's accounts of the last few days, click here. For my latest photos, click here.


__________________________

For Older News

To read details of our previous stops and camps, visit the News Archives.


Updated Tuesday, June 1, 2010

Copyright © 2010 by Gordon L Wolford .
All rights reserved.