It's Autumn!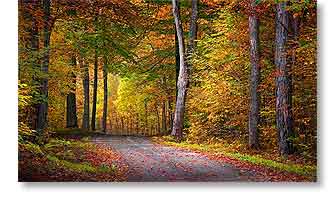 Saturday, 25 September, 2010 - I forgot to mention in my last report that it was the first full day of Autumn, which arrived around 11pm the evening before.
As a photographer, this is one of my favorite times of the year, due obviously to the fabulous colors that can appear, although unfortunately those colors don't hang around for long and the trees are too soon bare and stark.
It also seems it's always cloudy and rainy when the colors are at their peak, so this autumn I'm planning to try and get as much photography out of it as I can and in keeping with that plan, while only a few trees are just now starting to come out in their fall colors, Sandra and I went for a drive in the country yesterday in search of some color to photograph and even found a little, as in the photo above. This morning I was out again, taking advantage of a brief period of sunshine and found a little more, but it's still early.
For Sandra's accounts of things since my last report, click here. For my latest photos, click here.

Fond Memories & Thousands Of Photos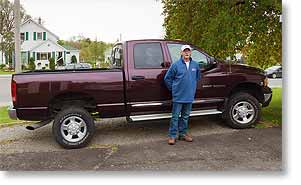 Thursday, 23 September, 2010 - That headline describes what we now have left of our lives as RVers, having just sold the truck that we enjoyed for the last six years. With the truck gone, that severs the last tie we had to our former life as nomads.
As with the RV, we didn't get as much as we wanted for the truck, but we got a fair price. I'm just glad I don't have to answer anymore phone calls inquiring about it. We had the truck listed with several sites online and also had a 'For Sale' sign on it and were parking it out by the street until a very pleasant (seriously) bylaw enforcement officer stopped by recently and told us we couldn't park it there because it was on city property, which begs the question...why do I have to mow it and where's my actual property line?
Anyway, we were getting quite a few calls every day, but most people lost interest as soon as I told them our asking price was $19,500 (original sticker being $55,000) and the truck had 218,000 km (135,000 miles) on it. That's a lot of mileage on a car, but not much on a one-ton diesel truck. However, there were still quite a number of interested parties and one of them, Mike, bought it this morning. That's him pictured above, just before he drove it away.
So, any traveling we do now will be done with the car and except for hopefully being able to visit the family in Ohio (if Sandra's US Immigration situation is ever resolved), whatever traveling we might do won't take place until next year, when I'd like to tour and photograph the Canadian maritime provinces. Until then, we now have fall foliage to photograph (such as this photo) and an endless list of things to be done around the house and a winter to get through.
For Sandra's accounts of things since my last report, click here. For my latest photos, click here.

Eventful Time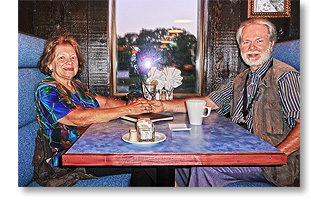 Monday, 20 September, 2010 - We've certainly been busy of late. One of the big events since my last report was Sandra and I celebrating our birthdays (which are only a week apart) by having dinner out on the Monday between them. Sandra also baked me a gluten-free butterscotch pie (my favorite) that is a variation created by my daughter of my mother's recipe. Having a slice of that pie is like a slice of heaven.
Smiths Falls for its size (pop. around 9,000) has a surprisingly high number of restaurants, so this time we tried one we've not been to before called Chuckles Jack, photo here taken by our waiter. The staff was very accommodating to Sandra's and my food limitations and we had a very enjoyable time. Our window there overlooked the Rideau Canal, as does the restaurant's patio, but unfortunately the evenings have turned too chilly to sit out in such a place. Autumn is in the air and the trees are starting to don their fall colors, which is reasonable since autumn begins in two days.
Sometime along in there, we got our 2004 Dodge RAM 3500 diesel pickup truck cleaned up, safetied, and as ready to sell as we are going to get it, so I put a For Sale sign on it and parked it out by the street while Sandra posted it on the internet in several places and since then we been dealing with a regular parade of phone and email inquiries and showing the truck. No sale yet, but things look promising.
Today though was the biggest event for me personally in quite a while, a colonoscopy. This has been long overdue considering the history of my health and the last one of these was done 9 or 10 years ago. I really hate them, especially the preparation required before them to get your insides cleaned out and as happened today when the anesthesia didn't take effect, leaving me fully conscious during what proved to be quite a painful procedure. But the doctor saw no problems in there, so I'm happy despite spending several minutes in agony.
Otherwise, we've continued with our regimen of house-related chores, like getting the garage cleaned out (which was quite a job considering this is where we tossed the boxes and packing material from all of our purchases for the house) and Sandra rewallpapering the bathroom (another big job that took several days) and of course, my daily sojourns at first light and sunrise in the hunt for photos and actually finding a few now and then. With the garage cleaned out, we now have a place out of the weather to park the car this winter, which will be made easier once I install the garage door opener that's sitting out in the shed waiting for me. It never ends.
For Sandra's accounts of things since my last report, click here. For my latest photos, click here.

We Get Conserved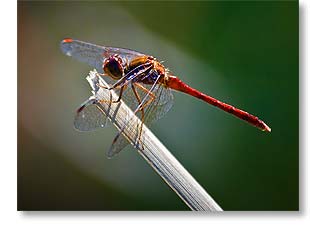 Sunday, 12 September, 2010 - Well, it's been two weeks since I last reported anything and that's because there's been little of interest to report.
Labor Day came and went without a whimper.
We did have to go into Ottawa a week ago for a sleep apnea test Sandra had scheduled at one of the hospitals, which means she spent the night there, so I slept over at Margie and John's, who kindly put me up for the night. No results yet from the sleep test.
I also met my friend Jim for breakfast one morning, it being a while since we last got together. And Sandra's birthday was three days ago, but we give our birthdays a pretty low-key observation and since mine is in a four days, we'll probably go out for dinner tonight as a celebration for them both.
Just to show how quiet it's been around here (and I consider quiet to be a good thing), the most exciting thing that's happened is the service provider for my internet domain here made some changes that screwed up my access and email. It took two days and three emails with their support team before I could I could get into my files here and three days before I could get my email program reconfigured. Hopefully, the changes will be improvements. So far they look to be (now that things are working again).
Yesterday though, It being an absolutely beautiful clear blue day, the kind of perfect summer day we're supposed to have up here, we actually did something worth reporting, something fun. We made the half hour drive east to a place I recently discovered, the Baxter Conservation Area. Tax dollars don't work like they once did and places like this now charge a day use fee, in this case $6, and I suppose it was worth it, although being retired and on fixed income, I hate to pay it. We didn't see anything outstanding and nothing we haven't seen at areas that don't charge a day use fee, but it was nice to be hiking along nature trails again, something we haven't done for months because unfortunately there aren't any in the immediate area around Smiths Falls. The 'wildlife' we saw was a squirrel, bluejay, many butterflies, several noisy people, and countless dragonflies (photo above being one of them). I've never seen so many dragonflies in one area, which happily meant we encountered almost no mosquitoes. And as a bonus, as we were leaving we saw a Great Blue Heron along the shore of the Rideau River. Not much to show for a $6 day use fee, but we had fun, so I guess that in itself was worth the price of admission, although considering how long it takes to get there (an hour round trip) and the expense, I doubt we go back anytime soon, if ever.
For Sandra's accounts of things since my last report, click here. For my latest photos, click here.


__________________________

For Older News

To read details of our previous stops and camps, visit the News Archives.


Updated Monday, October 18, 2010

Copyright © 2010 by Gordon L Wolford .
All rights reserved.