It's Clear To Me Now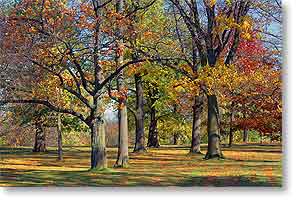 Thursday, 28 October, 2010 - Yesterday, we made the trek back to Ottawa, having been there only a week ago for dentist and eye doctor appointments. This time was for Sandra's follow up at her dentist and for me to pick up my new eyeglasses that resulted from last week's eye doctor visit. The time had come that I finally got so tired of having to squint my 64 year old eyes to be able to read the computer screen I relented and got a pair reading glasses so I could see it clearly. I do have a pair of progressive bifocals, but never liked using them for the computer, generally only wearing them for night driving or in conjunction with clip-on sunglasses when I'm out during the day.
And while in Ottawa, we took advantage of being there to run errands, one of which was to buy a DVD video recorder for the TV. We have an old VCR/DVD player, but I couldn't get it to work with the new TV, so hopefully the new unit will. We ended up getting a Toshiba D-R7 at BestBuy.
And while Sandra was at the dentist, I had about an hour to kill so it being a beautiful day, not all that common of late, I ended up at Ottawa's Dominion Arboretum and found some fall foliage still hanging around (photo above), just waiting to give me something to shoot with my new camera. Unfortunately though, most trees elsewhere are now bare and it's starting to look pretty wintry.
For Sandra's accounts of things since my last report, click here. For my latest photos, click here.

Never Say Never, But...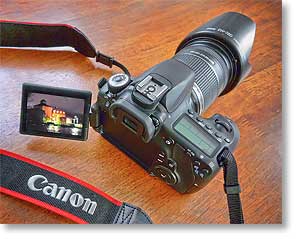 Thursday, 21 October, 2010 - One thing I've learned in my life is to never say never, otherwise because of the new camera I bought yesterday, a Canon 60D, I'd be saying I'll never need another camera. However, I have no doubt those devious insidious camera companies will eventually come up with some new feature I won't want to live without.
Until then though, the 60D has everything I've been wanting in a digital camera – with 18 megapixels it has enough resolution to make me happy, with a usable 6400 ISO (and even 12800 ISO that's usable in a pinch with some determined processing) it has enough sensitivity to make me happy (click here to see a 12800 ISO shot), and with a fully articulated display (as shown in the photo above) it is easy to compose shots from very low or high or even obtuse angles, which also makes me happy.
In fact, it was the articulated display that was the deciding factor in buying this camera. With any camera that doesn't have a rotating display, it is very difficult to shoot from ground level or from overhead because you can't get your eye on the viewfinder without laying prone on the ground for low angle shots and even then, if one is willing to stoop to such a degree, the range of view is limited. Otherwise, without some means of getting a right angle view, you point the camera blind and hope for the best. Now I can see what I'll be getting.
Anyway, this is a milestone camera for me because it's the first digital camera I've bought that I'm completely happy with at the time of purchase. All those cameras I bought before it were simply interim cameras to get to this point. Glad I lived long enough to see the day. I thought it would never get here.
For Sandra's accounts of things since my last report, click here. For my latest photos, click here.

Fall Foliage Fading Fast


Monday, 18 October, 2010 - Since my last report, Sandra and I have made two drives down to the Land o'Lakes region in search of autumn color to photograph – Wednesday when we visited the Rideau Canal locks at beautiful Jones Falls and yesterday when we more or less followed the Tay River over to the Bolingbroke vicinity (photo on the left taken around there).
Ontario's Land o'Lakes region is in an arm of the scenic Canadian Shield called the Frontenac Arch or Axis and is an easy drive from here, only a few minutes away to the nearest edge of it, and is full of lakes (of course) and rolling, hilly, rocky, tree-covered terrain with a great many marshes and wetlands in addition to the lakes. I consider us fortunate to live so close to such a beautiful and sparsely populated area.
Unfortunately, this autumn has proven to have had a lot of overcast and rain and has not been full of brilliant fall color, which has appeared only in pockets, most trees already being either bare or drab, but we have found enough color to make the effort worthwhile to photograph what we can find of it and that is fading fast.
Other than those drives, the only other thing of note since my last report was on Tuesday when we drove to the US embassy in Ottawa where Sandra was able to turn in her paperwork to start collecting US Social Security, which she can do as the wife of a US citizen. Normally we would have driven down to the Social Security office in Ogdensburg, New York and had it done there directly, however since she's not allowed in the US, the embassy turned out to be an acceptable alternative.
Also, in Ottawa just before midnight on Thursday night I finally had a long awaited MRI (Magnetic Resonance Imaging) scan done, the last of these being two years ago to check on the status of my lungs after my Valley Fever-induced fungal pneumonia episode. Even though my lungs still haven't fully recovered (and they might never) my need for this MRI was considered low priority, so it took quite a while to get the appointment. I normally like these late night appointments because it's much easier to find free onstreet parking, but unfortunately Thursday night ended up being quite rainy, which can make nighttime driving hazardous. Happily, we made it there and back without incident. So far I haven't gotten the results of the scan. I was hoping the intense magnetism of the MRI machine would have given me a more magnetic personality, but since I'm not feeling any more attractive, such doesn't seem to be the case.
For Sandra's accounts of things since my last report, click here. For my latest photos, click here.

Happy Canadian Thanksgiving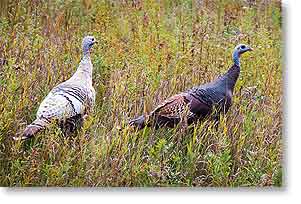 Monday, 11 October, 2010 - Today, being the second Monday in October, Canada is observing its Thanksgiving holiday, so Happy Thanksgiving to all in Canada.
Since this holiday always occurs on a Monday, it always makes for a long weekend and Sandra and I made it a really long one by heading for Garth's cottage on Thursday, not that weekends are too significant when one is retired.
We left early enough to allow time to photograph the fall foliage along the scenic Highway 7 (the road that goes most of the way to the cottage) and while we did see some color worth shooting, this isn't turning out to be a spectacular year for autumn color.
Two highlights of the weekend were on Friday with Betty, Garth, Sandra, and I hiking along the section of the Trans Canada Trail that goes through Lindsay and Saturday evening when Garth's daughter Valerie and her family joined us for a sumptuous Thanksgiving turkey supper.
Photo above was taken a week and a half ago of a couple wild turkeys heading for the hills, fleeing in advance of their most dangerous holiday.
For Sandra's accounts of things since my last report, click here. For my latest photos, click here.

Down To The Small Stuff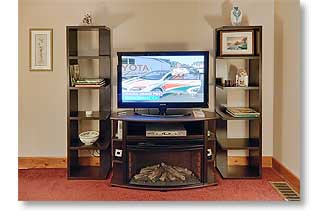 Thursday, 7 October, 2010 - Yesterday we picked up what I think is our last furniture purchase for the house – bookshelves for the TV wall – the last big purchase for the foreseeable future anyway. Any future needs should be for small stuff because there's no room left for anything large except in the basement and we currently have no plans for down there.
We tried to get all the large household items bought while we still had the truck for hauling it home, but didn't see any shelves we liked until last Saturday when we were at The Brick store in Carleton Place. We went to look at some shelves they had on sale, but I saw another style there and thought it would be a better match for the TV credenza and a better fit for the available space, so we bought two of those instead. We figured they'd be a squeeze to get them home in the car, but it was worth trying in order to save the $40 delivery charge and sure enough, we had hardly an inch to spare but we got them in. As you can tell from the photo above, I wasted no time getting them assembled.
Also of note is that Tuesday we had the electrician in to replace the thermostat, which was the old round Honeywell analog type, the same style we had when I was a kid. I didn't trust it because this summer we usually had to shut the air off manually, the few times we had to run it, and I didn't want to have to do that all winter with the heat. Nor would it have been safe to leave it alone, not knowing if it would shut the heat off or not, so we replaced it with a new digital programmable model which seems to work as it should.
For Sandra's accounts of things since my last report, click here. For my latest photos, click here.

Fully Fall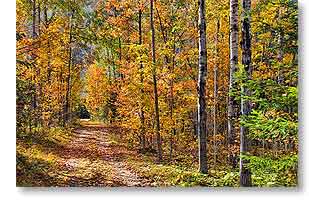 Monday, 4 October, 2010 - Fall is now in full swing up here, nights getting cold (forgot to put the car away one evening and had to scrape frost off the windshield the next morning) and with days no longer warm, just mild at best, and the trees are turning color, many already having dropped their leaves and now bare, while others are fully in color at the same time many are still green. Few though are vividly colored and one has to go in search of them.
To that end, we went for a drive on both Saturday and Sunday and did find some fall color, but disappointingly little and much of that was ruined by the omnipresent power lines and utility poles that seem almost impossible to get away from. Saturday we drove north to our old stomping grounds around Carleton Place and Almonte. While at Carleton Place we dropped by our former RV and found its new owner getting it winterized. Sunday we drove over to the Marlborough Forest that's east of here and hiked its Cedar Grove Walking Trail, a trail I've been wanting to see since it goes to a body of water, Rogers Pond. Sadly, the spot on the trail pictured above was the only one with significant fall color, but it's always a pleasure to be hiking along a nature trail regardless of foliage color.
Both days had clear skies when we started out and both times they started to cloud over as soon as we had gone only a few miles, until within a couple of hours it became too overcast to bother going farther. We're having very unsettled weather lately, with the forecast nearly always being wrong, even on the same day. (sigh)
For Sandra's accounts of things since my last report, click here. For my latest photos, click here.

Grand Opening


Friday, 1 October, 2010 - There's no end to the handyman projects a homeowner faces and one of the big ones facing me was installing a garage door opener.
However, before I could tackle that, I'd had to do some repair work on the garage door a couple months ago. When we bought the house I knew there was a problem with one of the garage door tracks and that problem became serious one day when the garage door came out of that track and it took all my strength to keep the door from crashing to the floor. Sometime during its life, the bracket that held up one end of that track had gotten bent and some clueless person had tried using a cluster of nails to hold the track in place and the nails simply got too tired to hold that kind of weight. So with the door temporarily supported on that side by a ladder, I pulled all the nails and removed the bracket and managed to pound it back into shape and that got the door back on track.
But the garage itself wasn't on track because that's where we had been throwing the boxes and packing material from all the purchases we made while moving and getting settled in, so we spent one day a couple weeks ago clearing all that out and getting the garage cleaned up and ready to hold the car.
Then Monday I started on the garage door opener installation. I've done several of these over the years so it was nothing new and in eight hours over the span of Monday and Tuesday, the installation was complete and the opener appeared to work until I did the procedure to set the door travel limits and suddenly nothing worked no matter what I did.
So I let things set until today when I went out and tried it again and this time I guess I did things right because the door opener began to work as it should. As far as I know, I did nothing differently, but obviously that's not the case.
Anyway, it's a grand feeling to now have a fully functional garage, a very good thing to have for the brutal winters we get up here. No more scraping snow and ice off the car on winter mornings.
For Sandra's accounts of things since my last report, click here. For my latest photos, click here.


__________________________

For Older News

To read details of our previous stops and camps, visit the News Archives.


Updated Tuesday, December 21, 2010

Copyright © 2010 by Gordon L Wolford .
All rights reserved.