Happy US Thanksgiving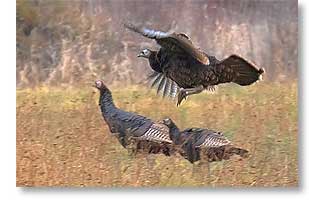 Thursday, 25 November, 2010 - I'd like to wish a Happy Thanksgiving to all in the US who might be reading this today. Up here in Canada, it's just another day, Canada's equivalent holiday having been observed on 11 October, when the weather was less wintry.
However, knowing it's Thanksgiving in the US brings back many fond memories of celebrating the holiday there in Ohio when I was young. My mother loved to make a big deal out of all the holidays, so on Thanksgiving the house would always be filled with the mouth-watering aromas of the feast she would prepare.
Other than a trip to Ottawa yesterday for Sandra to pick up her new reading glasses for the computer and going on a drive or two on some backroads, we haven't done much of note since my last report.
The photo above was taken five days ago on one of those backroad drives and if these wild turkeys had been in the US, I'd have thought they were heading for the hills to avoid their most dangerous holiday, but they were photographed just north of town here, so they were safe. This is the first time I've managed to get a shot of a wid turkey in flight. We don't see a lot of these birds and they rarely fly, preferring to stay on the ground, so I was glad to get this shot.
For Sandra's accounts of things since my last report, click here. For my latest photos, click here.

Two New Wolfords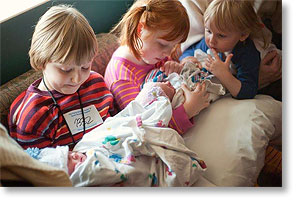 Saturday, 20 November, 2010 - On Thursday, November 18 at 9:50am at Good Samaritan Hospital in Dayton, Ohio, Ian's wife Tracy gave birth to twins, their fourth and fifth children, Oren and Violet. They are our seventh and eighth grandchildren.
Due to complications from how the twins lay within their mother's womb, they had to be delivered by C-section.
Oren arrived first, having auburn hair and weighing 6 lbs 7 oz and 19 inches long, with Violet arriving second, having red hair and weighing 6 lbs 13 oz and 20 inches long. Pictured here L-R are Caden and Lily holding their new brother and sister (not sure which is which in this photo though) with Iris looking on. A more clear photo of just the twins can be seen here and assuming the caps are on the correct child, that would be Violet on the left, Oren on the right. I still need to get middle names.
For more details and photos, click here and here for Sandra's accounts of the event.

Brain Strain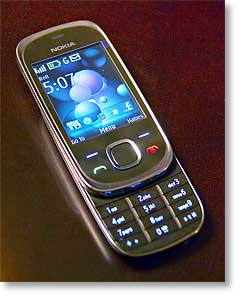 Tuesday, 16 November, 2010 - Or, an old dog still trying to learn new tricks.
Back in the old days (my youth in the mid 20th century), things were so much simpler and due to their simplicity, keeping up with advances in technology required almost no effort.
For instance, when I was a boy telephones had a rotary dial, which was an advancement on the crank phone (before my time) which required an operator to complete the call for you. The advancement with the rotary dial was not only more convenient but probably easier and faster to get the number you wanted. Then along came touch tone phones, which were even easier to use than rotary dials and all of these technological advancements were not so complex that old people couldn't easily keep up with them.
However, today's technological advancements are a whole different can of worms, which came front and center yesterday when Sandra and I replaced our US-based Verizon cell phones with local Canadian cell phones.
The Verizon cell phone plan Sandra and I got five years ago in Corpus Christi expires in a few days (actually hers has already quit working), so having to be in Ottawa for an eye doctor appointment she had, we visited various cell phone stores and ended up getting a couple Nokia 7230 models (photo above) which gives us yet another high tech device we have adapt to using and these things are starting to tax my poor old brain to keep up with, despite my background in high tech.
The problem with keeping up with technology isn't with any one device, but almost everything now is digital and while their capability is much greater than their non-digital forebears, they all require reading a manual to learn how to use and none of them are intuitive enough you can figure them out without their manuals.
So, there's the new cell phones we have to learn how to use, as well as having had to learn the new digital thermostat, the new DVD recorder plus its remote control, the new HD TV plus its remote control, the new cable box plus its remote, the new laser printer, the new cordless telephones, the bedroom clock/radio, two new iPods, the new car, the new fireplace, our four cameras, the bread maker, the stove, and even the dehumidifier, not to mention our three computers that run two different operating systems (Mac & Windows). Happily though, the paper shredder is a no-brainer. Just an on-off switch and slot for the paper, but I wonder how long it will be before they makes those so complex you'll need a manual for them.
My poor brain!
For Sandra's accounts of things since my last report, click here. For my latest photos, click here.

Blue Skies...Really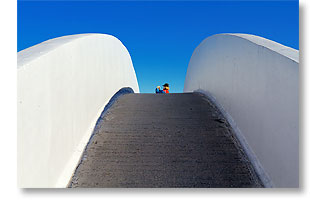 Thursday, 11 November, 2010 - A happy Remembrance Day (aka Veterans Day in the US) to all who fought for their country. November 11 was also my mother's birthday, who would have been 94 today if she was still with us.
Yesterday was a beaut, blue skies and mild temperatures. I can't remember the last time we had such a day. Seems like all we've had in recent memory has been overcast with a lot of rain and drizzle. It hasn't really been cloudy the whole time – we have had periods of sun – but they haven't lasted long enough to make an impression.
Anyway, in honor of such a glorious day yesterday, Sandra suggested around midmorning that we go for a drive and who was I to object, so she packed a lunch and we drove down to the scenic village of Westport and looked around.
Westport, on the banks of Upper Rideau Lake along the Rideau Canal Waterway and part of the Frontenac Arch Biosphere Reserve, is a tourist town and is on the edge of the Canadian Shield, so there's a lot to see in that area, not the least of which is Foley Mountain, a landmark of that locale although to call it a mountain is something of a stretch since it rises only 65 meters (200 feet) above lake level. It does, though, provide an excellent panoramic view.
Pictured above is Sandra taking photos from the far side of the Westport Harbour Bridge.
For Sandra's accounts of things since my last report, click here. For my latest photos, click here.

Back To Standard Time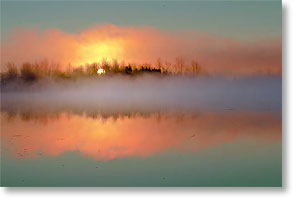 Sunday, 7 November, 2010 - In the wee hours this morning we 'fell back' from daylight savings time (DST) to standard time.
I can't say I'm one who likes the changes in time, feeling they cause more trouble than they save, but having sunrises now occurring an hour earlier does have some benefit for me as a sunrise photographer and that is for a short while anyway, there will be less traffic getting in my way as people are going to work in the mornings. During the peak of summer when sunrise was taking place locally a little after 5am and I'd be out an hour before that for first light, I had the roads to myself, but as the days got shorter and sunrise took place progressively later I began to encounter traffic because sunrise was occurring late enough that people were going to work. Not that traffic around here is ever all that heavy, but heavy enough I can't safely just stop in the road to take a photo, which is sometimes the only option on backroads that have no shoulders and nowhere else to pull off the road.
Another interesting thing about the change of seasons and how it effects sunrises and sunsets is how the sun rises and sets farther to the south in winter than it does in summer, so locations that were good for scenic sunrises and sunsets this summer no longer are, while places farther south now are. This affects me most with sunrises and sunsets over water to get the reflection, such as in the photo above and is my favorite kind. At several of the best summertime water locations, the sun no longer rises or sets over water, so my opportunities for that kind of photography are much more limited now.
For Sandra's accounts of things since my last report, click here. For my latest photos, click here.

Twenty And Counting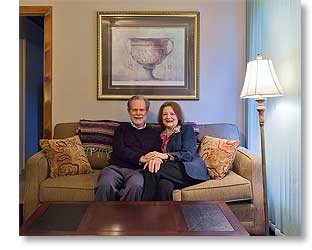 Friday, 5 November, 2010 - Twenty years ago today Sandra and I were married in Gatlinburg, Tennessee. Hard to believe it's been that long. Time sure flies when you're having fun. Those twenty years have been the best of my life.
There was a time we had been thinking about celebrating this milestone anniversary with a trip to Hawaii, one of the few states I've never been to, but thanks to the ignorance of US Immigration that thought had to be scrapped, so we did the next best thing and just stayed home, although we did treat ourselves to a very nice supper out.
Rather than Hawaii, we instead dined at The Shipwreck restaurant in Rideau Ferry, a small community 10 miles (16 km) southwest of here along the Rideau Canal Waterway and straddles the narrow stretch of water joining Big Rideau Lake with Lower Rideau Lake. The restaurant is on the banks of the waterway, just off the western end of the bridge that crosses it, so on a pretty day it would offer a fabulous view. Sadly, today was not pretty, but overcast, cold, and drizzly with even a few flakes of snow in the air by the time we left just after dark.
But we had a great time. Click here for a photo of Sandra at our table. By the time we were done, the place had nearly filled up...always a good sign for a restaurant. We were impressed with the restaurant's owner and staff, all of whom bent over backward to accommodate our dietary restrictions. We will have to go back on a pretty summer day next year when we can sit out on their patio and watch the boats cruising the canal.
For Sandra's accounts of things since my last report, click here. For my latest photos, click here.

We Survive Monsters...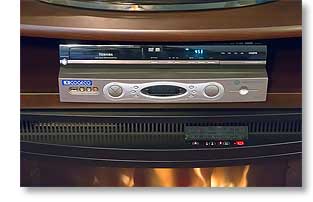 Monday, 1 November, 2010 - ...and ghosts and ghouls and goblins and many a creature otherwise unknown to man. It was a terrifying evening last night. No sooner had it turned dark than the neighborhood was invaded by legions of little (and some not so little) ogres and trolls, many of which found their way onto our front porch (47 of them to be exact). Fortunately, we found that giving them a couple pieces of candy transformed them into sweet and thankful little angels who went on their merry way.
Phew! It was a close call.
This was the first Halloween in six years we've actually been somewhere we had to deal with it ourselves. While we were on the road we would be in an RV park where kids didn't go door to door trick or treating. We had bought candy for the event last night, but not enough. We ran out and had to put a sign on the door to that effect and turn out the porch light. When we lived in Ottawa, we might have had a few kids show up for Halloween but not in the numbers we had last night.
Pictured above is our new DVD recorder for the TV, sitting atop our Cogeco cable tuner, both on a shelf between the TV and the fireplace, which died a couple weeks ago but fortunately the company has a local repairman who dropped by and got it working again.
By the way, for those who appreciate such things, the photo was taken handheld with ambient light at ISO 6400 and while it does have some image noise, it is quite a usable photo with accurate color. It is just amazing to me what can be done with digital photography today that was exceedingly difficult to do with film, if not impossible (like handheld night shots such as the one seen here). I only wish my father could have lived to see this day.
For Sandra's accounts of things since my last report, click here. For my latest photos, click here.


__________________________

For Older News

To read details of our previous stops and camps, visit the News Archives.


Updated Tuesday, December 21, 2010

Copyright © 2010 by Gordon L Wolford .
All rights reserved.