Reindeer, Jewelry Box, Old Friends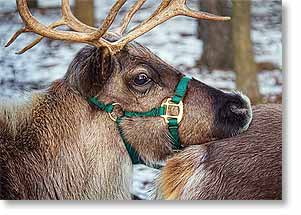 Wednesday, 29 December, 2010 - In my last report I failed to mention that on Christmas Eve afternoon I visited the nearby Country Christmas Shoppe. This is a place I've driven by numerous times since it's on one of my normal sunrise photo routes but had never stopped in to give it a look even though from the road it looked like an interesting place. So Christmas Eve I remedied that by stopping in and was pleasantly surprised to find they had two live reindeer there. They are beautiful animals, as can be seen in my photo.
The shoppe itself was nice, filled with all kinds of Christmas-related items, but would have been more interesting to Sandra than it was to me, but the grounds and buildings also had quite a display of Christmas lights, for which I returned after dark to photograph.
Then Boxing Day, December 26, we went for a drive and after taking a scenic detour along Mississippi Lake, where I walked on water (it being frozen), we ended up in Carleton Place, where we got Sandra a very nice jewelry box, something she's been wanting. It was priced 50% off. Gotta love Boxing Day sales.
Tuesday saw us back in Ottawa, where Sandra went shopping while I had lunch with three friends, two of whom I haven't seen in a couple of years. As with old friends when they get together, it was as if no time had passed.

Merry Christmas To All


Saturday, 25 December, 2010 - Today is our second Christmas as former RVers. Two years ago, we celebrated what proved to be our final Christmas on the road at Powderhorn RV Park near Port Lavaca, Texas and last Christmas, our first back in Canada, we celebrated at Sandra's friend Nancy's house, where we spent the winter. This year saw us in our own house. My, how things have changed in two years.
As usual, I was out and about with my camera at first light this morning and among others, found the photo here waiting for me. Then we just puttered around the house the rest of the morning with nothing exciting to report about that. Our Christmas here was a very low key event as neither of us was in the mood to bother with getting a tree and doing a lot of decorating. In fact, over the years we've even gotten away from bothering with Christmas presents for each other. Through the year, we buy what we want when we want it which leaves nothing to buy for Christmas, so the gift we give each other now is freedom from what had become a bothersome tradition. Many people love it, we no longer do.
Anyway, after lunch we drove into Ottawa to spend the rest of the day with Margie and her family and Betty who was in from Toronto and got our fix of a traditional Christmas with their decorated tree and a sumptuous turkey feast followed by opening presents, as seen in the photo above. Pictured there L-R are Danica, Sandra, Becky (carrying 'Bean'), Nick, and Betty. Margie and John were out of the picture. We can't thank Margie and John enough for hosting such a gala event. We had a great time.
For my latest photos, click here.

A note about Sandra's blog - since we are no longer traveling full-time and have settled into a fairly routine life, Sandra feels there isn't much happening that's newsworthy and has decided to use her blog only for presenting those of her photos she feels would be interesting to people. So as things stand, my page here is the only place to read about what we're up to and rather than a day-by-day diary as Sandra's blog was for several years, I've only been posting here when I have something to say, relying on her blog to fill in the gaps, but without that I'll try to post more often here.

Seasons Greetings!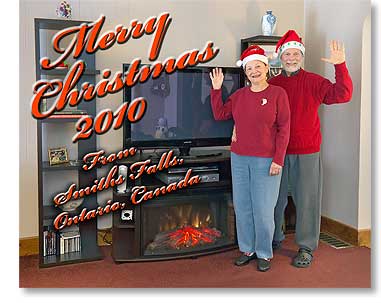 Tuesday, 21 December, 2010 - It's not Christmas yet, so I'll just pass along seasons greetings for now.
Today is special for us because we donned our Santa caps and took what has become traditional for us in recent years, a Merry Christmas photo.
We had a lot of fun planning and doing these when we spent the winters in warmer climes, but the ones taken up here in the land of ice and snow don't have the same jocular air to them, however as we do these now they do bring back bittersweet memories of the ones we did while on the road. Sandra posted those on her blog today and can be viewed here.
And, as in years past, we view this as our Christmas 'card' to you. Click on the photo for a larger view and if you want more from us than this virtual card, you can click here for a file that will print 5 x 7 inches at 250 ppi.
Today is also a special day because it's the winter solstice in North America, which makes it the official start of winter and also the shortest day of the year, locally having only 8 hours 46 minutes from sunrise to sunset, or roughly just a third of the day here at 44.9° N 75.9° W, which is almost exactly halfway to the north pole from the equator. So our worst winter weather is still ahead, but at least the days will now start to get longer.
And making this special day even more special was the lunar eclipse that took place in the wee hours this morning, starting around 12:30am and ending a little before 4 am. I was up for it, but the weather let me down since it was overcast. That said, at the beginning of the event there were a few thin areas of the cloud cover which allowed a veiled view of the moon for a few minutes, so I got this one substandard shot here and that was it as the clouds thickened back up. I lost a fair bit of sleep for nothing, but it was still interesting.

Snow Has Arrived!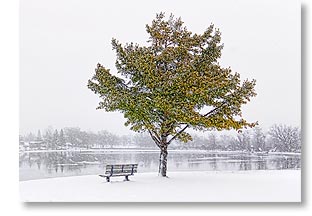 Saturday, 11 December, 2010 - The big news since my last report has been that four-letter 'S' word...Snow! We'd already had a couple of light snowfalls, not enough to cover the ground and they melted off right away, but this week saw the arrival of our first ground-covering and lasting snow, so it's now looking very wintry around here.
That said, we still haven't gotten a lot of it (yet), but three days in a row this past week I had to shovel the driveway and sidewalk.
Actually, I'm glad to get the snow since it makes everything outdoors look less drab and more photogenic, so I've been out shooting snow photography. The photo posted here was taken in Lower Reach Park which is just across the Rideau Canal Waterway from the house.
That occasion was the first time I drove the new car in snow and I wanted to see how it handled in that white stuff while still being within walking distance of the house in case I got stuck, but it did fine, having snow tires and front wheel drive. I do miss the truck though for snow driving. With its four wheel drive, high ground clearance, and heavy weight there wasn't much that could stop it.
The forecast is for another round of snow tomorrow followed by a brutally cold day as the jetstream dives south, so while it's still ten days before the official start of winter, unofficially it has arrived.
For Sandra's accounts of things since my last report, click here. For my latest photos, click here.

Starting To Look A Lot Like the Season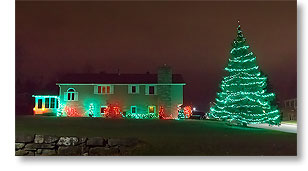 Sunday, 5 December, 2010 - Nothing much interesting going on of late, but last evening Sandra suggested we go for a drive around town to look at the Christmas Lights and who was I to refuse her.
The town is hosting the Light Up Smiths Falls & Area Contest, looking for the best lighting display (residential and business) and the house pictured here is the one that impressed us the most, mainly because of how well the tree was done. We saw quite a few houses that were dolled up, but I think it's just a wee bit early yet. We don't do much in the way of holiday decorating ourselves, unlike some people who go way over the top, but during this time of year we do like to drive around and enjoy what other people have done.
And while we were out and about, we drove over to Merrickville (the nearest town to Smiths Falls, 17 km/11 miles east of here) to look at the holiday lights there, but found their Christmas In Merrickville event in progress, which meant the main street was blocked off to vehicular traffic with people milling around everywhere and all available parking taken for blocks around, so we didn't stay long since we found surprisingly few houses there decorated with lights. I say surprisingly because Merrickville has become quite the artsy place in recent years, so I was expecting their holiday display to be representative of that, but it wasn't.
One other thing of note took place last Sunday when I was driving around town before sunrise looking for photos to take and happened by our train station where much to my surprise I saw the Canadian Pacific Holiday Train was still in town. We knew it was here the evening before because its arrival was a big event, but we didn't go because of our aversion to crowds, so I was thrilled to see it still here the next morning when I basically had it to myself. There were two other photographers there who were affiliated with the railroad and who allowed me to accompany them down the tracks and onto the tracks where I'd never have dared go by myself. So far I've only processed and posted two photos (here and here), but plan to do a couple more. The train all lit up in the predawn dark and first light was quite a sight.
For Sandra's accounts of things since my last report, click here. For my latest photos, click here.


__________________________

For Older News

To read details of our previous stops and camps, visit the News Archives.


Updated Saturday, January 15, 2011

Copyright © 2010 by Gordon L Wolford .
All rights reserved.