We Visit The City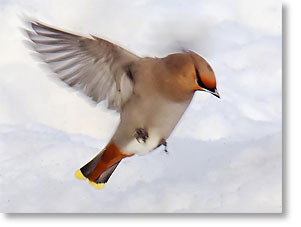 Tuesday, 25 January, 2011 - Yesterday, we had to drive to Ottawa for a doctor's appointment Sandra had made. Fortunately, the day dawned sunny, so we wouldn't have to make the drive in a snowstorm, but at -26°F / -32°C it was extremely cold, the kind of cold that can cause fuel line freeze-up, so we stopped on our way out of town and put some gasoline antifreeze in the tank.
I don't mind moderate cold, say down to around the freezing point, and I don't even mind real cold too much, say down to 0F or
-20C, but when it gets brutally cold, say down to -20F/-30C, then it becomes extremely tiresome. That kind of weather can kill you in short order if you find yourself stuck out in it.
Anyway, we made it to Ottawa without incident and the first stop was to treat ourselves to a lunch out at Swiss Chalet. Then we ran some errands that can only be done in the city, like visiting the camera store to see if they had a lens I'm interested in (they didn't) and stopping at the chiropractor's for a long overdue adjustment and picking up groceries at a variety of markets.
After the errands were run, we still had some time to kill so Sandra suggested we drop by Mud Lake, since it's near the doctor's office, and see if there were any birds to be found. I was skeptical since I've seen very few birds so far this winter, but surprise of surprises, when we got there we found two large flocks of Bohemian Waxwings (Bombycilla garrulus) flitting about, just waiting for us to photograph them (photo above being one). Unfortunately, I had left my birding lens at home and had to make do with my regular one.
Then it was on to the doctor, followed by a stop at the blood lab, and then homeward, arriving just after dark, having survived being out and about on the coldest day of the winter so far.
For Sandra's photos of the day, click here. For the rest of my latest photos, click here.

What A Difference A Day Makes


Monday, 17 January, 2011 - While Friday was a spectacular clear and sunny day, the photo here shows the weather we had the next day, Saturday - back to overcast and with a snowfall of 5 to 6 inches (13 to 15 cm). Photo on the left was taken in a nearby cemetery during the height of the snowfall, which wasn't all that heavy but was steady, falling the entire day.
Then yesterday, after a cloudy dawn it turned sunny and quite cold with a high of 10°F / -12°C and a low of -5°F / -20°C. However, as I write this today again dawned sunny and bright, clear as a bell, but the temperature has dropped to -20°F / -29°C, by far the coldest it's gotten so far this winter. That said, tomorrow it's supposed to snow again, with the temperature warming up to the freezing point, for a change of 50°F/30°C in one day. What a meteorological roller coaster ride.
Although I didn't go far this morning in the extreme cold, I did go out at dawn to find a photo which I did as can be seen here.
For Sandra's latest photo essay, click here. For the rest of my latest photos, click here.

A Spectacular Day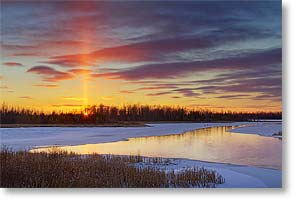 Saturday, 15 January, 2011 - Yesterday proved to be a spectacular day from a photographer's point of view. It was sunny all day, starting with a nice sunrise (as seen here) and ending with a striking sunset that featured a brilliant solar pillar (as seen on the left). I can't remember the last completely sunny day we've had, my memory being clouded by all of the overcast we've had for what seems like week on end, with only short periods of sun. Of course, our respite from overcast ended overnight as today dawned cloudy again and with snow in the air.
Anyway, solar pillars aren't particularly rare, but neither are they all that common, although this was the fourth or fifth one I've seen since the weather turned cold. They are caused by the reflection of sunlight off of flat or column shaped ice crystals in the atmosphere. A solar pillar is much like the path of glittering light formed by the rising or setting sun on the wavy surface of water.
Otherwise, it has been quiet around here except for Tuesday morning when I made the 45 minute drive over to my friend Jim's house to look at the photos he took on his recent trip to Canyon Country in Utah and Arizona. And being the fine fellow that he is, he fixed bacon and eggs for us.
For Sandra's photos of the solar pillar, click here. For my latest photos, click here.

Jewelery Box Support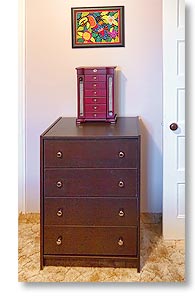 Monday, 10 January, 2011 - After posting my last report on Thursday, we made the 30 mile (50 km) drive down to The Brick (a Canadian furniture & appliance chain) in Brockville (the nearest city, although it's about the same distance as Ottawa's outer suburbs). The purpose of this drive was to look for a small dresser for Sandra to put her new jewelry box onto. The dresser had to be small because there wasn't much room left to put one due to the small size of the house. Most of the dressers we saw were way too large, but The Brick did have one that looked like it might work and it's already good price was marked down even lower on sale. Bonus!
However, we wanted to see what else might be available, so while we were in Brockville we also drove to Leon's store there, and Zellers, and Wal-Mart, but saw nothing even close so on our way out of town we stopped back at The Brick to buy their little dresser. Unfortunately, they had none in stock, but could get one in next day, so we ordered it.
Then, it snowed Friday and Saturday. Only a few inches but the roads were bad enough we didn't want to drive on them, so we weren't able to get back to Brockville and pick up the dresser until Sunday.
Today then was assembly day and pictured here is the new dresser doing its job of supporting Sandra's jewelery box.

January Snow Arrives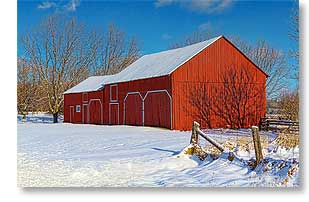 Thursday, 6 January, 2011 - Almost no sooner had I posted my last report than a couple inches (3 cm) of snow fell on Tuesday to once again brighten and beautify the landscape. Sandra wasn't thrilled by the event, but I welcomed its arrival.
Then to make things even better, we had clear skies yesterday, a rare event of late. So, with little delay we headed out for a drive in the country east of here in an area we hadn't seen yet, mainly because it's flat and boring over there, but we did manage to find a few photos worth taking, like the red barns on the right.
And, not only is this snow likely to stay with us a while since the long range forecast isn't predicting we'll get above freezing for the next two weeks, but we're also supposed to get a few more inches of snow on top of this one.
For Sandra's photos of our drive, click here. For my latest photos, click here.

December Snow Gone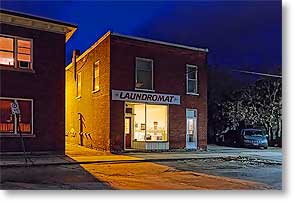 Monday, 3 January, 2011 - I'm sure the situation won't last long, but the snows that fell in December have all melted, leaving everything bare, stark, and ugly again. At the end of last week, we had a warm spell that lasted for several days, with temperatures getting up to 50°F (10°C) two days in a row and not dropping below freezing at night. Bye bye snow.
Sandra is happy about this, but I'm not, since snow makes winter pretty and photogenic.
And to add salt to that photographic wound, the sun has been conspicuous by its absence for what seems like weeks on end and since overcast skies produce some dreary photographs as a rule (there are exceptions), I've resorted to shooting first light (blue hour) photos like the one above on mornings with daybreak but no sunrise, which accounts for the vast majority of them of late. That's not to say we've had no sun at all, but for the most part its appearances have been brief.
Anyway, the long range (15 day) forecast is calling for the return of cold weather with high temperatures staying below freezing and the possibility of some snow later in the week. I hope it's right. To view my latest photos, click here.

Happy 2011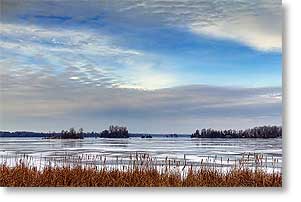 Saturday, 1 January, 2011 - A new year and a new life compared to this day a year ago.
Over the course of 2010, Sandra and I severed all connections with our former life as full-time RVers. We bought a house, sold the RV, bought a small car, and sold the big truck.
The last tie with that former life to be cut was when our US cell phones expired in late November. We had gotten them six years ago while visiting Corpus Christi, Texas and they have now been replaced with a couple of Canadian cell phones.
Actually, because it's been more than a year since the US refused Sandra entry into the country in October, 2009, our life as RVers has become just a distance memory. I miss the travel and freedom the RV lifestyle gave us. We both miss the southwest desert and mountains and Gulf coast, but there's much about it I don't miss. Like we are actually warmer in a house during the Canadian winter than we were in the RV during the winters in the southern US. Changing the propane tanks in the RV proved to be such a chore and strain on my bad back that we didn't turn the heat up in the RV any higher than necessary and contrary to popular misconceptions, there are many times during winters in the southern US when it's downright cold. Warmer than up here (usually), but often far from warm, especially in the higher elevations of the far west.
The difficulty in getting propane tanks out of the RV, getting them refilled, and then back into the RV was just one of the things that took much of the fun out of being RVers that we didn't realize when we started down that road. It and other things we learned the hard way through experience were it being too cold in all but the southernmost areas of the US by the time we could cross the border that those areas were all we could comfortably see.
Yes, if the ignorance of US Immigration and Homeland Security hadn't forced this change of lifestyle on us, we would have gladly continued as full-time RVers as long as we could have, but with the transition to a normal lifestyle now complete, we are enjoying the benefits that gives us – such as truly high speed internet, internet access with a bandwidth cap so high we're unlikely to ever hit it, cable TV, both internet and TV that don't require setting up and pointing satellite dishes (which could both be frustrating beyond words), a washer and dryer so no more trips to often grungy laundromats, a dishwasher, an oven that gets hot enough to actually bake in, and no more worry over whether travel health insurance would cover a serious illness or not.
So, we're glad we had the RV experience and I couldn't begin to list all that we learned from it, but we're also happy with our new much more convenient life.
The photo above of a frozen Big Rideau Lake was taken at Portland, Ontario during a drive Sandra and I took yesterday. To view my latest photos, click here.


__________________________

For Older News

To read details of our previous stops and camps, visit the News Archives.


Updated Friday, February 4, 2011

Copyright © 2011 by Gordon L Wolford .
All rights reserved.