Our Top Was Blown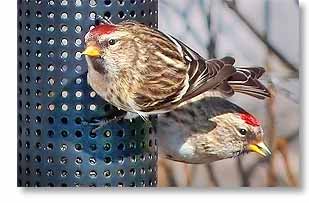 Monday, 28 February, 2011 - Well, here we are at the last day of February – the official arrival of spring being only three weeks away. Hurray! And today has been one of those typical transitional days between seasons, with it starting out with rain, then changing to freezing rain, and as I write this at midmorning, it's now snowing.
Anyway, I didn't mention it in my last report, but a storm that blew through on the Thursday night before it was so windy it blew the top off of our chimney, which I found out about the next morning when our neighbor handed the top to me, broken and dented. At first, I considered putting it back up there myself, but gave that thought up when I tried and didn't like crawling around on the roof in winter. We then got a name at the hardware store for someone who works on chimneys. He turned out to be sick with the flu and didn't return later calls, so we tried Don, our favorite plumber/electrician, and he came out Thursday, assessed the situation, bought a replacement chimney cap, and fixed it, his ladder being tall enough he didn't need to get on the roof.
Bright and early Tuesday, I drove into Ottawa to visit the US Embassy where I got everything taken care of for my passport renewal. Now to wait for it to arrive.
Then Saturday, it was back to Ottawa for Sandra's latest doctor appointment, where she got the results from her latest tests, and all were good. To kill some time before her appointment we visited a local birding spot at Shirley's Bay on the Ottawa River and actually saw some birds, like the Common Redpolls pictured above. Unfortunately, I hadn't brought my bird camera and lens, so I had to make do with my little Panasonic ZS7 pocket camera, which was almost impossible to use under the circumstances. Someday I'll learn not to go to Ottawa without the big lens.
Yesterday, we went in search of a bird feeder, which seems to be only way I'm likely to ever see any interesting birds around town here. You would think with the river/canal right here we'd have flocks of exotic birds, but such doesn't appear to be the case. We found some feeders but not what I had in mind, so maybe once spring arrives I'll find something.
For Sandra's latest photo essays, click here and here. For my latest photos, click here.

The Road To Ompah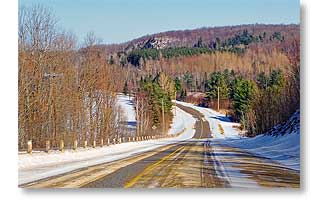 Monday, 21 February, 2011 - While it's Presidents Day in the US, it's the Family Day holiday in Ontario. So, after lunch we took off on a holiday drive to do more exploration in the region. My thought was to drive around the Sharbot Lake area, but we no sooner got there than Sandra saw a sign for Ompah and suggested we go there instead of touring around Sharbot Lake. Since neither of us had ever been to Ompah we agreed to go there instead and ended up glad we did, not because Ompah itself was anything more than a few buildings scattered along beside the road, but because on the way there and back we saw some truly beautiful scenery.
The photo on the right is one Sandra took as we traveled along the road to Ompah. The area is in Ontario's 4,000 sq km (1,550 sq mi) Land o' Lakes vacation region that has 5,000 lakes and is part of the Canadian Shield, an area of very hard, ancient rock – some of the oldest exposed rock on earth – composed mainly of granitic and gneissic rocks covered by a thin layer of soil. The end result is a very scenic terrain of lakes, bogs, and rocky tree-covered hills that is very unlike the areas east and southwest of there that are flat as a pancake and boring.
I consider us fortunate to live within a relatively short drive to the Land o' Lakes, which bills itself as the 'Accessible Wilderness' and I find that to be an apt description since the region looks very much like that of the huge Algonquin Park (they share Canadian Shield terrain) but has plenty of roads for accessibility, whereas the park has only one road that passes through it. The park is twice the size but has half the lakes and to see its interior requires either hiking or canoeing for miles and miles, neither of which I'm interested in doing, while the Land o' Lakes is laced with scenic winding back roads so seeing the sights is easy. One also has to pay a fee to stop in Algonquin Park, whereas stopping in the Land o' Lakes costs nothing, so for my purposes I don't plan to return to Algonquin Park anytime soon.
Anyway, we had a great time on our drive and saw one fabulous scene after another with plenty of unobstructed views of the lakes and had long stretches of road without the bane of photographers everywhere – power lines and utility poles.
Click here for a map of our 200 km (125 mile) drive. Click here for Sandra's photos of it and here for my latest photos.

I Got Shot!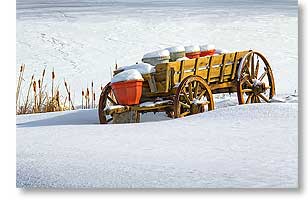 Friday, 18 February, 2011 - Don't worry, it was by a camera, not a gun. My passport expires next month and since not everyone up here in Canada takes photos for US passports, we had to drive to Ottawa to get them.
I'd then had an appointment scheduled for this past Monday at the US Embassy in Ottawa to have the passport renewed, but the weather didn't cooperate by dropping ice and freezing rain on us, so I cancelled the appointment and rescheduled for next week.
On the way back from Ottawa we took a scenic route, exploring some backroads as yet untraveled by us, passing through Oxford Mills, Bishop's Mills, and North Augusta.
And since my last report, I've had a couple of large photos printed out at a little print shop (Images Inter Alia) in nearby Perth, which involved several trips that also gave me the opportunity to explore some of that area while I waited. This is what one of those prints looks like framed and hung in the living room.
The day after my last report, Sandra wanted to drive over to see the new Wal-Mart Supercentre in Kemptville and since it was a nice sunny day, we again took a scenic route and shot a few photos along the way, like the one above taken of an old milk wagon near Burritts Rapids.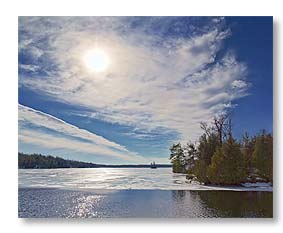 We've just had several days above freezing, yesterday even reaching 11°C/52°F officially, so a lot of the winter's snow has melted with large patches of grass now showing through.
And since yesterday was also sunny, we decided to do another drive and went in search of more backroads we hadn't traveled on yet and found some southwest of Crosby that took us to Isthmus Road in a very scenic area of the Rideau Lakes region north of Chaffeys Lock. The road actually offered some clear views of water (photo on the right of Indian Lake, part of the Rideau Canal), something not all that common considering the large amount of water in the area. Most of the roads around the lakes are cottage roads that give you views of countless cottages, but precious few clear and unobstructed views of the water. This is a sore point with me (obviously), so it was nice to see an exception. Unfortunately, with the thaw some of the backroads we encountered had turned muddy enough we didn't take the risk of driving on them, but the thaw has now ended and it will be some days before we're above freezing again.
For Sandra's latest photo essay, click here. For my latest photos, click here.

Over The Winter Hill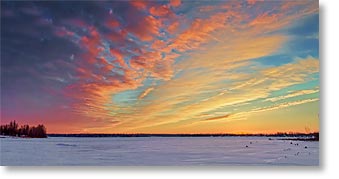 Monday, 7 February, 2011 - It's once again snowing this morning, not heavily but enough that I'll need to shovel it later.
I don't mind though because we've now passed the Dead of Winter – the period of three or four days statistically proven to be the coldest of the year — which was January 18 to 23, so we are now on the down slope of this winter's hill and can expect the weather trend to start warming up, instead of being colder. That's not to say that February and March can't be brutal, but at least the end is in sight now.
Otherwise, things have been pretty quiet around here, the most exciting thing to happen since my last report was having an actual picturesque sunrise two mornings ago, rather than the usual overcast at daybreak. For the event, I made the 30 km (20 mile) drive down to Bellamys Lake (photo above).
Now to go shovel the driveway...again.
For Sandra's latest photo essay, click here. For my latest photos, click here.

Groundhog Day 2011 Storm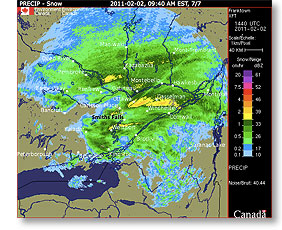 Wednesday, 2 February, 2011 - Today is this year's Groundhog Day, observed in both the US and Canada. The most famous groundhog with predictive powers is Punxsutawney Phil in Punxsutawney, Pennsylvania, but Ontario also has a predicting groundhog in Wiarton named Wiarton Willie. Today, both of them predicted an early spring and even Accuweather agrees with them...sort of.
However, the big event for me today was the winter storm that moved through. The image on the right shows what the regional weather radar looked like this morning, a real kaleidosope of color.
I don't know how much snow we got officially and due to drifiting it's also hard to tell from what I can see outside, but it's the most snow I've seen in one snowfall for quite a few years. If I had to guess I'd say we got something betwee 8 to 10 inches (20 to 25 cm). I do know I've had to shovel the walks and porches three times today and the driveway twice, with Sandra helping once, as can be seen here. Compared to some storms I've seen in the past, this one wasn't all that bad, as it was in some areas of the US before it arrived here, but my back is glad there was no more snow to shovel than there was.


__________________________

For Older News

Visit the News Archives.


Updated Sunday, March 6, 2011

Copyright © 2011 by Gordon L Wolford .
All rights reserved.