When Standard Is No Longer Standard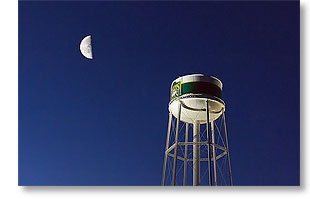 Tuesday, 29 March, 2011 - On March 13 this year we moved our clocks up an hour from Standard time to Daylight time. You might not have realized we were only on Standard time for four months (plus a week). That means we'll be on Daylight time for eight months (minus a week), or nearly twice as long as we were on Standard time!
So, why do they still call it Standard time when we are now spending the largest part of the year by far on Daylight time?
It was bad enough when I was a kid and we spent six months in each standard and daylight times, but being on one of them for only four months and your biological clock hardly has time to adjust to the change before you're changing back again! Yeesh!
I have always disliked the time change and think it causes more problems than it solves and therefore have never seen the logic of it. Proponents say it saves energy, but if that was so important we should observe daylight time all year as they did during World War II...for the express purpose of saving energy. Back then it was called War Time rather than Daylight Time. Seems to me if one has to go to such lengths to make a system work, then there's something wrong with the system.
For a history of time in the US, click here. Interesting reading.
The photo above was taken three days ago during a stretch of clear skies that lasted for quite a few days, the first such stretch of weather we've had in recent memory. Unfortunately, while the sky was beautiful, the temperatures weren't, being well below normal nights and days.
For Sandra's latest photo essay, click here. For my latest photos, click here.

Last Day of Winter 2010/11!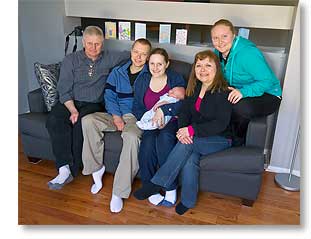 Sunday, 20 March, 2011 - Today is the last day of winter! Hurray! We survived our first winter in the house.
Unfortunately, since we're in Canada I doubt it's the last we'll see of ice and snow until next winter, although at the moment a recent warm spell has melted nearly all that was on the ground, but at least officially tomorrow will be the first day of Spring 2011 and I'll be able to say that winter is over.
Yesterday, we drove to Ottawa and saw our newly arrived great nephew Jack for the first time, which also gave us the opportunity to see Nick and Becky's new house (new to them). Jack is a handsome baby and the house is also quite handsome. Sandra has posted photos and details of the visit here so I won't repeat them except for the photo above right.
We got home in time for a quick supper and then we headed back out, this time to photograph the rising of last evening's 'supermoon'. It's called this because that kind of moon is a little bigger and brighter than normal (14% bigger and 30% brighter) due to it being at perigee, the nearest point to Earth in the moon's elliptical orbit, which is about 31,000 miles (50,000 km) closer than when it's at apogee, the farthest point of its orbit. However, I doubt if 'super' is a word I'd have chosen to describe it, since those numbers aren't significant enough the average person is likely to notice. Supermoon is the popular term, but technically it's a 'perigee-syzygy'. Anyway, astronomically speaking, yesterday was significant to those who care, hardly noticeable to those who don't.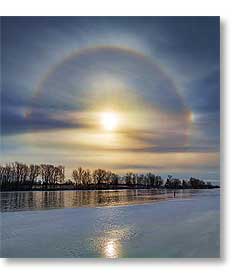 The most amazing thing about the event was we had clear skies and could actually see it. Seems like normally for notable astronomical events the sky is overcast, like the last lunar eclipse. And even more amazing was the sky was still clear this morning so I was able to see the Supermoon set as well. Bonus!
And in staying with this astronomical theme, I took the photo on the left six days ago when I was out looking for photos and to my surprise found this icebow waiting for me down at the canal.
Icebows are a pretty cool sight. They have to be cool because they are formed by light diffraction through polarized ice particles, otherwise Icebows are similar to rainbows, which are formed by light diffraction through raindrops. Icebows are also called sun halos or glorioles and are fairly rare. They also refract light differently from rainbows, which present the full spectrum of light while icebows are mostly colorless, refracting only a bit of red.
This is the first icebow around the sun I can remember seeing, but as can be seen here, I did see one around the moon once, ironically while we were camped in the Sonoran Desert. Of course, all desert dwellers know those desert nights in January, as that one was, can get cold.
The only other thing of note recently is I've spent days restructuring my Birds Gallery on PBase. Formerly it was an incomplete disorganized hodgepodge. Now it's highly structured and when it's done, which it almost is, a person should be able to easily find any bird I've photographed and where.
For my latest photos, click here.

Tay Hey Hey!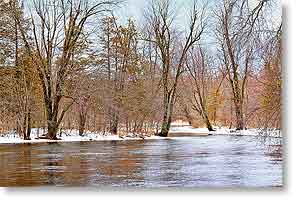 Friday, 11 March, 2011 - Today, Sandra and I headed out on another excursion into the Land o' Lakes area west-southwest of here, this time following the course of the Tay River (photo on the left), which flows eastward out of Bobs Lake at Bolingbroke and empties 60 miles (95 km) later into Lower Rideau Lake on the Rideau Canal Waterway at Port Elmsley, 6 miles (10 km) west of here.
I normally see the Tay River as it flows through the town of Perth and have seen it from a few bridges along its length, but this time I wanted to see it from each bridge that crosses it and I think we succeeded.
The weather, unfortunately, didn't cooperate. The forecast had called for the skies to clear during the afternoon, so after lunch they did start to clear here at the house, but that's as much sun as we saw since the clearing ended there.
Anyway, it was an interesting drive despite the overcast light and we found the Tay to be quite scenic and we actually saw some birds (waxwings and common mergansers). We're looking forward to retracing our route when spring arrives and the trees are coming out in leaf.
And today, unlike our drive to Ompah two or three weeks ago, we came back through Sharbot Lake, which was also quite scenic and a place we will have to explore further as well. At Sharbot Lake is a village, a lake, and a provincial park.
Click here for a map of today's 105 mile (169 km) drive. For Sandra's photo essay of the drive, click here. For my latest photos, click here.

In Other News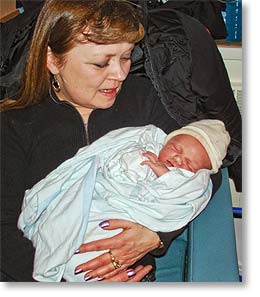 Sunday, 6 March, 2011 - Despite the big snow of the day (see previous report), the real big news of late is Nick's wife Becky gave birth to their first child, a boy they've named Jack. He's pictured here being held by his paternal grandmother, Margie, aka Nanny or Nanna, who looks way too youthful to be a grandma.
Jack was born at Ottawa's Queensway-Carleton Hospital on Tuesday, 1 March 2011, at 8:05am and weighed in at 8 lb 9 oz (3.9 kg) with a length of 21 inches (53 cm).
Nick and Danica had been our only nephew and niece and I've always considered Sandra and myself to be a good aunt and uncle, but Jack now makes us a great aunt and uncle!

The only other thing of note to report is I received notification from the US Embassy in Ottawa on Tuesday that my renewed passport had arrived and was waiting for me to pick up, which we did on Thursday (Sandra going with me this time), so I'm now good to pass ports for another ten years.
And, on our way out of the city we again stopped at a couple of Ottawa's birding spots, this time me being prepared by having brought along my bird camera for a change. At Mud Lake we saw not one single bird, but found some cooperative small birds (redpolls, chickadees, a sparrow, and a not so cooperative blue jay) at the Hilda Road feeders. Having my proper wildlife gear with me this time, I got a few bird photos I'm happy with, such as here and here.
For more photos of Jack, click here. For more of my latest photos, click here.

In Like A Lamb (And Like A Lion?)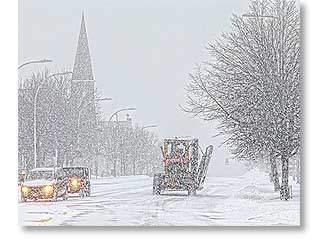 Sunday, 6 March, 2011 - Some winters we get the most snow of the season in March, but last winter no snow fell at all in March and it was beginning to look like that might be repeated this March, since the first 5 days of the month were warm enough to have melted nearly all of the winter's snow to date (in like a lamb).
But then the snowfall pictured on the right started falling during the night (and is still falling as I write this) and is already the largest single snowfall of the winter. (At six days into the month, does that still count as in like a lion?)
I estimate around 8 inches (20 cm) has fallen so far, which was axle-deep on our little car that bravely plowed through it as I went out to take advantage of MacDonald's free coffee promotion that ends tonight at midnight.
Yesterday, this precipitation was falling as rain and I commented to Sandra that it was a good thing the temperature was several degrees above freezing because that amount of rain would have ended up being a couple feet of snow had it been below freezing. The forecast was for the temperature to drop below freezing during the night with this snowfall amounting to only 2 to 4 inches (5 to 10 cm). Looks like the temperature dropped sooner than they expected!


__________________________

For Older News

Visit the News Archives.


Updated Sunday, April 17, 2011

Copyright © 2011 by Gordon L Wolford .
All rights reserved.