Autumn 2011 Arrives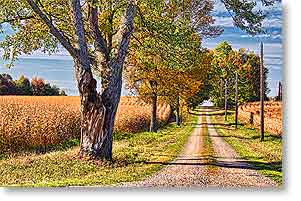 Friday, 23 September, 2011 - Today at 5:05am EDT, autumn officially arrived in the Northern hemisphere. So summer is over and it is already starting to look like fall around here, as can be seen in the photo, shot yesterday on a 60 mile (100 km) drive in the country Sandra and I took. While we recently had some cool days and two nights with frost, yesterday was the gorgeous kind of summer day we get a lot of up here, with scattered clouds and warm temperatures, so we decided to take advantage of it and go on the hunt for some early autumn color. We didn't find many trees that had changed, but other things are starting to look golden. Due to the high number of pines and other evergreens we have around here, we typically don't get spectacular fall foliage but it's still a very photogenic season.
And speaking of things changing, I finally got around to updating the masthead and sidebar on this page. I'm so used to seeing the masthead that I was no longer really seeing it, but I finally noticed recently that it still said it was originating in Ottawa when that hasn't been true for over a year now. If you forget the details of that masthead, it can be viewed in this archive file.
And while I was correcting errors, I took advantage of the situation and simplified the masthead, as I also did the sidebar, removing the icons that have been there for years. Doing that makes it much easier to edit, so hopefully I'll be motivated to do that in a more timely manner from now on.
For Sandra's account of our last two excursions, click here. For my latest photos, click here.

Busy Weekend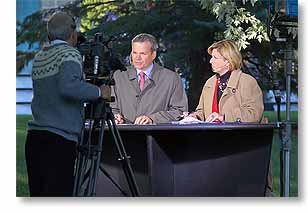 Sunday, 18 September, 2011 - Friday evening Sandra and I drove over to neighboring Merrickville (official name is Merrickville-Wolford but no one calls it that) to watch the evening news being broadcast from there. Ottawa TV station CJOH has the most popular 6pm newscast in the region and this past week they were going on the road with their "Hometown Tour", visiting a different town in the region each evening and Friday evening they were in Merrickville, about 10 miles (17 km) east of here.
We threw a couple lawn chairs in the car and headed over there, leaving in plenty of time and arriving 45 minutes early to find the news crew already there (of course) and getting set up in Blockhouse Park on the bank of the Rideau Canal. Miraculously, we even found a parking spot waiting for us very close by.
After staking a claim in the audience area with our lawn chairs, I would roam around taking photos, return to our spot, then after a while go take more photos, doing this several times during our stay. The news crew was very accommodating to the crowd and encouraged us to get involved with the show, and made no objection to the folks taking photos.
What a great and different photo op it was, making for a very memorable evening.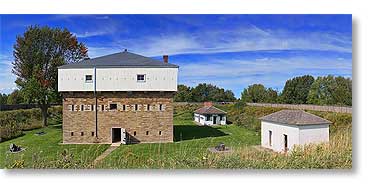 Pictured above are the news anchors, Graham Richardson and Carol Anne Meehan doing their thing. Sandra also got to meet J. J. Clarke, CJOH's famous weatherman. Click here for a photo of their meeting.
Then Saturday after Tai Chi class and a quick bite of lunch, we hopped back into the car and headed south for a 38 mile (60 km) drive so I could revisit the Windmill Point Light, site of the Battle of the Windmill, and also to tour Fort Wellington, both along the Saint Lawrence River at Prescott, Ontario. When we were there two months ago it was too late in the day to spend time at either place, so we had put them on the list to revisit when I could spend some quality time there.
Unfortunately, the lighthouse was not open, despite the fact we were there when it was supposed to be! However, the fort was open and I got to see it inside and out. I just love visiting these old places that have either been well maintained over the years or restored. They are like stepping back in time. The fort was well worth the drive, It had three friendly staff in period attire who were only too happy to run through their tour spiel. The only disappointment was that much of the fort's interior was given over to museum displays, which I find boring compared to having the area decorated and furnished as it would have been originally, but there was enough of that to make me happy, so it was well worth the price of admission ($3.40 senior's price).
For my latest photos, click here.

So Now I Know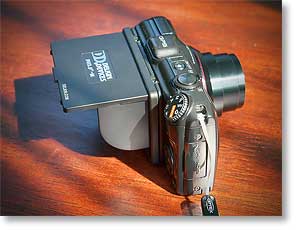 Friday, 16 September, 2011 - Today is special to me because not only is it my birthday, but it's my 65th birthday, a day that three times in my life I thought I would not live to see, however here I am. I made it and I'm still kicking.
In my younger days I'd often think ahead to the future and wonder what my life would be like at retirement, so now I know. The world is a much different place than it was back then. Some things are better and some things worse. I don't know if the net result is better or worse, but I do know the world is definitely different. Former enemies are now allies, while new enemies have arisen to fill the void. I grew up under the threat of nuclear annihilation, now we live with the threat of terrorism. Taking a flight on an airplane used to be a simple thing, now it's not. Maybe someday we'll learn to all live peacefully together, but it's exceedingly unlikely to happen in my lifetime.
Back in my childhood, we had electricity, central air and heating, telephone, television, automobiles, air travel - all the modern comforts and conveniences, just in less advanced forms - but what we didn't have in any form was the internet, which I consider to be the most significant advancement in technology during my life. I'd give up telephones and television before I'd give up the internet.
Also in my childhood we had cameras and having grown up with photography, I used to wonder what photographers would do if we ran out of silver (the vital element back then in film and photos), so now I know because that situation is no longer an issue since that vital element has been replaced with silicon of which there is an almost endless and cheap supply, film having been replaced with digital sensors, photos with digital printouts. Although digital photography is just an advancement of what came before, it is probably the second most significant advancement in technology during my life in regard to things I have an interest in, second only to the internet.
And pictured above is my latest photographic acquisition, a Delkin Universal Pop-Up LCD Shade (DU3.0-M). It not only protects the 3" LCD on my Fuji F550 EXR superzoom compact camera when not in use, but most importantly (and the reason I bought it) is it shields the LCD against glare when viewing it outside on sunny days when it's so bright out you can hardly see the image on the screen. These cameras use the LCD as a viewfinder rather than using a proper viewfinder because using the LCD as a viewfinder is cheap and easy for them, but certainly far less useful to the user. However, this is the way they're designed right now, so the only choice is to try to make a bad situation better, which is what this little LCD shade does. It doesn't make using the LCD for viewfinding as good as an electronic or optical viewfinder (as found on larger more expensive cameras) but does make it usable. The shade is definitely worth its price and is very well designed. Fully installed it's very unobtrusive, but if it does get in the way at some point, it slides off its thin mounting bezel quite easily.
For a view of the shade in its closed state, click here. For another view of it open, click here. For my other latest photos, click here.

A Glorious Day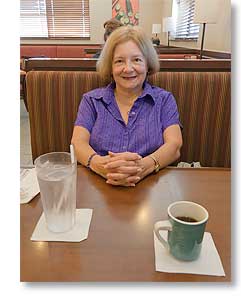 Sunday, 11 September, 2011 - I refer to Friday, Sept 9, when in celebration of Sanda's birthday we drove down to Kingston on the shore of Lake Ontario.
On the drive down, we stopped at Lower Brewer's Locks of the Rideau Canal, the last of the canal's 26 lockstations I hadn't seen or photographed.
While there we had a bonus - a great blue heron fishing along the far shore, totally unconcerned by our presence, which is quite rare up here in Ontario, unlike the almost docile herons found along the Gulf coast. And not only was this bird not skittish, it even put on a show for us by flying over to our shore, then walking over to the canal lock, exploring it, flying up to perch on the bridge over the lock, and then flying down to the other side where it resumed its fishing. We both took a ton of photos of it. View one of mine here.
We then finished our drive into Kingston and found a Swiss Chalet in the west end for lunch (photo of Sandra on the right). When RVers Jim and Dee were visiting back in June we took them to Kingston one day to show them around and also had lunch at a Swiss Chalet there, but a different one.
After a delightful meal (Swiss Chalet has the best chicken you'll ever put in your mouth), we toured the neighboring shopping center where Sandra found an item she hadn't been able to find in Smiths Falls, drove past the nearby Collins Bay Penitentiary so Sandra could photograph it (its architecture is almost castlelike), and drove into the city to photograph Kingston Penitentiary. Kingston, Canada's first capital, is known for many things, one of which is home to a number of correctional facilities.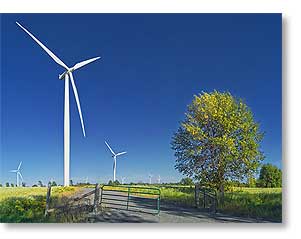 As we drove past Kingston Pen, we saw a marina in its shadow and gave it a look and found that it's the Portsmouth Olympic Harbour. It was an interesting place with a large tetrahedra sculpture out on its dock and a sailing ship that went by as we watched. The ship turned out to be the brigantine St. Lawrence II.
Then it was the short drive to the downtown harbor where we actually found a parking spot, unlike the day we were there with Jim and Dee. Also the construction that had marred the tourist sites there on that day was now done, so we walked around and took photos before we drove over to the Wolfe Island ferry terminal. Again, unlike for Jim and Dee, this day we got onto the ferry with no problem, arrived in due course at the island and were awed by all the wind turbines they had erected since the last time we were there only six years ago.
We had a good time driving around the island getting as close to the wind turbines as we could, which was pretty close at one point as can be seen in the photo above left. These things are huge and there are 86 of them scattered around the island. They comprise the Wolfe Island Wind Project and In total produce 197.8 megawatts.
Then it was back to the ferry to Kingston and back home. All in all it was a glorious day.
For more details and photos, click here for Sandra's account of the trip. Click here for my latest photos.

Getting Caught Up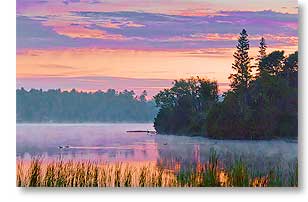 Thursday, 25 August, 2011 - It's been a month since I last updated this page. I've never gone that long before without an update, but I've been having trouble with the application I use to edit it and so far haven't found a suitable replacement. As well as, I just haven't been in the mood.
Anyway, after my last report Michelle and family stayed for that day, me accompanying them on a couple of bike rides along the Cataraqui Trail, but they had to leave the next day since their hotel was full after that. So they moved to a motel in nearby Perth for one day and Sandra and I drove over there to see them again. We joined them for dinner at Perth's Mex and Co (formerly Mexicali Rosa's), a Mexican restaurant overlooking the Tay Canal, and then strolled around Perth's scenic Stewart Park where we took photos. Click here for one. We then bid farewell until the next time we see each other, whenever that might be. Still no action from the US courts on Sandra's immigration case.
The next noteworthy event in an otherwise uneventful month was the annual Cottage Weekend at Garth and Betty's cottage near Lindsay, Ontario, held this year from the 12th to 14th of August. Sandra has posted details and photos here, so I won't repeat them, except to say that well before the crack of dawn on Saturday morning I headed out for a 95 km (60 mile) sunrise drive north of Lindsay, going as far as Miners Bay, but my main destination was to see Balsam Lake near the village of Coboconk. The photo above right was taken of the Gull River at sunrise in Coboconk.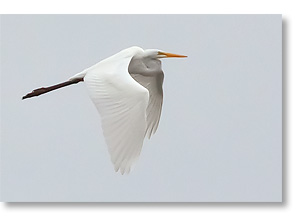 Things were then uneventful until Thursday, 18 August when Danica's soccer team played Smiths Falls here in town, so we invited her for dinner before the game which didn't start until 8:30pm, in other words, right at sunset, so even though the field had lights, they weren't bright enough to get good photos of her and her team, although I did get one of her in action that's passable. Click here to see it.
Then yesterday we had to go into Ottawa for any eye doctor appointment Sandra had, for which we left early in the hopes of seeing an egret we had heard was hanging out at Andrew Haydon Park. We arrived under skies threatening rain and found not one, but three Great Egrets. These are some of our favorite birds that we enjoyed during our RVing winters on the Gulf coast, but had never before seen any in this area. That changed yesterday. Photo above left is of one that took flight while we were watching. We also stopped by Mud Lake where we saw three more but they were much farther away and it started to rain so we couldn't try to get closer. Six egrets in Ottawa! Unbelievable! I'm wondering if they haven't ranged farther north than usual due to the higher than normal heat in the south this summer. Up here, the summer has been quite pleasant except for one hot spell when temperatures got into the 90sF a couple of days.
Click here for Sandra's account of yesterday's trip to Ottawa. Click here for my latest photos.


__________________________

For Older News

Visit the News Archives.


Updated Wednesday, October 12, 2011

Copyright © 2011 by Gordon L Wolford .
All rights reserved.