Tiptoeing Around The Tulips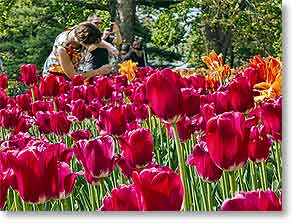 Thursday, 17 May, 2012 - I would have gone 'Tiptoeing Through The Tulips' (for those who remember that old Tiny Tim song) but would have gotten into serious trouble had I actually done that, so had to settle instead for tiptoeing around them. Yesterday, Sandra and I had to be in Ottawa for our annual medical checkups and on our way out of the city we took several minutes to check out the few remaining tulips for this year's Canadian Tulip Festival. Due to the early spring we had this year, the vast majority of the 300,000 tulips in the flower beds at Commissioners Park (only one of the festival locations in the city but my favorite) were either long gone or nearly gone, but enough were still left that I did find some photos waiting for me. Unfortunately, I only had my little pocket camera with me. Since it was supposed to have been a cloudy rainy day, I didn't take any other cameras (plus stopping at the tulips was an unplanned last minute decision), so I was limited in the shots I could take, although the little camera did an admirable job within its limitations. It's a good thing I didn't wait any longer to see the tulips though, because I doubt if any of them survive to the end of the festival, which takes place on Monday. That is Canada's Victoria Day holiday, which makes this the Victoria Day long weekend and the start of Canada's summer activities, like the Rideau Canal opening for boating for instance.
However, the big news since my last report is that Danica has been accepted to the School of Medicine at McMaster University in Hamilton, Ontario. She's also on waiting lists at two other universities, but if nothing else it looks like she's going to medical school somewhere this year and in a few more years she'll be known as Dr Dan.
Which brings me to my recent trip to our local hospital's emergency room. I've been having some deterioration with the vision in my left eye but when that suddenly turned into dark clouds floating around in it, I didn't know what had happened, hence going to the hospital. My fear was that one of the little blood vessels had ruptured, but it turned out to be Posterior Vitreous Detachment, a condition that is apparently quite common as one ages. Happily it's more annoying than serious and should fade over time. Just one more thing a geriatric has to live with.
Also newsworthy is that one of the Ottawa affiliates of CTV, a major Canadian TV network, broadcasted their morning show from beside the town hall here in Smiths Falls on Tuesday this week. I, of course, had to drive over there to check it out. It was quite an event and gave the town some invaluable PR coverage and there wasn't much about the town they didn't cover over the course of the morning. I never watch these shows, but having one so close to home was interesting. I took a few shots. Click here and here for a couple of them.
For the rest of my latest photos, click here.

Finally Got Buffaloed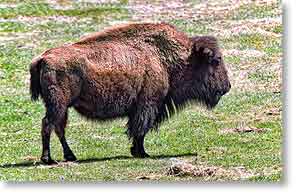 Sunday, 29 April, 2012 - Yesterday, being on the chilly side but otherwise sunny and beautiful, Sandra and I went for a drive into the Canadian Shield in an effort to find some Spring Green color to photograph. Spring Green is what I call the soft, subtle, and varied greens you see when leaves are just starting to come out.
Sadly, it's still a bit too early to have seen much green, although a few trees did have some color, but what we did see were bison! This isn't as strange as it might seem, because there's a bison farm (the Battle River Bison Co,) five miles north of nearby Perth, Ontario along Highway 7. We've seen bison out by the road there a few times over the years, but either didn't have the time or the right camera so we never got any photos of them. That changed yesterday as there was quite a herd of them near the road. We got a few shots, like the one above, but as soon as we had gotten into position they started moving away. The important thing though is I see on their website that visitors are welcome, so I plan to drop in some day soon and take some up close photos.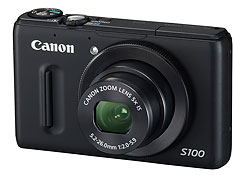 Another reason for yesterday's drive was to get more familiar with my new camera. Yes, I bought yet another camera. I expect you're thinking, is there no end to this? Apparently not. Wednesday we had to make the drive to Ottawa to sign our income tax papers and while there I stopped in at Henry's Camera to ask some questions about the Canon Powershot S100 and ended up buying one.
This is a pocket camera, not unlike the Fujifilm F550 EXR I bought last summer, and like the F550 was intended for, is to be taken with me when I don't feel like taking the big cameras so I always have a camera with me. The biggest difference between the S100 and F550 is the S100 has less zoom range (24 to 120mm compared to the F550's 24 to 360mm) but has better image quality, a faster lens (important for low light situations), less image noise (grain), and most importantly doesn't have the ugly flaring around extremely bright lights that is characteristic of the F550 which is the main reason I've never been completely happy with it. So far I'm pleased with the S100. It is a very solidly built camera and definitely designed for avid photographers. I wish it had more zoom but everything in these little cameras is a tradeoff. At least now I can take sunrise, sunset, and night photos if I don't have one of the DSLRs with me.
Otherwise, the most interesting thing to happen since my last report is an Osprey couple has made a nest atop a light pole at one of Lower Reach Park's soccer fields which is just across the Rideau Canal from us, so I'm hoping to get a series of osprey photos while they are there to raise a family. I've already gotten a few, like the one here.
For the rest of my latest photos, click here.

Last Gasp Of Winter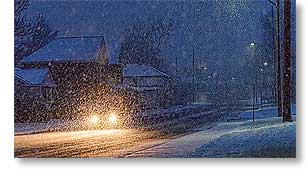 Monday, 23 April, 2012 - At least, I hope it's winter's last gasp. Pictured on the right is what I woke up to this morning. That is the street beside the house and the snow is coming from a large nor'easter currently moving up the US east coast and the northwest quadrant of the storm is even reaching us so we don't miss out on the fun.
Hard to believe that three days ago I was spraying dandelions and mowing the yard. Although we needed the moisture, I'd have been just as happy for this snow to have been rain, but it did give me the opportunity to go out at daybreak and takes some unexpected photos of driving snow which presented the challenge of keeping the camera lens clear and dry. I shouldn't have been surprised by the snow however, because I recently had the snow tires on the car replaced with the summer tires and had put the snow shovels and snow blower away. Fortunately, the snow quickly melted off the driveway.
Today, also happens to be my son Ian's 37th birthday, so Happy Birthday, dude. I remember when my parents were 37 and I thought they were old as dirt. Now my son is that age and 67 isn't looking all that old to me.
For my latest photos, click here.

Happy Easter Weekend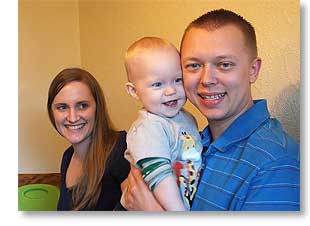 Friday, 6 April, 2012 - Happy Easter to all. Today is Good Friday, usually the first day of an Easter weekend, but our Easter weekend started yesterday when we drove to Ottawa to feast on the Easter banquet Margie and John invited us to participate in at their house.
Normally, Betty would also have been there, but this year she and Garth got back from their winter stay in Florida only the night before, and quite late at that, so she understandably wasn't interested in turning right around and making the trip to Ottawa, although she did call on the phone and talked with all of us.
We had left early for Ottawa because my optometrist had a new pair of glasses waiting for me. These are for distance. I have a pair for computer viewing and reading and for several years had been using a pair of progressive bifocals for distance, primarily used while driving, but like an idiot I lost them last summer and have been getting along without them since then. I can see well enough without glasses that I'm not required to wear them while driving, but I find small signs difficult to read, especially at night, so I finally broke down and got the new glasses, although not bifocal this time since I didn't really care for them that much.
Another reason for seeing the optometrist this year was to check on my macular degeneration and cataracts (both still early stage) and as I expected, there has been some further degeneration in my left eye since my last visit to the eye doctor, which I think was three years ago, but I still see normally with that eye the vast majority of the time.
Anyway, from the optometrist we went to Margie and John's and got caught up on all their latest news before Nick and family arrived and from there Jack became the center of attention. Pictured above (L-R) is Becky, Jack, and Nick, a photo taken under ambient light with my little Fujifilm F550 EXR pocket superzoom camera that I bought a year ago and is still the only camera in its class that offers files in RAW format.
For Sandra's Easter message and account of our trip to Ottawa yesterday, click here.
For my latest photos, click here.


__________________________

For Older News

Visit the News Archives.


Updated Monday, June 25, 2012

Copyright © 2011 by Gordon L Wolford .
All rights reserved.