A Little But Rich Experience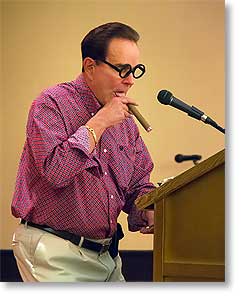 Friday, 31 August, 2012 - That's little as in Rich Little, a celebrity for decades, renowned around the world as a top impersonator of famous people and yes, he's still alive (age 73) and still a very funny comedian and who we saw yesterday and could have met had we decided to do so. He did pose for me for a photograph (as can be seen here), but we didn't exchange any words, so technically I can't say I actually met him.
Less known outside of Canada is that Rich is also a native son of Ottawa, Ontario and over the years has maintained his connections there. As a result of those, Rich was the guest star yesterday at the 16th Annual Member Appreciation Day put on by our finance managers, Canada Retirement Information Centre. These events are always well attended (free food, free booze, and free entertainment will do that), but yesterday the meeting center (the Hellenic Meeting & Reception Centre) wasn't just well attended, it was packed to a standing room only crowd (free entertainment by a famous star will do that).
I've long said that today's comedians aren't funny. I can't remember the likes of Chris Rock, Roseanne Barr, Ellen DeGeneres, or Jerry Seinfeld ever making me laugh. They say things they think are supposed to be humorous but just sound inane and stupid to me. Once in a while I'll find Eddie Murphy, Whoopi Goldberg, or Robin Williams can be funny, but usually not and they often try to make up for bad material by substituting crudity and vulgarity for it, neither of which amuse me. None of today's so called comedians are in the same league as legendary comedians like Lucille Ball, Bob Hope, Red Skelton, Milton Berle, Abbott & Costello, Jack Benny, George Burns, Jackie Gleason, Jerry Lewis, Groucho Marx, Joan Rivers, Bob Newhart, Benny Hill, or Tim Conway, just to name a few and all of whom could have you laughing with just a look and their material and delivery could make you laugh until tears flowed. Rich Little is in that league and it was a memorable experience to have actually seen and heard him in person. I laughed more yesterday than I have for years.

Train Of Thought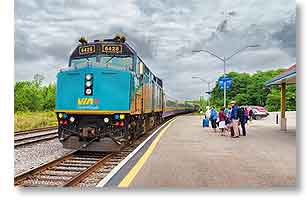 Friday, 17 August, 2012 - I forgot to mention in my last report that on Monday the thought occurred to me that while I've photographed our new little passenger train station, I hadn't yet photographed a train arriving there, so I wasted no time putting that train of thought into action.
In the US, Amtrak is the passenger rail service, while in Canada the equivalent is VIA Rail and Smiths Falls is a stop along VIA's Ottawa to Toronto line. For years VIA Rail used the old train station situated at the CP (Canadian Pacific) train yard, but a year ago began using a new but much smaller station located away from the train yard. The new location was chosen to reduce scheduling conflicts between passenger and freight trains as the old station was located in the middle of a junction between four busy Canadian Pacific Railway lines.
Anyway, the new station is a cute little thing, although totally lacking in amenities beyond a waiting room, toilets, and free parking. Aside from eliminating scheduling conflicts with freight trains, the new station is also much easier to get to, being beside a major highway, whereas the old station was more difficult to find and get to.
Now that I finally know the train schedule and have photographed a train arriving, the next goal is to do this with better lighting. It was less than ideal on Monday, as can be seen in the photo above.
For the rest of my latest photos, click here.

Rain Reigns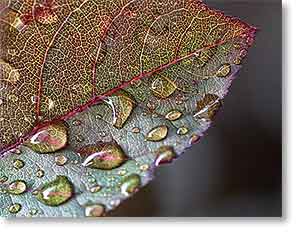 Wednesday, 15 August, 2012 - I don't know if it's safe to say the drought is over yet, but since my last report we've had rain every day except for two (if memory serves correctly) and temperatures have remained cooled down to fairly normal. The leaf photo on the left shows rain droplets on a neighbor's tree.
The Accuweather website says the torrid weather pattern has ended because the jetstream has finally moved south again, to where it normally is. The jetstream pulls cooler Arctic air down with it.
Otherwise, things were very quiet around here, except Sunday morning we drove over to our former campground in the Ottawa area - Tranquil Acres – we saw our former RV (now in the hands of new owners) and enough time has passed that I felt no pangs of nostalgia for the lifestyle that RV represents.
The campground usually has quite a few flowers around and this time was no different and all those flowers usually have quite a few bugs on them as was also the case and as can be seen in the moth photo below. That is a Clearwing Hummingbird Moth and only the second one I've ever been able to get a camera on. It's amazing how much these moths resemble hummingbirds in how they hover and fly.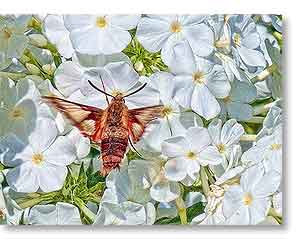 And this afternoon we dropped by a birthday party that was held for Sandra's 85 year old Aunt Joyce by Joyce's two daughters, Ethel and Twila. Sadly, Aunt Joyce was there in body only since her memory is gone. She is aware of what's going on around her, but understands little of it, and can speak, but what she says makes little sense.
While there, Ethel (knowing my interest in photography) told me about a field of sunflowers that's a half hour south of town near Frankville. So after the party, Sandra and I drove down there to give the field a look. I've got to say it's the largest field of sunflowers I've ever seen and the most densely planted. Unfortunately, the light was wrong (morning light being best) and most of the blooms were drooping downward and hidden by their neighbors, but I did find a few photos there. Click here to view one.
On returning to Smiths Falls, since neither Sandra nor I could help consume Aunt Joyce's birthday cake, we stopped at the Lanark Leeds feed store which (of all things) also serves coffee and Kawartha Dairy ice cream and treated ourselves to some fabulous vanilla ice cream.
For the rest of my latest photos, click here.

Really Cool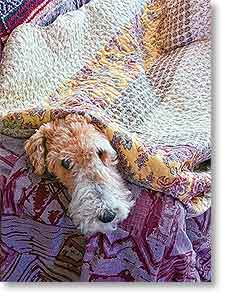 Tuesday, 7 August, 2012 - Overall this summer has been the hottest I've experienced in my 22 years in Canada, but things have finally cooled off a bit the last two days. I've seen a few hotter summer days than we had this year, but not by much and not for nearly as long. Typically, we would have a few short hot spells with things cooling back to normal as Arctic air would move south, but this summer we've gone weeks with having to run the air conditioner and that's very unusual. In fact, a few days I noticed it was hotter here than Tampa, Florida or Corpus Christi, Texas. For instance, three days ago we reached a high of 94.5°F (34.7°C), while the high in Corpus Christi was 92.6 °F (33.7°C). Typical temperature here at this time of year is 76 °F (24°C). It's been a most unusual summer.
And not only has it been hot, but it's been dry as well, with very little rain. The last half of last summer was also very dry but this year has been even drier, to the point of being a drought with crops failing in the fields and water usage here in town being limited. We recently had a couple thunderstorms, but they were too little too late for many farmers.
Anyway, for the last week we've had a guest...Jasper, Margie and John's dog (photo is of him undercover). We've been dogsitting while Margie and John moved Danica to Hamilton, Ontario where she will be attending medical school this fall at McMaster University. This is the first time Danica will be living on her own. Should be interesting.
Otherwise, the only other thing of note we've done since my last report was July 29 when Sandra and I dropped by the Rolling Thunder Car Show & Shop that's held at Lower Reach Park along the Rideau Canal here in Smiths Falls. That park is just across the canal from us, so a very short drive and entry is free, so we attend each year. Always fun to be surrounded by cars from our youth that are in much better shape than we are. Sandra has posted some photos of them near the bottom of this link.
For the rest of my latest photos, click here.

Cottage Weekend 2012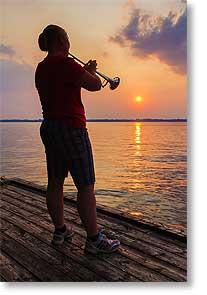 Sunday, 22 July, 2012 - Last weekend was Sandra's family's Cottage Weekend. Past cottage weekends at Garth and Betty's cottage on the shores of Sturgeon Lake near Lindsay, Ontario took place in the latter part of August, but having it in July this year was actually better since the lake was warmer for those who went swimming in it, myself not being one of them.
As cottage weekends go, this one was pretty low key, due in part to Nick, Becky, and Jack not attending, but also because people seemed pretty content with just sitting around and spending time on the docks. The weather was hot.
The most interesting thing I did was to go out on the lake in Garth's paddleboat (click here for Sandra's photo of the event) to photograph an osprey that was nesting in a tree best seen from the water. Feeling brave, I took the DSLR with my long lens attached (Canon EF 100-400mm zoom with a Tamron 1.4x extender). The paddleboat is very stable and the lake was fairly calm, so there wasn't much risk of the camera getting wet, but the boat did rock enough that it was almost impossible to keep the osprey in the frame.
We also had an aurora Saturday night that was supposed to be spectacular and visible as far south as mid-USA, so I dragged myself out of bed at 1 a.m. (despite having earlier had a bad reaction to something we had for dinner) and went out on the dock to see if we were indeed having an aurora. We were, but it wasn't what I'd describe as spectacular. If I'd been feeling better I'd have gone to the effort to photograph it, but as it was I didn't feel like bothering with it and went back to bed.
Photo above is Danica playing her trumpet on the dock at sunset. She wanted this in silhouette. For Sandra's account of this year's Cottage Weekend, click here.
Wednesday, we drove into Ottawa for Sandra's latest eye doctor appointment. Before the appointment we stopped by Andrew Haydon Park in the hope some egrets might have been there, but alas we saw none. During her appointment I drove over to one of the scenic overlooks along the Ottawa River Parkway, but saw nothing of special interest there either.
And last evening shortly before sunset we attended a performance of the visiting Brockville Lions Steel Band that was held in one of the parks downtown. It was free, which is always a good price, and the weather was pleasant and the music interesting. The steel drum music reminded us of the music we enjoyed on many of our Caribbean cruises. The drummers in this band were all teenagers.
For the rest of my latest photos, click here.

An Afternoon On The Water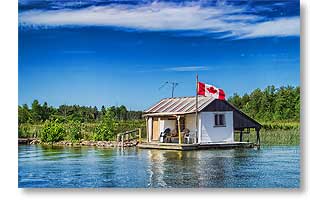 Friday, 6 July, 2012 - Yesterday was an eventful day for me in which I met an old friend and made a new one.
First, I met my old friend Jim for breakfast in Kemptville. Jim is a fellow photographer and along with his wife is moving to Germany next month so they can be closer to their son who will start attending Cambridge University in England this autumn. You can drive to England from Germany, but you can't from Canada.
Then after lunch I drove down to Otter Lake, ten minutes south of here, where I met Kurt and his family for the first time. Kurt now lives in California but grew up in the eastern US and spent summers as a lad at his grandfather's cottage on the shore of Otter Lake, so Otter Lake is a special place for him and his family and they still like to visit there when they can. I exchanged emails with Kurt a while back when he had found one of my photos online that I shot in that area and he's been following my photography since then and wanted to meet me the next time they came up to Otter Lake, which turned out to be this week. He sent me directions to the cottage they're renting for their stay (sadly his grandfather's cottage is no longer in the family) so yesterday I not only met him, but his wife Brandy, her sister Jennifer, his mother Pamela, and his three children, James, Maddox, and Iris, as well.
After meeting at the cottage, Kurt gassed up the pontoon boat they're renting for their stay, loaded everyone onboard, and took us for a tour of the lake. It was a most enjoyable time. Photo above was taken from the boat.
For the rest of my latest photos, click here.

Canada Day 2012 Long Weekend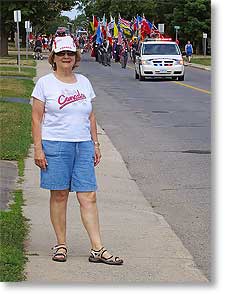 Monday, 2 July, 2012 - Yesterday was Canada Day here, the day Canada celebrates its formation on July 1, 1867. Canada is a sovereign state in what is now called the Commonwealth of Nations, the former British Commonwealth. The British monarch is Head of the Commonwealth, which is a ceremonial position currently held by Queen Elizabeth II. She is also the monarch of Canada even though the country is considered independent. I really don't understand the political structure and neither do most Canadians I've asked about it.
Anyway, since July 1 fell on a Sunday this year, today is when most people have the day off work. Of course, being retired, every day is like a holiday for Sandra and me, but we did do a couple of things yesterday that were holiday related...
1) on the way home from buying caulking for some work I'm doing on the shed, we encountered the Bicycle Decorating Contest Parade. So we parked and took some photos (like the one on the left of Sandra with the oncoming parade behind her).
2) sat out in the yard after dark and watched the firework display that was being set off from Lower Reach Park which is across the Rideau Canal from us. Normally, I would photograph fireworks but just wasn't in the mood last night.
Today, we're not doing much of anything except trying to stay cool. According to the front porch thermometer, it's 84°F (29°C) but it feels hotter than that even though the humidity is less than 40%.
For the rest of my latest photos, click here.


__________________________

For Older News

Visit the News Archives.


Updated Monday, September 17, 2012

Copyright © 2012 by Gordon L Wolford .
All rights reserved.