Deer Me! We Dodge Another Bullet!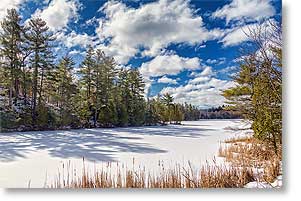 Saturday, 23 March 2013 - We took the new car on its first road trip today and it was almost its last road trip and could have been our last as well. While driving along Highway 15 near Portland on our way to Kingston, we saw a deer cross the road a little way ahead of us and then a short distance beyond that point two more deer also decided to run across the road, except right in front of us this time, the second one of those two stupid animals coming within a hair's breadth of becoming our hood ornament. As I've aged I've lost some of my faculties (vision, hearing, and strength aren't what they once were), but fortunately I haven't lost my reflexes or that incident could have been very ugly. In all likelihood the deer would have ended up coming through the windshield, killing itself if not taking us along with it. Good thing the new car has ABS. Took a few miles before my heart rate returned to normal.
Otherwise, it was a beautiful drive. The 16 mile (26 km) stretch of the Perth Road (County Road 10) that passes through the Frontenac Arch of the Canadian Shield between Hutchings Road and North Shore Road is some of the most beautiful scenery you'll see anywhere in eastern North America. The photo above is typical of countless scenes visible from the road.
The reason we were heading for Kingston was so Sandra could visit the new King's Crossing Fashion Outlets mall and while she was there shopping til she dropped, I headed down to Kingston's Lake Ontario shoreline for some photos. Sandra was successful, while I was only marginally so. As happens along the shore in Kingston on a weekend, it was too crowded to be an enjoyable experience, so after taking a Martello Tower photo, I drove back to the mall, where I hooked up with Sandra, and we had a very enjoyable lunch at a nearby Swiss Chalet.
On the drive home after lunch, we took the same scenic route back, this time having no close encounters with deer and falling in love with the new car's Sirius XM satellite radio feature. I didn't think I'd like radio I had to pay for (although we have it free for 3 months), but one of my favorite kinds of music is contemporary jazz, however I've heard so little of it for years because local radio doesn't play much of it, I'd forgotten just how much I liked it and Sirius has seven jazz channels. Also, I can't describe how nice it was not to have to endure countless inane commercials in order to listen to programming off the air I didn't much like, so now we have to decide if the advantages of Sirius are worth paying for.
For my latest photos, click here.

We Drive Away In A New Car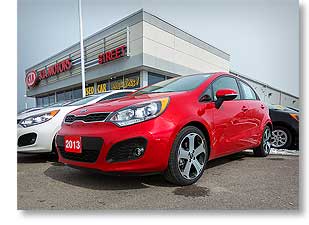 Wednesday, 20 March 2013 - We celebrated the arrival of spring today by buying a new car!
That wasn't really our intention starting out the day, but we received a piece of mail recently from our KIA dealer (Street KIA) saying there was a chance we could trade in our 2010 KIA Rio5, a car we had been very happy with and had no need to trade it, for a brand new 2013 Rio 5 door hatchback (same equivalent car) for about the same monthly payment.
This, of course, sounded like it was too good to be true (and usually those things turn out to be just that), so at first I put it out of mind, but then thought it would be fun to see them try to make good on it and that's how we spent our afternoon and they actually did make good on it, more or less. What difference there is comes about because we took the more expensive model, but bottom line is we have essentially the same monthly payment.
So, we are now the proud owners of a new car (photo above) that has so many more bells and whistles than our previous car (which was their top of the line Rio when we bought it) that it will take a week just to learn them all. Basically, what this one has that the old didn't have are: 6-speed automatic transmission with Steptronic shifter (can work basically as a stick shift but without a clutch, very cool), centre floor console, sleeker design, power everything, leather seats, 17" wheels, sport suspension, rear camera (also very cool), GPS, touch screen display, push button start, digital thermometer, digital fuel usage display, and those are just the ones that come to mind. I can't really remember them all. These new cars are almost too complex for our old brains, but I expect we'll manage. It will be fun trying anyway.

We Do A Drive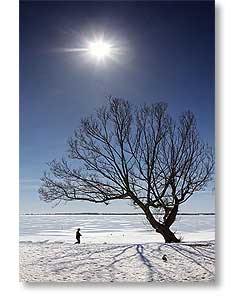 Saturday, 9 March 2013 - All week the forecast for today was calling for it to be a fairly mild bright sunny day, so I was hoping we could do a lengthy photo drive, something we haven't done in quite a while, and that's exactly how the day turned out.
My original goal was to drive along Burnt Hills Road just south of Seeley's Bay and take that road into the Frontenac Arch of the Canadian Shield. We like to drive along roads we haven't yet traveled and Burnt Hills Road fit that category, as well as it looked like it had several clear views of lakes and that indeed proved to be the case. The downside of that is at this time of year the lakes are frozen and snow-covered so they don't look nearly as interesting as they do in warmer weather when the water reflects. Anyway, as with most roads in the Shield, it was winding and hilly and therefore quite scenic.
We drove to the end of it and then had to decide if we were going to turn right, which would take us back home, or turn left, which would take us to Lake Ontario.
We turned left and found our way to Amherstview, which is on the shore of the lake, and then found a little park that gave use a great view of the water (photo above right) and a view of a very large flock of mallards, all of whom thought we should have been feeding them something. After taking photos along the shore (click here to see one of the ducks in flight), we kept our packed lunch to ourselves and ate it there in the parking lot.
We then headed for home, taking the road up to Sharbot Lake, to Perth, and Smiths Falls. In all, we drove 160 miles (260 km), were gone about five hours, and had a great time. Click here to see our route.
For my latest photos, click here.

Dodged A Bullet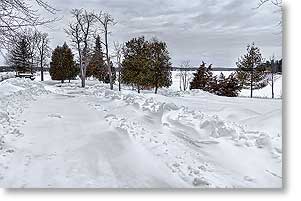 Sunday, 3 March 2013 - Travel of any kind during the Canadian winter can be treacherous, even when not going far as I found out yesterday. Knowing how easy it is at this time of year to end up in a ditch or worse, I'm always very careful during my frequent daybreak drives. I would say sunrise drives, but we have few actual sunrises during the winter since it's overcast most of the time.
Anyway, being so careful paid off yesterday. My daybreak drive found me at nearby Otter Lake, which is only 15 minutes southwest of here. This lake is one of my favorite local water views because it's fairly unique in that not only is there a clear view from the highway but there's also a public boat launch which also includes a small park (pictured above). There are a lot of lakes in the region, but annoyingly few roadside clear views of them since the lakes are either lined with trees and impenetrable bush or with cottages on private property. Drives me nuts. So, because of the clear view at Otter Lake, I visit there often during good weather and have taken most of my Otter Lake photos from this boat launch area.
Bad weather though is another matter. To enter that area the laneway goes up a small rise and then descends down to water level. As I approached the turn off the highway into the lane, I was happy to see the snow had been plowed. When I got to the top of the rise, I saw the downhill side of the lane had drifted quite a bit since the snow plow had been there, as can be seen on the left side of the photo. At this point, I stopped. The car has front wheel drive and snow tires and can go through much more snow than I was seeing, but alarms were going off in my head and I've learned to pay attention to them. So I backed out and parked on the shoulder of the highway and walked in, which was when I saw that below the thin layer of snow was solid smooth ice and if I'd driven down the rise it was unlikely I'd have been able to drive back up it, even with snow tires. It was hard enough to walk there and keep from slipping and falling, so I dodged a bullet by heeding the alarms. Considering there are very few people along this stretch of highway at this time of year, I would have had to call 9-1-1 to get towed out, assuming that area has cell service.
For the rest of my latest photos, click here.

Deportation Case Terminated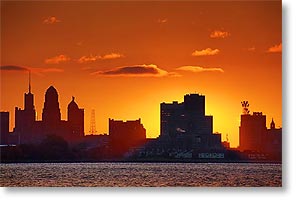 Monday, 25 February 2013 - Today, Sandra got notification from our immigration lawyer in Buffalo, New York that the US government's deportation case against her has been terminated, which means once she receives some paperwork she will be able to again travel to the US. Only took thousands of dollars, three years, and destroyed our retirement plans, but better late than never.
This is what the lawyer told her, "Just received order reopening and terminating your case with prejudice to the Department. Congratulations!!! You won!!!"
And this, "Just received order from immigration court in Cleveland, Ohio reopening and terminating deportation proceedings on behalf of one of the most patient, understanding, and deserving clients that I have ever represented. So happy to FINALLY get this result. #VICTORY"
I don't know what "prejudice to the Department" means exactly, but the end result is what matters. Hopefully, we will finally be able to make it to the Wolford Reunion, but Sandra has some surgery scheduled for sometime in June, so not sure if that will interfere, but at least sometime this year we should be able to finally see the family in Ohio.
Since our US attorney is in Buffalo, the photo above is one of mine taken of the Buffalo skyline at sunrise, shot from Fort Erie, Ontario.

Gulf Coast & Desert Dreaming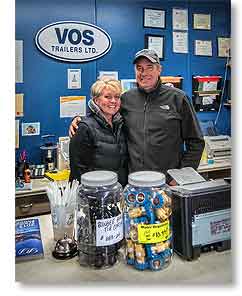 Monday, 11 February 2013 - After last Friday's major snowstorm, my thoughts have been turning to where Sandra and I might be if it weren't for the boneheads at US Immigration. There's a good chance we would either be somewhere along the Texas Gulf Coast (maybe at Powderhorn Lake RV Park) or somewhere in Arizona's Sonoran Desert (maybe at Justin's Diamond J RV Park), our two favorite RV parks in our two favorite regions of all those we camped at during our 5 years of full-time RVing.
Normally, I don't think much about those days, since there's nothing to be gained by such thoughts except frustration (although there are a lot of fond memories), but recent circumstances beyond last week's snowstorm have conspired to bring those thoughts to the forefront.
For instance, not long ago we found ourselves in Stittsville, the home of Vos Trailers where we bought our fifth wheel RV in 2004, and since we had some time on our hands for a change, we dropped in to see how things were going there. Vos is a family owned and operated business (pictured here are Carolyn and Gord, the daughter and son of the owner and the ones who deal with customers and service) and the times we've been there they have always treated Sandra and me as much like friends as customers, even now when we're no longer in the RV game. It was good to see them again and while we were there it was easy to feel like we were still RVers. In all our dealings with Vos for the five years we had the fifth wheel, they gave us exceptional service.
Also aiding and abetting in bringing our traveling days to mind were RVer friends of ours buying a new RV. Al and Kelly (long-time boondocking RVers from Bayfield, Ontario) bought a winter home in Arizona last spring before returning to Ontario for the summer and no longer felt they needed their big Class A motorhome since now having a winter home in the desert southwest meant they'd be doing a lot less RVIng. So, now back in Arizona for the winter, they opted to replace their Class A motorhome with a small Sunseeker Class C, which is very similar to the Glendale RV Sandra and I owned before becoming full-time RVers except Al's is new and a metre shorter.
What Al and Kelly did (buying a winter place in snowbird territory) was what I expected Sandra and I would do at the end of our RVing days, but fate saw otherwise. Oh well. Life goes on. Sandra's and my RVing days might be in the past, but at least I have thousands of photos to look at from our five years on the road, which I called my Photo Odyssey. I think I'll go look at some of those photos now. Might make me feel warmer. (sigh)

Just Gotta Love Modern Technology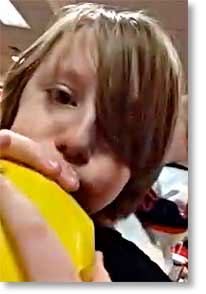 Friday, 1 February 2013 - I'm pretty much a traditionalist at heart, not liking our disposable society and not liking nearly everything you buy anymore being made in China, but one modern thing I love is today's digital lifestyle.
Case in point, my oldest grandson Caden just celebrated his 10th birthday and although I would have loved to have been there, circumstances don't allow that. Enter modern technology. Over the last year or so, my daughter Michelle has been communicating with me via internet video telephony, so using Apple FaceTime with Eric's iPhone she allowed me to join Caden's party for a while. It wasn't nearly as good as actually being there, of course, but it is the next best thing currently available.
Thanks to this modern technology I've at least been able to see and hear the three grandchildren (Oren, Violet, and Max) I've never been able to meet in person, as well as keep up with how my kids are doing and how all their kids are developing.
Pictured here is a screen capture of Caden blowing up a birthday balloon at his party, which was held at a Chuck E Cheese's. It just blows me away that I was able to join the party through something so small it fits in a shirt pocket. Michelle has also FaceTimed with me via her iMac, Eric's iPad, and Grace's iPod, so not only do I get to cyber-visit at their house, but I also cyber-attended their church's Christmas program and Faith's piano recital.
It wasn't all that many years ago this capability was totally in the realm of science fiction.


__________________________

For Older News

Visit the News Archives.


Updated Tuesday, April 9, 2013

Copyright © 2012 by Gordon L Wolford .
All rights reserved.