Victoria Day Long Weekend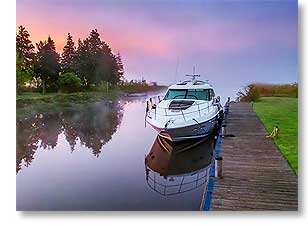 Saturday, 18 May 2013 - This is Canada's Victoria Day long weekend. Victoria Day (this coming Monday) is a holiday that originally celebrated Queen Victoria's birthday, but now celebrates the reigning monarch's birthday as well.
It also heralds the start of summer activities here, like the opening of the Rideau Canal boating season which took place yesterday. Each year, I try to photograph the first boat I see on the canal and that happened last evening when Sandra and I were out for a sunset drive, but I didn't like the light conditions on the boat, so I went back this morning at sunrise and got the photo on the right.
Otherwise, things have been pretty boring around here, which is why it's been almost three weeks since my last report. The most exciting thing I've done was to stop by the Canadian Tulip Festival in Ottawa a couple of times. Last year, we had such an early and warm spring the tulips were almost gone by the time the festival started, but this year the weather has been more normal so the tulips bloomed right on time. Click here to see the photos I shot there. I'm still adding to that gallery.
This is also Lilac time of year and since they too are out in force right now, they have gotten some of our photographic attention as well as the tulips. In fact, ten miles north of here is the village of Franktown, Ontario, which promotes itself as the Lilac Capital of Ontario and is home to a Lilac Festival, which takes place next weekend. Franktown does indeed have an abundance of lilacs. They line the two city block length of Lilac Lane and when the lilacs are in bloom, the fragrance along the lane is incredible. We dropped by there yesterday and a couple more times recently for photos.
And, after seeing Franktown's lilacs yesterday, we drove on up the Carleton Place and visited Tranquil Acres Camping RV Park, our RV home for most of the summers when we were full-time RVers. As hoped, Dave and Shonagh (the owners) were there, busy as bees getting things back in shape after the long winter. Always a pleasure to see them and walk around the area. I had hoped to get some bullfrog photos with the new camera, but none were out. The campground backs on the Canadian Mississippi River and there are usually a bunch of bullfrogs croaking away, but sadly not yesterday.
For my latest photos, click here.

We See & Hear The Redneck Limousine


Monday, 29 April 2013 - Yesterday afternoon, Sandra and I did something we haven't done in so long we can't remember the last time we did and that's go out to a pub. The reason we don't anymore is twofold: being on pensions it's just too expensive and because Sandra's dietary limitations exclude almost everything one can consume in such a place there's little point in going.
However, she and I both participate in a local Facebook photography group and Mike, one of our fellow photographers in the group (and a former member of the Tai Chi class Sandra and I took for a year) plays in a blues band called The Redneck Limousine and they were playing a gig yesterday afternoon at the Shark & Bull pub (photo above, Mike is just to the right of the drummer) in neighboring Perth, so I thought it would be worth the 13 mile (21 km) drive to see and hear the band, as well as hopefully being a photo op.
As it turned out, the band was very good, excellent actually, but the lighting in the pub wasn't. The band was essentially in shadow with no direct lighting on it at all. I'm still learning the limitations of my new Fuji HS50 camera, so that's the one I had with me and the light in the pub was so dim and poorly distributed, it was beyond the practical limits of the camera, although I managed to get a few passable shots. Despite the abysmal lighting, I did thoroughly enjoy the band though and being there brought back fond memories of days long past.
For my latest photos, click here.

Sunday Drive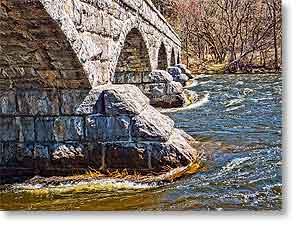 Monday, 22 April 2013 - Yesterday, since we finally had sun and perfectly clear blue skies, and a new camera craving some exercise, and a new car just sitting there itching to hit the road, Sandra and I took them out on a 125 mile (200 km) Sunday drive.
It had been quite while since we last visited Pakenham, Ontario, home of the famed Five-Arched Stone Bridge (photo on the left), so that was our first stop.
This bridge is claimed to be the only one of its kind in North America, but an internet search shows at least two similar railway bridges in the US, so maybe this is the only one for automobile traffic.
Anyway, it is a beautiful bridge in a beautiful setting along the Canadian Mississippi River. We have visited here a number of times in the past. A couple more of my earlier photos of this bridge can be viewed here and here.
Then, from Pakenham we headed west to White Lake, taking the Waba Road. We had never traveled that road nor the road between White Lake and Calabogie and I was curious to see it. For much of that distance the road parallels the scenic Madawaska River and offers many clear views of it, although we didn't stop for photos this time. Now that I know it would be worth the effort, I do plan to go back another time and give it a more thorough look.
From Calabogie we headed home, tired but with happy car and camera.
Click here for a map of the drive. For my latest photos, click here.

New Hood Over The Range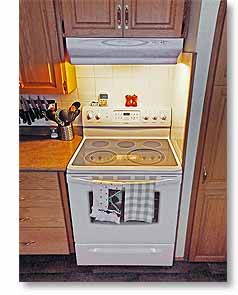 Friday, 12 April 2013 - Yesterday our house was in a state of chaos once again. Last time was over Easter weekend when professional painters were here painting the dining room and kitchen (something Sandra had wanted done since we moved in) and we'd had to move everything out of their way. No small job in itself.
This time though our handyman and an assistant were here to install a new range hood (photo on the right). The old one that had come with the house died a couple days earlier, although this was not viewed by Sandra with any great sadness since she disliked it for being noisy and unvented. So, not surprisingly she wasted no time in finding a quiet and vented replacement at our local Home Hardware store. It's a NuTone Whispaire and it is quite a bit nicer than the old one. Not what I'd call whisper quiet, but more quiet and it does pull out a prodigious amount of air (210 CFM).
There are things I'm capable of doing around the house, but installing the new range hood was not one of them since it involved having to run ductwork from the hood, up into the cabinet above it, then immediately right into the broom closet, then up through the closet ceiling into the attic, then out the side of the house. It took the guys only three hours; it would have taken me three weeks, assuming I could have done it at all, which is debatable.
And it's a good thing this was done yesterday, because today we are in the midst of an icestorm. Welcome to Canadian 'spring'! The original forecast had been for four to eight inches (10-20 cm) of snow to fall, but the reality is we're getting freezing rain. Wonderful. Hopefully, we won't get enough to pull down trees and power lines.
For my latest photos, click here.

New Living Room Blinds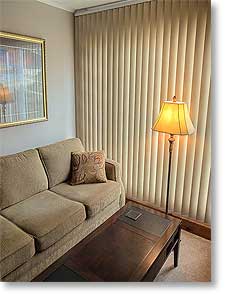 Tuesday, 9 April 2013 - Our house came with vertical blinds over the living room picture window. They were a translucent light teal green, a color that went with nothing else in the room and on sunny evenings from spring through fall, being translucent they allowed sunlight to glare on the TV screen to the point I could hardly see the show from where I sit.
I put up with it for three years but finally had enough, so we recently went shopping for opaque blinds in a more complementary color. You know it had to have been bad for me to willingly go along with Sandra shopping for such a thing. Shopping for anything other than electronics bores me to the point of insensibility. My brain goes numb. My eyes glaze over. I'd almost rather go to the dentist.
Anyway, when possible we prefer to shop here in town to help support the local economy, as long as we can find what we want and the price is anywhere near reasonable. So Sandra found a place that sells blinds, but they had none on display, having only sample swatches, which didn't really show us if they were opaque enough. However, we arranged for them to come over this coming Thursday to measure the window, despite their cost for the blinds after tax and installation being $770!
That price seemed pretty steep, so we kept looking and yesterday ended up in the neighboring town of Carleton Place where they have a couple of home improvement big box stores - Rona (Canadian) and Home Depot (US). Just as we prefer supporting our local economy, we also prefer supporting Canadian businesses as well...as long as they too have what we want and at a reasonable price.
So we stopped first at Rona, and while they did have vertical blinds on display, the person who waited on us wasn't very helpful and we didn't see anything we liked. So, off across the street we went to Home Depot, where a knowledgeable person waited on us and not only did they have complete vertical blind sets, they also sold packages of opaque vinyl individual louvers and in a color we both liked. Sandra had doubts they would fit on our existing hardware, but I figured there had to be some degree of standardization in that industry and they looked like they would fit, so considering enough of them to cover the window were a tenth the price of what had been quoted to us in Smiths Falls, it was worth the risk. Worst case, we would have to return them.
So, we bought them and not only do they fit perfectly and took only few minutes to install, the color is also perfect (photo above). No more glaring on the TV screen. Eureka!
For my latest photos, click here.

Yet Another Camera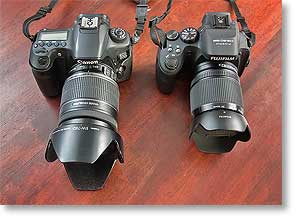 Saturday, 6 April 2013 - Tuesday we had to go into Ottawa for me to see the optometrist and while there I bought yet another camera!
What (you might be asking) would I need with another camera?
Well, I have some good cameras and lenses, but no single one covers everything I typically want to photograph and I generally don't feel like taking them all with me when I go out for my daily (usually sunrise) photo shoot. If I take the landscape camera (Canon 60D with an 18-200mm lens) and see a wildlife shot, I don't have enough focal length take it, and if I take the wildlife camera (Canon T1i with a 100-400mm lens and Tamron 1.4x teleconverter), I don't have enough wide angle for landscapes, and taking both of them on an every day basis is just enough too cumbersome and heavy to be fun.
Enter the new Fuji HS50 EXR, Fuji's just released superzoom point 'n shoot camera that I bought on Tuesday. It takes three of my existing cameras to cover a focal length range of 24mm to 896mm, while the HS50 covers 24mm to 1,000mm. That's 11% more telephoto reach and all that focal length range in one camera.
However, for being a point 'n shoot camera, the HS50 is not particularly small, as can be seen above as it sits to the right of my Canon 60D and 18-200mm lens combo. The HS50 is only marginally smaller and lighter (by a third), but it's a lot smaller and lighter than the three cameras it takes to match its focal length range.
Sadly, since nothing is free, to get that much focal length in one small lens, the sensor must be made accordingly small as well, so image quality compared to a DSLR suffers somewhat as a result but is still acceptable.
Happily, the camera is otherwise very impressive and much better than I had expected. Its key features are: 16 megapixel 1/2" sensor, 24-1,000mm focal length range, manual zoom, manual (P/A/S/M) exposure controls, precise manual focus (rare in most digital cameras), optical image stabilization (effective even at 1,000mm), fast and accurate auto-focus, RAW format, fully articulating LCD, high resolution fast electronic viewfinder, ISO to 12800 (although practical only to 1600), continuous shooting to 11 frames/second, Quick Menu button, hotshoe, and bracketing.
So far, it's been a lot of fun shooting with it. For my latest photos, click here.


__________________________

For Older News

Visit the News Archives.


Updated Friday, June 21, 2013

Copyright © 2012 by Gordon L Wolford .
All rights reserved.