News Archive 070
Time to Get Caught Up

Friday, September 19, 2003 - Well, the news of the day is Hurricane Isabel. She stormed into the US yesterday and is passing thru Canada today as I write this, but well to the west of us, although we had a few scattered showers this morning with a fairly stiff steady breeze. This afternoon they say more rain with wind at 30mph, gusting to 50mph, but we're right on the eastern edge of the storm and will miss most of it. In fact, at the moment the sun is out and the sky mostly clear.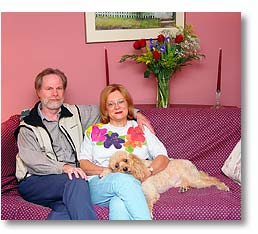 September 6 was my daughter Michelle's 31st birthday, September 9 was Sandra's birthday (the number of which will go unpublished, but suffice it to say she's much younger than I am as you can see in this photo taken on that day; click on it to see a larger image), and September 16 was my 57th birthday. It's hard to believe I'm that old. I vividly remember when anyone 30 seemed ancient and my daughter is now older than that! Arrggggghhh!!!
It's also hard to believe it's been over two months since I updated this website. This time the delay was due primarily to not being happy with the photo albums I make in Photoshop and have been trying to find a easier and better way to generate them and still be able to put all the information into them that I want and haven't been too successful. I also went through an extremely busy period and simply didn't have the time, energy, and inclination all at the same time to tackle this task, but I'm going to give it a go now.
So, to get everyone caught up on what's been happening around here...

Steam Train Ride to Wakefield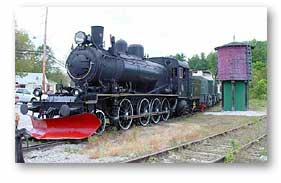 Saturday, September 13, 2003 - For Sandra's and my birthdays this year (always a combined celebration due to being only a week apart), her younger sister Margie and family gave us tickets for a train ride – but not just any train. This is a steam train (or 'train a vapeur' as they call it in Québec) that runs 32 km (20 miles) along the scenic Gatineau River from Gatineau (formerly Hull), Québec to Wakefield, Québec. The trip takes about 90 minutes each way with a two hour stay to dine and see the sights in Wakefield.
This was an outstanding gift and a most enjoyable and unique excursion. I don't know why we never thought of it ourselves. It kind of took me back to my paternal grandfather's era, particularly so since he worked for the B&O Railroad all his life and probably often saw scenes very similar to what we saw.
I've put together a photo album of our trip which can be viewed by clicking here or the photo above of old engine 909.

Sandra's Job Situation

Sandra's job situation has finally been resolved after more than a year of uncertainty and details of the events at Nortel in her group, High-Speed Modules, have been made public, so I can now talk about it.
They were bought out by a local company called BreconRidge and they are keeping her on staff, which is good for our finances, although bad for our traveling plans since this further postpones our 'grand tour' of North America in Harvey our RV.
However, Nortel kept her until after her birthday so she would qualify to retire from there with their retirement benefits package, something that was important we get for our retirement plans. Nortel is an incredible place to work for.
One interesting thing about her new employer BreconRidge is they bought Mitel's manufacturing facility a few years ago, Mitel having been my employer for 5 years at one time, so there are people she'll be working with who either know me or know of me.
The only down side to the whole thing is they are moving everything to a building about 10 miles west of here, so it won't be as convenient a location as she's enjoyed the last few years, which is only half that distance and accessible by side streets if necessary, but the longer drive is certainly not a big deal all things considered.

Power Blackout of 2003

So, where were you when the Power Blackout of 2003 hit on Thursday, August 14 shortly after 4pm EDT? Hopefully you were not effected, but we in Ottawa certainly were. I was slaving away here in front of the computer, nose to the screen. Fortunately, I bought a UPS (Uninterruptible Power Supply, not a delivery company) a couple years ago, so when the lights went out my two main computers kept running long enough that I could shut them down properly.
It was 22 hours before we had power again and then it was only for a few hours before the rolling blackouts put us in the dark again for a while, and then it came back on and stayed on although we were told not to run the air conditioning or use any other nonessential power devices.
So, other than being inconvenienced, we didn't lose anything from it. We didn't open the fridge or freezer the whole time and amazingly enough, nothing spoiled while the power was off. Sadly, a lot of food businesses (restaurants, groceries, meat markets, etc) couldn't say the same thing as many of them lost over $100,000 in perishable stock.
A pity someone isn't accountable for the huge losses the power blackout cost many places, particularly since I read that the last month's computer worm may have contributed to the severity of the blackout. Story here.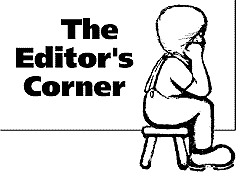 Viruses, Worms, & Other Creepy Crawly Things

Saturday, August 11, 2003 - I don't know about you, but to me the latest plagues of Microsoft Windows viruses, worms, and Trojans to hit the computer world have certainly become tiresome. I can't imagine how someone with only a dialup connection could keep up with the seemingly endless stream of Microsoft updates. Even with my high speed connection it takes an annoying length of time to sort through it all and I have to do this for two Windows machines. Arrrrghhhhh!!!!!!!!
I'm going to try not to turn this into another Microsoft bashing, but as all experienced Macintosh computer users are aware, the Mac has proven to be nearly impervious to these problems which is one of the principal reasons I've swum against the tide and have kept using the Mac as my primary computer and operating system. It's been years since the Mac had any kind of problem with infections and in the vast majority of those cases the problem effected only Microsoft software for the Mac!
This fact alone speaks volumes about the sloppiness of Microsoft's software.
It's always amazed me that so few people seem to be aware of this, but hopefully the recent problems brought onto nearly everyone to some degree will wake people up to this fact. You get what you pay for. hmmmpf!

Harvey Passes Muster

Thursday, September 4, 2003 - Harvey turned 17 this year and in honor of him reaching such a ripe old age for a motor vehicle he had to go prove to the Ontario government that he was not fouling the air by passing a 'Drive Clean' examination. This applies to vehicles between 3 model years old and 20.
Happily, he passed. Unhappily, while being tested he blew out a brake line. But, if this has to happen it couldn't have happened at a more ideal place, right there at an RV service center. So, while I had them fixing that I also had them look at a couple other things that they were able to fix. Now Harvey is good to go again.

Cottage Weekend 2003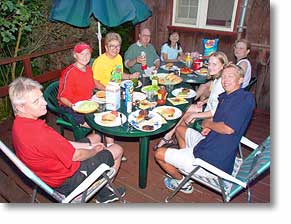 August 21-24, 2003 - The annual summer gathering of Sandra's family at Garth's cottage on Sturgeon Lake was held once again. We had a good time as usual and Harvey got us there and back without incident.
Each year though is a bit different and this year was no exception, the highlight of this gathering was nephew Nicholas (far right in photo) bringing his girlfriend Becky (next to him in photo) who was quite nice and pleasant and didn't seem put off by Nick's family since the last I heard they were still seeing each other. The gathering wasn't quite the same though without the folks from Britain in attendance and with Sandra's mother no longer with us, but life goes on.
Anyway, we did the usual things like sunset dinner on the dock, the ride in Garth's speedboat, lunch on the back deck (pictured here), the young folks playing out on the lake, and the cumulative birthday dinner and party.
As usual, a photo album from the trip can be viewed by clicking here or on the photo above.

Carol & Rick Visit Us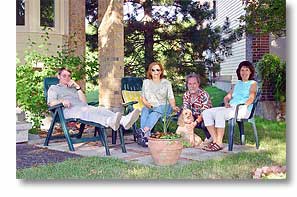 July 9-14, 2003 - Only a few days after our return from the latest trip to Ohio to see the kids, grandkids, and attend the family reunion, my younger sister Carol and her husband Rick made the long drive up here to spend a few more days with Sandra and me. Although we saw them both at the family reunion, we didn't get to spend much time with them so it was good to be able to do that in the comfort of home here and not feel any pressure from time.
We had fun and did the usual things and saw the usual sights around here plus Carol and Rick spent a couple days in Montreal so Carol could show Rick all the things she'd seen there on previous visits.
There is a small photo album of their stay with us which can seen by clicking here or on the photo above.


For previous news, click here.


Copyright © 2003 by .
All rights reserved.