Saying Goodbye to 2007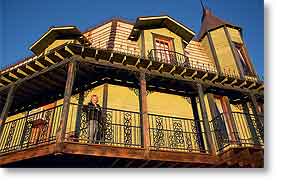 Monday, 31 December 2007 - Well, here we are at the last day of 2007. It was a pretty good year as years go, but more about that in a minute.
Yesterday, Sandra and I didn't do much exciting until near the end of the day when we went for an evening drive and ended up at Superstition Mountain and then Goldfield Ghost Town. Both of these places we've been to before several times, but it's still interesting to see them again.
At the rate they're building new dwellings and businesses around here they'll be building them up the sides of the mountains soon. As it is, the flanks of the mountains are almost covered where they aren't protected by parks. It's a shame and it's ugly and one has to wonder, this being a desert and being short on rain the last few years in addition to that, where are they getting the water to support all these people?
Anyway, pictured above is the 'Bordello' in Goldfield Ghost Town with some chick (a.k.a. Sandra) up there propositioning me. Scandalous!
Goldfield apparently was an actual ghost town at one time, but has now been turned into a tourist trap, although an interesting one, where one does actually get a bit of the feel of the Old West, something quite rare in the New West with its freeways, shopping malls, and ever expanding urban areas.
As to the end of 2007, in case you didn't see Sandra's summary of our year, you can view it by clicking here.
For Sandra's account of yesterday, click here.

Now Near Mesa, Arizona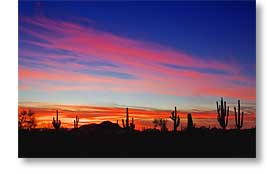 Friday, 28 December 2007 - Yesterday, as planned, we moved from Tucson, Arizona to Mesa, a suburb of Phoenix and the 3rd largest city in Arizona.
We left Tucson around 10:30am, much later than I was hoping for due to a number of factors, but were moving right along, having taken Sandario Road, an excellent back road I found not far from the RV park that bypasses the 4.5 miles of intense road construction being done to I-10 through downtown Tucson, when we were delayed for about a half hour as we neared Phoenix due to a traffic jam resulting from rubberneckers gawking at an accident.
Anyway, as best as I can remember we pulled into the Usery Mountain Regional Park a little past 1:30pm, after an otherwise uneventful drive of 148 miles (238 km), click here to see our route, and were onsite by 2:00pm after signing up for a two week stay, the park's maximum, and were mostly setup by an hour or two later. I wasn't paying much attention to the time, since I was nearing exhaustion by that point.
We then drove around to the other end of the campground where JoAnn & Doug, a couple of Sandra's internet blog buddies and RVers like ourselves, had a delicious gluten-free hot meal waiting for us. They have a standard poodle, Fillmore, who could tell Sandra and I were poodle-people and insisted we play with him. Such a nice dog.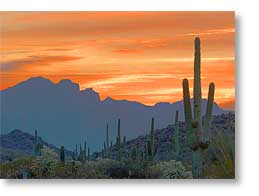 Other than the very thoughtful meal and interesting conversation, the next most memorable aspect of the visit was the swarm of birds pigging out at JoAnn and Doug's bird feeders. Hummingbirds, house finches, several varieties of woodpeckers, curve-billed thrashers, just to mention the ones that come right to mind.
The photo above right is of our first sunset here, taken across the road from our campsite, and the photo on the left was our first sunrise, taken this morning from the other side of the campground. The mountains are the Superstitions.
The campground here is quite nice, except for no sewer hookups at the sites, which is typical for county and state parks, this being a county park. It's located just outside the city, which is still only a short drive away, so I like it much better than the RV resort we stayed at while in Mesa two years ago, which was right in town, had its sites packed into it like sardines in a can, and had no photogenic qualities about it at all. This park does have, not the least of which are good views of both sunrise and sunset, a fairly rare quality, and has a much more natural setting with lots of room between sites, and apparently lots of birds around. Now to see if we can find our hummingbird feeder.
For Sandra's account of yesterday, click here.

Our Last Day In Tucson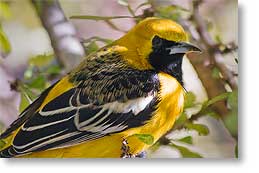 Thursday, 27 December 2007 - Yesterday, after having spent a very quiet Christmas around the RV the day before, we decided to make one last visit to our favorite place in the area, the Arizona-Sonora Desert Museum. As I've said before, although we've now been there quite a few times, we always see something different and this time was no different, however that was both good and bad.
The good was their 'Life Underground' exhibit, which we hadn't looked at before. It's a tunnel lined with displays of living creatures, like the kit fox, kangaroo rat, and millipede, that spend much of their life underground as a way to escape the summer heat on the desert's surface, which can reach 150°F (66°C) with humidity of less than 10%, while a burrow may be a comfortable 80°F (27°C) with about 45% humidity.
The bad was the crowd. The entire place was packed. We got there mid-afternoon and I had to park in the outer limits of their farthest parking area, after dropping Sandra off at the museum entrance to save her injured foot as much as possible for walking inside (the foot is getting better, but slowly). A lot of people have the week off from work between Christmas and New Year and obviously thousands of them decided the museum was the place to spend the day after Christmas.
I really detest being in crowds and often will even get claustrophobic in them and have to leave, but this time I did manage to endure the crowd that was on the grounds of the museum, although most of the wild birds that frequent that area obviously felt better being somewhere else because they were conspicuous this time by their absence and about the only birds in the wild we saw outside the museum's walk-in aviaries were a couple hummingbirds (one of them pictured below left) and a cactus wren.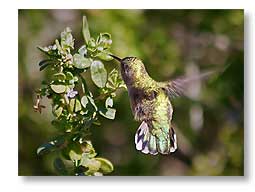 Inside the hummingbird aviary, the pathway was absolutely jammed with people just milling around, so we left immediately. Inside the bird aviary, at least a person could move along the path but there were still people in my way everywhere I would have wanted to take a shot from and while there were quite a few birds around, they were all in deep shadow at the places I could actually get a clear shot from, like the Hooded Oriole pictured above. It took all my tricks in Photoshop to get the bird this visible and since this and the shot of a green hummingbird against a green background (making the little hummer almost impossible to see) were the best of my photos for this visit, it wasn't a fruitful photo day for me, but even at that and despite the crowd, it was still interesting to walk around the place.
However, on the way out, I had been thinking about relaxing over a coffee at Phoebe's, the museum's coffee shop, which we had learned offered free coffee to those with a museum membership, such as us, but when we got there the people waiting to be served were lined up out the door, so seeing that we just left. And surprisingly, even though by now it was late afternoon, there were still more people coming in from the parking lot than were leaving. I have no idea where the newcomers were parking, because all the lots still looked full.
The museum is a really popular place.
As is Quartzsite, Arizona, a place we had planned to visit for the huge RV show that takes place there in mid-January and where we had visited our last time in Arizona two years ago. However, it appears to have gained in popularity to the point that this year we couldn't find a campsite other than dry camping out in the desert, which neither of us is interested in doing, so this year we will be going somewhere else instead. This doesn't break my heart because Quartzsite was already too crowded for my tastes two years ago and if it's going to be even worse than that this year, I'll be quite happy to miss it.
So, later this morning we're moving up near Mesa, an eastern suburb of Phoenix, for a two week stay at the Usery Mountain Regional Park, which has come highly recommended. We are familiar with the area, having stayed two years ago in one of the huge RV resorts that are in Mesa itself, but this time we'll be in more scenic environs outside the city.
Where we go from Mesa is undetermined at this point, now that we won't be going to Quartzsite. It would be nice to find somewhere warm, but it looks like the whole southwestern US is having the same weather – eventually becoming mild for a few hours in the early afternoons, but turning chilly as soon as the sun starts to set, then dropping down to freezing during the nights and staying cold for most of the morning. Next year we're going to southern Florida and spend some time around the Everglades, something I've always wanted to do, and will hopefully find some winter warmth at the same time. So far, although it could be worse, I'm not terribly impressed with Arizona's weather at this time of year, but I do love the desert and mountains.
In the month we've been at Tucson, I've taken over 4,250 photos, of which I've only gotten 225 processed and posted. They can be seen by clicking here.
For Sandra's account of the last few days, click here.

Merry Christmas To All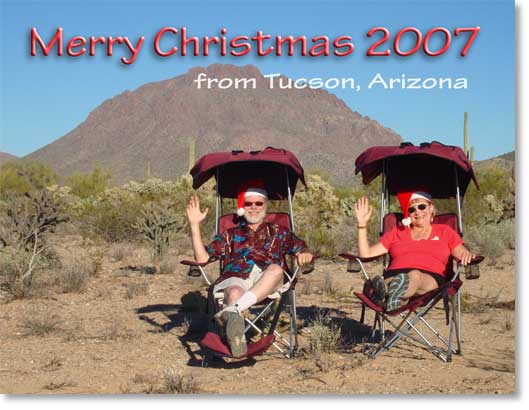 Saturday, December 22, 2007 - Well, here we are, preparing to celebrate our fourth Christmas on the road. The photo above, as usual for my Christmas photos, is to serve as my Christmas card to you. Click on it for the larger version which, if so inclined, can be downloaded and should print out very well up to 5 x 7 inches.
It was taken a few days ago when it was sunny and quite warm in the sun. Things turned a bit cooler yesterday (just in time for the arrival of winter, today being this year's winter solstice), although still pleasant once the sun comes up and still better than up north. This scene is basically the view we have out the back of the RV, so you could look at it as our current backyard. We're in the northeast corner of the Sonoran Desert and that's Golden Gate Mountain behind us. At its peak it's 4,264 feet (1,300m) above sea level, but the desert floor here is at 2,500 feet (762m), so the mountain rises above us by only 1,764 feet (538m). It's one of the lesser peaks of the Tucson Mountain range, which is only 4,687 feet at it highest point (Wasson Peak), which makes it the lesser of the four mountain ranges that surround Tucson, being only half the height of their tallest peaks, but still beautiful.
Anyway, our 1st odyssey Christmas was celebrated in Lakeland, Florida, the 2nd odyssey Christmas in Desert Hot Springs, California, the 3rd odyssey Christmas in Port Aransas, Texas, so this one in Tucson, Arizona has the most popular of the winter snowbird areas covered.
This will, however, probably be the first Christmas we won't be participating in a potluck dinner. As it stands, we are getting together later this afternoon for snacks with the few neighbors we have here, but since this is a new RV park, there aren't enough people here at the moment to make a decent potluck, so unless things change radically in the next couple days we'll be enjoying a nice quiet Christmas by ourselves, but we will miss not being with those we would otherwise like to share the holiday with.
So, Merry Christmas to all, and to all, our thoughts will be with you.

We Could Have A White Christmas

Friday, 21 December 2007 - Yep, you read that headline correctly. However, before I explain not only how that could happen here in the Sonoran Desert, but how I could know that could happen, I should first report on what I did Wednesday.

Wednesday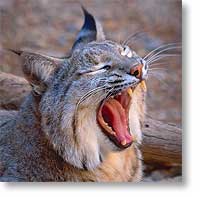 The day started, as my days often have during our stay here, with me hiking out in the desert at dawn, shooting sunrise photos. But then I didn't do much after that until midafternoon when I decided to visit the Arizona-Sonora Desert Museum closer to their closing time than we had done in the past. Normally, we're there around midmorning to midday and most of the animals are snoozing or hiding in the shade, which makes for some rather boring photos, if any at all, so the thought occurred to me that perhaps getting there later I might find them being fed.
Well, they weren't being fed, but most of them were much more active, plus I got a surprise bonus while I was watching the bobcats. A staff member entered their area and began putting one of them that had obviously been trained through its paces. I had never seen a trained cat before (except for circus lions and tigers), so it was a fascinating show to watch. In the photo here, the bobcat was opening its mouth on command, not yawning. The trainer explained the purpose for the training was to make it easier (and safer) to give them medical treatment when needed.
I've lost track of how many times I've visited the museum, but even though we've now seen the whole place, there always seems to be something different to see with each visit.

Thursday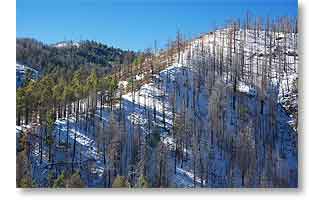 Then yesterday morning, while searching the internet to see if the museum had posted a birding checklist, I came across information on the Catalina Highway (a.k.a. the Sky Island Scenic Byway and the General Hitchcock Highway, three names for one road, tell me that isn't confusing) and was so impressed with some of the photos of it I decided we should make the drive ourselves, which we did, although it took a lot longer than I had expected, we being at the southwest corner of the city and the byway starting in the northeast.
Basically, the scenic byway goes up into the Santa Catalina Mountains (one of the Sonoran Desert's 'sky islands') and takes you to Mount Lemmon, the highest peak in that range at 9,157 feet (2,791m) above sea level and 6,650 feet (2,027m) above the desert floor. It is a beautiful drive and like our drive up Madera Canyon on Mount Wrightson a week ago, we went from desert into actual forest within just a few miles, which is one of the characteristics of these sky islands, where you drive through terrain that takes you biologically from Mexico to Canada within just a short distance.
Anyway, last week we stopped the drive at the first sign of snow, but this time we kept going until it did indeed look like we had been transported back to Canada since the snow covered the ground (as seen in the photo above) and was quite deep in spots and the temperature at midday was 43°F (6°C) while it was 70°F (21°C) down on the desert floor. It's a bit ironic, I admit, to have come down here to the desert to escape the cold and snow of the Canadian winter and then on a beautiful day, leave the ideal conditions of the desert in winter to end up in cold and snow, but the real purpose of the drive was to see the scenery on the way up, which was breathtaking in places (as can be seen here), but snow is beautiful and it's even more beautiful when you can turn around and leave it within minutes.
Now, as to my headline for this report, considering the amount of snow we saw on Mount Lemmon, it's very unlikely it will melt before Christmas, especially since there's a chance of more snow falling up there soon, so if we did want a white Christmas, all we'd have to do is return to Mount Lemmon. That said, I think we've seen enough snow for now, especially Sandra, and will happily settle for a cactus Christmas.
For her account of our drive into the Catalinas, click here.


__________________________

For Older News

To read details of our previous stops and camps, visit the News Archives.


Updated Tuesday, January 1, 2008

Copyright © 2007 by Gordon L Wolford .
All rights reserved.