Where The Buffalo Roam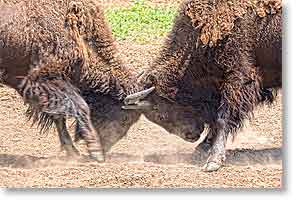 Friday, 29 June, 2012 - As I said I wanted to do in my report on April 29, yesterday Sandra and I went back to the Battle River Bison farm for a visit and were successful. I say successful because a few weeks ago we had driven over there with the same purpose in mind but found the gate by the road closed and no bison out in the field beside the highway, so it was a completely wasted drive. Therefore yesterday, I called first to make sure we wouldn't have another wasted drive.
On arrival outside the farm we found the herd was once again in the roadside field, so we pulled over and took photos there for a while. This time the herd didn't leave as soon as we got out of the car, so we were able to take quite a few shots from the highway.
We then drove up the lane to the farmhouse (a home where the buffalo roam, one might say) and were greeted by Little Bill, a six-week old bison calf that was wandering around the yard like a pet, which did in fact turn out to be the case.
We had fun with Little Bill for a few minutes until he started headbutting us, at which point he was less fun and the novelty of being hands-on with a bison calf quickly wore off. So we went to the farmhouse door and rang the bell. The owner, Richard Allan, soon appeared and after introductions, he said Little Bill was behaving badly because he was hungry and was promptly put safely away in a pen. We learned that Little Bill was one of twins and had been rejected by its mother so the Allan family was raising it.
The owner then released Big Bill, a bison bull, into a fenced area beside us and proceeded to tell us about bison and how they compared to cows and to answer our many questions. While he was doing this, a few members of the herd wandered back near us and gave us some more photo ops, like the one above.
It was a very interesting visit.

A Fun-Filled Day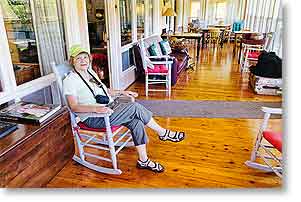 Wednesday, 27 June, 2012 - Today I needed to get away from town for a while and do something fun (having had enough of contractors disrupting my life) and Jones Falls an hour south of here (and also along the Rideau Canal) seemed an appealing choice. So after our breakfast routine, off we went.
Today was one of those ideal eastern Ontario summer days we get a lot of up here - blue sky, lovely breeze, low humidity, and ideal temperature - just perfect for walking around the Jones Falls Lockstation, which is more than just a canal lock. To handle a 17.8m (58.4 ft) change in elevation, it has 4 locks - a single upper lock and a flight of 3 lower locks - plus there's an old hotel (Hotel Kenney built in 1888), a restored blacksmith shop, and a defensible lockmaster's house just to name a few of the attractions located there. And, being in the Canadian Shield, the setting is quite scenic as well. Sandra and I have visited Jones Falls before, but had not previously seen the blacksmith shop nor the defensible lockmaster's house, so those were on my agenda for today.
Sandra, who hates to walk across the canal locks, steeled herself and actually braved those heights twice, as well as managed to hike the trail to the blacksmith shop, a trail that proved to be surprisingly rugged and treacherous. It wasn't that long ago that due to a pinched nerve in her neck she was hardly able to move, let alone walk any distance.
On arrival at the blacksmith shop we found a young lady working the anvil (click here for a photo). From there we hiked over to the defensible lockmaster's house, which I entered and took the tour but Sandra declined, having no interest in history.
After that, we hiked back to the hotel and despite our severe dietary restrictions, considered giving it a try for lunch. The hotel staff proved to be exceptionally accommodating and came up with a variety of things we could eat, so we did and have suffered no ill effects. Click here for a photo of Sandra at our table with a view. Because of our food limitations we almost never eat out anymore, so this was a real treat.
We were very impressed with the hotel staff and I highly recommend Hotel Kenney for anyone looking for a quiet out-of-the-way stay in a rustic setting. The hotel is what I'd describe as quaint and going there is like stepping back in time to the early to mid 1900s. Pictured above is Sandra enjoying one of the rocking chairs on the hotel's enclosed porch that faces the canal. My mother's parents had rocking chairs similar to these on their farmhouse veranda, so they brought back some old but very fond memories.
For Sandra's account of the day and her photos, click here.
For the rest of my latest photos, click here.

An Eventful Day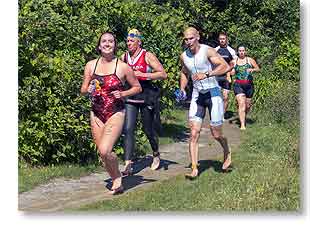 Monday, 25 June, 2012 - Yesterday was the 33rd Annual Smiths Falls Classic Triathlon here in town and thanks to my most wonderful wife, I found out about it just in time to get into position to catch the start of the event.
Actually, I should have been a half hour early, but so many streets were blocked off and parking so scarce, I ended up getting into position with only 5 minutes to spare.
The triathlon started in the Rideau Canal Waterway with the swimming event, offshore from the Comfort Inn, and I was across the water and downstream enough where I could see the entire swimming course and a location that was also along the transition (photo on the right) between the swimming and biking events.
I then returned home and traded my little pocket camera (which I had taken along with the DSLR attached to my long telephoto lens) for my other DSLR that has the shorter and more versatile zoom lens on it. I don't like carrying both DSLRs, but this time I decided to put up with the added weight and inconvenience.
I left the car at the house and walked this time and ended up back where I had been. I hadn't planned to walk that far, but I kept finding photos to take. In all I walked 3 miles (5 km) and took about 400 photos, of which I've processed and posted 34 so far and will probably do more.
The weather was perfect for the event (although later in the afternoon it clouded up and gave us some needed rain), but 3 miles carrying two DSLRs, both with heavy lenses, was quite a hike for me and tiring, however my sciatica surprisingly didn't bother me, so it looks like the chiropractor has gotten that straightened out. It had gotten to the point I couldn't walk more than a few blocks without having to return home.
Today, the contractor is supposed to be putting in our new kitchen counters and sink, but as I write this he is a half hour late. Contractors have a very loose interpretation of time and I'll be exceedingly glad when all this renovation work is finished and life can get back to normal.
For my gallery of triathlon photos, click here.
For my other latest photos, click here.

Goodbye Spring, Hello Summer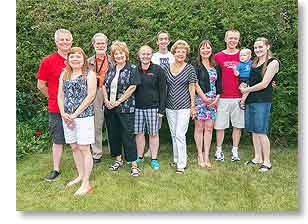 Wednesday, 20 June, 2012 - Well, in a few hours (7:09pm EDT) spring will be over and summer will arrive, but weatherwise summer has already arrived and with a vengeance. As I write this (3:30pm EDT), it's 93°F/34°C here near Ottawa and that just happens to be the same temperature as it is in Big Bend, Texas, which is known for its sweltering summer heat! Go figure. Fortunately, starting Friday things are to cool back down to what's normal for up here and stay there for the foreseeable future.
Anyway, Sandra's cousin Terri and Terri's son Benjamin have come over from England for a family visit, staying with Margie and John, so as I said we would be doing in Monday's report, we drove up to Ottawa Monday afternoon to see Terri and Benjamin, along with Margie and John and their family. We had a great visit, spending it in Margie and John's back yard. It had been quite a while since Sandra and I last saw Terri and Benjamin, so it was good to see them again. In the photo above, l-r, are John, Margie, moi, Sandra, Danica, Benjamin, Betty, Terri, Nick, Jack, and Becky.
And today the basement windows are being replaced. We've already had a few of the upstairs windows replaced that had lost their seal between the double panes, but the basement windows weren't double pane and had needed plastic sheet taped over them each winter to help insulate them, so now we won't have to bother with that.
For Sandra's account and more photos of the family visit, click here.
For my latest photos, click here.

Almost Back To Normal


Monday, 18 June, 2012 - Probably the biggest news since my last report, and as can be seen in the photo on the left, is the contractor has almost finished replacing the flooring in the kitchen, dining room, and bathroom (as well as replacing the toilet) and life has almost returned to normal. For the week they were working here though, things were chaotic. All they have left to do are a few minor loose ends to tie down, but we've put them off until this week due to other things on our schedule last week.
For instance, Tuesday afternoon we had to spend in Ottawa for doctor and eye doctor appointments. The test results from my annual check up all proved to be excellent, which is always good news.
Then on Thursday we made the 45 minute drive down to Brockville to see Brenda, an RVer we know from that former life and who Sandra has kept in touch with since we've been off the road. Brenda and her husband John, aka JB, (click here for their blog) spend summers in Alberta near the Canadian Rockies and snowbird to the US southwest during the winter. Brenda was here to see her nephew and his family who live in Brockville while JB stayed behind in Alberta. During the course of our conversation, Brenda mentioned we should go out to Alberta to see them and she didn't have to twist my arm too hard to get an agreement out of me, so we are planning to make that trip next summer. I love our life here in Smiths Falls, but I sure do miss the traveling we did in the RV.
Along those same lines, we are planning to visit the Canadian maritime provinces this September, in particular Prince Edward Island, a place I've not yet seen and want to photograph.
Then Betty arrived Saturday from the cottage near Lindsay for a visit. She's to be here until tomorrow. The reason for her visit is because cousin Terri from England and her son Benjamin are visiting at Margie and John's in Ottawa. Betty drove up to see them yesterday and we are all going there later today for a family dinner.
For Sandra's account of the new flooring, click here.
For her account of our visit with Brenda, click here.
For my latest photos, click here.

O, What A Relief It Is!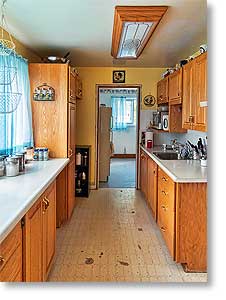 Thursday, 7 June, 2012 - I'm having a banner day! Not only did we have a glorious sunrise this morning (as can be seen here), but it looks like we've finally eliminated our ongoing sewer problem.
It was almost three months ago that our handyman replaced 16 feet of the 65 foot length of our sewer line to the street and things had been going down the drain well, but then yesterday the basement toilet drained very slowly and I knew the next flush was going to back up, so having reached the end of my patience with this situation that has plagued us for as long as we've owned this house, I called Roto-Rooter and arranged for them to come out and see what was going on down there. They offer a video service that sends a camera right down the pipe and shows exactly what's there. Our handyman would push the clog through with his long sewer snake, but that has proven to be only a temporary fix because pushing the clog on out was doing nothing to remove the cause of the clog. I had mentioned to him about having Roto-Rooter come in to see what they could do with it, but he was adamant that they cause more problems than they fix. According to him, not only will the tree roots they clear out grow back (assuming those are the problem), but they will grow back bigger than before, not to mention Roto-Rooter is known to destroy sewer lines in the process of rooting them out. So, we talked to the Roto-Rooter man about these issues and he said the only time their process damages a sewer line is when the line was about to collapse anyway, so figuring it was time to address this crappy issue once and for all and wanting to know exactly what was down there, we told him to go ahead.
Then he discovered that he had left Ottawa without a vital part needed to run the video camera! We were not happy about this, but we had him go ahead and do the rooting part of the job anyway, praying the sewer line wouldn't be destroyed in the process. Happily, not only did it survive, but it survived very well and he pulled out a glob of roots about the size of a human head, so roots did prove to be the problem.
This morning he was back with a working video camera and we saw that the sewer pipe beyond the new 16 foot section was cast iron and in excellent shape. What a relief it was to actually see that and it will likely be years before the roots grow back enough to again be a problem.
But that's just one thing that's been going on around here. For most of the week the kitchen and dining room have been is a state of chaos (photo above) because a contractor has been in here ripping out the old floor and getting things ready to lay down the new one we picked out Monday at the hardware store. The new flooring is some kind of high grade and exceptionally durable linoleum that looks very realistically like hardwood. The job could be done today.
Then once that's in, the kitchen counters and sink are scheduled to be replaced, as well as the basement windows. It will be great to have all these renovations done, but not as great as not having to worry every time we flush the toilet if it's going to back up in the basement toilet or not. I'm feeling almost flushed with euphoria today!
For Sandra's latest blog entry, click here. For my latest photos, click here.

Doors Open Ontario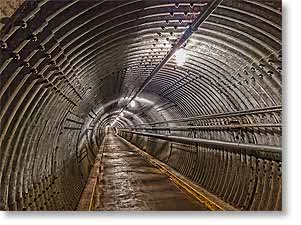 Monday, 4 June, 2012 - This weekend was the Doors Open event in Ottawa and here in Smiths Falls. On Doors Open days, select facilities are open to the public and free of charge, so on Saturday Sandra and I made the hour's drive up to Carp, now part of greater Ottawa, to see the Diefenbunker, a formerly top-secret and huge four level underground bunker originally built to house key members of the Canadian government in the event of a nuclear attack on Ottawa and is now a cold war museum. The photo on the left is the bunker's blast tunnel.
It was interesting to see once, but we're glad we didn't have to pay the normally $14 per head admission fee.
Then yesterday we visited nine of the seventeen Doors Open locations here in Smiths Falls. We started at the Station Theatre (the former train station converted into a stage theatre), then went to the Rideau Canal Gate Shop (where replacement lock gates for the Rideau Canal are constructed), followed by a visit to the Gallipeau Centre (the former Rideau Regional Centre).
Following a lunch break, we continued by stopping by our local FM radio station, 92.3 JACK FM (Sandra's favorite), St. John the Evangelist Anglican Church, Westminster Presbyterian Church, Trinity United Church, Wood Mausoleum, and then finally, the Heritage House Museum. We didn't visit eight of the available locations because we either had already seen them before or had no interest in them or time and energy ran out, but we learned a lot at the locations we did see.
For Sandra's account of our weekend outings with far more detail and photos, click here for the Diefenbunker visit and here for the Smiths Falls tour.


__________________________

For Older News

Visit the News Archives.


Updated Sunday, July 8, 2012

Copyright © 2011 by Gordon L Wolford .
All rights reserved.